Zucchini Noodles, also known as zoodles, are the perfect way to transform ordinary zucchinis into a low-carb, gluten-free alternative to traditional pasta. Whether you're following a low-carb diet, looking to incorporate more vegetables into your meals, or simply seeking a lighter pasta alternative, zucchini noodles are a fantastic choice!
Zucchini noodles - 3 ways without a spiralizer!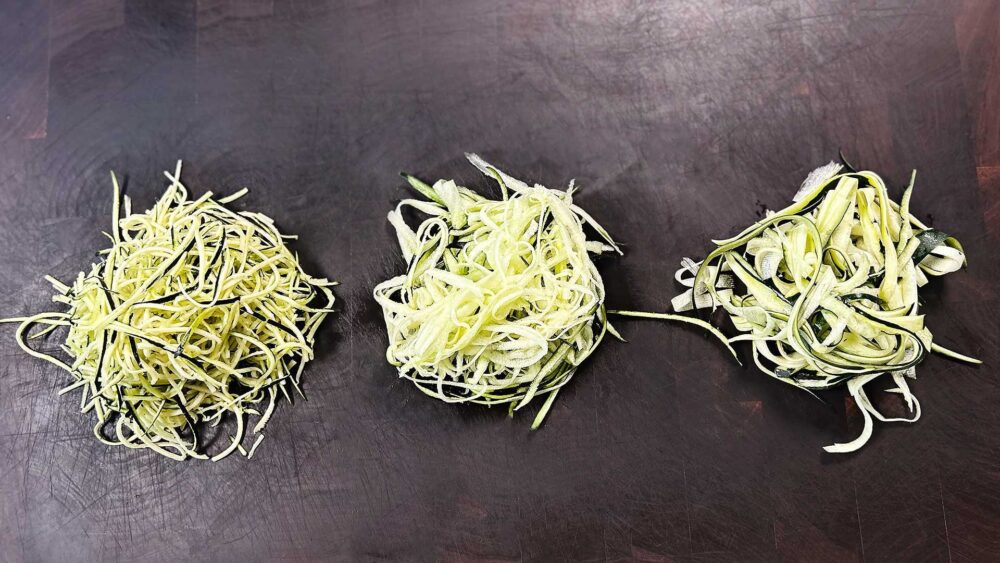 Making zucchini noodles is a breeze. In this step-by-step guide, we'll show you how to create zoodles that are perfect in texture and ready to be paired with your favourite sauces or toppings. 
If you're looking to add a healthy twist to your meals or simply want a gluten-free alternative to pasta, zucchini noodles, also known as "zoodles," are your culinary saviors. These veggie-based noodles are not only low in calories but also incredibly versatile and easy to make. In this comprehensive guide, we'll walk you through the art of crafting the perfect zucchini noodles, from selecting the right zucchinis to serving them up in delicious dishes that will please even the most discerning palates.
No need for any fancy kitchen tools! We'll show you 3-easy ways to make zoodles using tools you already have in your kitchen!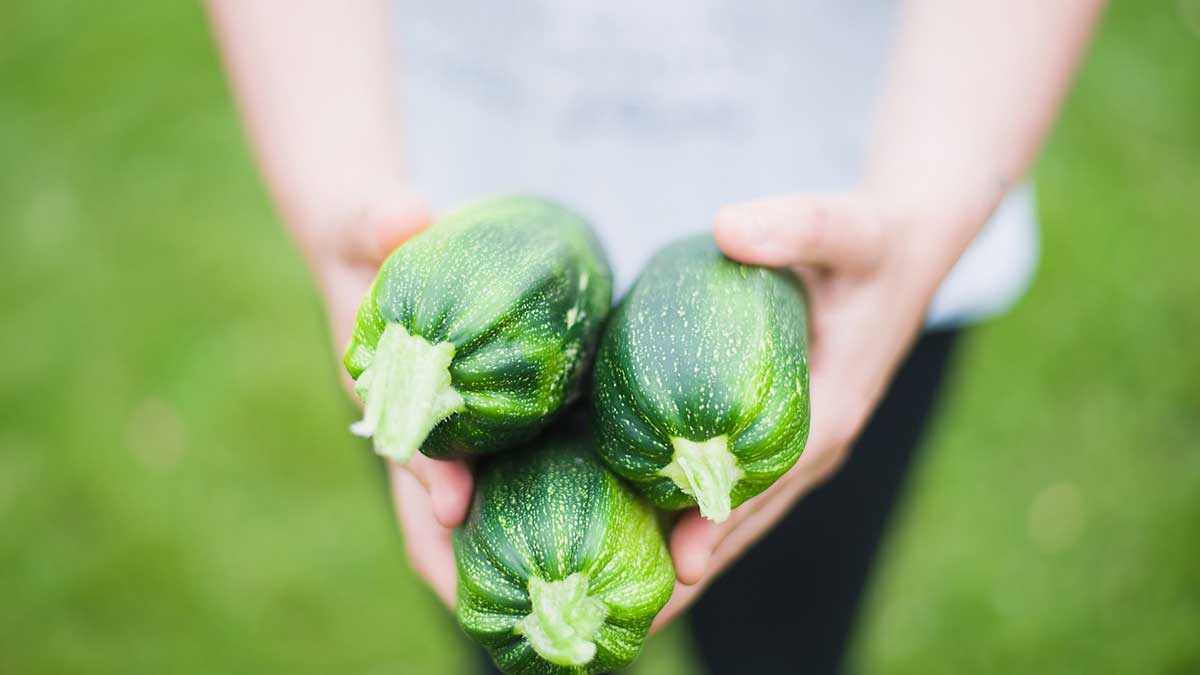 Zucchini, also known as courgette in some parts of the world, is a summer squash that is incredibly versatile and abundant during the warmer months. This green and mild-flavored vegetable can be used in a multitude of dishes, from savory to sweet. 
If you're looking to cut down on carbs, are living gluten free, or just want add more veggies to your diet, zucchini noodles, or "zoodles," are a fantastic option.
INGREDIENTS and EQUIPMENT NEEDED
If cooking Zucchini Noodles:
Drizzle olive oil or other cooking oil
Fine Sea Salt
Fresh Cracked Pepper
Your choice of either:
Mandoline with Julienne Blade
Julienne Peeler
Box Grater – largest hole
Vegetable Peeler & Sharp Knife
If cooking your zucchini noodles:
Skillet or Pan
Tongs or Spatula
How to make Zucchini Noodles
1. choose the right zucchini for zucchini noodles
Look for fresh zucchini that is firm and free from bruises or blemishes. The size of the zucchini doesn't matter, but smaller – medium sized ones are often easier to work with.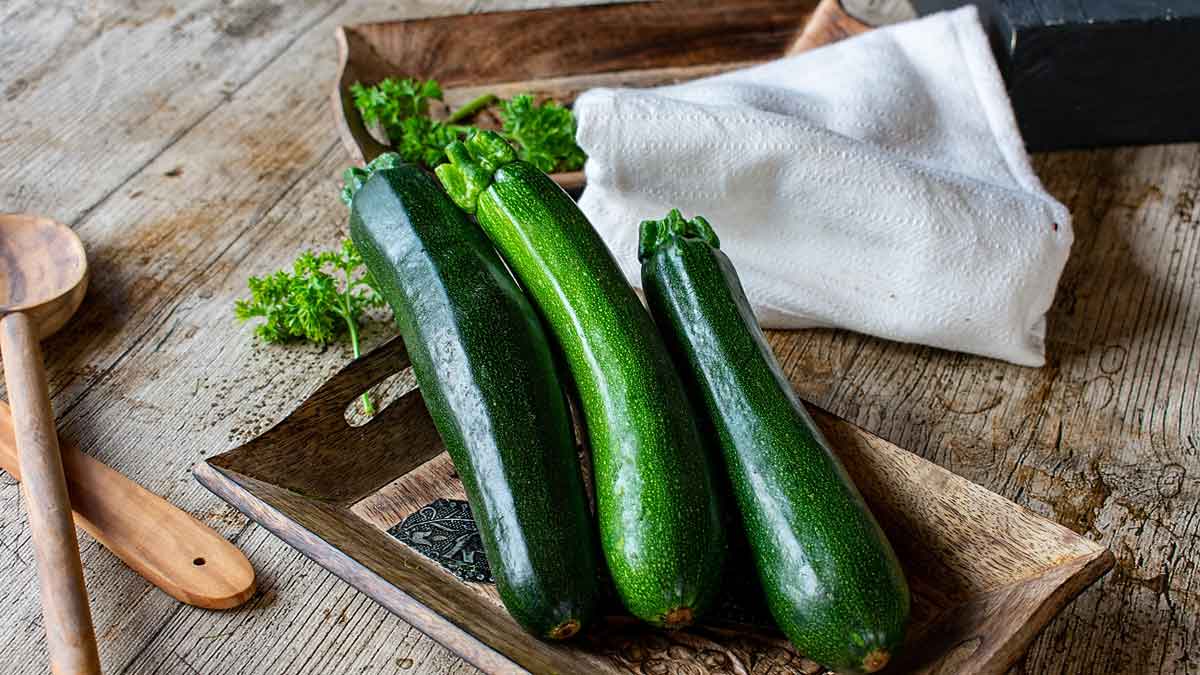 Wash and Trim your Zucchini
Rinse the zucchini under cold running water, and then trim off both ends.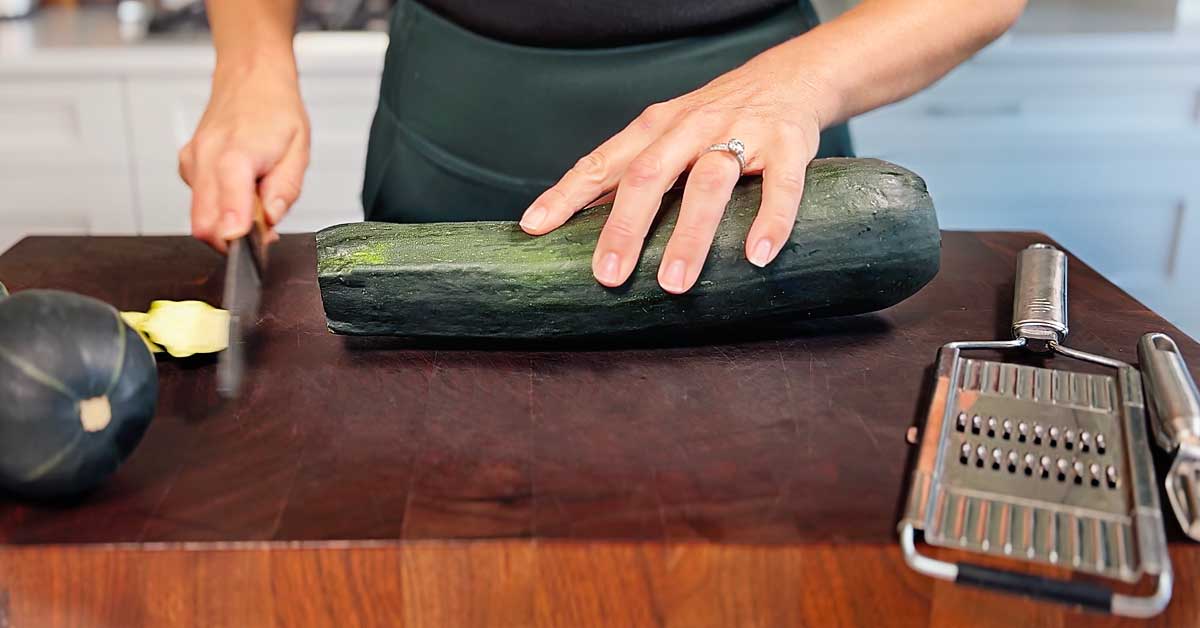 It is not necessary to peel your zucchini. In fact, I recommend you keep the peel on!
Not only does it add a lovely splash of colour, but zucchini skin, like the skin of many fruits and vegetables, contains a variety of nutrients and compounds. Some of the components found in zucchini skin include:
It's worth noting that the nutrient content of zucchini skin may vary depending on factors such as the variety of zucchini, how it's grown, and its ripeness. Eating the skin of zucchini can be a nutritious addition to your diet, but it's essential to wash it thoroughly to remove any potential contaminants before consumption.
3. Create Zucchini Noodles - 3 easy ways!
There are two main stream methods for turning zucchini into noodles: using a julienne peeler or a spiralizer. I don't like extra kitchen tools hanging around taking up valuable space. So here are my favourite ways to make zoodles without a spiralizer.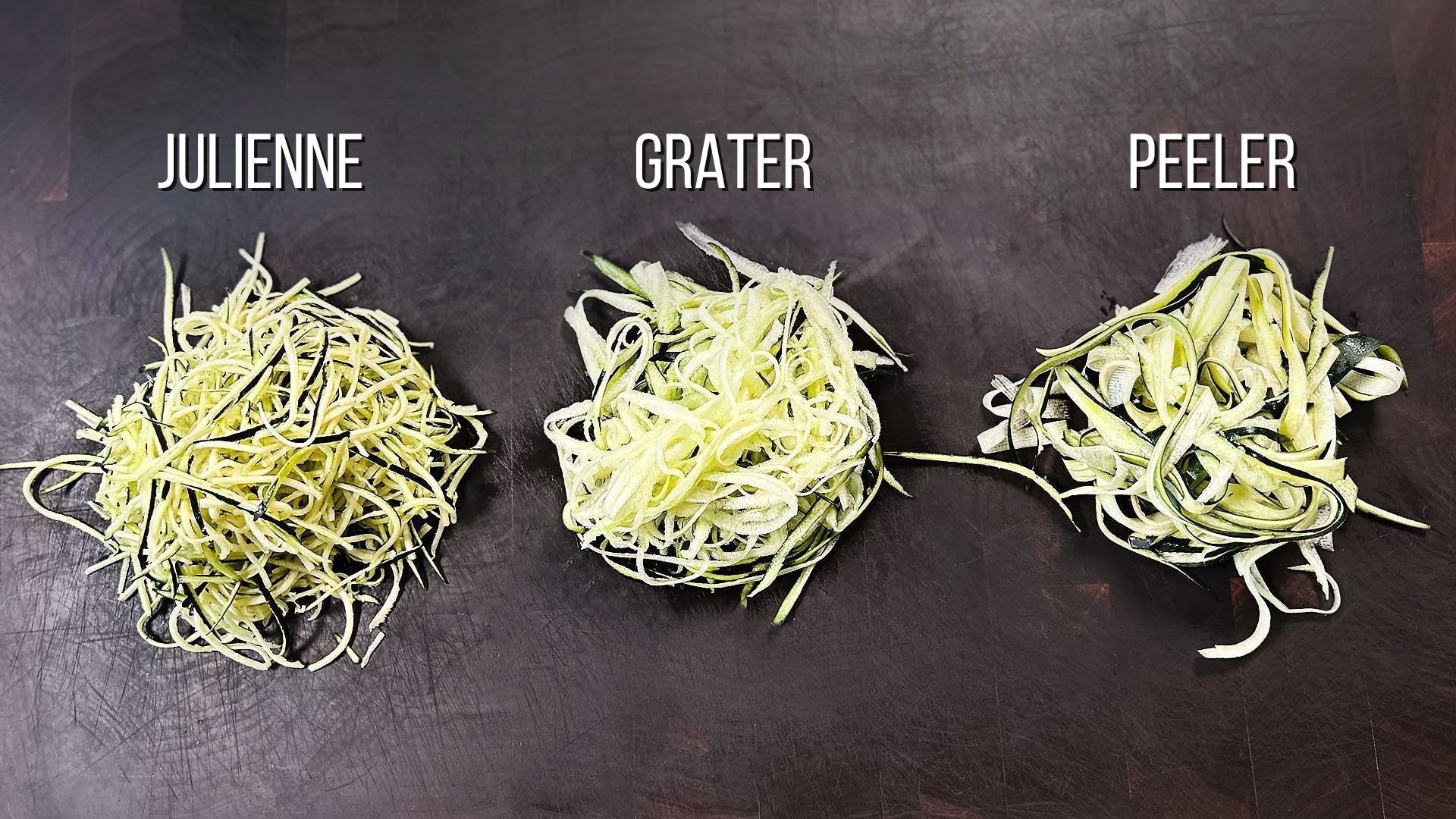 method 1: Mandoline with a julienne blade / julienne peeler
Hold the zucchini firmly in one hand and use the hand tool. Slide the zucchini lengthwise running it along the julienne blade creating long, thin, equal sized strips. 
Continue until you reach the seeds in the centre.
Flip the zucchini and repeat on all 4 sides until only the centre with seeds is left. You can discard this centre piece or use for another recipe.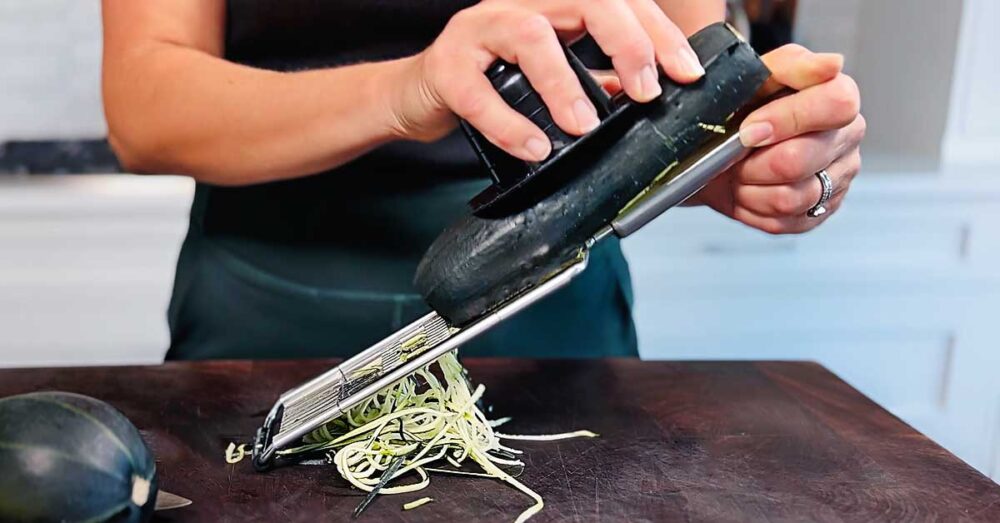 method 2: Using a box grater with large
Hold the zucchini firmly in one hand and the grater firmly in the other. Slide the zucchini lengthwise running it along the large side of the grater, creating long, thin, medium width strips. 
Continue until you reach the seeds in the centre.
Flip the zucchini and repeat on all 4 sides until only the centre with seeds is left. You can discard this centre piece or use for another recipe.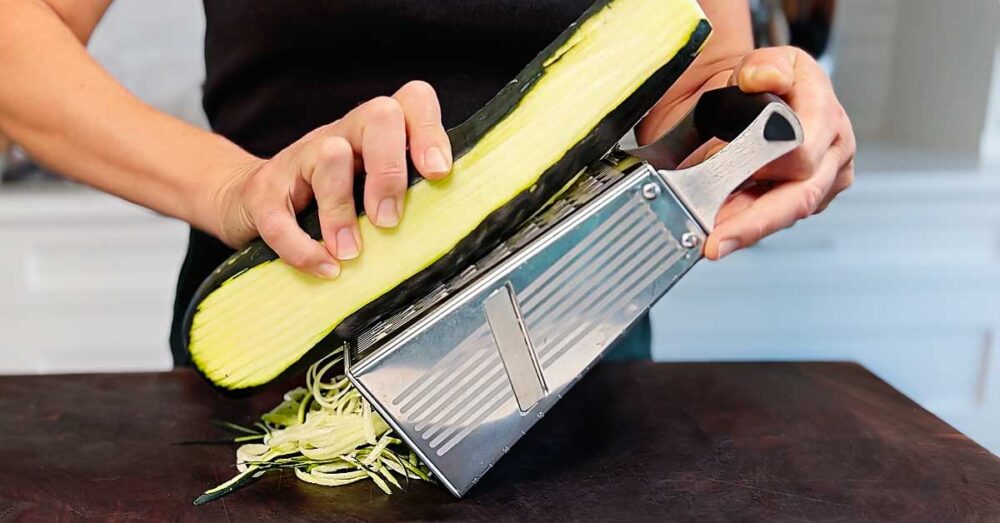 method 3: Using a vegetable peeler
Hold the zucchini firmly in one hand and the vegetable peeler firmly in the other. Slide the down the zucchini lengthwise from top to bottom, creating long, thin, wide strips. 
Pile the strips on top of one another aligning the edges.
Continue until you reach the seeds in the centre.
Flip the zucchini and repeat on all 4 sides until only the centre with seeds is left. You can discard this centre piece or use for another recipe.
Slice the peeled strips into the desired width of noodle.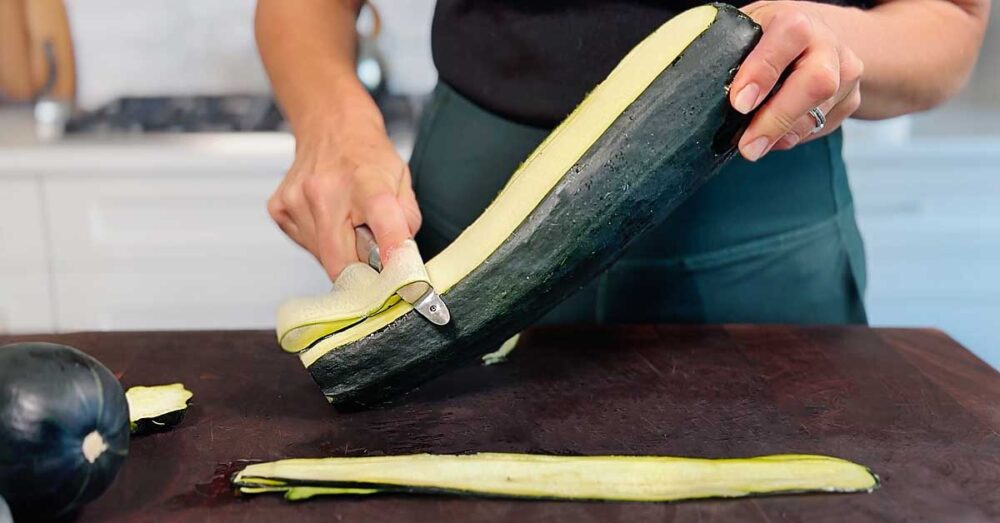 4. Cooking your zucchini noodles
Zucchini noodles can be enjoyed raw or lightly cooked, depending on your preference. Here's my favourite super easy way to cook them:
Avoiding Watery Woes: Preventing your zucchini noodles from becoming soggy during cooking requires removing some of the moisture before they are heated. Simply wrap your noodles in a paper towel and squeeze over a bowl to remove the excess moisture. Save this liquid (you can freeze it) and use it to add flavour to soups, broths or even rice!
Sautéing Zucchini Noodles: Heat a pan over medium-high heat and add a drizzle of olive oil. Once hot, if desired, add minced garlic and sauté for 1 minute until slightly fragrant. Then add the zucchini noodles and sauté for 1-2 minutes, tossing them frequently with tongs or a spatula, until they're warmed, slightly tender but still crisp. Be careful not to overcook; zucchini noodles should remain slightly crisp, like al dente pasta.
Season to Taste: Season your zoodles with a pinch of fine sea salt and freshly cracked pepper. You can also a dash of lemon juice for extra flavour.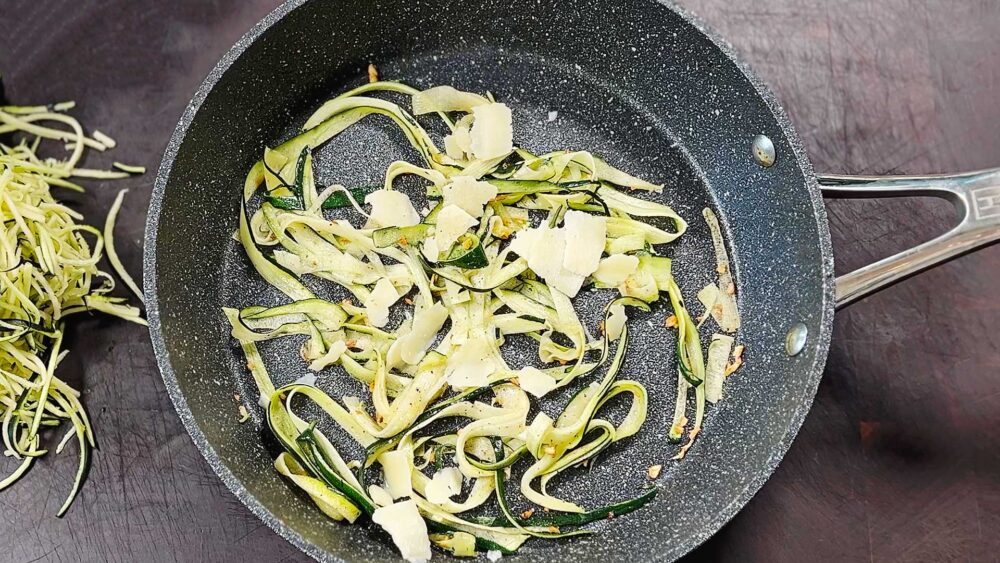 5. How to serve zucchini noodles
Your zoodles are ready to be enjoyed! Feel free to get creative and experiment with different flavours and cuisines when using zoodles. They can be a versatile and healthy addition to various dishes. Here are a few ideas for serving:
the best zucchini noodle recipe ideas!
Pasta-Style: Top your zoodles with your favourite pasta sauce (try my Zucchini Fettuccine Alfredo), grated Parmesan cheese (try my Garlic Parmesan Zucchini Noodles) and fresh herbs for a classic pasta experience.
Stir-Fry: Incorporate zoodles into a stir-fry with colourful veggies and your choice of protein (e.g. tofu or chicken) for a healthy, low-carb meal. Add a savoury sauce for extra flavour.
Salad: Add raw zoodles to your salad for a refreshing crunch and added nutrients.
Zoodle Bake: Layer the zoodles in a baking dish with marinara sauce, cheese, and any desired toppings (like ground meat or mushrooms). Bake until bubbly and golden for a zoodle casserole.
Zoodle Tacos: Use leftover zoodles as a filling for tacos or taco bowls. Add seasoned ground meat or beans, salsa, avocado, and cheese for a tasty Tex-Mex twist.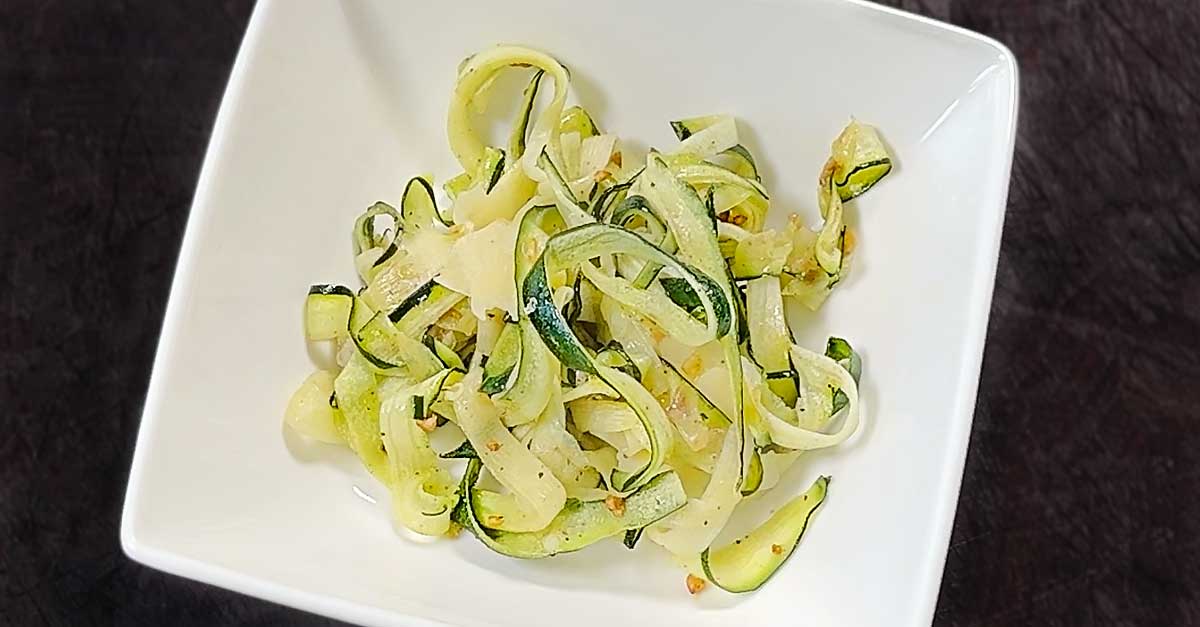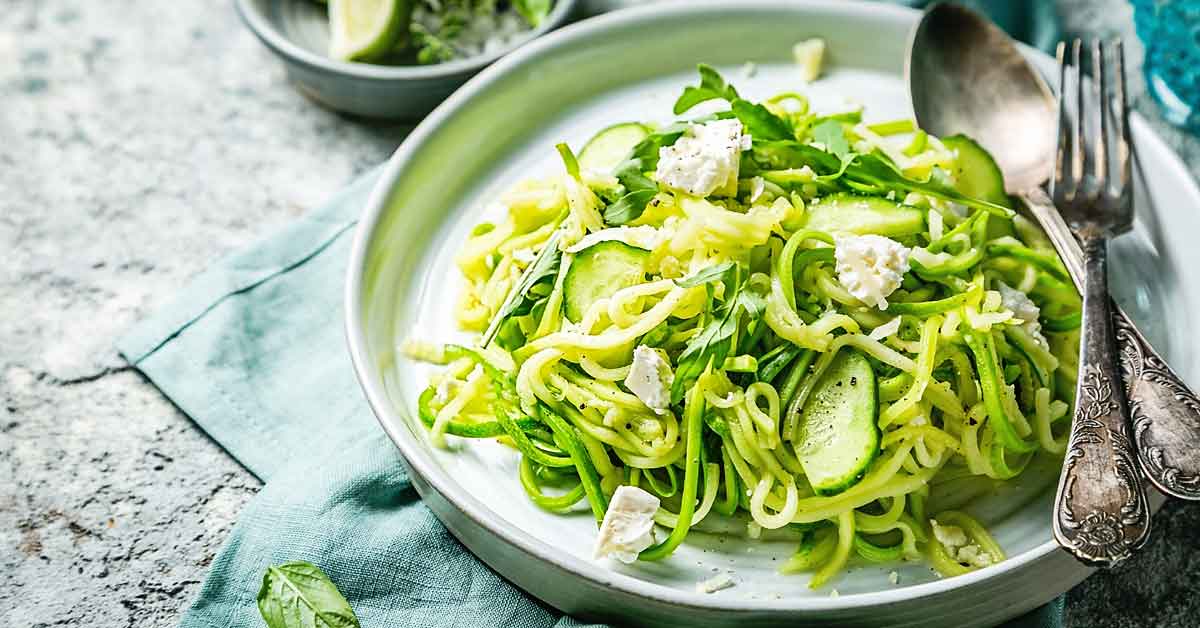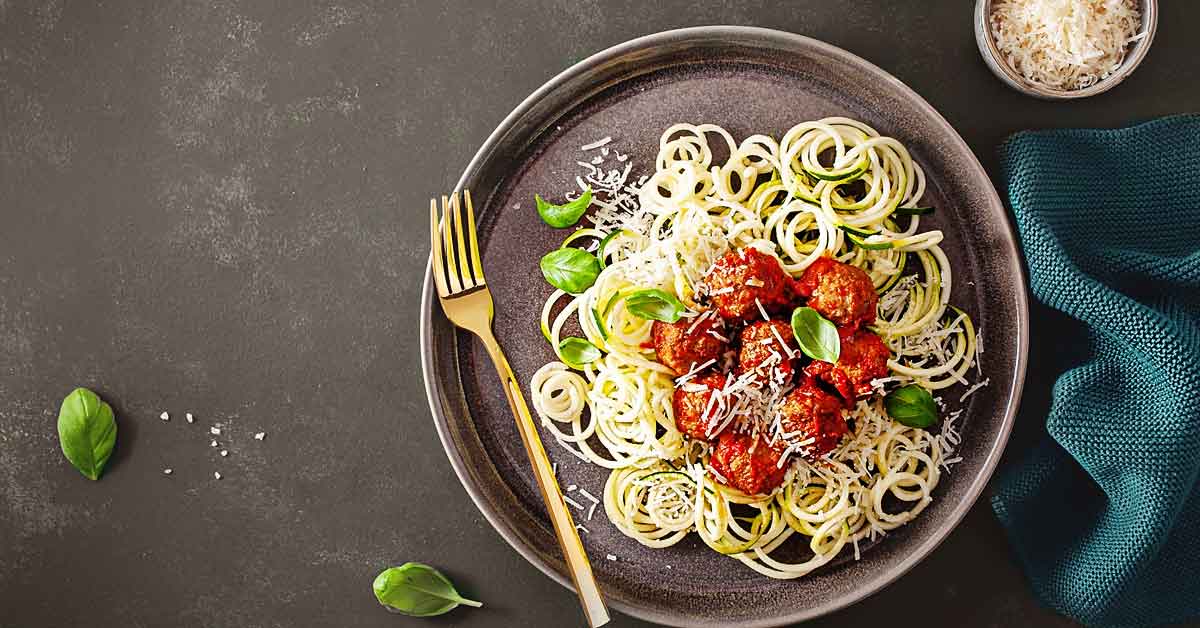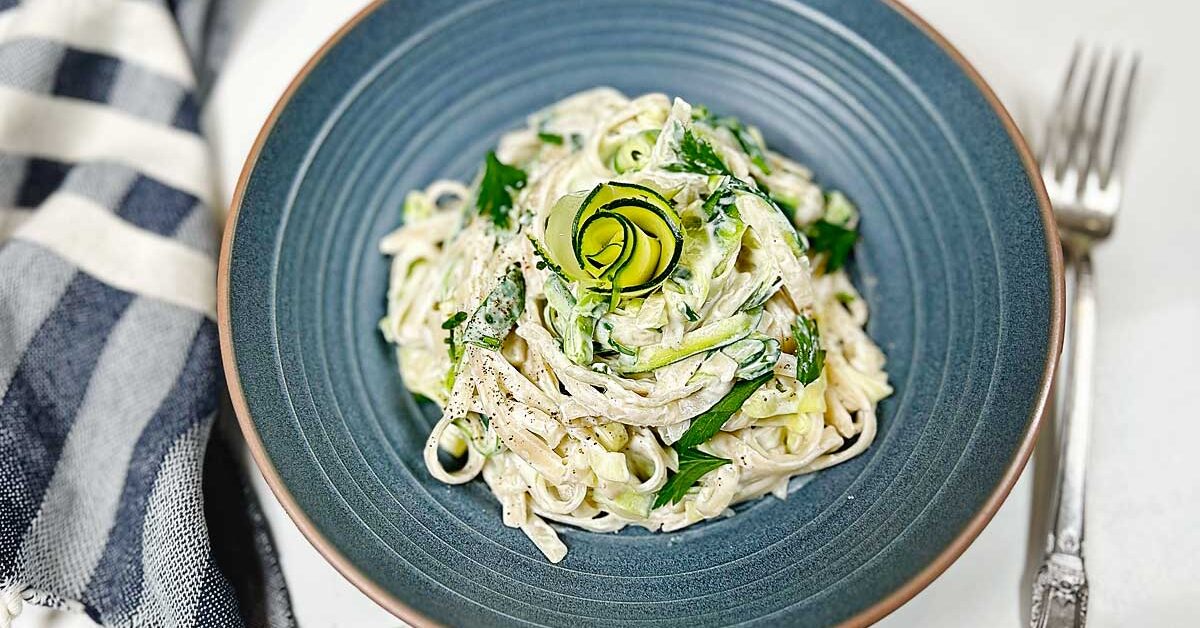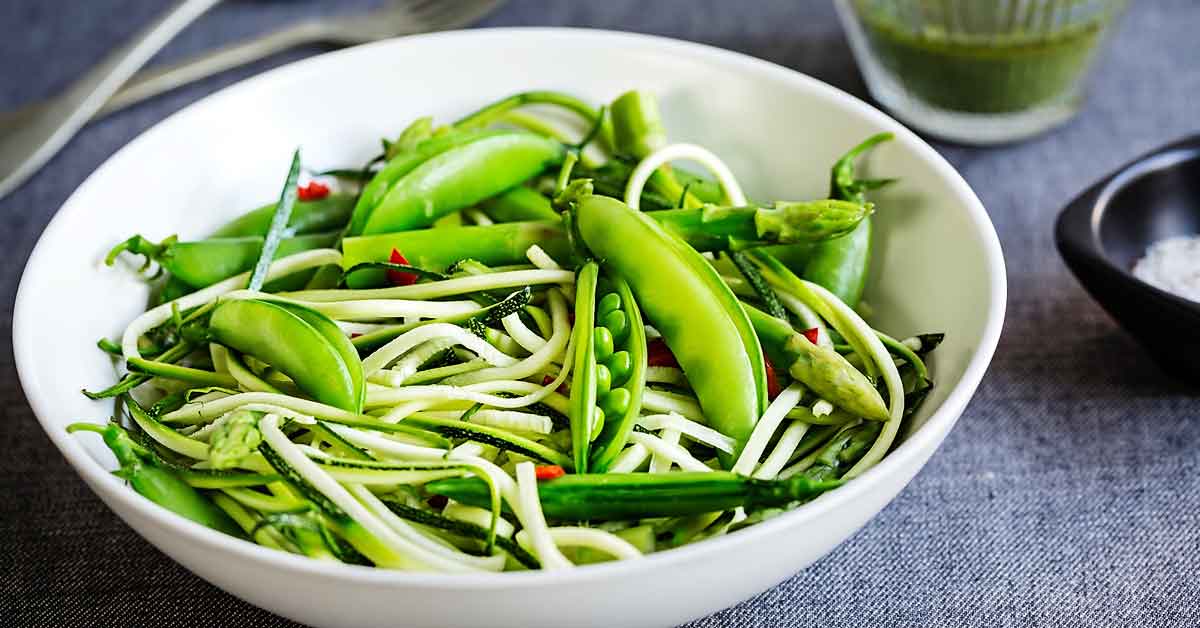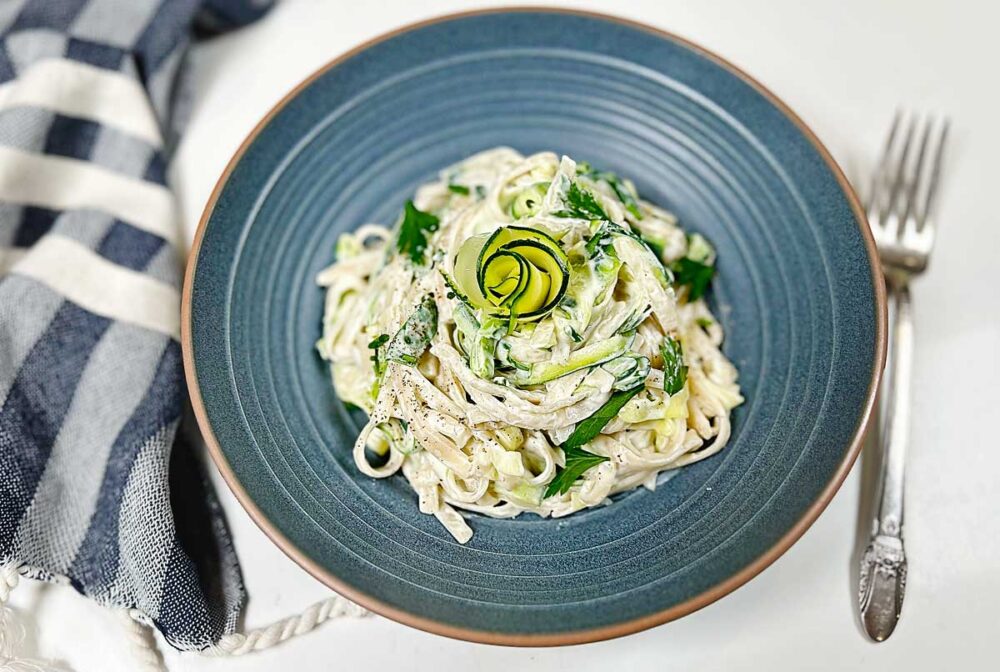 Leftover love: how to store & or freeze zucchini noodles
Storing leftover zucchini noodles properly can help maintain their texture and flavor. Here's how to store them:
Cool Down:

Allow the leftover zucchini noodles to cool down to room temperature if you've just cooked them. Do not leave them out at room temperature for an extended period, especially if it's hot, as they can spoil.

If Freezing Zucchini Noodles – Blanch, Drain & Dry:

Fill a blanching pot or large stockpot with water and bring it to a rolling boil.
Carefully lower the zucchini slices or cubes into the boiling water. Blanch small pieces for about 1-2 minutes and larger pieces for 2-3 minutes. This blanching process helps preserve the zucchini's color, flavor, and texture.
Use a slotted spoon or a strainer to quickly transfer the blanched zucchini to an ice water bath. This stops the cooking process and cools the zucchini rapidly.
Allow the blanched zucchini to sit in the ice water bath for the same amount of time they were blanched.
Drain the zucchini thoroughly in a colander or strainer.

Avoid Excess Moisture:

Zucchini noodles release excess moisture during storage. Ensure you use a kitchen cloth or paper towel to squeeze out as much moisture as possible. You can also, place a paper towel at the bottom of the container to absorb some of the moisture. 

Separate into Portions:

If you have a large batch of zucchini noodles, separate them into individual portions or the amount you plan to use in one meal. This will make it easier to reheat without having to thaw or reheat the entire batch.

Refrigerate or Freeze:

Place the portions of zucchini noodles in an airtight container or a resealable labelled plastic bag. Press out as much air as possible before sealing to minimize moisture buildup and prevent them from becoming soggy. Typically, they will stay fresh for up to 2-3 days in the fridge.
If you plan to store zucchini noodles for an extended period, consider freezing them. To freeze, remove excess moisture, pack them in airtight containers or freezer bags and label with the date. Frozen zucchini noodles can last for several months in the freezer.

To Reheat:

When you're ready to use the leftover zucchini noodles, you can reheat them by briefly sautéing them in a pan with a bit of oil or butter. Microwaving can cause them to be soggy. Avoid overcooking, as zucchini noodles can become mushy if heated for too long.
To blanch or Not to blanch?
Most people will suggest that you blanch your zucchini before freezing it. I have found that when using zucchini for baking, where the texture and appearance does not affect the final result, blanching is not totally necessary. In fact, when baking gluten free, I have found that it is. not necessary to blanch or remove the moisture before freezing!
However, it is essential to blanch the zucchini noodles before freezing them. Blanching helps preserve the quality and flavour while also slowing down the enzyme activity that can cause vegetables to deteriorate in the freezer.
Please check out my post "A Guide to Freezing Zucchini: Preserve Summer's Bounty" for a detailed recommedations on when and how to blanch your zucchini before freezing.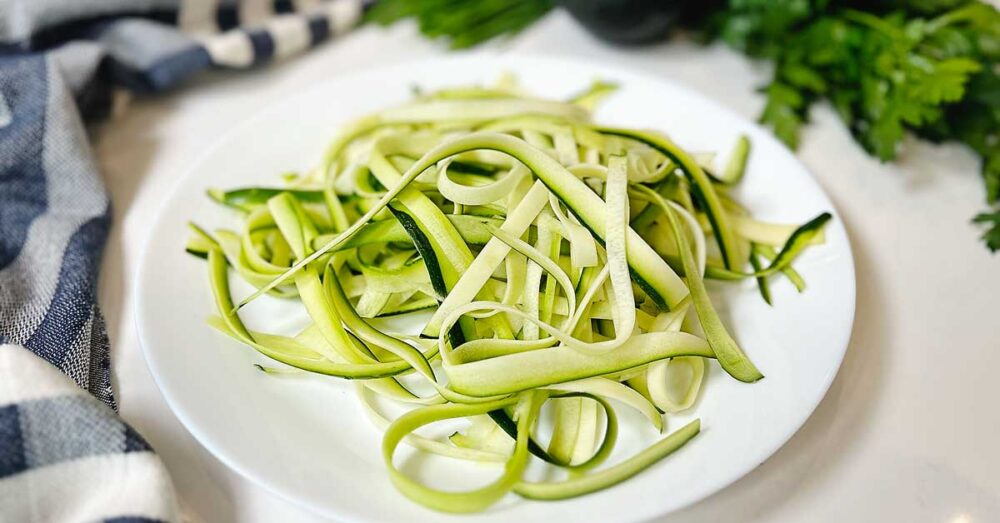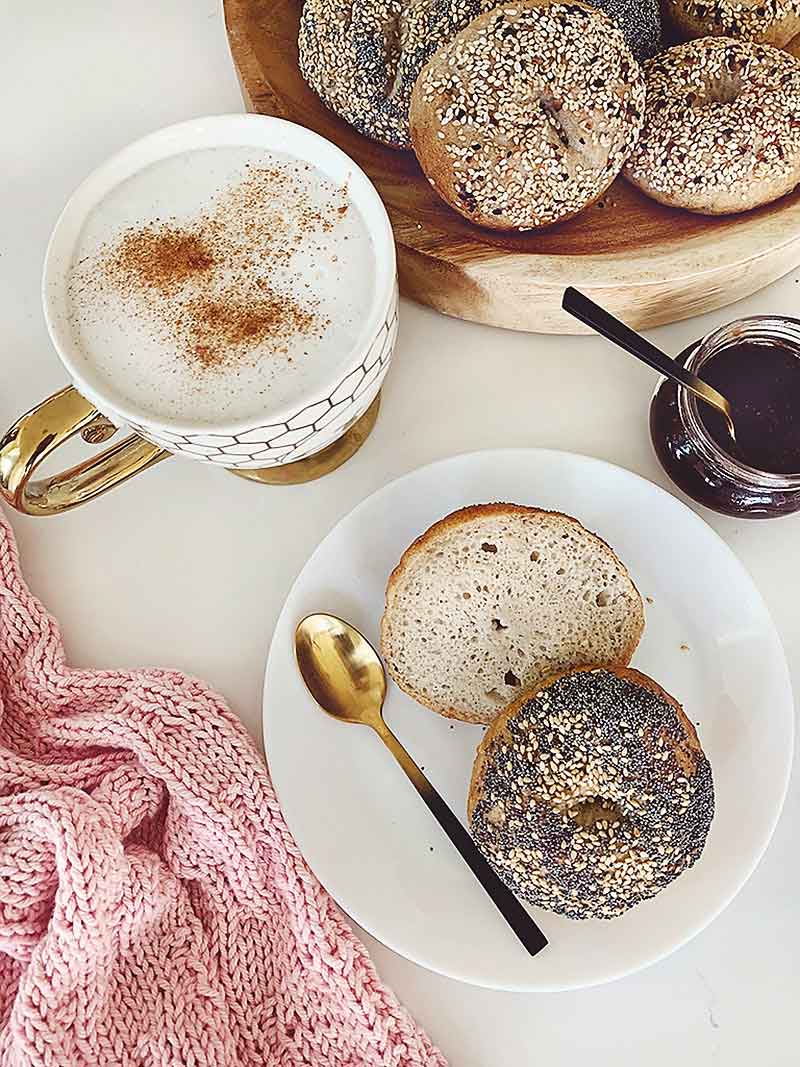 Want more delicious recipes & or how to guides at your fingertips?
Get updates on our latest posts & recipes from TurmericMeCrazy straight to your inbox!
By clicking subscribe you are consenting to receive emails from TurmericMeCrazy. I will only email you monthly with new recipes & updates. No spam I promise!
I hope you LOVE making zucchini noodles at home as much as we do! If so, please feel free to share the link to this page on your social media or PIN this picture to your Pinterest account.
I want to once again extend my deepest gratitude & thanks in advance for subscribing to my blog & YouTube Channel as well as following me & liking my posts on Pinterest, FaceBook & Instagram! All of your comments and ratings on my recipes & social media is truly one of the most supportive things you can do for me! So thank you ever so much.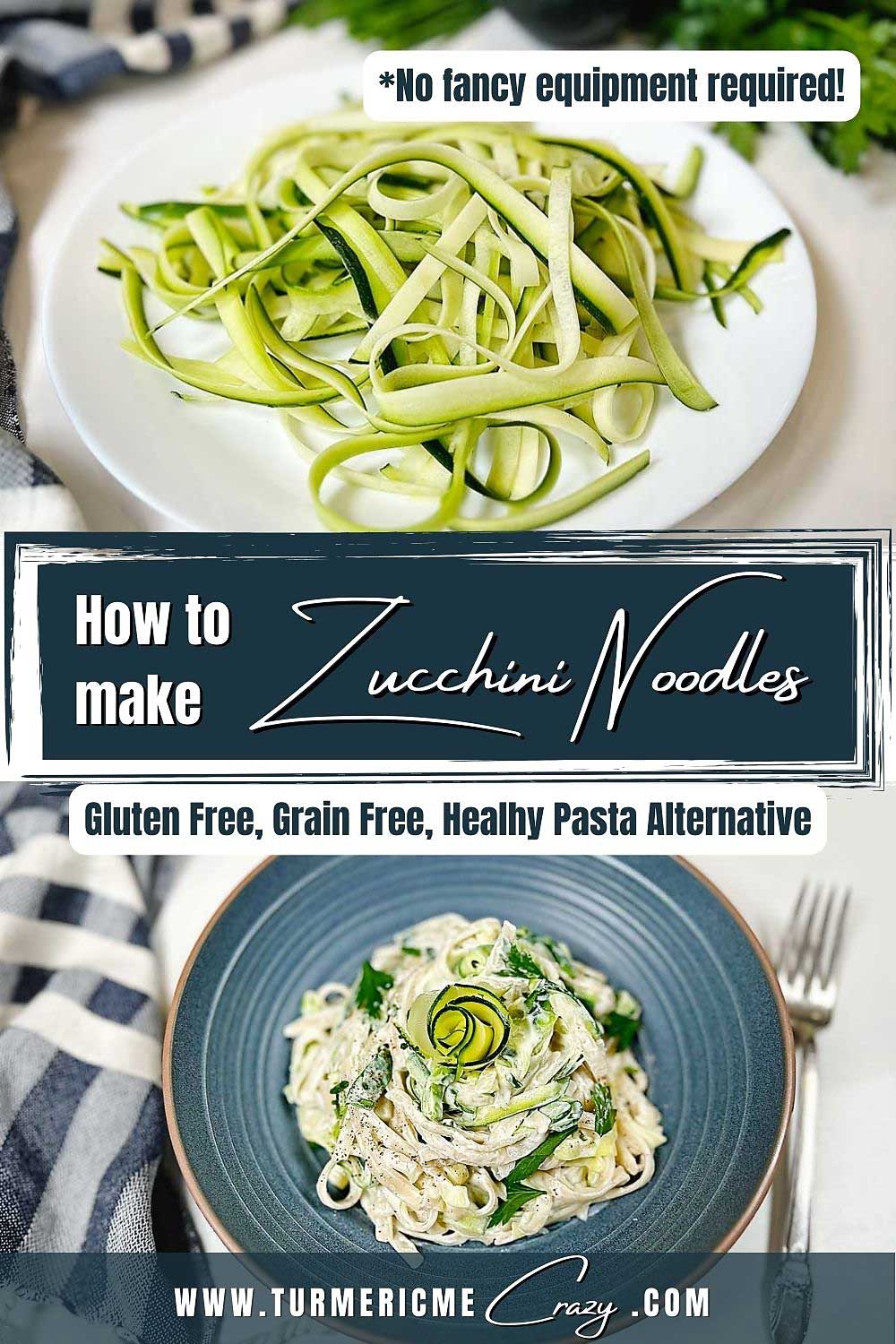 If you try making zucchini noodles and you found this guide helpful, I'd be ever so grateful if you'd please add a comment & a rating onto the recipe below or at the bottom of the post ♡. This will help Google recognize it and help my website grow.
Thank you once again for your readership & support.

easy garlic parmesan zucchini noodles:
With just a few simple steps, you can create zucchini noodles that are not only nutritious but also a delightful addition to your meals. Whether you're watching your carb intake, seeking gluten-free options, or just looking for a creative way to incorporate more veggies into your diet, zoodles are the answer! So, go ahead, grab some zucchinis, and start spiralizing your way to a healthier and tastier plate!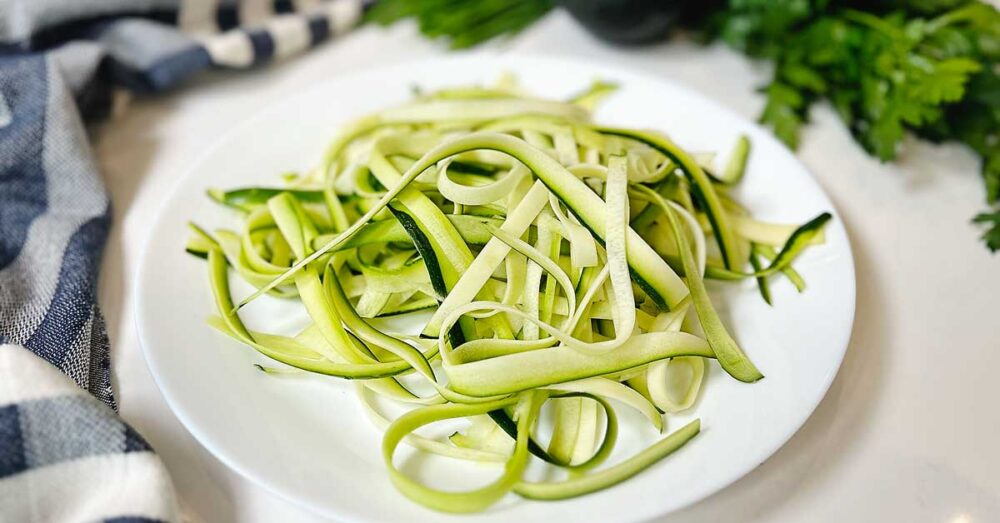 Equipment Needed
1 Mandoline with Julienne Blade or Julienne Peeler

or Box Grater (with large hole)

or Vegetable Peeler & Sharp Knife

1 Skillet or Pan

if cooking zoodles

1 Tongs or Spatula

if cooking zoodles
INGREDIENTS
If Cooking your Zoodles:
Drizzle

Olive Oil

(or your favourite cooking oil)

½

Clove

Garlic, crushed and finely chopped

1

pinch

Fine Sea Salt

I use Maldron

Freshly Ground Pepper

to taste

1

Tbsp

Freshly Grated Parmesan Cheese

Vegan Option: use 1 tsp Nutritional Yeast
INSTRUCTIONS
Prep Zucchini
Wash, dry & trim the ends off the zucchini.
Create Zoodles
Cut zucchini noodles with one of the 3 methods described above (using either a: mandoline with julienne blade, julienne peeler, grater or vegetable peeler).
Cook the Zoodles
Heat oil in a skillet or pan on medium heat. Once warm add garlic & salt. Sauté for 30sec to 1 min until slightly golden.

Drizzle Olive Oil,

1/2 Clove Garlic, crushed and finely chopped,

1 pinch Fine Sea Salt

Add zucchini noodles, turn heat up slightly & toss continuously for 1-2 minutes until warmed through. Do not overcook! Noodles should be just warmed, slightly crisp and be al dente. Remove from heat immediately.
Serve
Sprinkle on Parmesan (or nutritional yeast if vegan) and toss quickly. Sprinkle additional salt & pepper if desired. Serve immediately & enjoy!

Freshly Ground Pepper,

1 Tbsp Freshly Grated Parmesan Cheese
Notes
*Nutritional Calculation based on recipe using parmesan cheese. If using nutritional yeast, the nutrition facts will change.
Nutrition
Nutrition Facts
Garlic Parmesan Zucchini Noodles (Zoodles)
Amount per Serving
% Daily Value*
* Percent Daily Values are based on a 2000 calorie diet.
OTHER DELICIOUS RECIPES TO TRY...