Pumpkin Spice Syrup Recipe (quick & easy)
Everything pumpkin spice is nice with this Perfectly Healthy Pumpkin Spice Syrup! Make a Healthy Pumpkin Spice Latte or Pumpkin Chai Latte to rival Starbucks without all of the added processed sugars & additives! Add this syrup to your favourite dessert to make a pumpkin spice recipe of your own! It's vegan, dairy & refined sugar free! The best part is you can make this delicious syrup in 1 simple step!
Faster than you can drive to your nearest Starbucks you can have a steamy & delicious, healthier & cheaper version of a Pumpkin Spice Latte!
Many coffee shops use pre-made pumpkin spice syrup. Have you ever had a chance to look at the ingredients list on those syrups? I was shocked at all of the additives & sugar!
Did you know that you can easily make a Pumpkin Spice Mix at home with spices you probably already have in your pantry? Check out my easy recipe that adds a unique ingredient that will take your pumpkin spice to the next level!
ingredients in pumpkin spice syrup
SIMPLE, HEALTHY INGREDIENTS
I like to make a big ol' batch of pumpkin spice syrup as I just LOVE it! However, if you'd like, please feel free to half or even quarter this recipe to your liking.
PUMPKIN PUREE
PUMPKIN SPICE MIX – see my recipe HERE
MAPLE SYRUP
PURE VANILLA EXTRACT
HOT WATER
Make sure to use Pure Pumpkin Puree either from the can or that you've blended yourself (from a roasted pumpkin of course). Don't use pumpkin pie filling as it already has spices added and it often contains wheat and additives!
Pure maple syrup is a true Canadian delicacy! 
Did you know that Pure Canadian Maple Syrup is naturally vegan as they do not use any animal by-products at all in production! How do I know this? My husbands Uncle has a Maple Tree Farm in which they collect the maple sap, and produce Maple Syrup in their amazing "Sugar Camp"! I have witnessed 1st hand the hard work and dedication that goes into boiling the maple sap, canning it and producing the most incredible delicious natural sweetener!
I like to use pure vanilla extract that is free from additives. Costco has a great brand.
I use hot water as it is lovely to blend all of the ingredients together. Since I usually use some syrup immediately in a pumpkin spice latte it's already warm!
LET'S MAKE pumpkin spice syrup!
STEP 1: Using a blender or a hand held blender, blend together all ingredients. THAT'S IT! Your Pumpkin Spice Syrup is ready to use and enjoy! (If you don't have a blender, no worries. Simply whisk the spices & hot water together first, then add the remaining ingredients & whisk well).
STEP 2: Add more hot water as desired until reaches desired consistency (do you want to be able to pour your syrup or have it a little thicker & mix it in?). Then store in a glass jar with a tight fitting lid.
STEP 3: Add to your favourite dishes like Pumpkin Spice Latte!
STEP 4: Store in the refrigerator in an airtight container for up to a week or in the freezer for up to 1 year.
NOTE: You can heat the ingredients in a sauce pan, then strain & cool for a more "Starbucks style" pumpkin spice sauce. I like to keep the fibre because its healthy!
USES FOR pumpkin spice syrup
Make PUMPKIN SPICE LATTES.
Spice up your plain yogurt with a tablespoon of Pumpkin Spice Syrup.
KIDS love a Pumpkin Spice Steamer! Add a few tablespoons to steamed milk for a caffeine free Pumpkin Spice Latte!
Create a fall version of Chai latte! Add a few tablespoons of Pumpkin Spice Syrup and voila!
Add to your favourite pancake recipe for Pumpkin Spice Pancakes.
Drizzle over hot french toast or pancakes
Drizzle over hot baked Brie for a lovely fall appetizer.
CREATE your own!
Please share your favourite way to use pumpkin spice syrup!
I'd love to hear your ideas on the best way to use this incredibly delicious syrup!
How to store pumpkin spice syrup
Since this Pumpkin Spice Syrup contains either fresh or canned pumpkin puree with no additives, it will perish like all fresh foods, but will stay fresh for a week.
You can also freeze any excess syrup (for up to a year) and thaw on the counter when the cravings hit!
I store my syrup in the refrigerator. It does thicken up in the cold, so you may want to store it in a jar rather than a bottle.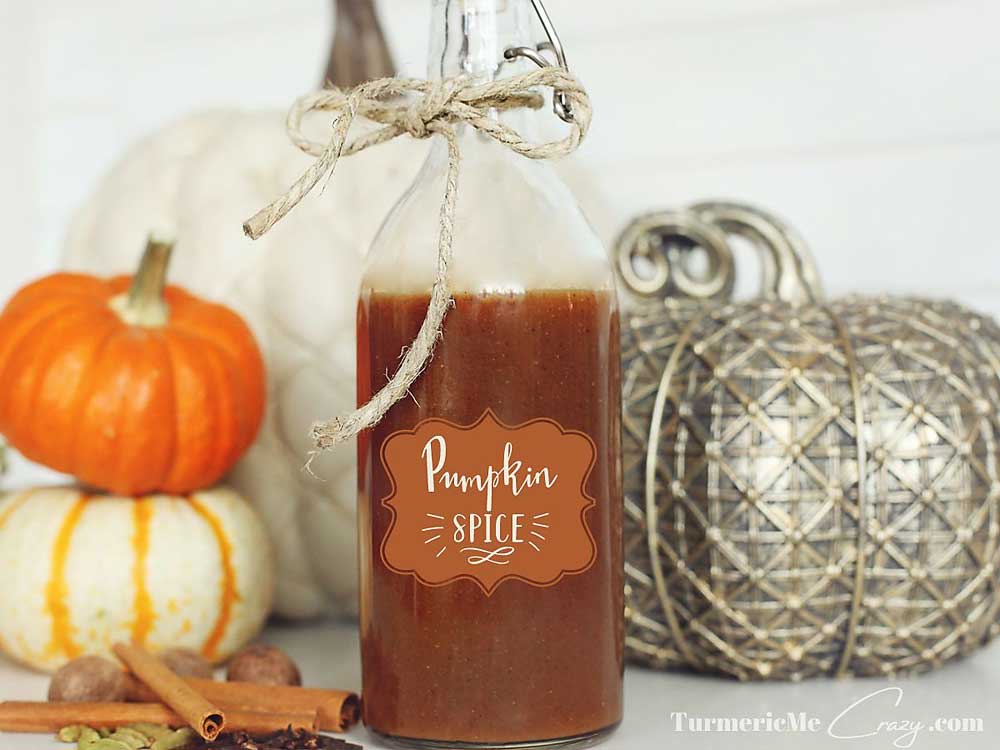 PIN THIS pumpkin spice syrup RECIPE!
Please follow me on Pinterest, Instagram, Facebook & YouTube.
Already on Pinterest?
Feel free to PIN the picture below for future reference & so others can find it too. Thank you kindly!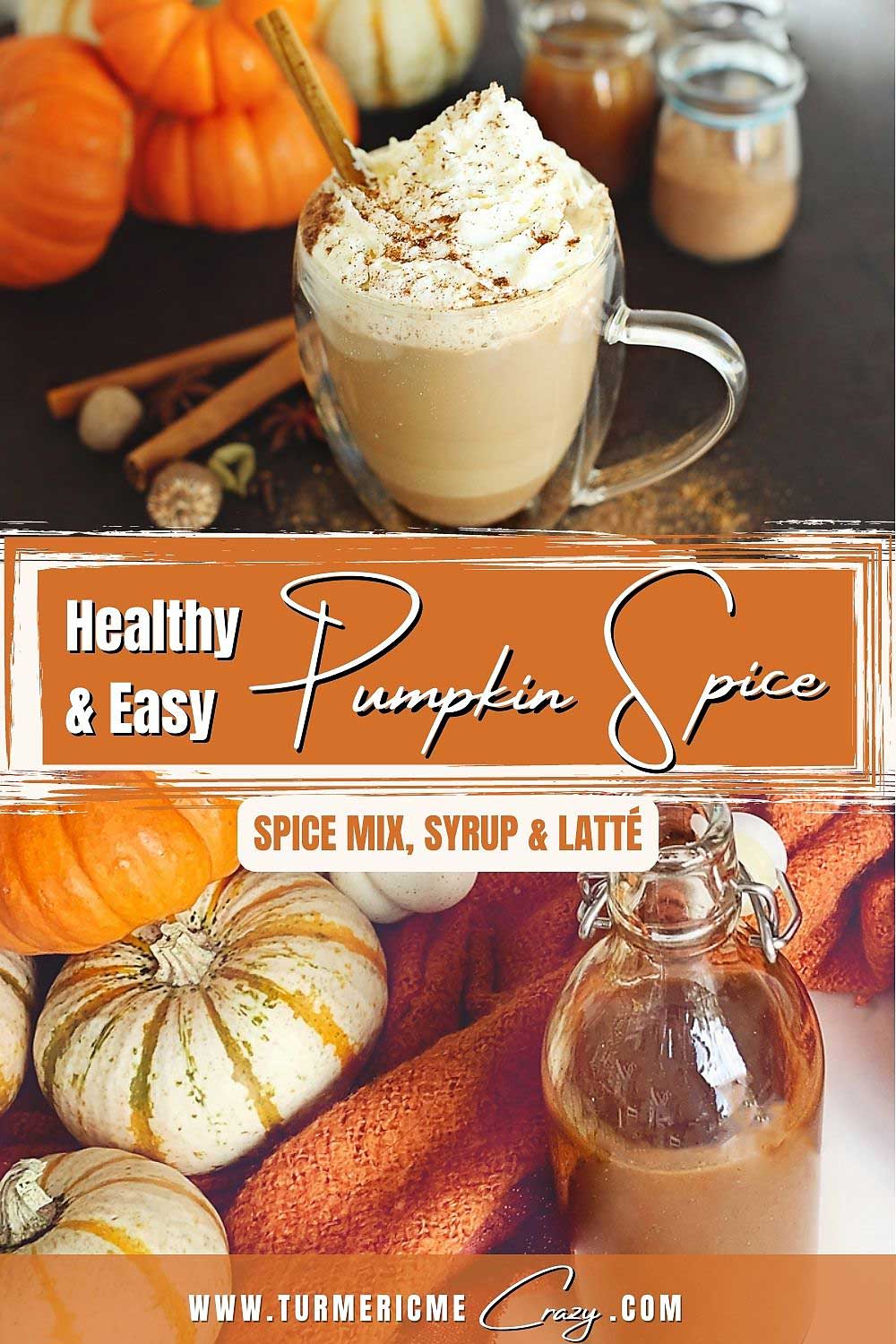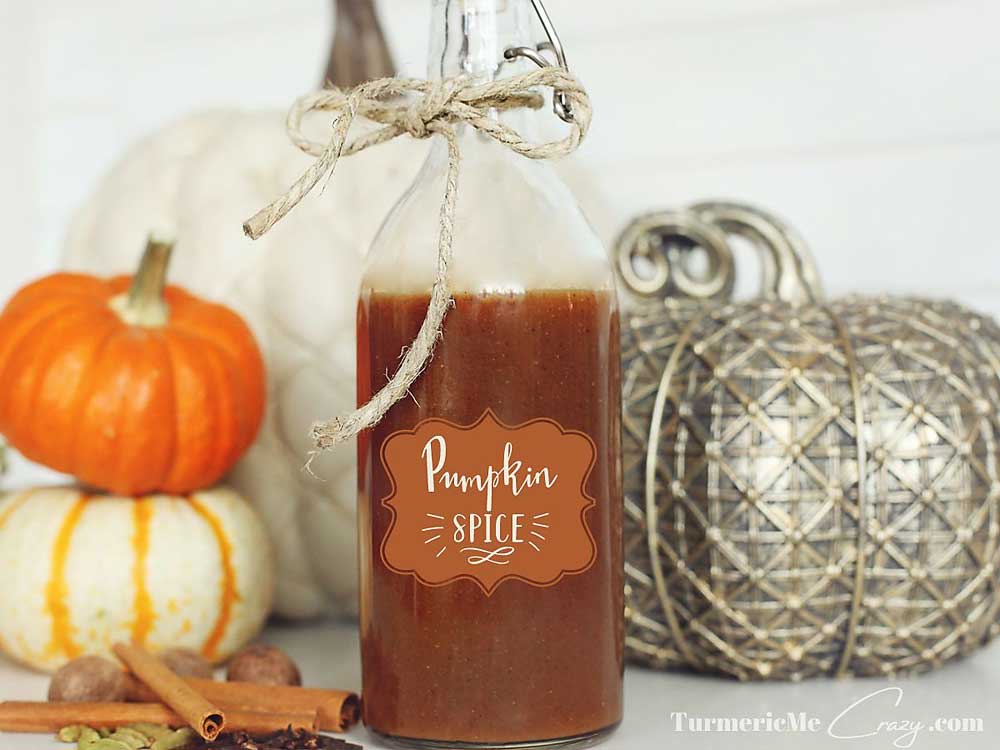 INSTRUCTIONS
Add all of the ingredients into your blender & blend well. (Or whisk together spices & hot water, then add all other ingredients if no blender. Blend well.)

Add more hot water until desired level of consistency is achieved. I like to store mine in a wide lid jar and use a tablespoon to add it to my lattes. Want it pourable = add up to 1/3 cup water.

Store in an airtight jar for up to 1 week.

*See notes if a more syrup like texture is desired.
Notes
You can heat the ingredients in a sauce pan, then strain & cool for a more "Starbucks style" pumpkin spice sauce. I like to keep the fibre because its healthy and the texture is quite smooth!
This syrup will thicken up a bit when it is stored in the fridge. So, if you are storing it in a bottle, you may need to add a little more water so it is still pourable.
Nutrition
Nutrition Facts
Pumpkin Spice Syrup Recipe
Amount per Serving
% Daily Value*
* Percent Daily Values are based on a 2000 calorie diet.
I sure do hope that you'll try this homemade, healthier, cheaper & in my opinion more delicious version of Pumpkin Spice Syrup! Aside from being incredibly delicious, it is so quick and easy to make. If you try it, I'd be ever so grateful if you'd put a positive rating & comment onto the recipe above or at the bottom of the post.
Happy Fall everyone!

PLEASE SHARE THIS PUMPKIN SPICE SYRUP RECIPE! ♡