Delicious Easy Peasy Coconut Chicken Spinach Curry Recipe also known as Bhaji Jo Saag or Bhaji Nu Saag. You'll LOVE this Indian curry recipe!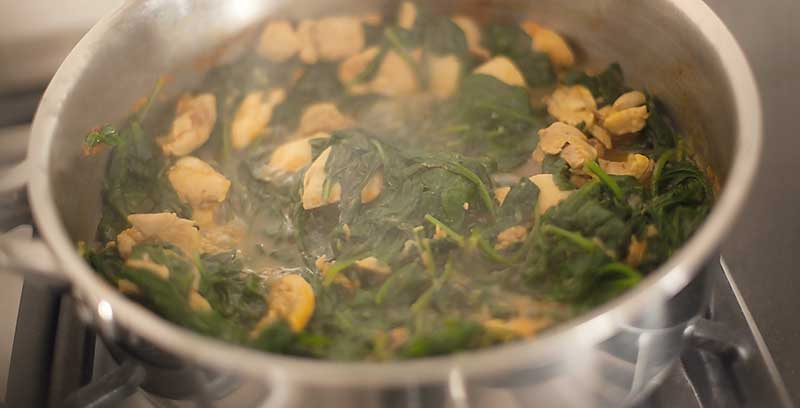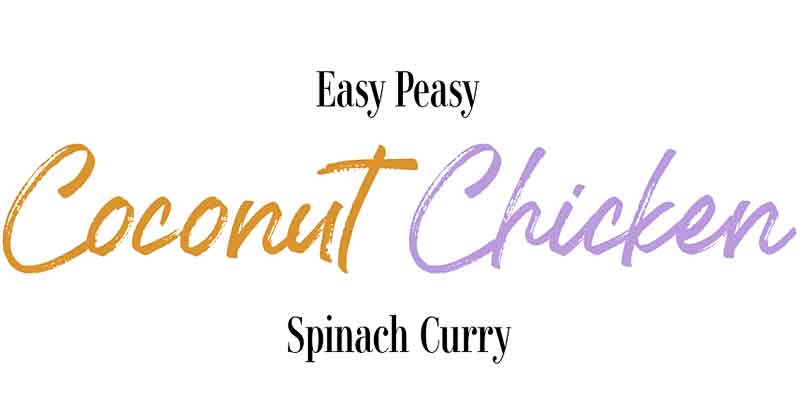 INGREDIENTS
I love to make this Easy Peasy Coconut Chicken Spinach Curry dish for two reasons.
First of all, it is incredibly healthy. Believe it or not, spinach is my absolute FAV leafy green veggie! Spinach is dense in so many vitamins and minerals and loaded with flavonoids which act as antioxidants and protect your body from damage caused by free radicals. Of course there are the health benefits from the lycopene found in cooked tomatoes. There are studies that show that people who have diets rich in lycopene have a lower chance of certain types of cancers.
This recipe also calls for turmeric, which contains curcumin. Curcumin is a strong antioxidant and has powerful anti-inflammatory effects on the body. I really can't say enough about how healthy this curry is.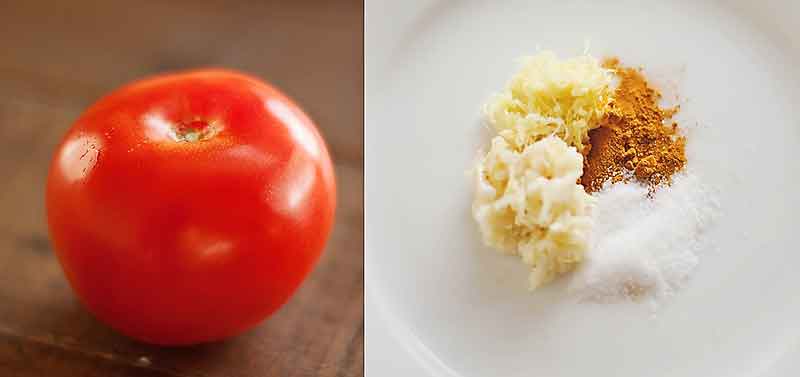 Raw Spinach (I use PC Organics brand), Tomato, Jalapeno Pepper, Fresh Garlic, Fresh Ginger, Fresh Lemon Juice
Be sure to check the ingredients. Not all coconut milks are additive free!
TIPS FOR MAKING THIS COCONUT CURRY
The second reason why I love to make this dish for my family is that it is so EASY to make. If you are new to making curry and want to try something really simple, this spinach curry is your best bet.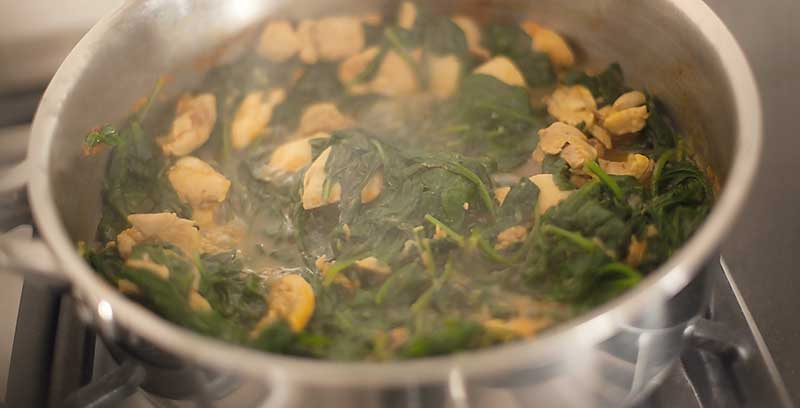 CRUCIAL TIP #1
The recipe calls for crushed ginger and garlic. I would highly recommend that you do not use the bottled pre-crushed variety.  It just doesn't taste right and it's full of additives.  I use a super fine grater (actually called a zester) and grate the ginger and garlic.  It doesn't take much longer and tastes way better! 
CRUCIAL TIP #2
Another important thing to remember is to not add the coconut milk until the last two minutes of cooking.  If coconut milk is cooked too much it will curdle, which will make your curry look pretty gross! So remember, add the coconut milk last. You do want it to cook for just a couple of minutes however, since it will break down into oil and add flavour to the dish.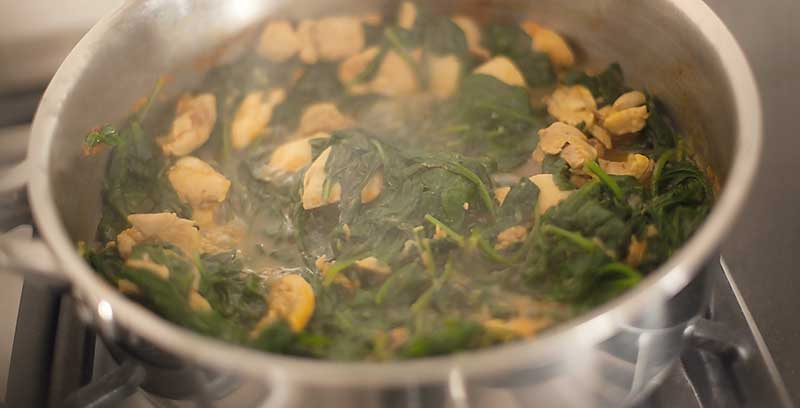 ENJOY!
I sincerely hope you'll try and LOVE this Easy Peasy Coconut Chicken Spinach Curry! If you try it I'd be ever so grateful if you'd review it and comment so I know how much you liked it! Please check us out on Instagram @Turmeric_Me_Crazy.
Thank you kindly for visiting!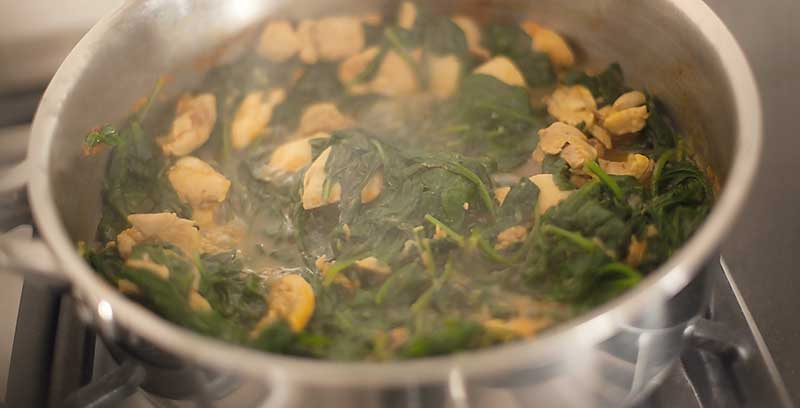 INGREDIENTS
3

Chicken Breasts

(Or 5 thighs)

11

ounces

Spinach

(I use the large container of PC Organics Spinach)

1

tbsp

Coconut Oil

1

Tomato

1

Jalapeno Pepper

Optional

1

tbsp

Garlic

Crushed

1

tsp

Ginger

Crushed

1

tsp

Salt

1

tsp

Turmeric

2

tbsp

Fresh Lemon Juice

2

tbsp

Coconut Milk
INSTRUCTIONS
Blend tomato with optional jalapeno pepper.

Dice chicken into 1 inch cubes.

Heat coconut oil in a large pot on medium heat until its fully melted. Add chicken and sauté with the garlic, ginger salt and turmeric for a couple of minutes.

Add blended tomato/jalapeno mixture to pot and cook until chicken is no longer pink, stirring occasionally.

Add spinach to the pot. It may not all fit at once, so get as much as you can in there and cover with lid. Wait a few minutes for the spinach to shrink, stir and add the rest. Cook until spinach is a dark green colour.

Add the fresh lemon juice and cocount milk and cook for another 2 minutes.

Serve with rotli, on top of rice, or alone as a soup.
Notes
Nutrition Facts
Coconut Chicken Spinach Curry
Amount Per Serving
Calories 234
Calories from Fat 117
% Daily Value*
Total Fat 13g 20%
Cholesterol 51mg 17%
Sodium 578mg 24%
Potassium 575mg 16%
Total Carbohydrates 10g 3%
Protein 22g 44%
* Percent Daily Values are based on a 2000 calorie diet.
Nutrition
Nutrition Facts
Easy Peasy Coconut Chicken Spinach Curry
Amount per Serving
% Daily Value*
* Percent Daily Values are based on a 2000 calorie diet.