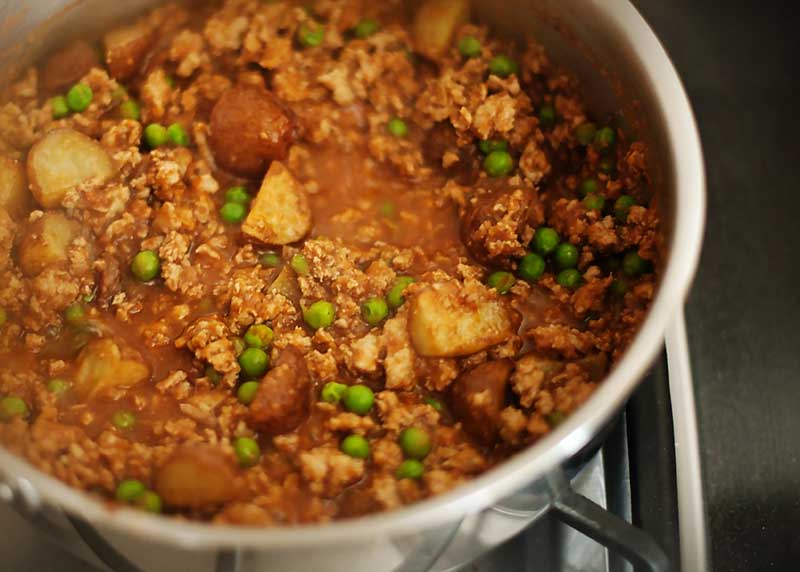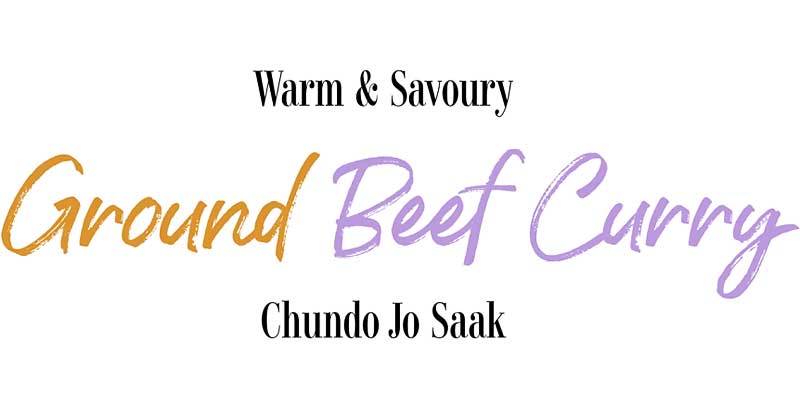 Chundo Jo Saak is a ground beef curry made with potatoes and peas. My friend Alnaar created this recipe for me. Her husband Brett calls it Indian shepherds pie. Ground beef can be quite high in calories, so I sometimes substitute the beef with ground chicken or turkey to save some calories. The end result still tastes awesome and I would definitely recommend this option if you're trying to decrease your beef intake. I also show eating it with roti. I promise to post a gluten free roti recipe soon so we can all enjoy this combination! When it's ready I'll post it here.
Ingredients in Warm & Savoury Ground Beef Curry (Chundo Jo Saak)
This traditional East African / Indian Chundo Jo Saak dish is made incredibly warm and savoury by the gorgeous array of healthful and flavourful spices. You can read about some of the health benefits of one of the star spices of this dish, turmeric, here.
Cloves, Cumin, Coriander Seed, Turmeric, Cayenne Pepper, Salt, Garam Masala (is a traditional aromatic spice spend used in Indian cooking. If you have the time, I'd highly recommend making your own! Swasthi's Recipes has an incredible recipe to make your own Garam Masala and great explanation of the health benefits of the spices. Check it out here).
Red Baby Potatoes (I like red but any colour will work), Fresh Garlic, Fresh Ginger, Red Onion, Fresh Lemon Juice, Frozen Green Peas (you can use fresh if you prefer).
Extra Lean Ground Beef (I like to use grass fed as I find it is SO much more flavourful that I use significantly less. Therefore, the price is much more equivalent to non grass fed). You can also substitute for Ground Chicken or Ground Turkey (without compromising flavour) to make this a more heart healthy dish.
How to Make Warm & Savoury Ground Beef Curry (Chundo Jo Saak)
I really don't like it when the potatoes get mushy and break up in the curry. An extra step that I do to prevent this is coating the potatoes in olive oil and baking them in the oven before adding them. The potatoes develop a skin to prevent them from breaking up and taste SO much better this way.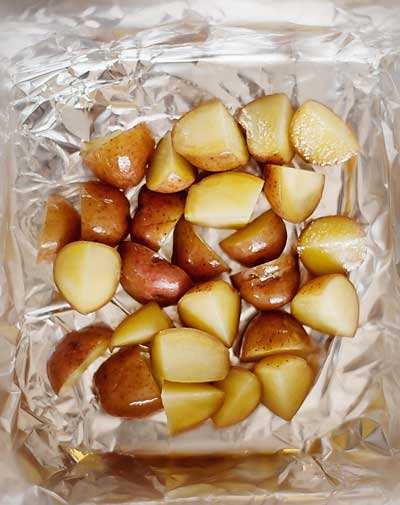 Peas are the other main ingredient in this dish. They are a great combination with the meat and potatoes. The peas make the meal healthier as well, I love that! I use frozen peas to keep it simple but of course you can use fresh if you prefer.
The photo below is what your curry should like after everything has been added and is in the final stages of cooking. You want to make sure that you cook it long enough that all of the flavours blend together.
Chundo Jo Saak goes really well either rice or roti (gluten free recipe coming soon) and some yummy Gajar Jo Athano (Carrot Pickle) on the side.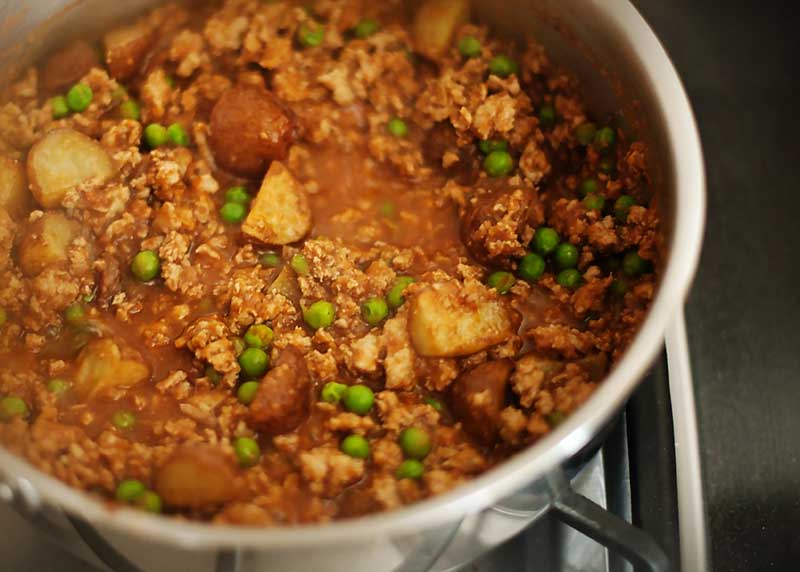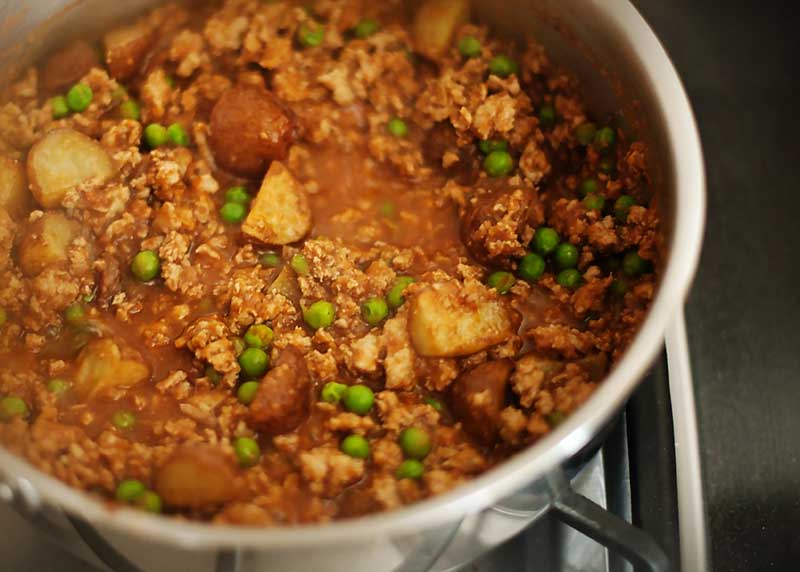 ENJOY!
I hope you enjoy this traditional East African / Indian Chundo Jo Saak recipe! I am having such a ball travelling to East Africa without ever leaving my kitchen, and learning all sorts of incredible traditional recipes like this one! Please join me us as we continue to travel the world, creating delicious international free from recipes in our World Kitchen! Subscribe to see where we travel to next! If you make this dish, please rate it and comment below to let me know you loved it!
Thank you from the bottom of my heart for your readership!
Hugs,

Chundo Jo Saak – Ground Beef Curry
1 tbsp olive oil
6-8 Red Baby Potatoes
2.5 cups Extra Lean Ground Beef or Chicken or Turkey
1 tsp Coconut Oil
1 tbsp Crushed Garlic
1 tsp Crushed Ginger
1 tsp Salt
2 Cloves
1/2 Medium Red Onion (Blended.)
1/2 cup Crushed Tomato (I used Muir Glen Organics Crushed Tomato)
1.5 cup Water
1.5 tbsp Ground Cumin
1.5 tbsp Gorund Coriander Seed
1/2 tsp Turmeric
1/2 tsp Garam Masala
1 tsp Crushed Cayenne Pepper
1 cup Frozen Green Peas
2 tbsp Fresh Lemon Juice
Slice potatoes into 4 sections each and toss in olive oil. Place on an aluminum foil covered pan.
Cover the potatoes with foil and bake in the oven at 400 degrees F for 10 minutes. Remove the foil and bake for another 10 minutes. Flip the potatoes and bake for 10 more minutes. Set potatoes aside.
In a large pot, cook the ground beef (chicken) until it is browned throughout. Remove from the pot, rinse with water and strain to remove excess fat. Set aside.
On medium heat, melt a tsp of coconut oil in a large pot. Once the oil has melted add cloves, salt, garlic and ginger. Stir well and sauté for a minute.
Add ground beef (chicken or turkey) and blended onion and stir. Cook for 2 minutes.
Add crushed tomato, stir and simmer for 5 minutes.
Add peas, water, garam masala, turmeric, cayenne pepper, ground cumin and ground coriander. Stir well and cook for 15-20 minutes partially covered.
Add potatoes and lemon juice and cook for 5 more minutes.

Serve with Rice or Roti (Gluten Free Recipe coming soon). Goes well with Gajar Jo Athano.
Nutrition Facts
Chundo Jo Saak – Ground Beef Curry
Amount Per Serving
Calories 211
Calories from Fat 108
% Daily Value*
Total Fat 12g 18%
Cholesterol 53mg 18%
Sodium 499mg 21%
Potassium 290mg 8%
Total Carbohydrates 9g 3%
Protein 17g 34%
* Percent Daily Values are based on a 2000 calorie diet.