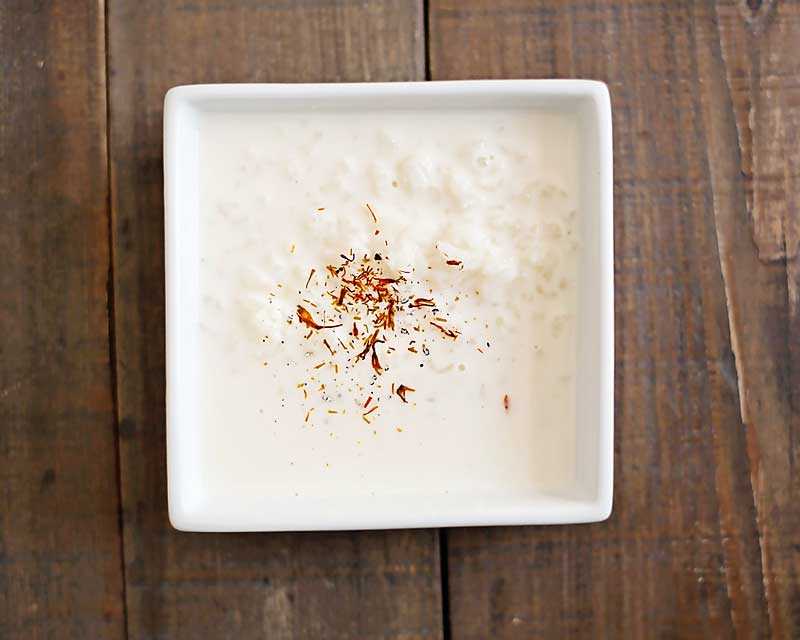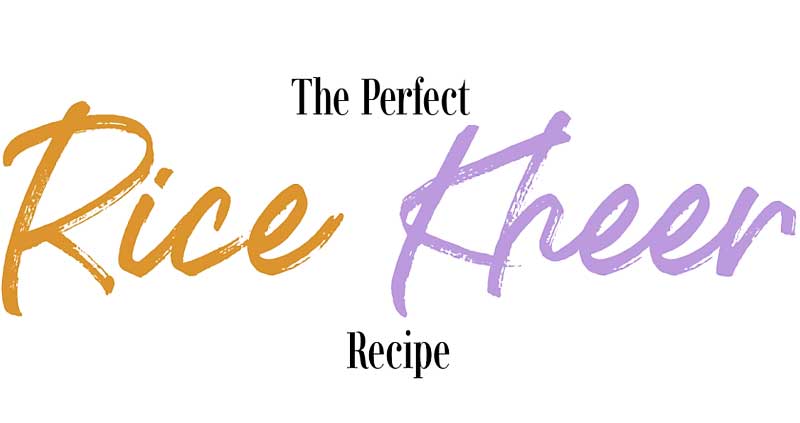 Ever since my friend Alnaar taught me how to make this dish it has become one of my favourite desserts! Rice Kheer is a rice pudding made with milk, cardamom, and saffron. Its so simple, yet incredibly tasty. You can serve it warm or cold too so its pretty versatile.
Rice Kheer is not difficult to make. However, it does involve a lot of downtime while the rice is cooking and absorbing all of the water. So make sure you have a good book to read (or in my case, a messy kitchen to clean) to keep yourself entertained.
This Kheer recipe has both condensed milk and sweetened condensed milk, both of which contain additives to increase shelf life. I am working on a completely natural version of this recipe and will post it here when it's ready!
The photo below is how the pudding will look once you add the milk after the rice has absorbed the water.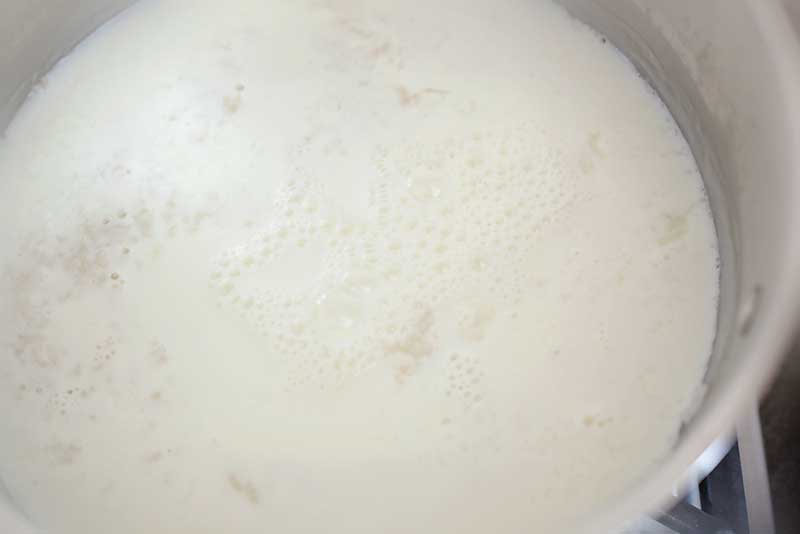 The key to making this pudding aromatic and delicious is two things: cardamom and saffron. Alnaar always reminds me keep my saffron in the fridge to make sure that it stays fresh. You can buy ground cardamom, and I do use the store bought variety for some recipes, however, for rice pudding I think its important to use freshly ground cardamom as the flavour punch is just that much better!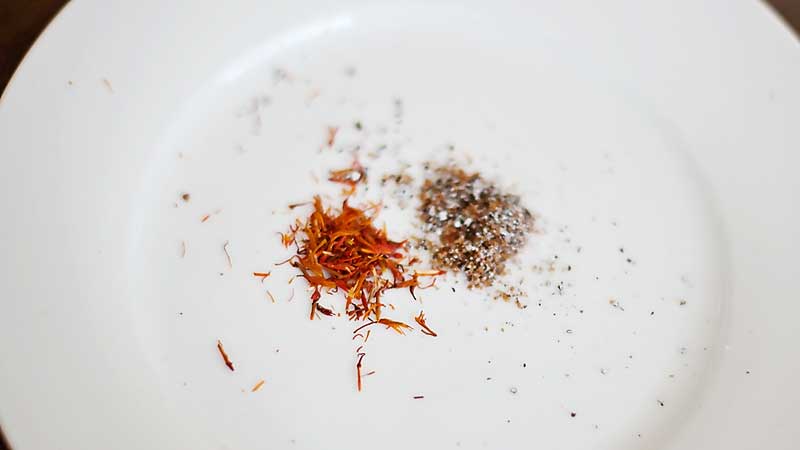 To grind the cardamom, I open up the shell of the cardamom pod and remove the inner seeds. Then I just throw them in the magic bullet (or other blender) and run it for a minute. The smell of freshly ground cardamom is so heavenly it is worth the extra effort.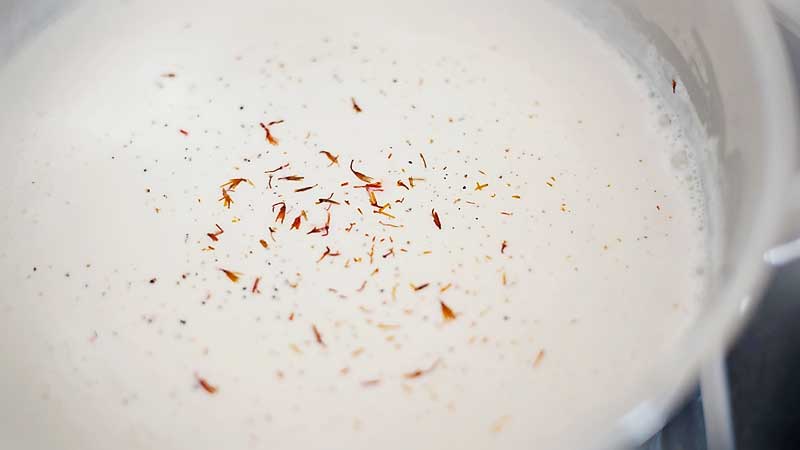 I love how colourful the kheer looks after the saffron and cardamom have been sprinkled on top! Believe me, it tastes as yummy as it looks. Some people also like to sprinkle some nuts on top. Usually pistachios or almonds. If you have a sensitivity or allergy to nuts just skip that part as I did here. However, my favourite topping is pistachios mmmm!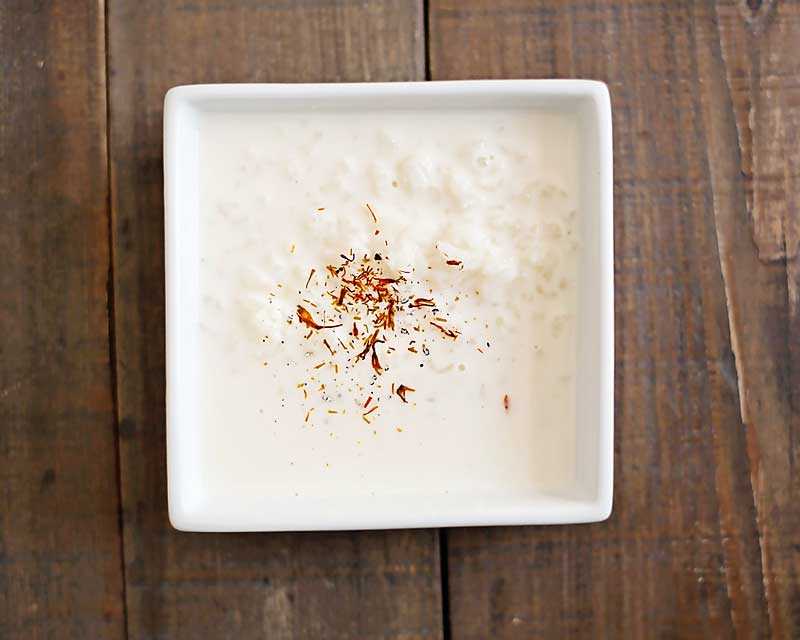 ENJOY!
I hope you enjoyed this recipe! I'd love to hear from you in the discussion section below about your experience making this yummy Indian rice pudding. Please rate & comment below to help grow my readership ♥︎
Thanks as always for your readership!
Hugs,
Thank you to my dear friend, Alnaar, for sharing her expertise in her East African-Indian Canadian Kitchen!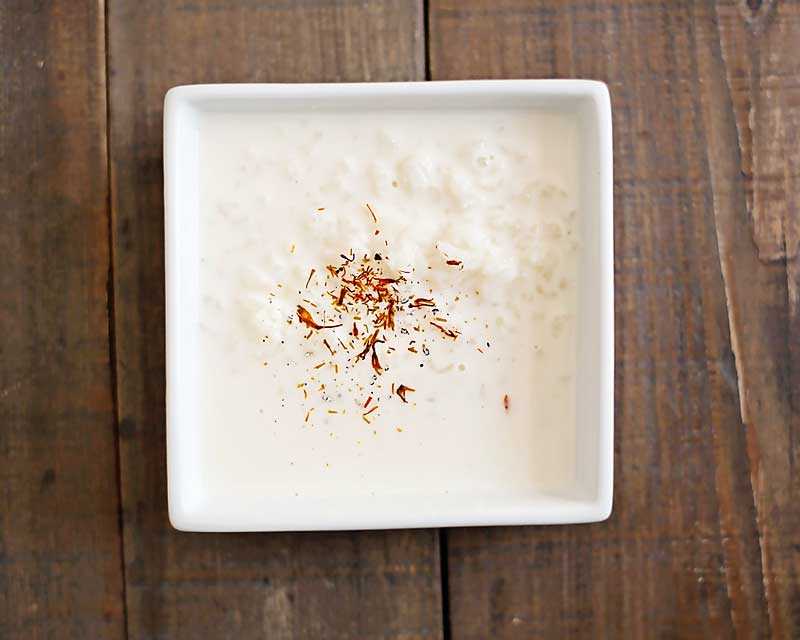 INGREDIENTS
1

cup

Rice

4

cups

Water

3

cups

Milk

1%

1

cup

Evaporated Milk

⅔

cup

Sweetened Condensed Milk

1

tsp

Saffron

3

Cardamom Pods

(or 1/2) tsp ground cardamom

2

tbsp

Chopped nuts

*pistachios or almonds (optional)
INSTRUCTIONS
Rince the rice a few times to get rid of the excess starch.

Add rice to a large pot with 4 cups of water. Bring the water to a boil over medium heat, stirring occasionally. Once the water starts to boil, reduce heat to low and cover the pot. Let the rice cook on low heat, covered until all of the water is absorbed.

Remove cardamom seeds from the pods and grind. Set aside

Once the water is absorbed, the rice will be very mushy. Stir the rice and then add the milk. Increase heat back to medium and bring back to a boil, stirring frequently.

As soon as the mixture is boiling, add the evaporated milk and sweetened condensed milk and stir. Allow the mixture to heat up again until it is almost boiling.

Add cardamom and saffron to the pot. Stir and let cook on medium low for 5 more minutes.

Serve warm or cold with nuts sprinkled on top (optional).
Notes
*The nutritional information below is for the kheer without any nuts added.
Nutrition Facts
The Perfect Rice Kheer Recipe
Amount Per Serving
Calories 255
Calories from Fat 54
% Daily Value*
Total Fat 6g 9%
Cholesterol 22mg 7%
Sodium 369mg 15%
Potassium 355mg 10%
Total Carbohydrates 42g 14%
Protein 9g 18%
* Percent Daily Values are based on a 2000 calorie diet.
Nutrition
Nutrition Facts
The Perfect Rice Kheer Recipe
Amount per Serving
% Daily Value*
* Percent Daily Values are based on a 2000 calorie diet.