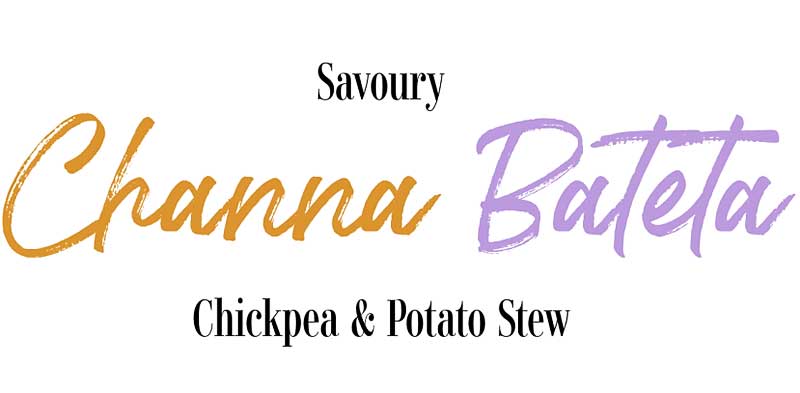 Channa Bateta is an East African / Indian vegetarian stew made with potatoes and chickpeas. My friend Alnaar makes it all the time and helped develop this Savoury Chickpea and Potato Stew (Channa Bateta)recipe for me. It tastes amazing and because of the chickpeas, its also pretty healthy! If you have read my other posts, you know I love to talk about nutrition, so here we go!
What makes Chickpeas (Garbanzo beans) so great?
Chickpeas, aka garbanzo beans, are very high in protein and therefore are an excellent vegetarian choice! They have a nutty taste and grainy texture. Chickpeas are also very high in fibre. Just two cups of chickpeas will provide you with an entire days worth of fibre. That said, you may notice that you are a bit more, ummm, gassy. So pace yourself, or your friends and family will suffer the consequences! My kids, and to be honest my husband, end up singing the song "beans, beans the magical fruit. The more you eat, the more you toot. The more you toot, the better you feel. So eat your beans with every meal!"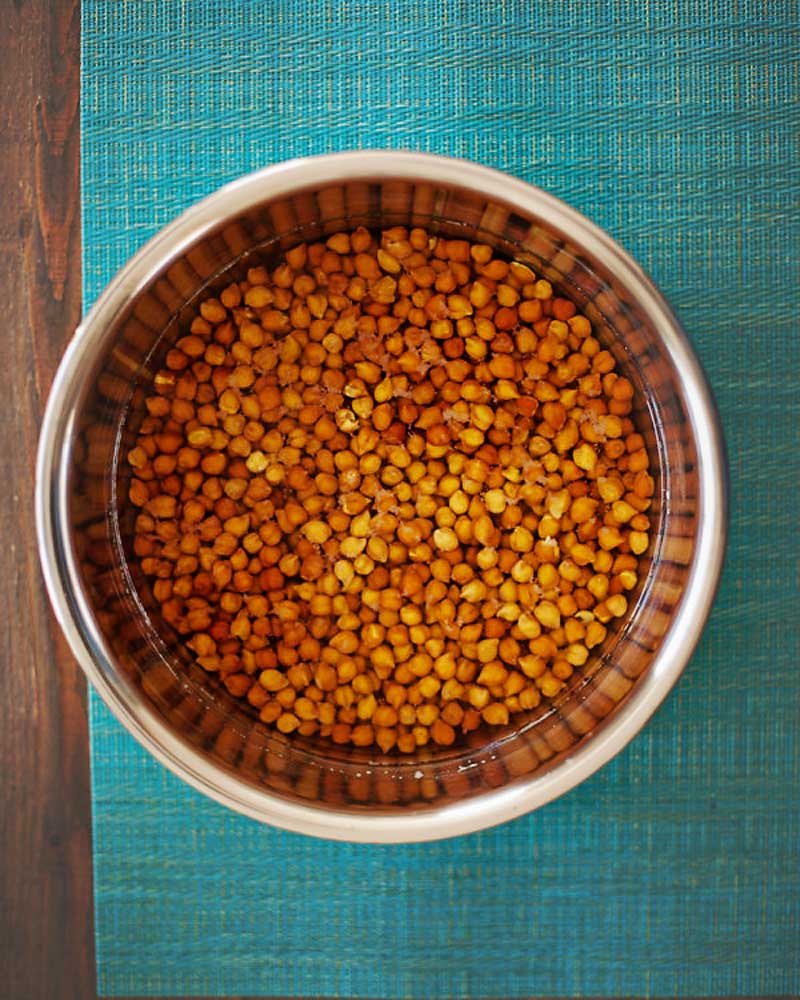 There is also evidence that chickpeas reduce your overall appetite. Studies have shown that people who's diet has been supplemented with chickpeas showed an overall decrease in appetite and ate less processed foods. On top of that, chickpeas are full of antioxidants and have been shown to help with blood fat regulation! They are so incredibly healthy for you.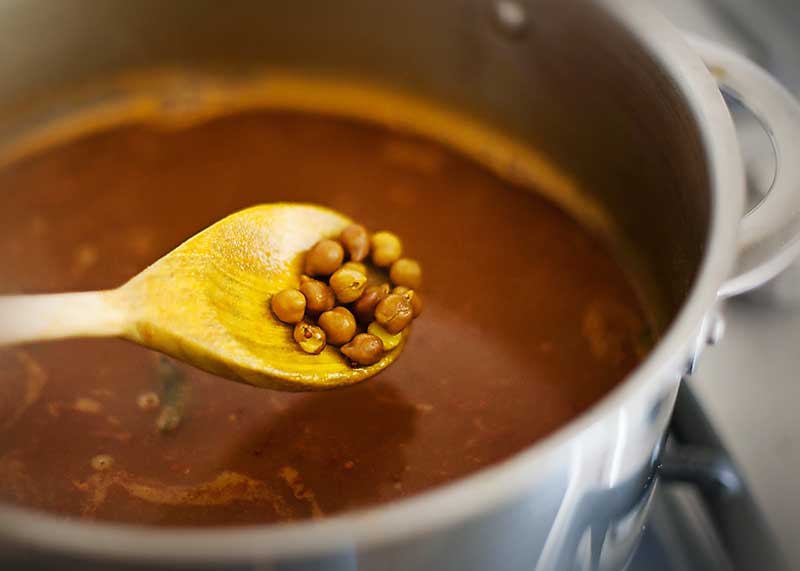 Other Important Ingredients in Savoury Chickpea & Potato Stew
One important ingredient in this recipe is tamarind chutney (also known and ambli chutney). Our recipe for Tamarind Chutney can be found here. Its pretty simple to make. But if you find that you do not have the time, you could substitute it with lemon juice and bit of cayenne pepper.
This dish also has the healing benefits of the powerful spice turmeric, which has been used in India for thousands of years as both a spice and a medicinal herb. Recent research has proven the traditional medicinal claims that turmeric is a powerful anti-inflammatory and antioxidant. If you can find fresh turmeric, please go ahead and use it. However, if you're from a cold climate like I am, powdered will do just fine.
Ingredients List for Savoury Chickpea and Potato Stew (Channa Bateta)
Spices: Turmeric, Curry Leaves, Mustard Seeds, Salt
Fresh Ingredients: Desi Chickpeas, Russet Potatoes, Water
Tamarind Chutney: You can find our recipe here. Or in a pinch substitute with Fresh Lemon Juice.
My kids love to eat this because we serve it with crumbled up potato chips sprinkled on top (there go the health benefits!). I'm not sure if it is just my family that likes to eat chana bateta with potato chips… I do know that it's common to sprinkle chevdo (a spicy Indian snack mix) on top. You could do it either way, but potato chips are more readily available in gluten, corn and additive free varieties. As well, you can add a bit of Hot and Tangy Tamarind (Ambli) Chutney and / or Spicy Green Coconut Chutney to your bowl for some added spice and flavour.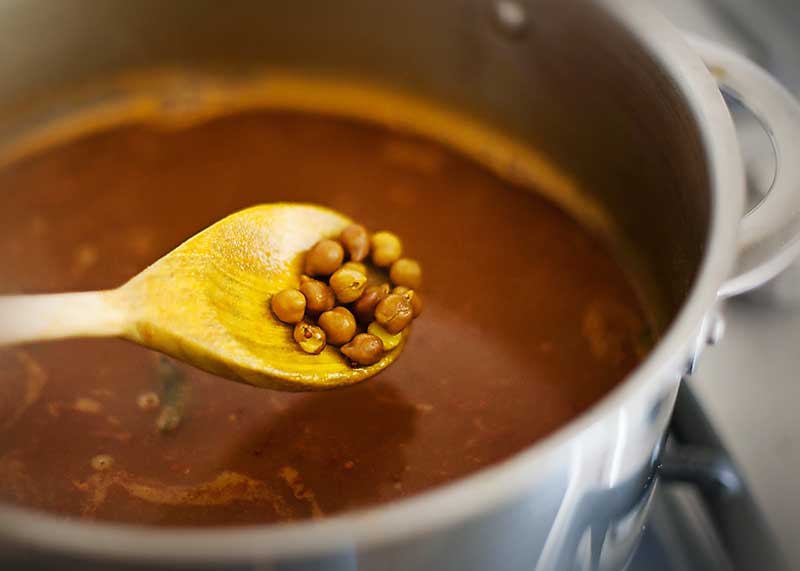 ENJOY!
I hope you'll try this traditional Channa Bateta recipe and add my Savoury Chickpea Potato Stew to your vegetarian night in your world kitchen! If you make this recipe, please rate it and comment below so I know you liked it!
As always wishing you a healthy journey.
Warm Hugs,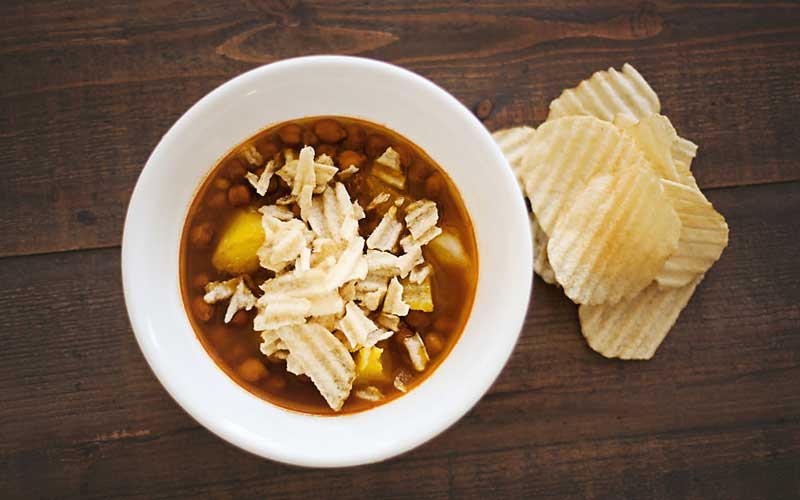 INSTRUCTIONS
Soak the chickpeas in water overnight (or 8 to 9 hours).

Peel, chop up, and boil the potatoes for 15 minutes or until they are soft. Set aside.

Drain and rinse the chickpeas. Add chickpeas and 4 cups of water to a pot and bring to a boil over medium heat. Reduce the heat to medium low and boil partially covered for 1 hour. Keep a close eye on the pot in case the heat is too high as it may start to boil over. In that case reduce the heat.

Drain the chickpeas and set aside.

In a large pot, melt the coconut oil over medium heat. Add the mustard seeds, turmeric, tomato paste and curry leaves and stir for about 30 seconds.

Add the chickpeas and stir.

Add 6 cups of water, salt and tamarind chutney and bring to a boil. Boil for 10 minutes.

Add the potatoes and boil for 10 more minutes so that the potatoes are very mushy. Mash up a couple of the potatoes with a fork against the inside of the pot to thicken the stew.

Serve with tamarind chutney and coconut chutney. Sprinkle with crumbled up potato chips or chevdo.
Notes
Nutrition Facts
Channa Bateta Recipe
Amount Per Serving
Calories 147
Calories from Fat 63
% Daily Value*
Total Fat 7g 11%
Sodium 351mg 15%
Potassium 250mg 7%
Total Carbohydrates 17g 6%
Protein 5g 10%
* Percent Daily Values are based on a 2000 calorie diet.
Notes:  If you do not have tamarind chutney, you can substitute with lemon juice and cayenne pepper.  Just taste the chana bateta as you add the lemon juice to make sure it doesn't become too sour.
Nutrition
Nutrition Facts
Channa Bateta Recipe
Amount per Serving
% Daily Value*
* Percent Daily Values are based on a 2000 calorie diet.