(Rice & Xanthan Gum FREE)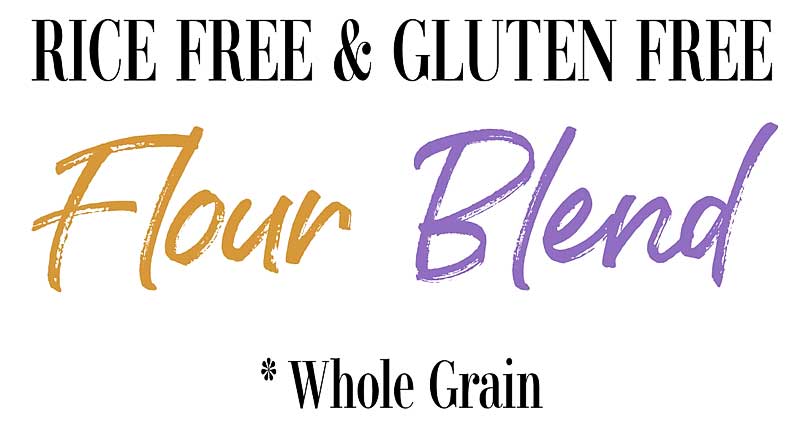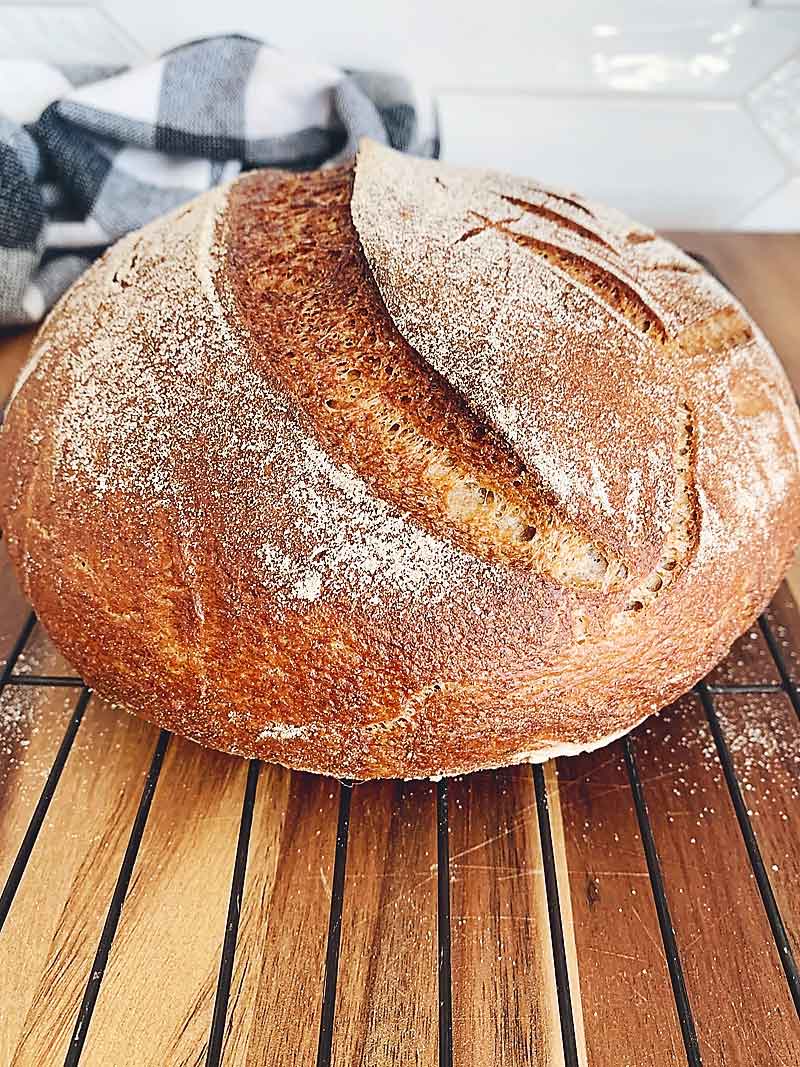 It's easy, I PROMISE!
I promise it is SUPER easy to create your own Whole Grain Gluten-Free Blend that is both gluten & rice free! Please believe me when I say you'll be SO very glad you did! With a lovely blend of single origin Gluten-Free Flours you absolutely can create an endless list of incredible Gluten-Free dishes without anyone being the wiser! It requires only very simple math and a kitchen scale. Trust me, it is TOTALLY worth the investment as you're going to love how easy it is to enjoy ALL of your family favourites! So let's get straight to it shall we?
You'll LOVE this post if:
You miss your favourite family recipes & need help to make them Gluten-Free & Rice Free.
You would like to cook for someone who is Gluten-Free & Rice-Free.
You're looking for a fantastic recipe to make your own Gluten-Free & Rice-Free Flour Blend.
You want to find a fantastic but easy substitute for wheat flours in your recipes.
All of this Gluten-Free, Rice-Free stuff overwhelms you.
CONTENTS
INGREDIENTS

3 COMPONENTS OF A GREAT GLUTEN FREE FLOUR BLEND
WHAT'S IN TEFF & OAT GLUTEN FREE FLOUR?

PIN THIS RECIPE TO PINTEREST – for later use
A HEALTHY GLUTEN FREE FLOUR BLEND!
I originally created this blend for a lovely lady, who had asked me to help her create a blend with Teff flour, Oat Flour, Tapioca Flour & Flax seed. It turned out to have such a delightful mild flavour & lovely texture I decided I should really share it with everyone!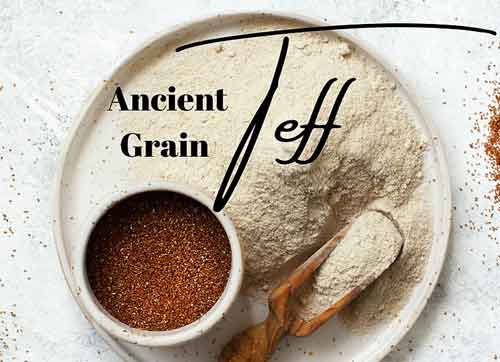 NUTRIENT DENSE GRAINS
This blend is jam packed with ancient nutrient-dense grains! Teff flour, oat flour & flax deliver a boost of healthy vitamins, minerals, fiber, protein, iron, omega fatty acids & amino acids! The ancient grain teff is considered a superfood due to its high levels & wide array of mineral content. This mix is high in protein too due to the whole grains & flax all containing high protein content!
MINIMAL STARCHES
I've added minimal starches to keep this blend as healthy as possible but still allow for a lovely rise to your dough. It has a slight molasses type flavour that reminds me of a lovely dark rye flour.
GLUTEN & RICE FREE
My Whole Grain Rice & Gluten Free Flour Blend, is a great blend to use for baking if you need to eliminate rice from your diet, and for unlimited Gluten-Free baking recipes! You'll love it's mild flavour & lovely texture.
XANTHAN GUM & GUAR GUM FREE
Like all of my flour blends, this ancient grain Teff & Oat Gluten Free Flour blend is free from any gums or other additives. This all natural blend contains only pure, natural, healthy ingredients to fuel your body!
What are Xanthan Gum & Guar Gum & Why I don't use them?
What is Xanthan Gum?
Xanthan gum is produced by natural fermentation, by bacterium, of sugar derived from different sources. In my research, it was hard to nail down exactly what sugars are used to create Xanthan Gum. Many sources listed corn, soy and even wheat as possible sugars used!
Although, it is said that the fermentations breaks down these sugars, to be safe, if you're wheat, corn or soy free, it may be good to avoid any gluten-free products that contain this binder. I'm beginning to wonder if this is one of the reasons that people, including myself, still feel sick when 1st attempting to go Gluten-Free! If you have been diagnosed, or suspect you may be living with Celiac disease, you may have a reaction to Xanthum Gum. Symptoms include bloating, gas, stomach cramps, diarrhea, skin rashes and itching, despite going gluten free, it could be you are reacting to Xanthan Gum in Gluten-Free Foods!
New Gluten-Free living and still having symptoms? Try cutting out Xanthan Gum and Guar Gum and see what happens! All of my recipes are Xanthan Gum Free!
What is Guar Gum?
Guar Gum (aka guaran) is made from guar bean legumes and is able to absorb water making it a good binder and thickener. It is corn free, but I like to avoid processed foods when I can. Xanthan gum is has been shown to have synergistic properties when used with Guar Gum to increase viscosity of liquids. Some chefs use the combination of both of these additives to gain a boost in binding and thickening abilities.
Why I don't use Xanthan Gum or Guar Gum?
I try to avoid processed additives as much as possible, and I know that some people have a hard time digesting gums. So I opt for the most natural solution and create my own Gluten-Free Flour Blend and use Psyllium Husk, Ground Chia and Flaxseed Meal as binder options!
What if my recipe calls for Xanthan or Guar Gum?
If you have a recipe that calls for Xanthan gum, Bob's Red Mill suggests that you can substitute Psyllium Fibre (Husk) Powder for xanthan gum using a 2:1 ratio! For example, if your baking recipe calls for 1 tsp xanthan gum, you could replace that with 2 tsp psyllium fibre.
TEFF & OAT GF FLOUR BLEND – BENEFITS
This recipe combines several flours that each have different amounts of proteins, starches and binding qualities that have a synergistic effect to replicate the qualities of wheat flour. The proteins help give strength and structure while the starches give lift and lightness to your baked goods.
This flour blend provides a well-balanced, nutritious, whole grain flour mix that is 84% healthy whole grains & seeds and high in protein.
Unlike most gluten-free flour blends, this blend of flours is high in nutrients and fibre due to the ancient grains that are in the blend.
INGREDIENTS
(TEFF & OAT GLUTEN FREE FLOUR BLEND)
3 COMPONENTS – GF FLOUR BLEND
I like to break things down into easy to remember & understand parts when creating a recipe. So here I'll break down the 3 components (bolded below) that make up my whole grain blend. I'll go into details of each of these components below.
WHOLE GRAINS – mixture of whole grains is always the best for a blend as each grain brings different qualities to strengthen, flavour & bind the dough. What is a whole grain? Find out here!
STARCHES – this blend uses only 1 starch to simplify things, however, a combination of starches is also wonderful & may be subbed at anytime.
PROTEIN & BINDER – in this blend the proteins help provide structure & binding to the dough.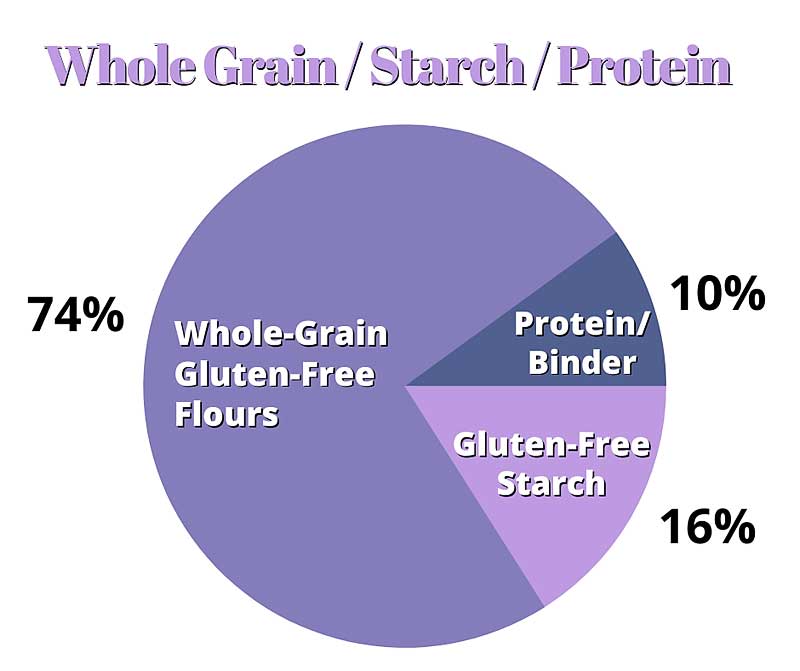 This blend has a high protein content due to the whole grains & flax all containing high protein content!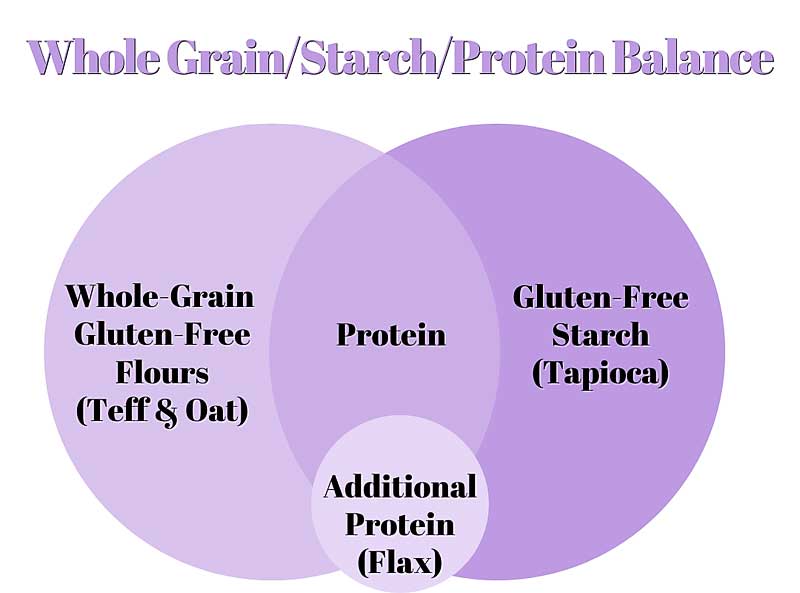 What's in the Teff & Oat Gluten Free Flour Blend?
WHOLE GRAINS
Whole Grain Rice Free Gluten-Free Flours (impart texture & flavour)
TEFF is a small cereal grain that derives from the plant "Eragrostis tef". These grains have a great nutrient profile & a mild nutty, molasses flavour. Teff is a very popular grain grown in Africa where it is used to prepare injera, a fermented sourdough bread.
Substitutes: Teff Flour can be substituted with Sorghum Flour. I am currently testing out some recipes now and will post this substitution once I've perfected them.
OAT FLOUR is a grain flour made from, you guessed it, oats! Oat flour lends a mildly nutty flavour & tender crumb. Used alone it can make baked goods crumbly or gummy.
Make your own Oat Flour! Just use your high speed blender to grind your gluten free oats into a fine powder. You can use either rolled oats, quick oats or steel cut oats (these require more blending but are a fantastic choice)
You can find Teff Flour & Oat Flour at most grocers and health stores (e.g. Blush Lane Organics & Community Health Foods in Calgary).
STARCH
Gluten-Free Rice Free Starches (bind & give structure)
TAPIOCA STARCH (aka Tapioca Flour) is a very fine white powder that comes from the pulp of the cassava plant. It is not the same thing as cassava flour, however, which is made from the entire root of the cassava plant.
Adding starches allows the dough to absorb more water which helps bind the dough. Gluten free flours are missing the moisture retention abilities that gluten containing flours have.
You can find Tapioca Flour at most grocery stores in the organic/natural foods aisle.
Substitutes: Tapioca starch can be replaced by arrowroot powder or potato starch (not potato flour) if you can not consume tapioca. However, there are differences to consider. Potato starch will make your baked goods heavier, & arrowroot doesn't bind as well as tapioca. Having more than one starch allows for a more complex flavour & better rise as each has different properties. If you're willing, I'd try a mix of two starches!
BINDER – HIGH PROTEIN
Binding Agents (help mimic Gluten)
FLAX SEEDS are high in protein content. Although flax is an excellent binder we use it in this blend for its binding power & protein content. I still recommend using an additional binder in your recipes.
Please see my post What are BINDING AGENTS & How to USE them for more information on binders.
PLEASE FOLLOW ME
Please feel free to post the below image to your Pinterest page so you can find it later. This also helps others find it too!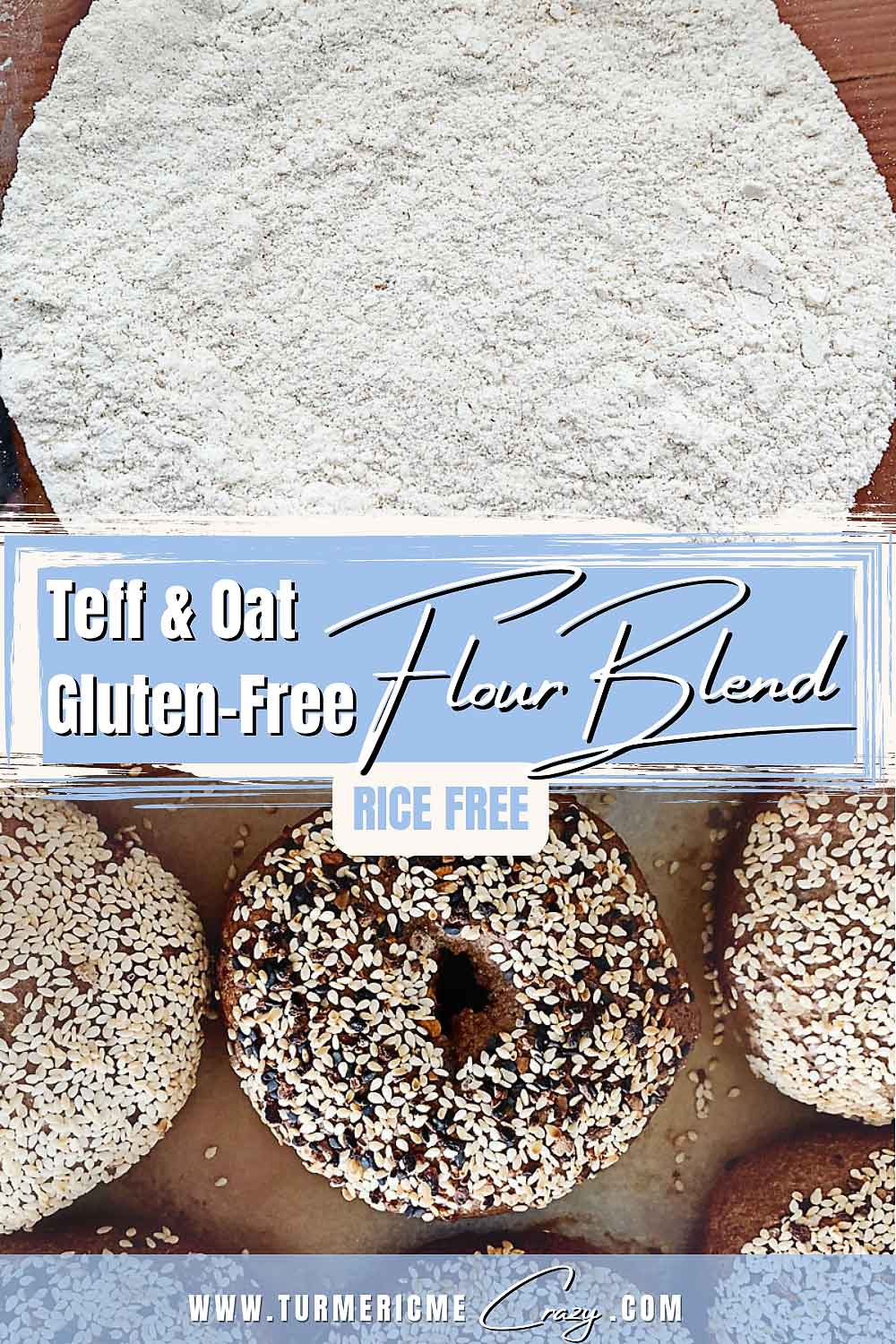 LET'S MIX OUR teff & oat gluten free BLEND!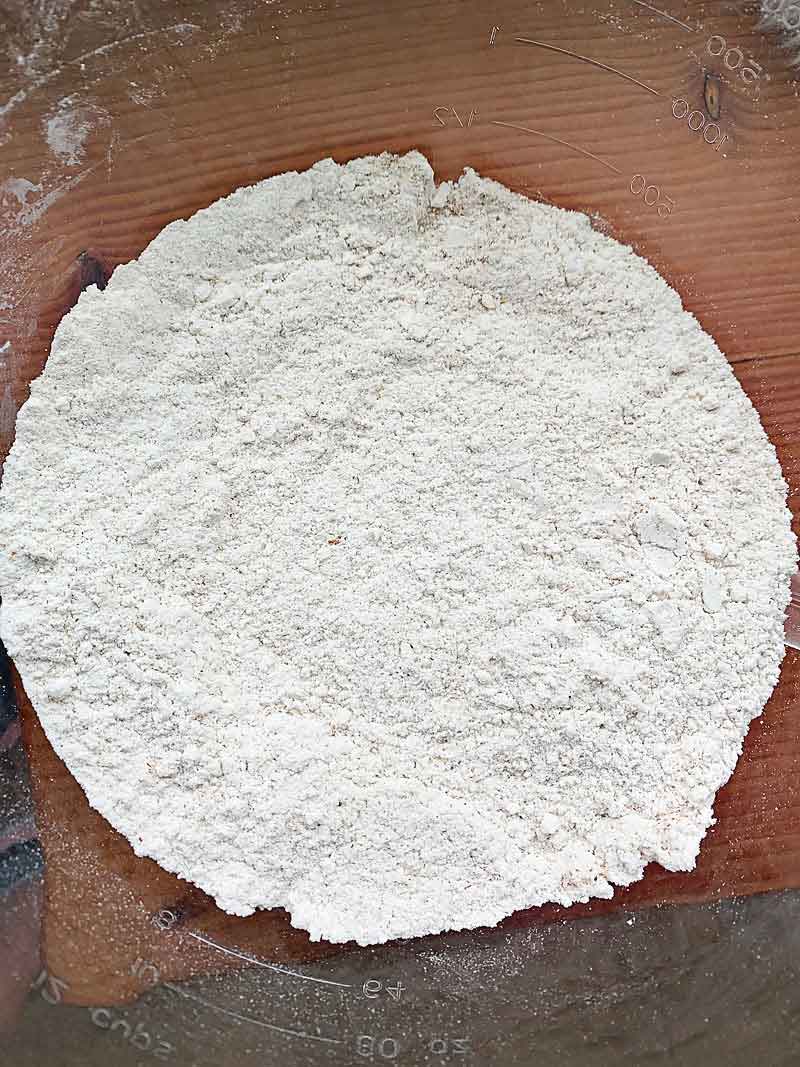 INSTRUCTIONS
Weigh out Flours, Starch & Flax.

Sift together & whisk until well combined.

*Store in an airtight container in a cool dry place for 1 month, in the fridge for 3 months or the freezer for 6 months.

**When ready to bake, make sure to ADD a BINDER & KEY ingredients!
Notes
This mix makes 1000g of flour.
1 cup is equivalent to 140 grams of flour.
Baked goods made with this flour blend will freeze well.

*Expiry dates are based on each ingredient. Make sure to check the dates on each ingredient before you create your blend. I then make note of that date. I find my blend stays fresh for at least 3 months at room temp. However, I usually use it all WAY before then!

**Make sure to use a BINDER and add KEY ingredients at the time of your bake! See my posts on How to make ANY recipe Gluten-Free in 3-Simple Steps & What are BINDERS & how to USE them! to find out how to do just that! 
**I don't include an extra BINDER in this recipe as I feel it is better to add them at the time of your bake. This way, you can alter the amount or type of binder based on what you are baking or cooking! See my post on What are BINDING AGENTS & How to use them! for more info on BINDERS.
Nutrition
Nutrition Facts
Teff & Oat Gluten Free Flour Blend – Rice FREE!
Amount per Serving
% Daily Value*
* Percent Daily Values are based on a 2000 calorie diet.
Do you have a favourite blend that contains a different proportion of Whole-Grains : Starches that you'd like to share with our community? I'd LOVE to hear from you in the comments!
PLEASE RATE & COMMENT
I sure do hope you love this Ancient Grain Teff & Oat Gluten Free Flour recipe and agree that it is the perfect rice free & gluten free blend! If you try it, please add a comment & a rating onto the recipe below or at the bottom of the post as it helps Google recognize the recipe & my website which will help show it to more people. I'd love to see our community grow! ♡
Thank you once again for your readership & support.
Now let's get baking!

Frequently Asked Questions
Why add a BINDING AGENT?
ALWAYS make sure to use a BINDING AGENT to help mimic Gluten! I never add the binder to my Gluten-Free Flour Blends until I'm about to use it. WHY you ask? I've found that different BINDERS work better for different purposes. Adding your binder when you are ready to bake allows you the freedom to chose which one is best for each of your recipes!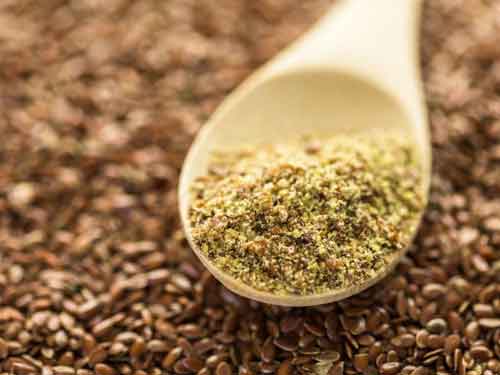 See my post How to make almost ANY recipe Gluten-Free in 3-Simple Steps AND my post on What are BINDING AGENTS & how to use them in Gluten-Free Cooking to find out more about BINDING AGENTS and how to use them!
Do I really need to weigh the ingredients?
Yes! I have learn't through experience that weighing ingredients using a scale whilst baking is super important and will allow you to reproduce great results every time! I've attempted measuring out the flours by volume (e.g. cups), then double checked the weights of each. They were off by quite a lot actually! It can mean the difference between the most incredible and beautiful looking bagel, to one that quite literally flops. The density of the ingredient makes a BIG difference in the volume of the flour. A new bag of flour may be packed down tight vs an already opened one. A gram will always be a gram of flour!
A KITCHEN SCALE IS WORTH THE INVESTMENT!
I use a very simple mini digital kitchen scale that I got for $19.99. Trust me it is well worth the investment! It is super easy to measure ingredients by weight. I think it's WAY easier than measuring by volume (e.g. cups). To measure flour, place a bowl on the scale, press the tare button to zero your scale to the weight of the bowl, and then add your flour. Simple as that!
But what if I'm allergic to one of the flours in this blend? Can I substitute?
I am currently working on a post where I will share my favourite Gluten-Free flours and help you uncover the mystery of it all! That way if you'd like to experiment with different gluten free flours and starches you have laying around you can! Or if you have an intolerance to one of the flours I use in this recipe, you'll be able to calculate exact ratios of a substitute flour or starch. Not all Gluten-Free Starches and Flours have the same flavours, protein content etc. So it's best to do a little digging before you substitute so you are not disappointed. Or check out my post when it's ready!
But how did you decide on the ratios of each flour?
Each of the flours and starches I used in this recipe have different properties, flavours and bring something different to your bake. With practice, you'll be able to play around with the different percentages of each of the whole grain and starches that make up the 84:16 ratio (whole grains : starches).
Why can't I use just one type of Gluten-Free Flour? Why a BLEND?
If you try and use simply one Gluten-Free Flour without a binder, you'll sadly be quite disappointed. Trust me, I've tried! There's no one flour or binder that can do it all! See above for more details.
I have found that using one flour just doesn't mimic the properties of gluten nearly enough to have success. Therefore, a combination of flours and starches that mimic gluten as closely as possible are preferred.
Why we use a BLEND!
Let's be honest…we all want to make gluten free baked goods that taste & feel just as good as their gluten containing counterparts right? To understand why we use a blend of a few different gluten free flours we need to understand what gluten does for dough. So, here's how & the why behind it all!
What is gluten?
Gluten is the name given to a family of powerful proteins found in all forms of wheat, barley and rye and many other food products (see here for Mayo clinics comprehensive list of gluten-containing foods and food products). The Celiac Disease Foundation also has a great post listing all of the gluten-containing grains and there derivatives.
Gluten protein provides strength elasticity & structure to dough. The gluten within the dough forms a network almost like a spiders web that allows air to be trapped in the dough giving it both lift, binding power & moisture retention. Sadly, there is not a single gluten-free flour can replace the qualities that gluten-containing wheat flour has.
What are the benefits of gluten?
In order to have success with Gluten-Free Cooking it is important to understand what gluten does for traditionally prepared foods.
Gluten offers a variety of functional culinary benefits and is responsible for providing:
Strength & Structure – avoids crumbling.
Texture – soft, chewy texture that is characteristic of many gluten-containing grain-based foods.
Moisture – helps retain moisture in baked goods.
Experts explain that when these gluten proteins are mixed with water to form a dough, they form an elastic network of strong interlocking bonds, like a spiders web, that can stretch and trap gas when heated. These strong gluten protein bonds give the dough its structure, strength and elasticity, which in turn, gives baked goods their light, fluffy, almost bouncy texture! Gluten also helps maintain moisture in baked goods, almost like a spiders web can trap water.
If you've ever made homemade sourdough with a sourdough starter, you've felt with your hands the effect gluten gives to dough when you stretch it and fold it.
How to make Gluten-Free Flour Blend ACT LIKE Gluten?
Let's be honest, gluten-free flours on their own just don't have the same baking abilities as wheat flours do! Gluten-Free Flours don't have the same protein composition as gluten-containing grains do. Gluten imparts the binding and elastic properties to wheat flour that Gluten-Free Flours simply can not create on their own. That darn gluten!
We can MIMIC GLUTEN!
The GOOD NEWS is we can MIMIC wheats properties quite easily by combining the proper combination of Whole Grain Flours, Starches, Binding Agents, Thickening Agents and a Key Ingredient you may already have in your refrigerator! YAY right?
Similar to its wheat counterpart, each Gluten-Free Flour and Starch have unique properties and will behave differently when added to baking or any recipe. To replicate the effects of gluten, we need to find the right percentages of whole grain, starchy and protein rich Gluten-Free Flours. By doing so, we can alter the properties of a Gluten-Free Flour Blend quite significantly!
Would you like to bake GLUTEN FREE SOURDOUGH?
I'd just love to show you how! I have created a super easy to follow video series that takes you from creating a gluten free sourdough starter from scratch all the way to baking your 1st loaf of sourdough! Now you can make Rice Free Sourdough too! My recipe for gluten free & rice free sourdough will be posted soon! So go ahead & start making your sourdough starter rice free!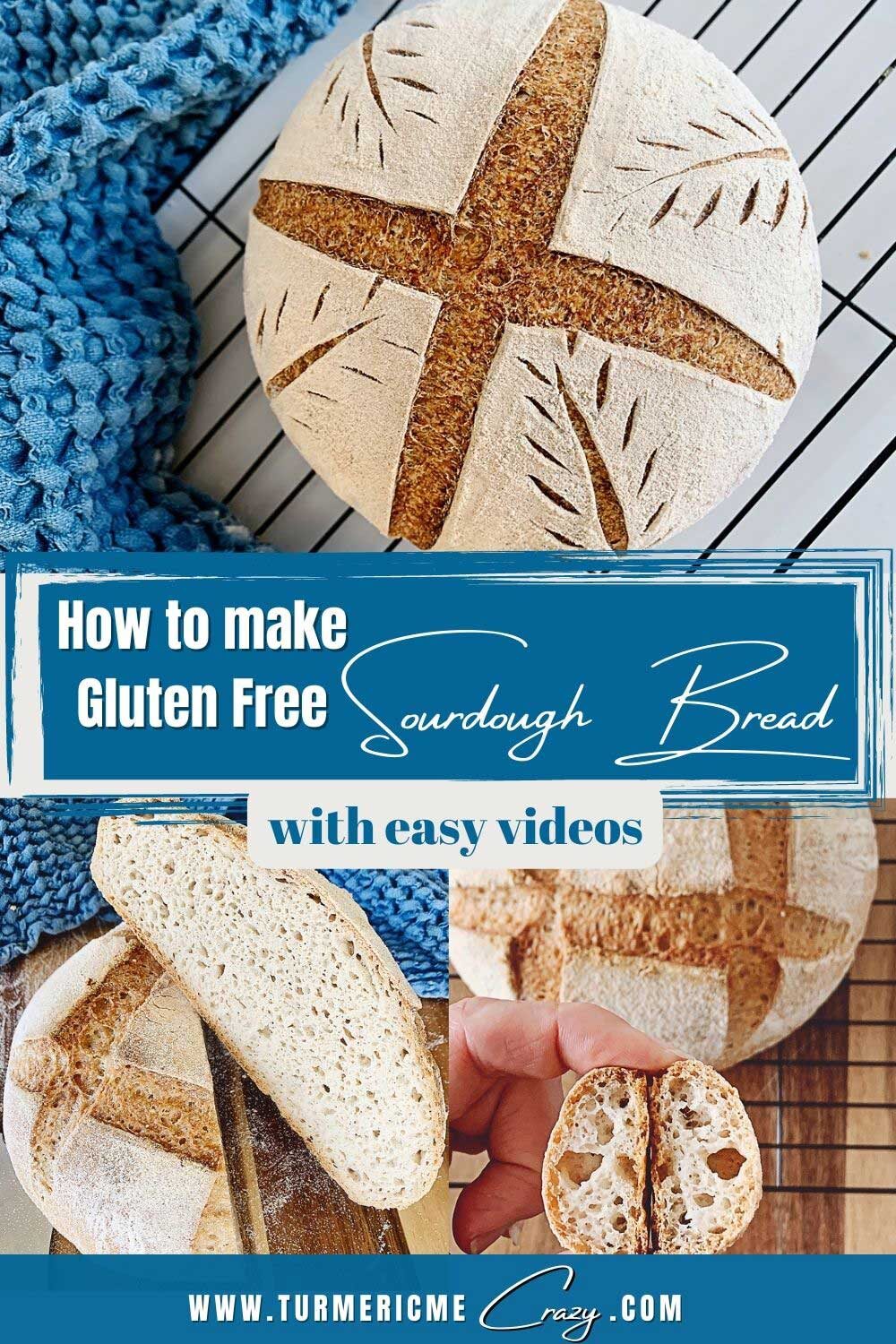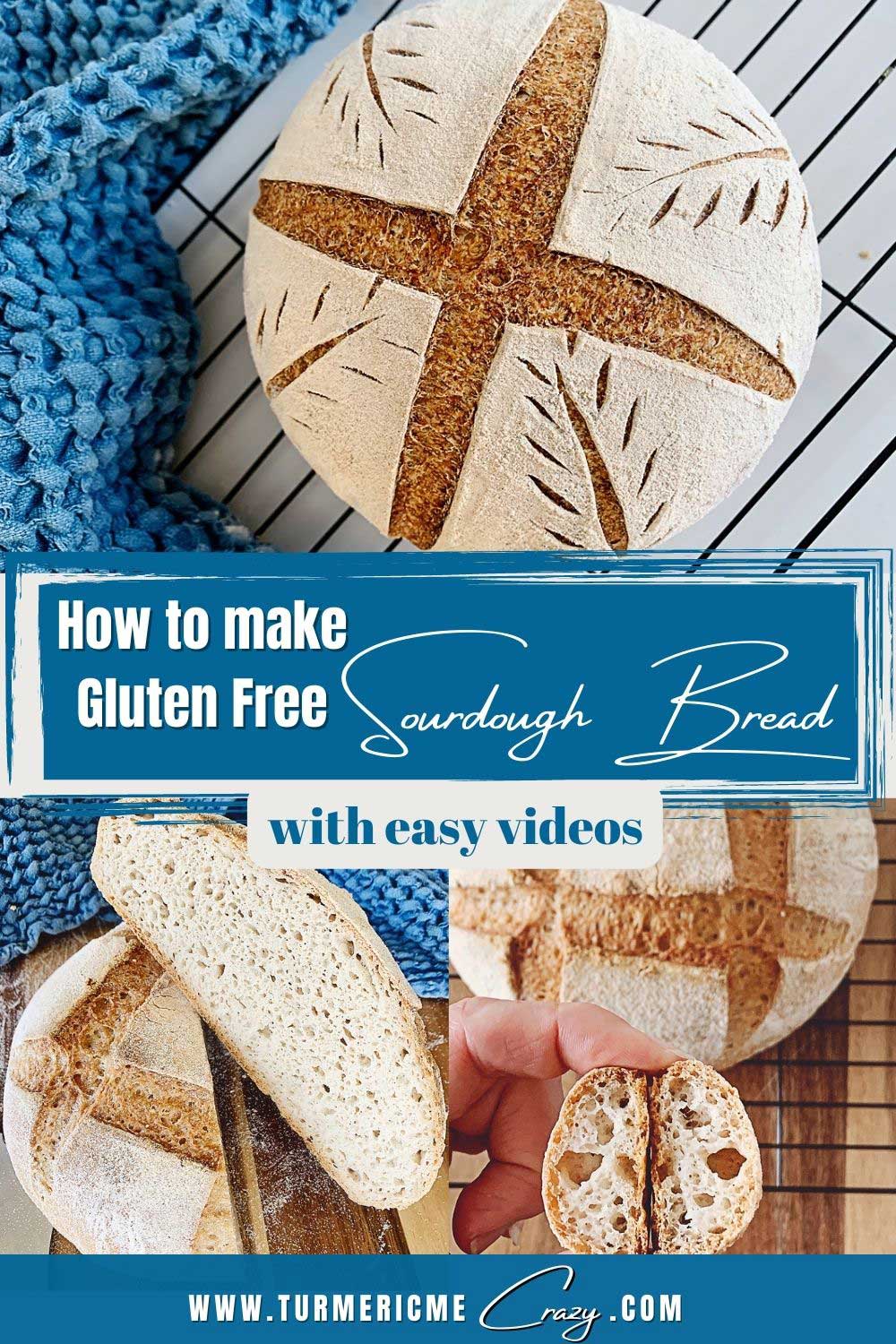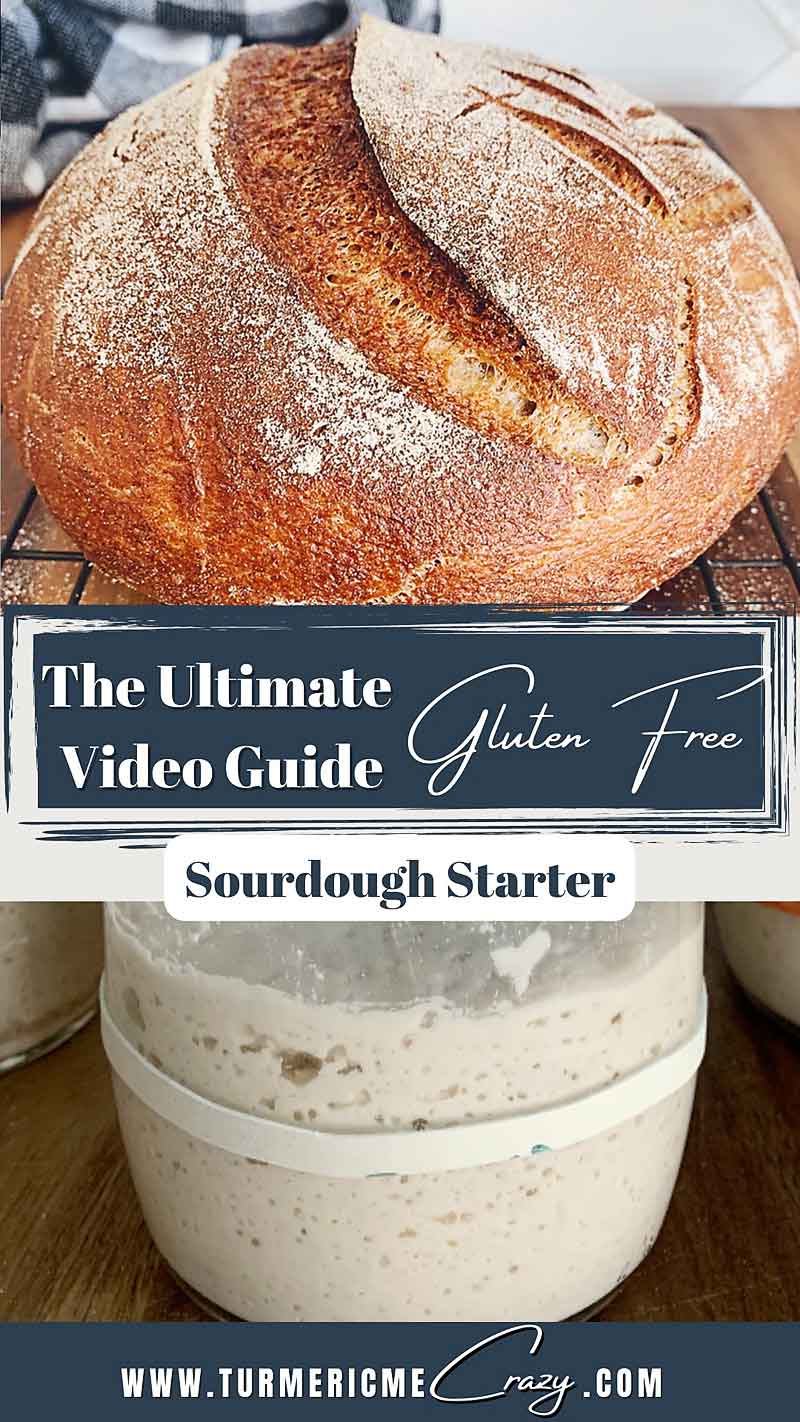 Did you know that you can make a gluten free & rice free sourdough starter culture easily from scratch? Are you hoping to make a gluten free sourdough starter culture? Then you've come to the right place! My follow-along video series will take you through the process from start to baking your 1st loaf and everything in between! I share with you my intuitive approach to creating & maintaining your gluten free sourdough starter in order to take away the mystery of sourdough baking! Join me here!
GRAB YOUR FREE BAKING TIMELINE!
I've created an easy to follow baking timeline that includes options for baking the same day, the next day and even baking while working full-time! Click on the image below and enter your email address. I'll immediately send you your FREE Baking Timeline!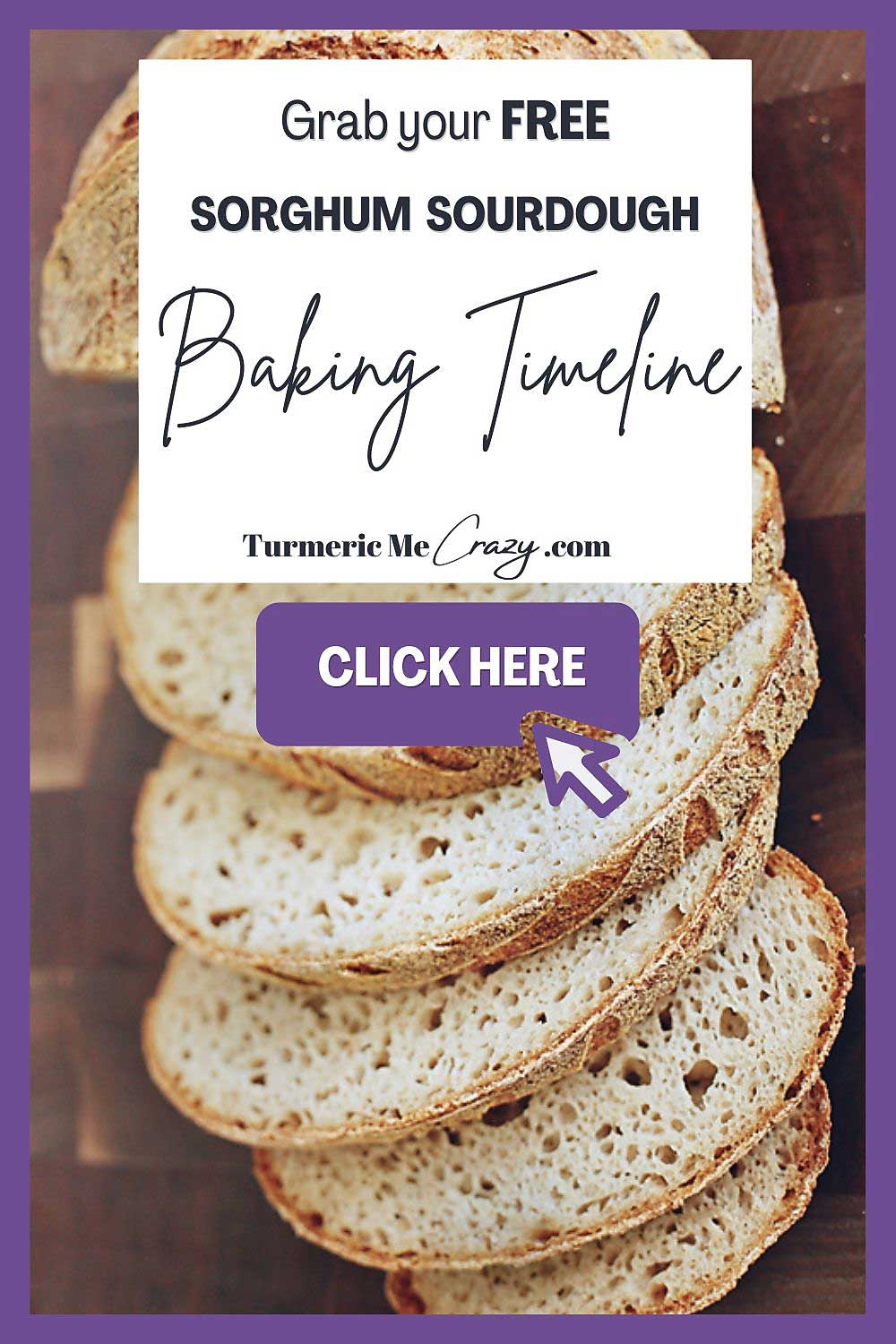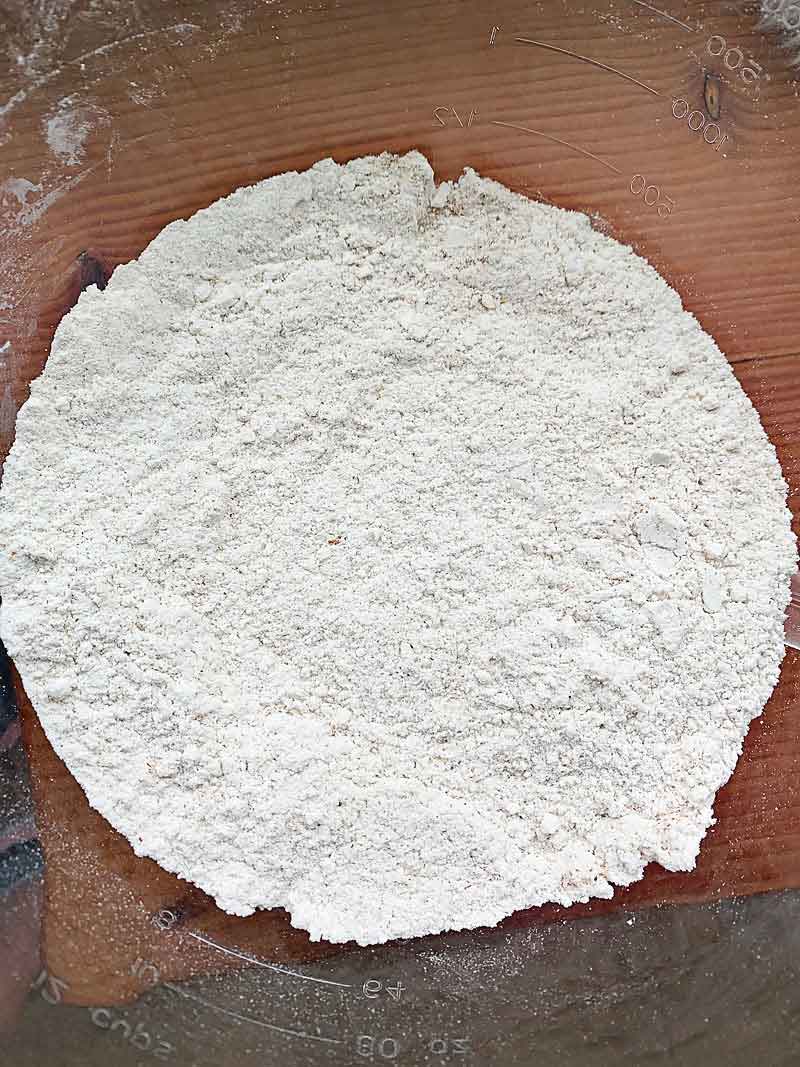 ENJOY!
I am just so excited to share this Ancient Grain Teff & Oat Gluten Free Flour Blend with you all! My sincere hope is that I can prevent you from experiencing some of the growing pains that I went through when switching to Gluten-Free! The goal is to give you as many tools as possible so that you may enjoy ALL of your family favourites again without worrying about the gluten or rice content.
I hope you'll join me in my Canadian World Kitchen as we journey to Gluten-Free living together! From my Canadian World Kitchen to your World Kitchen, where ever you call home, I wish you much love in your journey.
If you've enjoyed this series so far, please share it with your loved ones or better yet, PIN it to your Pinterest page. I'd love it if you followed me with the links below.
Much love and hugs,

PLEASE SHARE THIS TEFF & OAT GLUTEN FREE FLOUR RECIPE ♡