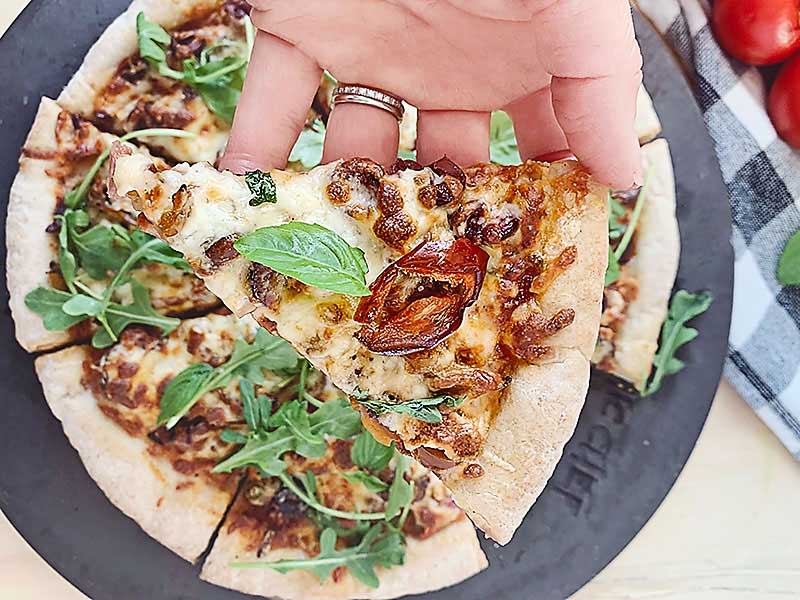 Equipment Needed
1

Pizza Peel

or light & sturdy cutting board (to transfer pizza to & from oven)

Plastic Wrap
INGREDIENTS
For the SOAKER
132

g

2 Whole Grain Flours 66g of each

*Sorghum & Brown Rice Flour (or any combo of sorghum, brown rice, buckwheat, millet or teff flours)

25

g

Psyllium Husk

(whole)

370

g

Warm Water

105-115°F (40-46°C)

50

g

Heavy Cream (or vegan alternate)

*can also sub with more water

8

g

Maple Syrup

220

g

Gluten Free Sourdough Starter

Active
ENRICHMENT
8-11

g

Sea Salt

(toppings have little or no salt? Use 11g)

1

tsp

Italian Spice Mix

(or your choice of spices to flavour up your dough)
BINDING FLOUR & STARCHY FLOURS
82

g

Binding Flour

*Choose 1 Sweet Rice Flour (or Oat / Cassava Flour)

115

g

Starchy Flour

*1 or 2 s (about 50:50 ratio if use 2) - Tapioca Flour & Potato Starch (or Arrowroot powder). ( I use 50g Tapioca, 65g Potato)
INSTRUCTIONS
REACTIVATE STARTER:
Reactivate & replenish your starter the evening before you'd like to bake pizza.
MIX THE SOAKER:
In a small bowl, whisk together your chosen whole grain flours & psyllium husk.

132 g 2 Whole Grain Flours 66g of each,

25 g Psyllium Husk

In the bowl of a stand mixer, whisk together sourdough starter & all of the liquids (including cream if using). Add flour mix from above & mix with paddle attachment for 2 mins.

370 g Warm Water,

50 g Heavy Cream (or vegan alternate),

8 g Maple Syrup,

220 g Gluten Free Sourdough Starter

Let soaker rest covered for 30 minutes.
ADD ENRICHMENT:
Add olive oil, spices & mix for 1 min to slightly incorporate the oil.

20 g Extra Virgin Olive Oil,

8-11 g Sea Salt,

1 tsp Italian Spice Mix
ADD BINDING FLOUR & STARCHY FLOUR:
Sift in binding flour of your choice & starchy flours. Then mix low low until slightly incorporated, then medium-high for 3-5 mins until forms a sticky dough ball.

82 g Binding Flour,

115 g Starchy Flour

Shape into a ball with a spatula.
SHAPE & REST DOUGH:
Turn dough onto the counter. Gently shape into a ball & pat dough all over with olive oil.

Cover & let rest 2-3 hours at room temp or 2 hours in oven with light on.
PRE-HEAT OVEN:
Preheat oven with pizza stone inside to 500°F (260°C) for 30-45 mins.
DIVIDE & ROLL PIZZA CRUST:
Flip dough out onto parchment paper & divide into 2 pieces (for a thin crust). Cover one piece with plastic wrap while you roll out the other.

Begin spreading & shaping dough into a circle shape with hands working from inside-out.

Cover with plastic wrap if desired to create a smoother texture & ease of shaping (see photo instructions for more details). Pinch edges to create a lip for your crust.

Cut excess parchment paper around the pizza dough to prevent burning.
PAR-BAKE DOUGH:
Remove plastic wrap from dough & slide pizza (with parchment) onto the preheated pizza stone in oven.

Par-bake for 5-7 minutes until the dough has fully risen, is slightly golden on the edges, then remove from oven.
REMOVE PARCHMENT & ADD TOPPINGS:
Flip pizza crust over & slowly peel off parchment paper. Flip again & place back onto pizza peel.

Add sauce & desired toppings.
BAKE YOUR PIZZA!
Slide topped pizza off the pizza peel directly onto the stone & bake for 7-9 mins or until toppings are golden, crust has browned to your liking & cheese is melted (if using).

Remove pizza & pizza stone from the oven & allow to rest for 5-10 mins on the stone.

Slice up your Gluten Free Sourdough Pizza masterpiece with a pizza cutter & enjoy!
Notes
Please see the post for easy to follow PHOTO INSTRUCTIONS.
ADAPTING THIS RECIPE: I have broken the ingredients of this pizza crust dough into 5 components. This way you can customize the recipe to fit your dietary needs by understanding each of its parts. All you have to do is choose 1 or 2 options from each component, then follow the directions as posted.
Pre-baking, aka par-baking, the dough is a really essential step. It allows the dough to rise and crisp up a bit removing some of the moisture in the dough. This ensures that your dough will be crispy & strong and will hold up to all of the delicious goodness you'd like to add to the top.
If making a vegan or vegetarian pizza (or where the toppings have no additional salt) you may want to increase the salt to 11g.
Nutrition
Nutrition Facts
Gluten Free Sourdough Pizza Crust
Amount per Serving
% Daily Value*
* Percent Daily Values are based on a 2000 calorie diet.
OTHER DELICIOUS SOURDOUGH RECIPES TO TRY...
Would you like to make a Gluten Free Sourdough Loaf with Sorghum Flour? You'll love how easy making this bread becomes with my FREE BAKING TIMELINE & follow-along videos. I sure hope that this helps give you some ease in your gluten free sourdough journey!
some other recipes to try
please share this GLUTEN FREE sourdough PIZZA CRUST recipe ♡!