Sunday Morning Gluten Free Sourdough Bagels
This recipe is:
Enjoy incredibly delicious gluten free sourdough bagels hot from the oven on Sunday morning with this quick & easy sourdough bagel recipe!
Simply mix up your dough Saturday evening with my simple recipe & when you awake Sunday morning, it's ready to boil & bake! I wanted to make a bagel recipe that could be made in under 1 hour so you could enjoy them for breakfast Sunday morning!
I grew up making bagels with my wonderful mom and so it was really important to me that I was able to continue this tradition with my son & daughter. We also know that time is precious, especially in these busy times in our lives. So we created a sourdough bagel recipe that is gluten free, quick & easy to make and lives up to my moms legendary Sunday morning bagels! I hope you enjoy them as much as we do ♡.
---
---
You're going to love these Gluten Free Sourdough Bagels!
The best part about these bagels is you absolutely can not tell they are gluten free. I promise! My non-gluten free family members love them! These tasty gluten free sourdough bagels are traditional Canadian Montreal style, slightly sweeter (they are boiled in water sweetened with Canadian maple syrup or honey) and a little smaller than New York style bagels. They are slightly crispy on the outside and chewy on the inside. They are incredibly tasty with the perfect chewiness you've come to expect from a high quality bagel! If you're gluten free and miss eating bagels, you're going to love this recipe! This recipe is dedicated to my incredible Mom, Ceclie, who taught me everything I know about baking! Thanks Mom for sharing your wisdom with me and imparting a love of healthy cooking and living! I love you with all my heart.
CONTENTS (JUMP TO ANYTIME)
FOLLOW ME
Already on Pinterest? Please feel free to PIN the following image:
INGREDIENTS
(in Gluten Free Sourdough Bagels)
Have you ever thought of bagels as healthy? Me either. However, these bagels contain ingredients that are not only easier to digest, but also have numerous health benefits! Check it out.
DRY INGREDIENTS IN GLUTEN FREE BAGELS
GLUTEN FREE FLOUR BLEND
WHAT IS PSYLLIUM HUSK ANYWAY?
WET INGREDIENTS IN GLUTEN FREE BAGELS
TOPPINGS
DO I REALLY NEED TO WEIGH THE INGREDIENTS?
Yes! I have learn't through experience that weighing ingredients using a scale whilst baking is super important and will allow you to reproduce great results every time! I've attempted measuring out the flours by volume (e.g. cups), then double checked the weights of each. They were off by quite a lot actually! It can mean the difference between the most incredible and beautiful looking bagel, to one that quite literally flops. The density of the ingredient makes a BIG difference in the volume of the flour. A new bag of flour may be packed down tight vs an already opened one. A gram will always be a gram of flour!
A KITCHEN SCALE IS WORTH THE INVESTMENT
I use a very simple mini digital kitchen scale that I got for $19.99. Trust me it is well worth the investment! It is super easy to measure ingredients by weight. I think it's WAY easier than measuring by volume (e.g. cups). To measure flour, place a bowl on the scale, press the tare button to zero your scale to the weight of the bowl, and then add your flour. Simple as that!
WHERE CAN I FIND INGREDIENTS FOR GLUTEN FREE BAGELS?
You can find all of these flours in Calgary at Blush Lane Organic Market and Bob's Red Mill brand at many grocery stores including Superstore, Safeway & Save on Foods. You can also find them readily online! I've tried to put links where ever I can!
CAN I USE THIS BLEND TO SUB FOR REGULAR ALL-PURPOSE FLOUR?
YES YOU CAN but it requires a binder! Please DO NOT use this flour mix as a 1:1 substitute for regular wheat All-Purpose flour without reading my post on How to make Crazy Good GF All-Purpose Flour. This flour mix requires a KEY staple ingredient (a binder) to be able to use it to replace wheat flours.
Please see my post How to Create your own GF Flour Blend for all the details and recipe for my Crazy Good Gluten-Free All-Purpose Flour.
HOW TO MAKE GLUTEN FREE SOURDOUGH BAGELS!
* For step by step quick instructions see recipe card below
NOTE: These bagels are small in size compared to some. I find them quite filling so I like them on the small side. You can always have two right? If you like a big giant bagel, you may want to try doubling this recipe and making a dozen as that will produce large bagels! Or you can keep the recipe as is and simply try making 6-8bagels. If you try it, please let me know!
Ok, lets get right to it and make us some incredibly delicious bagels!
GLUTEN FREE SOURDOUGH BAGEL BAKING SCHEDULE
FRIDAY NIGHT
STEP 1: Feed your gluten free sourdough starter & get it active!
I like to keep my starter in the refrigerator & reactivate it when I am ready to bake! So I take the starter out of the refrigerator on Friday night & feed 15g of starter it a ratio of 1:5:5 to reactivate it. Feed 15g of starter, 75g flour (I use either brown rice or sorghum flour), & 75g of filtered water. This will give you 165g of starter.
My starter takes 24 hours at room temperature to reach peak activity. So this way, it is perfectly peaked when I am ready to mix my dough Saturday evening! Since we are not mixing a leaven (preferment) to save some time for these bagels, it is important that our starter is at it's peak activity when we mix our dough! If you miss the peak, don't worry, just feed your starter a little snack (e.g. 10-15g flour & 10-15g water) and when it peaks, mix your dough!
SATURDAY NIGHT
STEP 2: Create the dough & ferment overnight
Heat water to 100-110°F (38-43°C). Add warm water to the bowl of a stand mixer (or you can mix by hand in a large bowl).
Add active starter, maple syrup, olive oil, apple cider vinegar, salt and psyllium husk. Whisk to combine. Let rest for 5-10 minutes until it gels slightly.
This is the fun part! Watch your dough come together beautifully. You'll LOVE working with this soft & pliable dough! Add Crazy Good All-Purpose Flour to wet ingredients once gelled. Mix with a dough hook of stand mixer on low for about 2-4 minutes until all flour is incorporated. Increase speed to medium-high & mix for an additional 3-5 minutes until a nice dough ball forms.
Shape dough into a round smooth ball and place in an airtight bowl with lid (or a bowl with plastic wrap) at room temperature for 8-10 hours (overnight).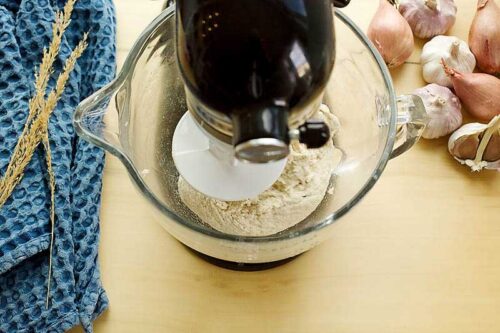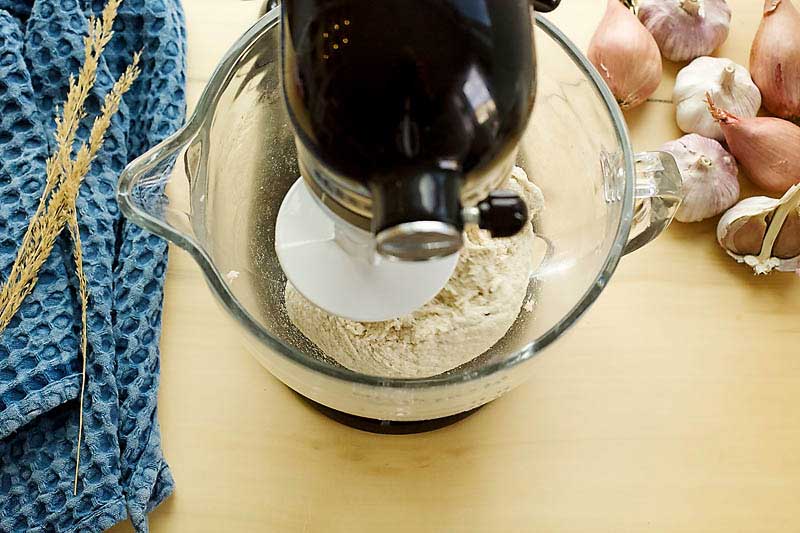 Don't have a mixer?
That's ok! You can simply mix wet and dry together then kneed the dough for about 8-10 minutes like I used to as a kid.
SUNDAY MORNING
STEP 3: Shape the bagels
First thing Sunday morning, gently flip the dough out onto the countertop. It should have risen & puffed up significantly overnight with lovely air bubbles present, almost like it has a little bounce to it. Using a dough scrapper or a sharp knife, cut the dough into 12 equal pieces about 90-100g each. You don't have to be exact! I like to quickly weigh my dough because creating equally sized bagels means perfectly baked bagels every time! It sure is nice to be able to easily reproduce your success each time you bake them too!
Remember these bagels are small. If you prefer larger bagels try making 8 bagels instead (they may need a few minutes longer cook time).
Roll each piece into ball with hands, being gentle but firm. I place plastic wrap over once rolled to prevent the dough from drying out.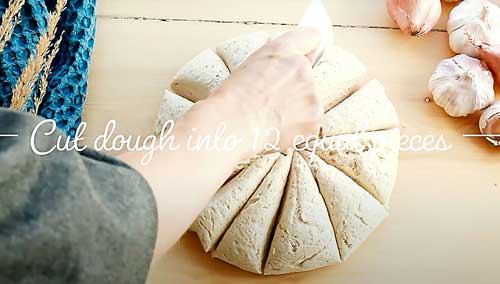 USE PLASTIC WRAP TO SHAPE THE GLUTEN FREE BAGELS
I cover dough balls with plastic wrap to assist shaping. Since this dough is not quite as strong as dough that contains gluten, I find this step really helps to create a beautifully shaped bagel without destroying the integrity of the dough. That being said, the sourdough starter does increase the strength of the dough in comparison to its yeast counterpart (recipe here)! Shape into flat round disc about 1/2″-1″ thick and 3″ diameter (I show in detail how I do this technique in my video below).
Keeping the plastic wrap in place, simply lift it slightly to release tension, then poke a hole in centre of the flattened dough ball.
Remove plastic wrap and shape the bagels gently with hands. Be very mindful that gluten free dough is not as strong as its gluten counterpart. This is why I say be gentle. You can easily shape this dough, it won't be sticky at all, just use a gentle touch.
STEP 4: Let the little cuties rest
Just like most baking, these gluten free sourdough bagels need to rest for 15 minutes prior to boiling.
STEP 5: Preheat oven to 500°F
Preheat to 500°F convection if you have it. You will turn the oven down a bit once you're ready to bake. I find the higher temperature helps get the bagels going and browns them just perfectly.
STEP 6: Boil Gluten Free Sourdough Bagels – Montreal Style!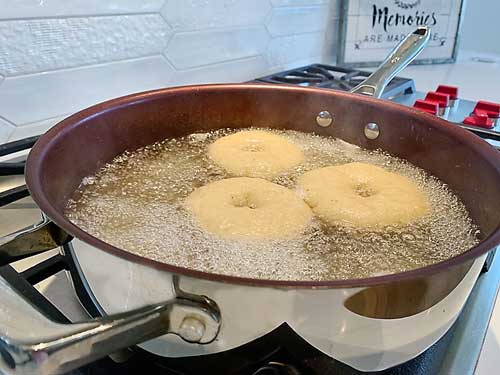 Whilst bagels are rising, add enough water to a large sauce pan to reach a depth of your second knuckle. Add maple syrup , salt & baking soda, and bring to a GENTLE boil. If the water is boiling hard, the bagels will disintegrate slightly, will be VERY hard to work with, and may go PLOP after boiled. So make sure to keep a close eye.
Flip & drop the bagels one at a time into water so that the tops cook first. Boil 3 at a time. Do NOT overcrowd. Watch that water remains at a gentle boil. Boil for 30 seconds then flip bagels with a slotted turner spatula (aka fish spatula) & boil underside for 30 seconds.
Remove bagels 1 at a time to a lint free kitchen towel to drip dry for 30sec-1 min. Do NOT let sit longer or bagels will stick! This step isn't absolutely necessary, but I find if the bagels are too wet, they tend to be undercooked and doughy on the bottom.
Repeat until all 12 bagels are boiled.
STEP 7: Toppings for Gluten Free Bagels
Place bagels on fresh parchment lined tray. Add desired toppings. See below video for two different ways to add toppings!
STEP 8: Bake Gluten Free Sourdough Bagels
Bake, in preheated oven @ 475°F (246°C) convection, on middle rack for 18 mins or until golden brown. Mine take 18 mins to be nicely browned and perfectly cooked. Please watch the bagels as all ovens are slightly different.
Convection ovens have a fan which evenly distributes the hot air throughout allowing bakes to cook 25% faster and at a lower temperature. If you don't have convection, you may need to increase the bake time by 4-5 mins or so (25% longer).
Like your bagels browned a little more? Simply cook an extra 1 minute at a time until you reach your desired golden colour.
Don't open the oven while the bagels are baking. The oven will kick in to reheat up to 500°F and may burn or unevenly cook your bagels. If you can't resist taking a peak, like my daughter Ella and I, turn on the oven light so you can watch your bagels brown like magic!
Let bagels rest on baking tray 15 mins to finish cooking and retain moisture. If you cut into any baked breads to soon, the steam that you see leaving the bread is what keeps the bread moist. The bagels will dry out if you cut into them too soon. The bagel also continues cooking on the baking sheet for those 15 mins of rest. If you cut the bagel too soon it'll be slightly doughy on the bottom. Be patient and wait at least 10mins! You can do it! Ok, Ok, you can try just one while it's hot then wait 15 mins for the rest! I always do!
STEP 9: Let Rest THEN Enjoy!
After resting, slice while still slightly warm & ENJOY! These bagels are just THE BOMB warm out of the oven (after a 10 min rest…hahaha!)
HELPFUL VIDEOS & FAQ
How to make Crazy Good Gluten-Free All-Purpose Flour
Crazy Good Gluten-Free All-Purpose Flour is so incredibly easy to make. It is lovely, light and fluffy. You're going to love working with this flour! I always mix it ahead of time in 1000g batches and leave it in a sealed container in my pantry. This is such a time saver and makes baking SO much faster!
Simply weigh the ingredients, sift together to remove any lumps and your done! Sifting is not absolutely necessary but I find that on occasion the starchy flours have lumps. Honestly though, who wants to bite into a bagel and get a big ol' chunk of potato starch! Yuck! I also sift in the baking powder for the same reason!
VIDEO – How to Shape Gluten Free Sourdough Bagels
VIDEO – Add Toppings to Gluten Free Sourdough Bagels
DO MY GLUTEN FREE BAGELS NEED A WASH ON TOP?
A wash on top of your bagels is totally optional. It allows the toppings to stick a little better & helps with the browning of the tops. I didn't use a wash in the video instructions, but sometimes I do.
AQUAFABA WASH: If like me, you don't eat eggs, simply use a little aquafaba (liquid from a can of chickpeas or soaked chickpeas) and brush it on top prior to topping bagels! It works like a charm!
EGG WASH: If you can eat eggs, using an egg wash on top of the bagels prior to adding toppings helps make them stick better to the bagel and also helps the tops brown nicely. I never use the egg wash anymore but wanted to add this tip for others who wish to try it. Simply make the egg wash by taking the egg white from 1 egg and mix with 2 Tbsp of water. Brush on top of bagels, then sprinkle or dip on the toppings of your choice.
TO STORE, FREEZE & REHEAT GLUTEN FREE BAGELS
Once bagels are totally cooled, after at least 30 mins, store in an air tight container on countertop for a few days (3 max, but I promise they won't last that long). They are best toasted slightly too warm and create a slightly crispy exterior. If you can eat dairy, try adding some grass fed butter to a warm bagel. Your tummy will thank you :)
These bagels freeze VERY well. Simply slice in half, wrap in plastic wrap (or parchment) then place in a glass container or freezer bag & freeze. They thaw nicely on the counter overnight. If toasted slightly, the bagels will taste like they just came out of the oven!
Please ENJOY!
TIME SAVING TIPS!
Enlist HELP: start "Baking your way around the world" with my family and get your children or loved ones involved in the food prep. Cooking together can be SO much fun and a great way to bond! Wouldn't it be great if kids could leave home with skills in the kitchen! Plus, I want to be able to go to my kids houses for a delectable meal when I'm retired!
Mix Flour Ahead: I strongly recommend making our Crazy Good Gluten-Free All-Purpose Flour mix ahead of time. It cuts down on the prep time drastically and makes these bagels super fun and easy to make. I like to keep an airtight container on my counter specially for my Crazy Good GF AP Flour. Remember to sift flour right into the mixer bowl so you get rid of any nasty lumps!
Keep your starter healthy, vital & active! If your starter is kept in a constantly healthy & active state your baking will be just that much better! Check out my post here for more on how to maintain your sourdough starter!

FOLLOW ME!
Please follow me on Pinterest, Instagram & Facebook
Already on Pinterest?
Feel free to PIN the picture below for future reference & so others can find it too 🙏🏻
PLEASE RATE & COMMENT
I know you'll just love these perfectly chewy on the inside & crispy on the outside, Sunday morning gluten free sourdough bagels! Aside from being incredibly delicious, you honestly can not tell they are gluten free! If you try it, please add a rating onto the recipe above or at the bottom of the post as it helps Google recognize the recipe & my website which will help show it to more people. I'd love to see our community grow! ♡
Now let's get baking!
PLEASE SHARE THIS GLUTEN FREE SOURDOUGH BAGEL RECIPE ♡