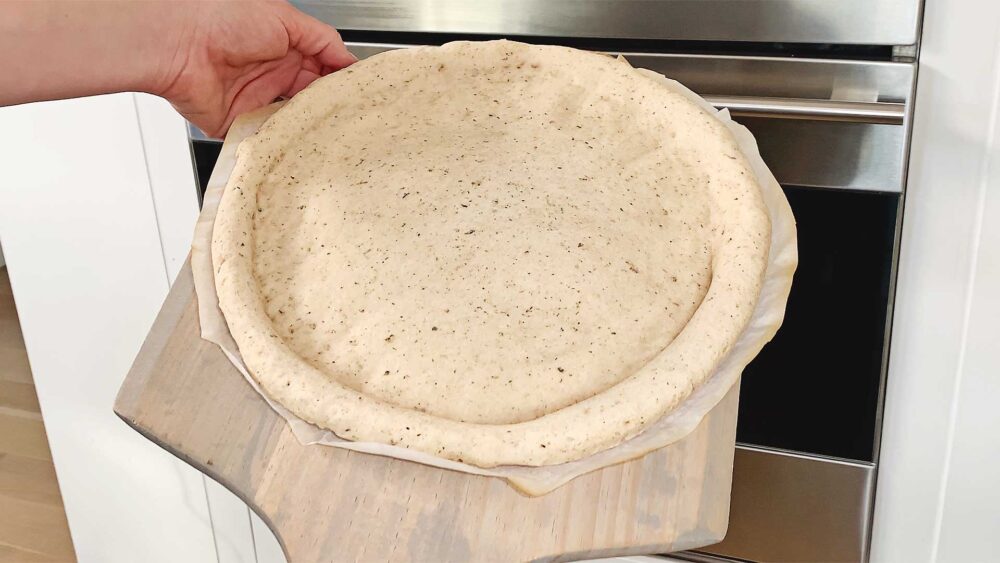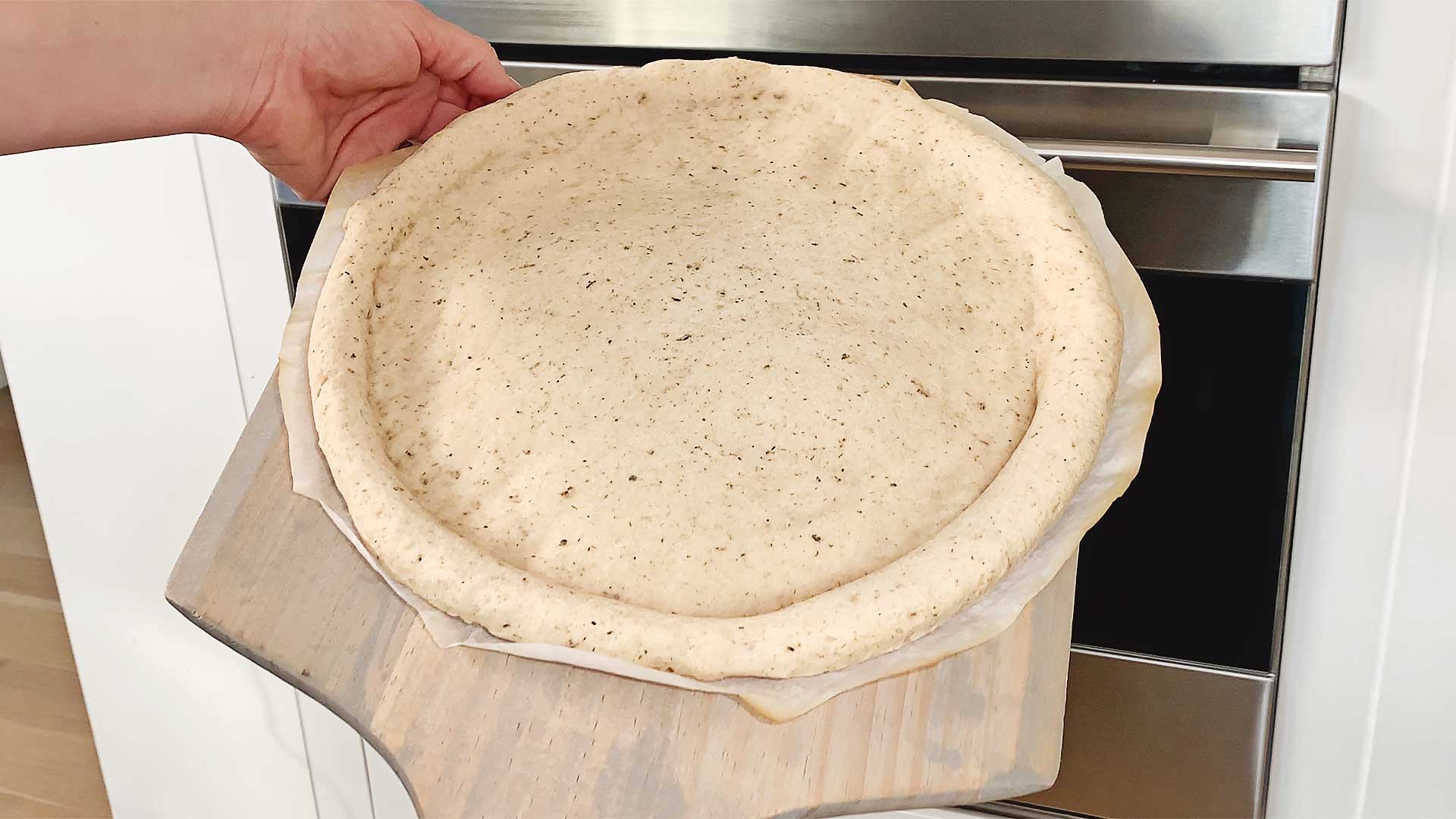 Servings:
Gluten Free Pizzas
Equipment Needed
1

Pizza Peel

or light & sturdy cutting board (to transfer pizza to & from oven)

Plastic Wrap
INGREDIENTS
For the SOAKER
237

g

2 Whole Grain Flours

*171g Sorghum & 66g Brown Rice Flour (or any combo of sorghum, brown rice, buckwheat, millet or teff flours)

25

g

Psyllium Husk

(whole)

485

g

Warm Water

105-115°F (40-46°C)

50

g

Heavy Cream (or vegan alternate)

*can also sub with more water

15

g

Maple Syrup

* can also use cane sugar

15

g

Traditional Dry Active Yeast

Fresh
ENRICHMENT
8-11

g

Sea Salt

(toppings have little or no salt? Use 11g)

1

tsp

Italian Spice Mix

(or your choice of spices to flavour up your dough)
BINDING FLOUR & STARCHY FLOURS
82

g

Binding Flour

*Choose 1 Sweet Rice Flour (or Oat / Cassava Flour)

115

g

Starchy Flour

*1 or 2 s (about 50:50 ratio if use 2) - Tapioca Flour & Potato Starch (or Arrowroot powder). ( I use 50g Tapioca, 65g Potato)
INSTRUCTIONS
PROOF YEAST:
Add yeast & maple syrup to warm water (100-110°F = 38-43°C)

485 g Warm Water,

15 g Maple Syrup,

15 g Traditional Dry Active Yeast
MIX THE SOAKER:
In a small bowl, whisk together your chosen whole grain flours & psyllium husk.

237 g 2 Whole Grain Flours,

25 g Psyllium Husk

In the bowl of a stand mixer, whisk together proofed yeast & cream. Add flour mix from above & mix with paddle attachment for 2 mins.

485 g Warm Water,

50 g Heavy Cream (or vegan alternate),

15 g Maple Syrup,

15 g Traditional Dry Active Yeast

Let soaker rest covered for 30 minutes.
ADD ENRICHMENT:
Add olive oil, salt & spices & mix for 1 min to slightly incorporate the oil.

20 g Extra Virgin Olive Oil,

8-11 g Sea Salt,

1 tsp Italian Spice Mix
ADD BINDING FLOUR & STARCHY FLOUR:
Sift in binding flour & starchy flours of your choice. Then mix on low until slightly incorporated, then medium-high for 3-5 mins until forms a sticky dough ball.

82 g Binding Flour,

115 g Starchy Flour

Shape into a ball with a spatula.
SHAPE & REST DOUGH:
Turn dough onto the counter. Gently shape into a ball & pat dough all over with olive oil.

Cover & let rest 2-3 hours at room temp or 90 mins to 2 hours in oven with light on.
PRE-HEAT OVEN:
Preheat oven with pizza stone inside to 500°F (260°C) for 30-45 mins.
DIVIDE & ROLL PIZZA CRUST:
Flip dough out onto parchment paper & divide into 2-3 pieces (for a thinner crust). Cover one piece with plastic wrap while you roll out the other.

Begin spreading & shaping dough into a circle shape with hands working from inside-out.

Cover with plastic wrap (or parchment paper) to create a smoother texture & ease of shaping (see video instructions for more details). Pinch edges to create a lip for your crust.

Cut excess parchment paper around the pizza dough to prevent burning.
PAR-BAKE DOUGH:
Remove plastic wrap from dough & slide pizza (with parchment) onto the preheated pizza stone in oven.

Par-bake for 5-7 minutes until the dough has fully risen, is slightly golden on the edges, then remove from oven.
REMOVE PARCHMENT & ADD TOPPINGS:
Flip pizza crust over & slowly peel off parchment paper. Flip again & place back onto pizza peel.

Add sauce & desired toppings.
BAKE YOUR PIZZA!
Slide topped pizza off the pizza peel directly onto the stone & bake for 6-9 mins or until toppings are golden, crust has browned to your liking & cheese is melted (if using).

Remove pizza & pizza stone from the oven & allow to rest for at least 5-10 mins on the stone.

Slice up your Gluten Free Sourdough Pizza masterpiece with a pizza cutter & enjoy!
Video
Notes
Please see the post for easy to follow VIDEO INSTRUCTIONS.
If you prefer PHOTO INSTRUCTIONS. please check out my Gluten Free Sourdough Pizza Crust Recipe.
ADAPTING THIS RECIPE: I have broken the ingredients of this pizza crust dough into 5 components. This way you can customize the recipe to fit your dietary needs by understanding each of its parts. All you have to do is choose 1 or 2 options from each component, then follow the directions as posted.
Pre-baking, aka par-baking, the dough is a really essential step. It allows the dough to rise and crisp up a bit removing some of the moisture in the dough. This ensures that your dough will be crispy & strong and will hold up to all of the delicious goodness you'd like to add to the top.
If making a vegan or vegetarian pizza (or where the toppings have no additional salt) you may want to increase the salt to 11g.
Nutrition
Nutrition Facts
Gluten Free Pizza Crust - made with traditional dry yeast
Amount per Serving
% Daily Value*
* Percent Daily Values are based on a 2000 calorie diet.
some other recipes to try
READY TO GET YOUR HANDS DOUGHY WITH GF SOURDOUGH?
Would you like to make a Gluten Free Sourdough Loaf with Sorghum Flour? You'll love how easy making this bread becomes with my FREE BAKING TIMELINE & follow-along videos. I sure hope that this helps give you some ease in your gluten free sourdough journey!
please share this GLUTEN FREE PIZZA CRUST recipe ♡!