But how do you freeze zucchini? Is it necessary to blanch it first? Remove the liquid? In this post, we will guide you through the process of freezing zucchini, ensuring that you can savour the taste of summer even in the depths of winter!
Got WAY to much zucchini? Looking for a low-carb alternative to pasta? Making zucchini noodles is a breeze! Check out our step-by-step guide, where we'll show you how to create zucchini noodles that are perfect in texture and ready to be paired with your favourite sauces or toppings.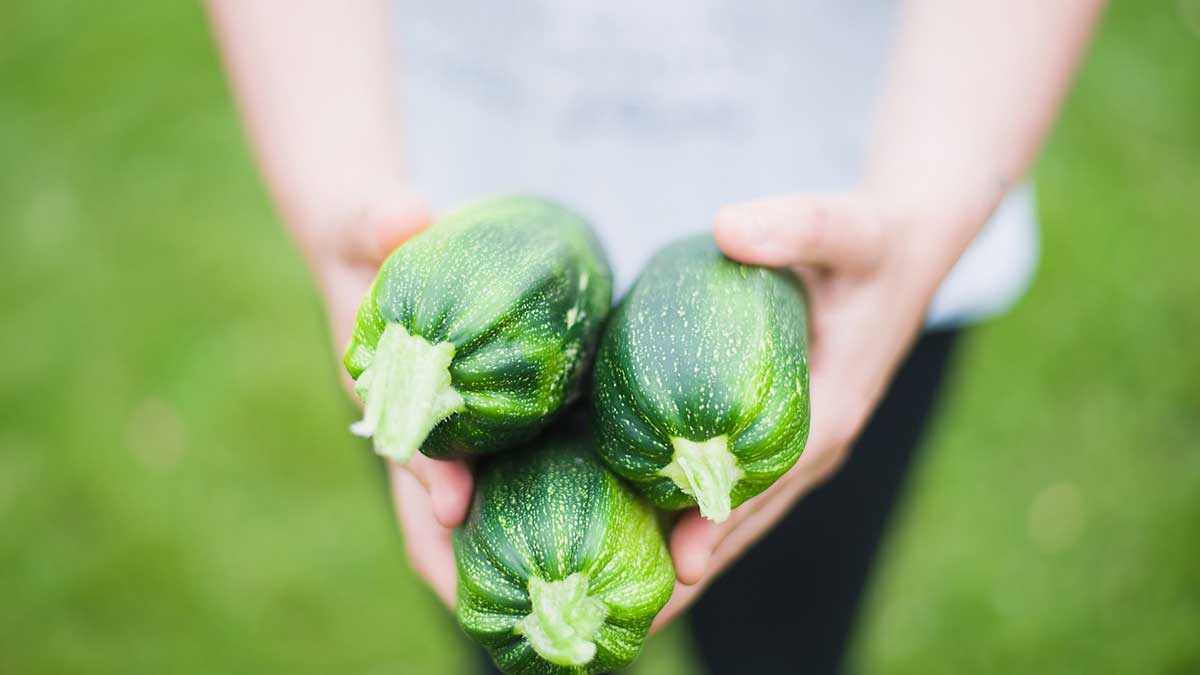 Zucchini, also known as courgette in some parts of the world, is a summer squash that is incredibly versatile and abundant during the warmer months. This green and mild-flavoured vegetable can be used in a multitude of dishes, from savoury to sweet. 
If you're looking to cut down on carbs, are living gluten free, or just want add more veggies to your diet, zucchini is a fantastic addition to your diet.
Freezing zucchini is a fantastic preservation method for several reasons:
Prevents Waste: Zucchinis can pile up quickly in your garden, and you may struggle to consume them all while they are fresh. Freezing allows you to avoid waste and enjoy your garden's bounty at your own pace.
Year-Round Availability: By freezing zucchini, you can enjoy its freshness and flavor during the off-season. It's an excellent way to savor the taste of summer even when the weather turns cold.
Convenience: Having frozen zucchini on hand makes meal prep easier. You can add it to soups, stews, stir-fries, and baked dishes without the need for extensive preparation.
Nutritional Value: Freezing zucchini preserves its nutritional value, ensuring you still benefit from its vitamins, minerals, and fiber.
INGREDIENTS and EQUIPMENT NEEDED
Fresh zucchini
Knife
Cutting board
Clean kitchen towels or paper towels
Freezer-safe containers or freezer bags
Permanent marker
How to freeze Zucchini - for use in baking
How to freeze Zucchini - for ANY use
1. Harvest and Prepare Zucchini
Start by harvesting your zucchinis when they are at their peak ripeness. Choose zucchinis that are firm, free from blemishes, and about 6-8 inches long for the best texture and flavor.
Wash the zucchinis thoroughly under cold running water to remove any dirt or debris.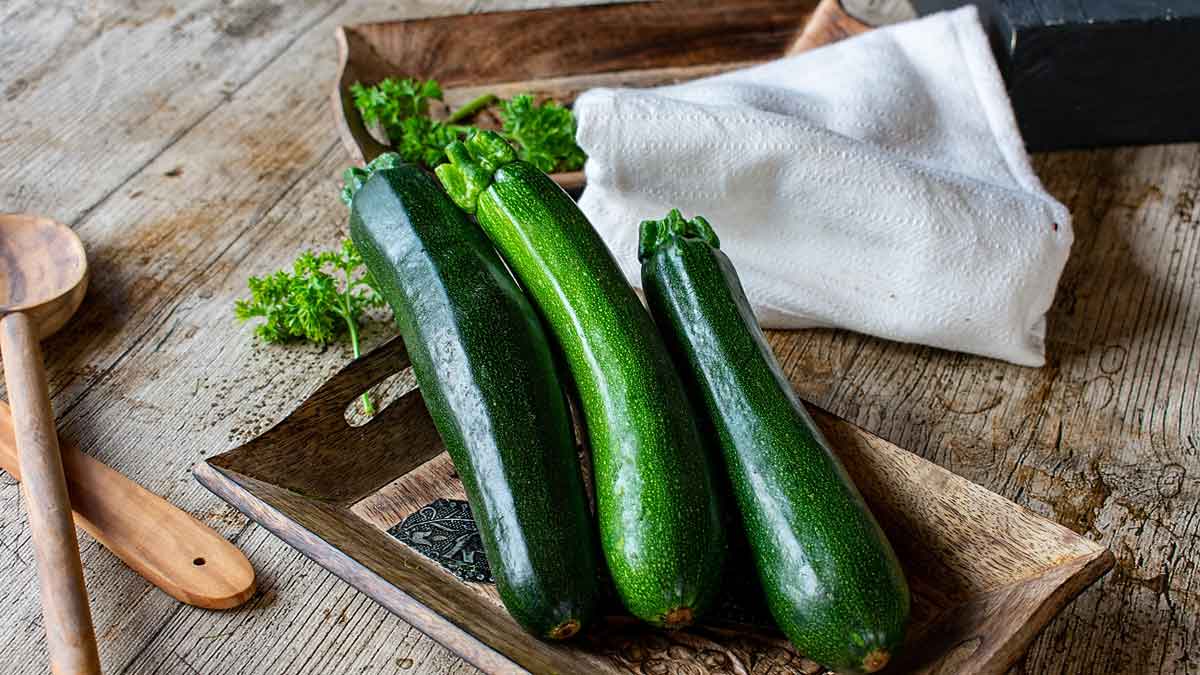 2. Decide how your going to use the Zucchini
First, make sure you think about how you might use the zucchini once thawed. I'm shredded the zucchini in my video, which is perfect to add to baked goods like zucchini bread, zucchini muffins or even added to a smoothie. 
See below for ideas on how to prepare your zucchini to freeze it based on how you'll use it in the future.
2. shred, slice or dice your Zucchini
Trim both ends of the zucchini.
The choice of size and shape depends on how you plan to use the frozen zucchini in your recipes.

To freeze zucchini effectively, it's best to cut it into the shape and size that suits your intended use.

Here are some common shapes for freezing zucchini:

Grated or Shredded: Grated zucchini is great for adding to baked goods like zucchini bread or muffins. You can also freeze shredded zucchini to use in recipes like fritters. When freezeing shredded zucchini, I've found there is no need to blanch them first.
Slices or Rounds: You can slice zucchini into rounds or thin slices. This shape is versatile and can be used in various recipes, such as stir-fries, casseroles, and soups. Chop or slice, blanch and freeze.
Sticks or Batons: Cutting zucchini into stick-like shapes is ideal for using them in dishes like stir-fries, sheet pan roasts, and as dippers for sauces or hummus. Chop or slice, blanch and freeze.
Cubes or Chunks: If you plan to use zucchini in stews, soups, or as a side dish, cutting it into cubes or chunks is a suitable choice. Chop, blanch and freeze.
Spiralized Noodles: If you want to preserve zucchini noodles (zoodles), spiralize them and then blanch and freeze. This works well if you want to use them in stir-fries, pasta dishes, or as a low-carb alternative.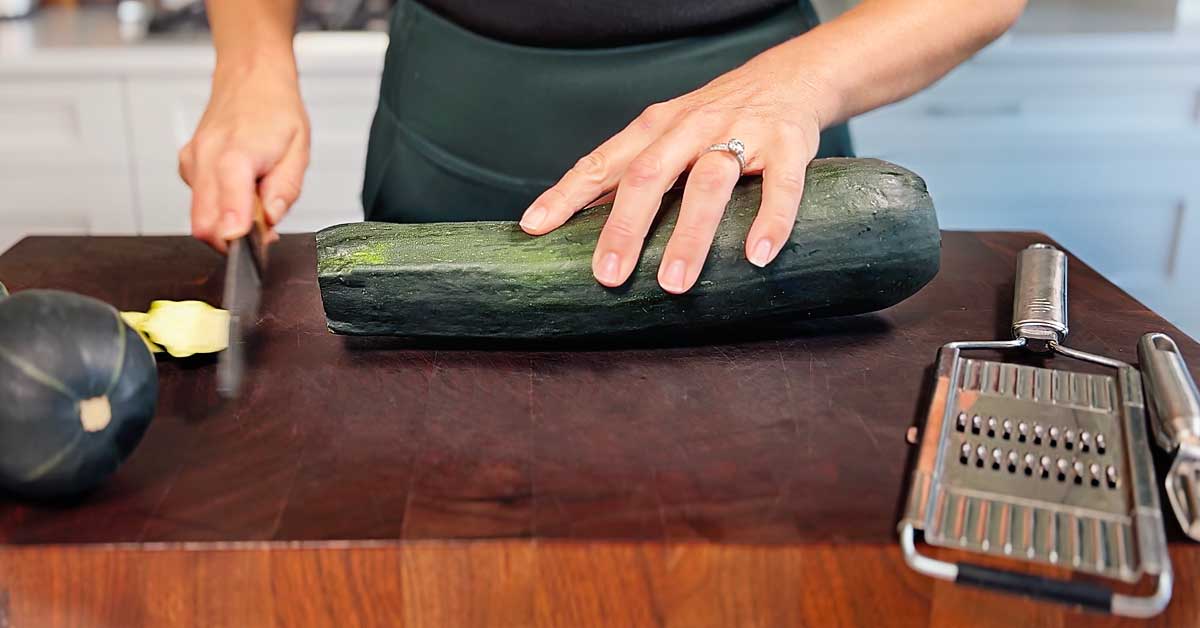 It is not necessary to peel your zucchini. In fact, I recommend you keep the peel on!
Not only does it add a lovely splash of colour, but zucchini skin, like the skin of many fruits and vegetables, contains a variety of nutrients and compounds. Some of the components found in zucchini skin include:
It's worth noting that the nutrient content of zucchini skin may vary depending on factors such as the variety of zucchini, how it's grown, and its ripeness. Eating the skin of zucchini can be a nutritious addition to your diet, but it's essential to wash it thoroughly to remove any potential contaminants before consumption.
3. Blanch, drain & Dry zucchini
If Freezing Zucchini Noodles, Slices, Sticks or Cubes – Blanch, Drain & Dry:
Fill a blanching pot or large stockpot with water and bring it to a rolling boil.
Carefully lower the zucchini slices or cubes into the boiling water. Blanch small pieces for about 1-2 minutes and larger pieces for 2-3 minutes. This blanching process helps preserve the zucchini's colour, flavour, and texture.
Use a slotted spoon or a strainer to quickly transfer the blanched zucchini to an ice water bath. This stops the cooking process and cools the zucchini rapidly.
Allow the blanched zucchini to sit in the ice water bath for the same amount of time they were blanched.
Drain the zucchini thoroughly in a colander or strainer.
Avoiding Watery Woes: Preventing your frozen zucchini from becoming soggy once thawed requires removing some of the moisture before they are heated. Simply wrap your noodles in a paper towel and squeeze over a bowl to remove the excess moisture. Save this liquid (you can freeze it) and use it to add flavour to soups, broths or even rice! Use a kitchen cloth or paper towel to pat dry slices, sticks or cubes to remove excess moisture. 
To blanch or Not to blanch?
Most people will suggest that you blanch your zucchini before freezing it. I have found that when using zucchini for baking, where the texture and appearance does not affect the final result, blanching is not totally necessary. In fact, when baking gluten free, I have found that it is not necessary to blanch or remove the moisture before freezing!
However, it is essential to blanch the zucchini noodles before freezing them. Blanching helps preserve the quality and flavour while also slowing down the enzyme activity that can cause vegetables to deteriorate in the freezer.
Please check out my post "How to make Zucchini Noodles: Easy & Delicious Recipes" for a detailed recommendations on when and how to blanch your zucchini noodles before freezing.
Divide the blanched and dried zucchini into portion-sized servings.
Place the zucchini into freezer-safe containers or freezer bags. Remove as much air as possible to prevent freezer burn.
Ensure zucchini is in a single layer. If slicing, cubing or spiralizing, you may want to freeze the zucchini spread out on a baking tray then package it once frozen. 
Label each container or bag with the date and contents using a permanent marker. This helps you keep track of how long the zucchini has been in the freezer.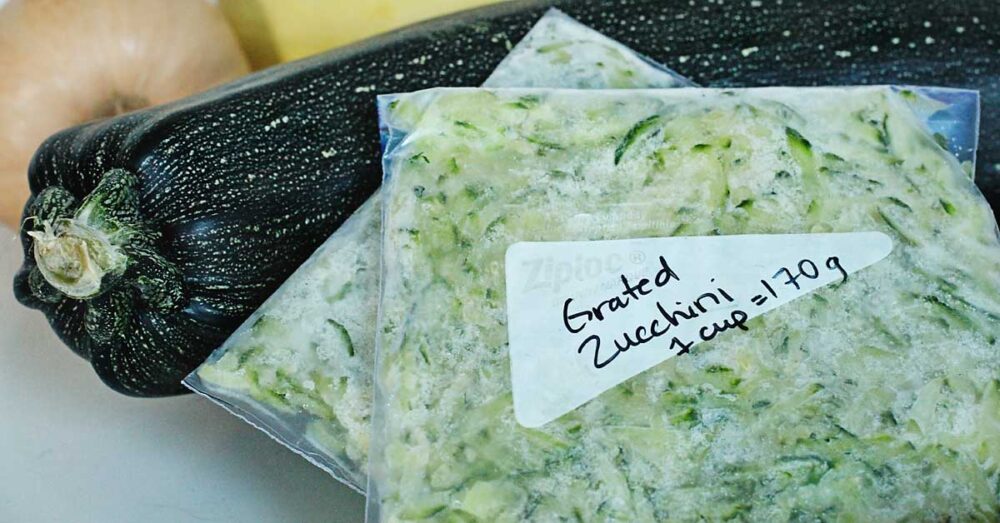 Place the containers or bags of zucchini in the freezer.
Ensure that the zucchini is stored in a single layer, allowing them to freeze individually before they clump together.
When you're ready to use the frozen zucchini, remove the desired amount from the freezer.
There's no need to thaw the zucchini. You can add it directly to your favourite recipes like soups, stews, stir-fries, and casseroles and baking. It will thaw in a jiffy!
I find frozen zucchini retains a lot of moisture and can become a little to soft for certain uses. But, it is PERFECT for baking, in soups or as a healthy addition to a smoothie!
Frozen zucchini is not as good for pasta replacement. Freshly cut zucchini noodles are much better suited for this purpose in my humble opinion.
the best zucchini recipe ideas!
Zucchini Muffins: like my favourite Chocolate Zucchini Cake Muffins
Pasta-Style Zoodles: Top your zoodles with your favourite pasta sauce (try my Zucchini Fettuccine Alfredo), grated Parmesan cheese (try my Garlic Parmesan Zucchini Noodles) and fresh herbs for a classic pasta experience. 
Stir-Fry: Incorporate zucchini into a stir-fry with colourful veggies and your choice of protein (e.g. tofu or chicken) for a healthy, low-carb meal. Add a savoury sauce for extra flavour.
Zoodle Bake

: Layer the zucchini noodles in a baking dish with marinara sauce, cheese, and any desired toppings (like ground meat or mushrooms). Bake until bubbly and golden for a zoodle casserole. Or substitute noodles for zoodles widely cut and make a zucchini lasagna!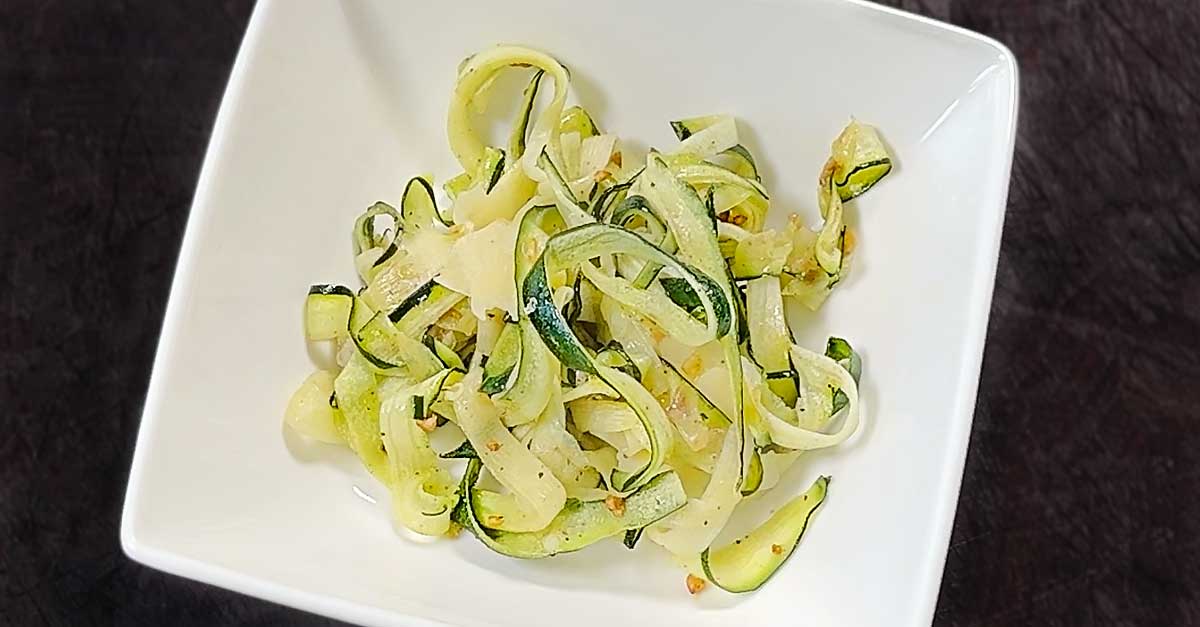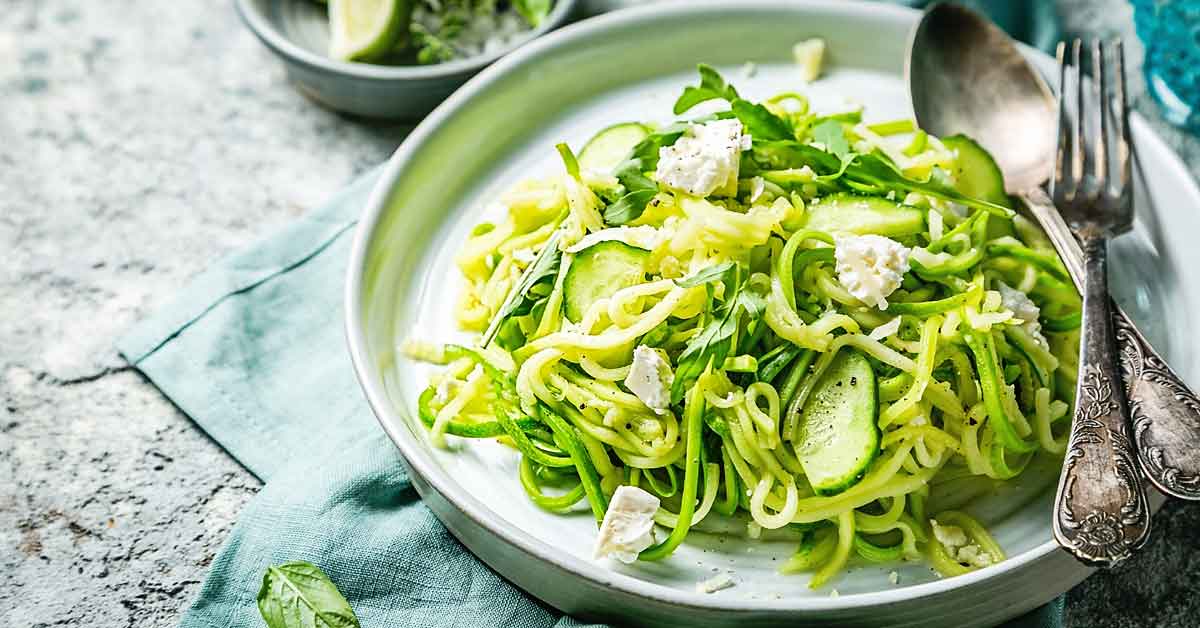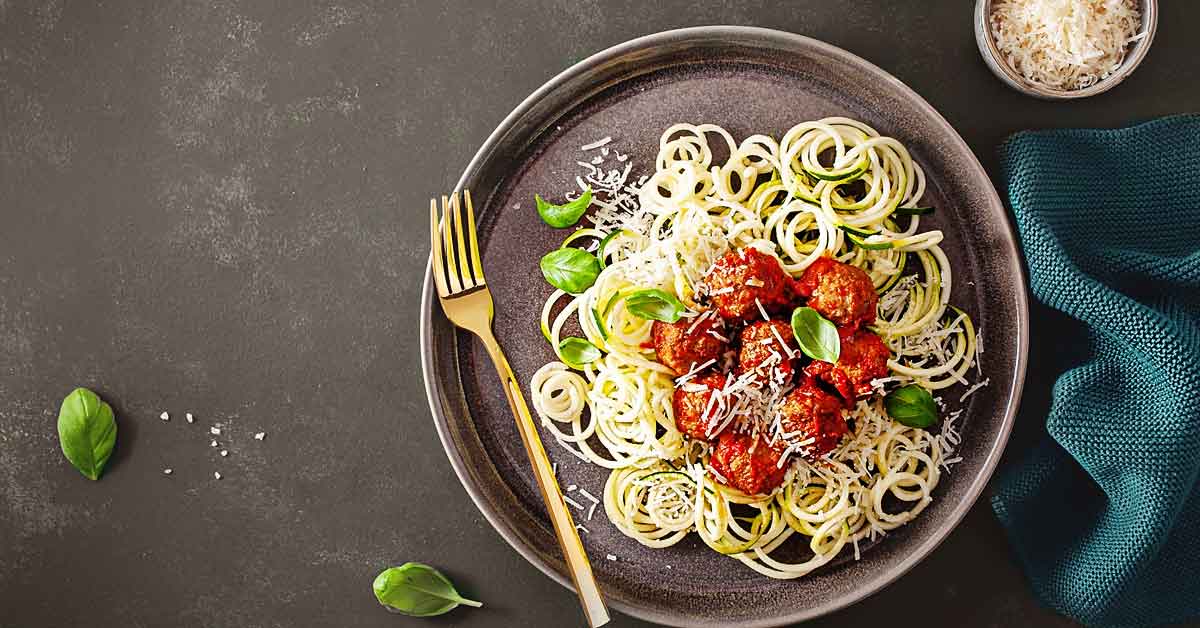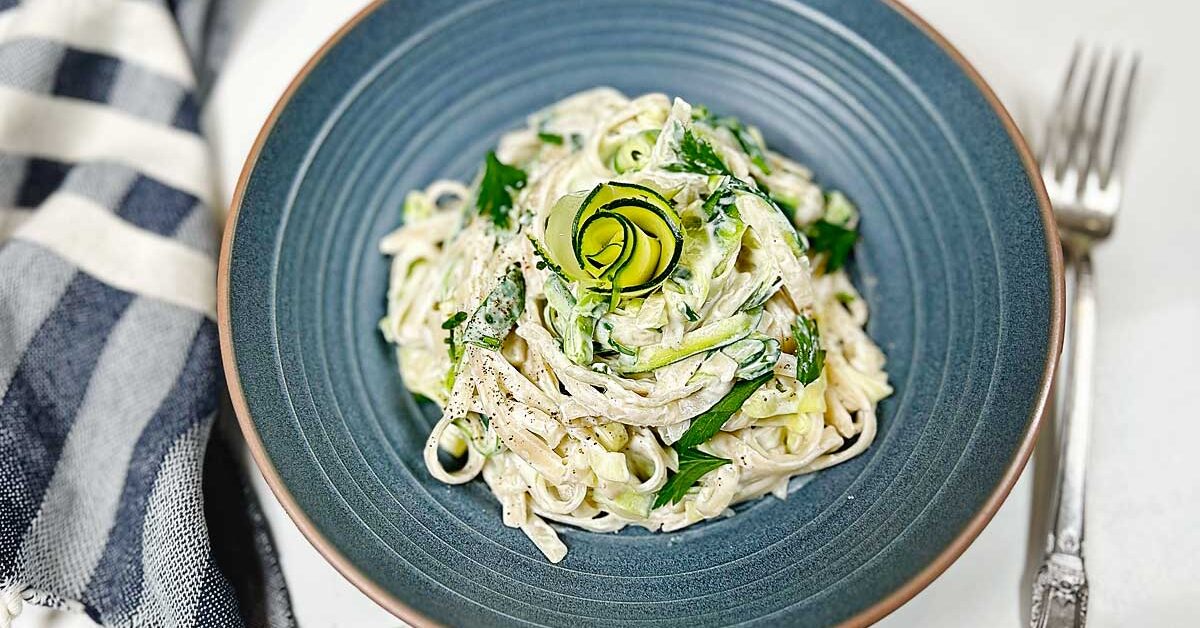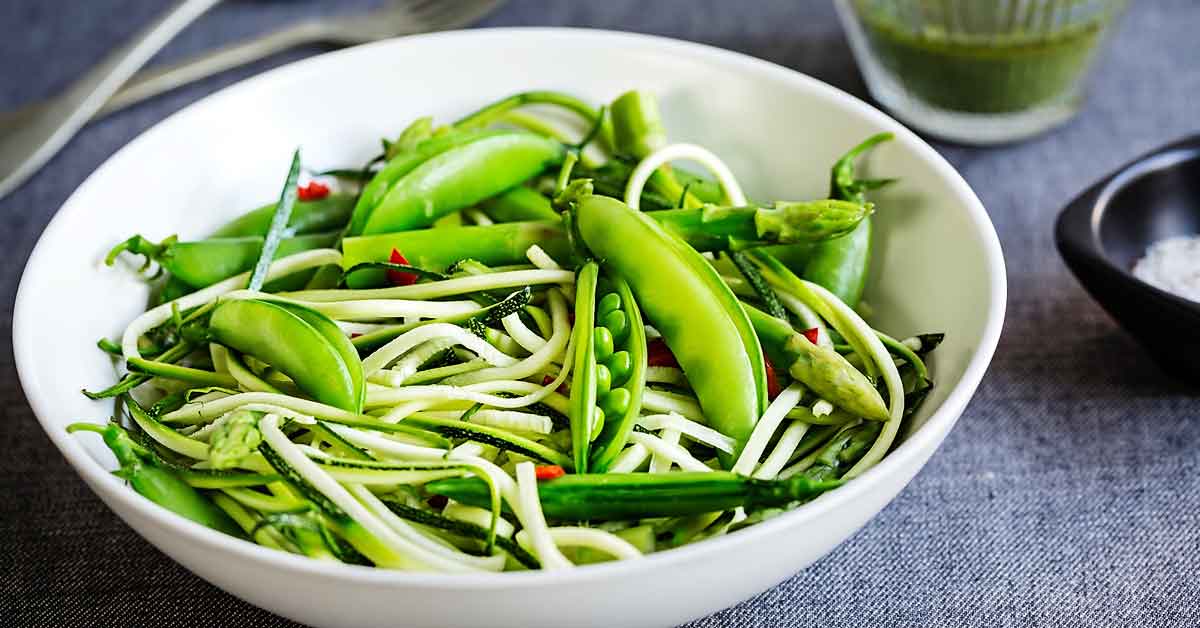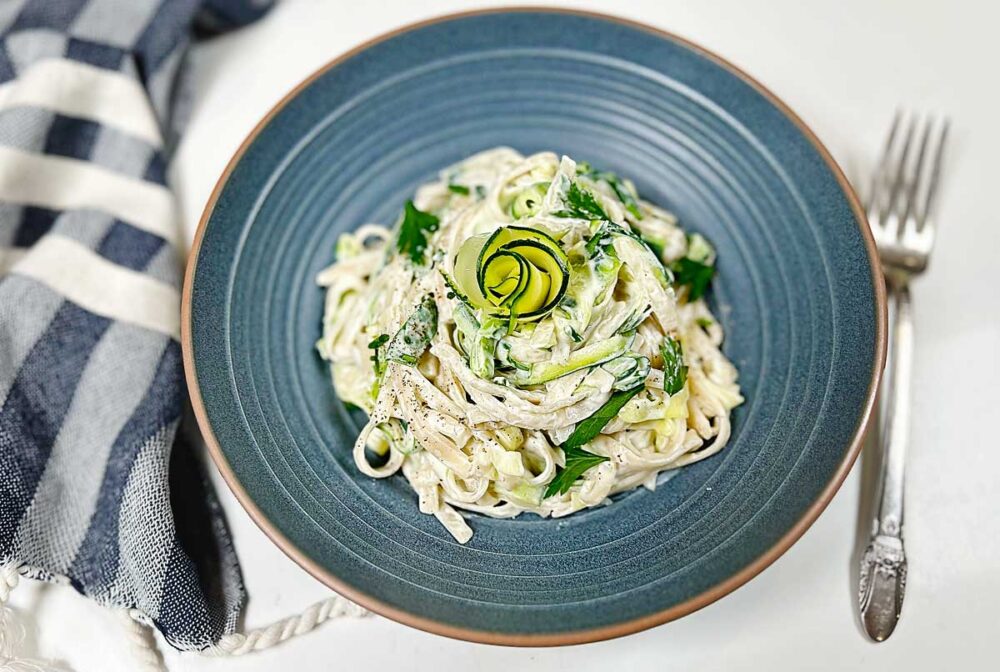 how to long will frozen zucchini last?
If you plan to store zucchini for an extended period, freezing them is a great option as frozen zucchini can last for several months in the freezer.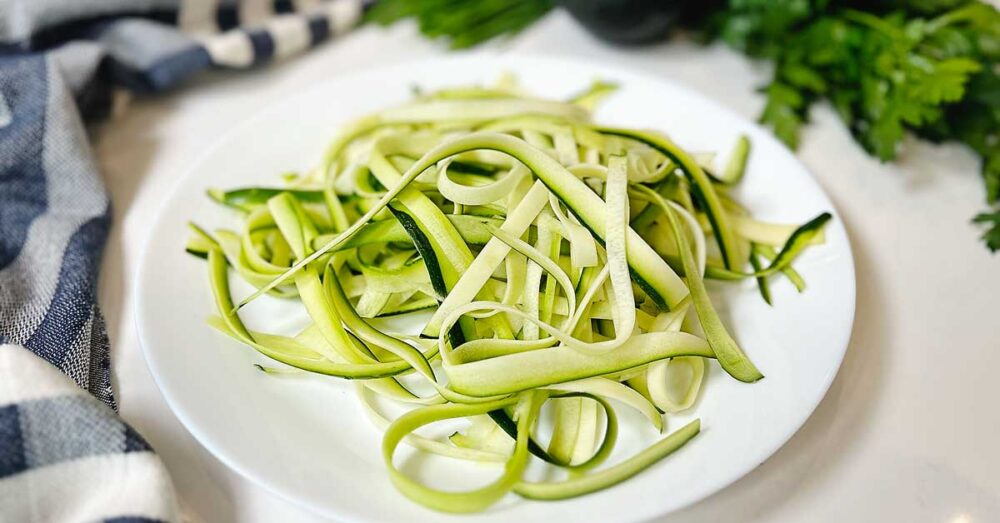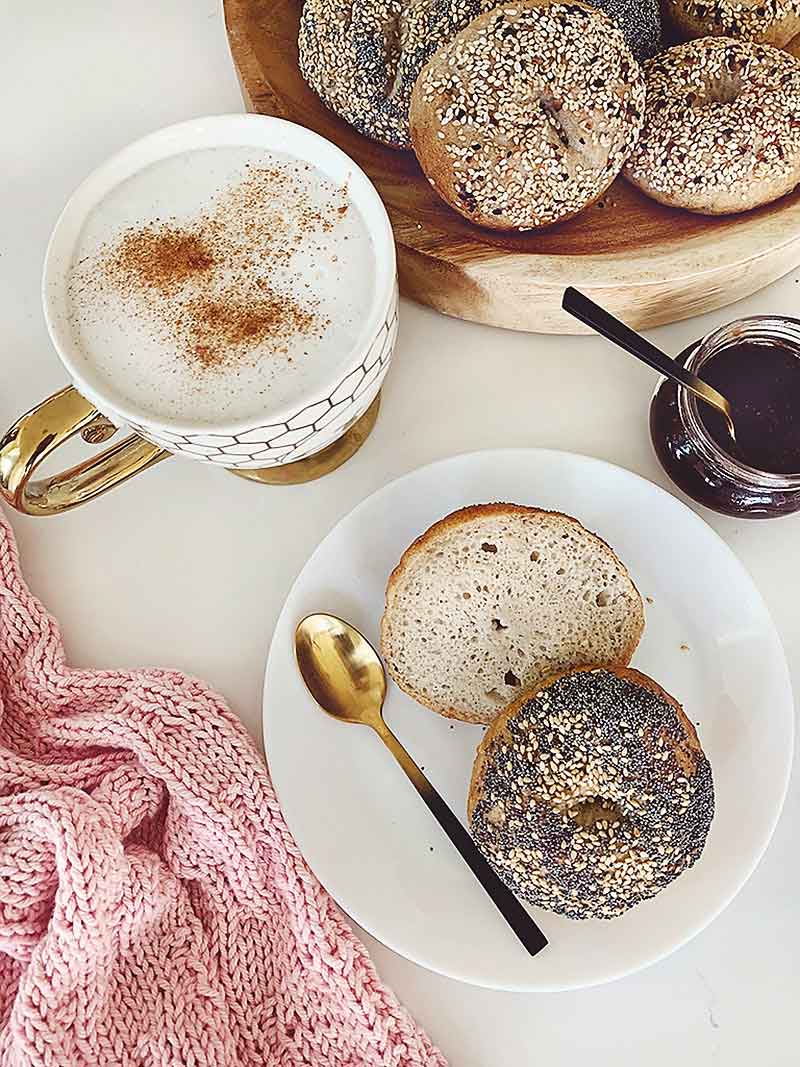 Want more delicious recipes & or how to guides at your fingertips?
Get updates on our latest posts & recipes from TurmericMeCrazy straight to your inbox!
By clicking subscribe you are consenting to receive emails from TurmericMeCrazy. I will only email you monthly with new recipes & updates. No spam I promise!
I hope you LOVE this guide to freezing zucchini and it helps you make the most of your zucchini bounty this year! If so, please feel free to share the link to this page on your social media or PIN this picture to your Pinterest account.
As always, thank you for subscribing to my blog & YouTube Channel as well as following me & liking my posts on Pinterest, FaceBook & Instagram! All of your comments and ratings on my recipes & social media is truly one of the most supportive things you can do for me! So thank you ever so much.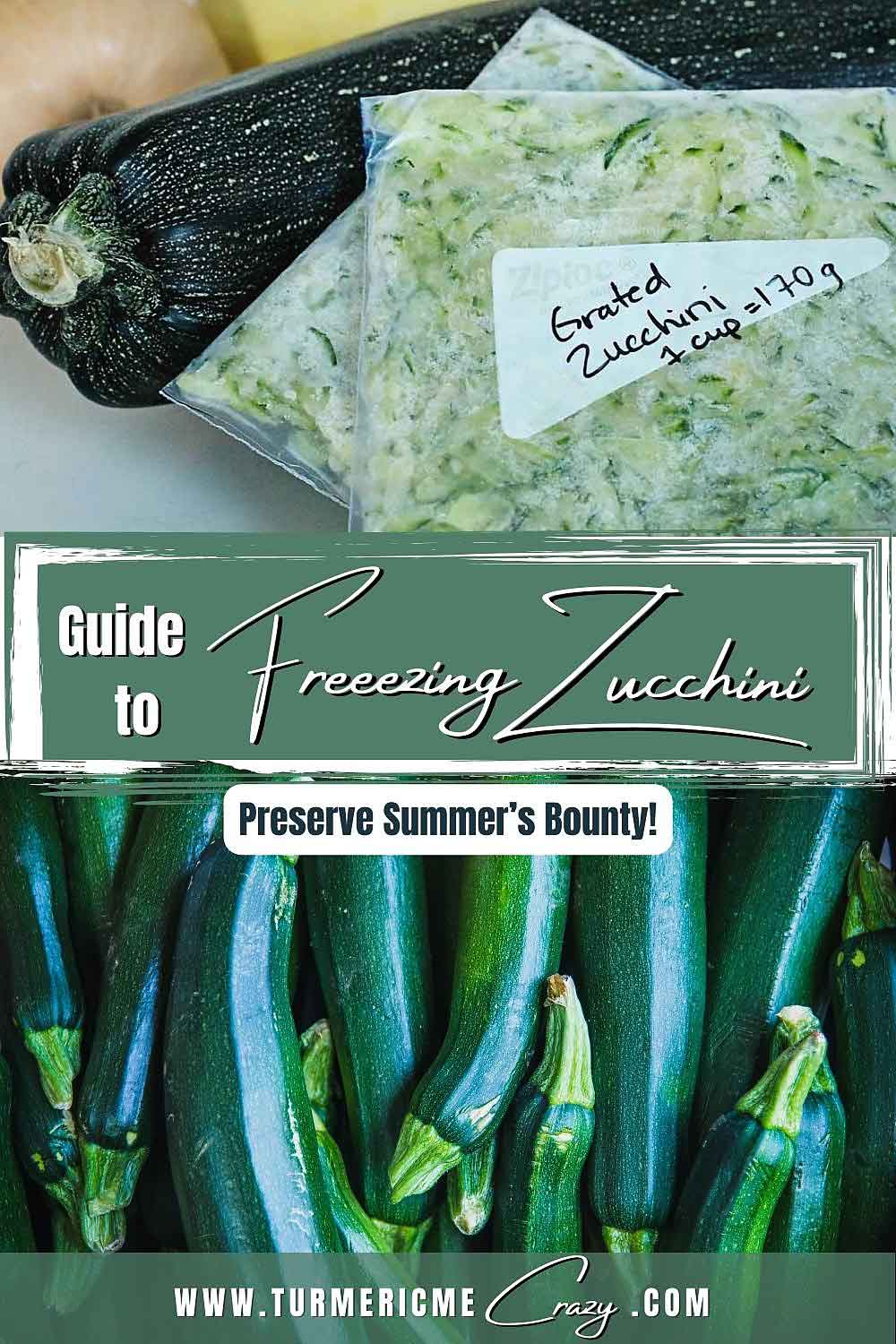 If you found this guide helpful, I'd be ever so grateful if you'd please add a comment & a rating onto the recipe card below or at the bottom of the post ♡. This will help Google recognize it and help my website grow.
Thank you once again for your readership & support.

With just a few simple steps, you can create zucchini noodles that are not only nutritious but also a delightful addition to your meals. Whether you're watching your carb intake, seeking gluten-free options, or just looking for a creative way to incorporate more veggies into your diet, zoodles are the answer! So, go check out our recipe here, grab some zucchinis, and start spiralizing your way to a healthier and tastier plate!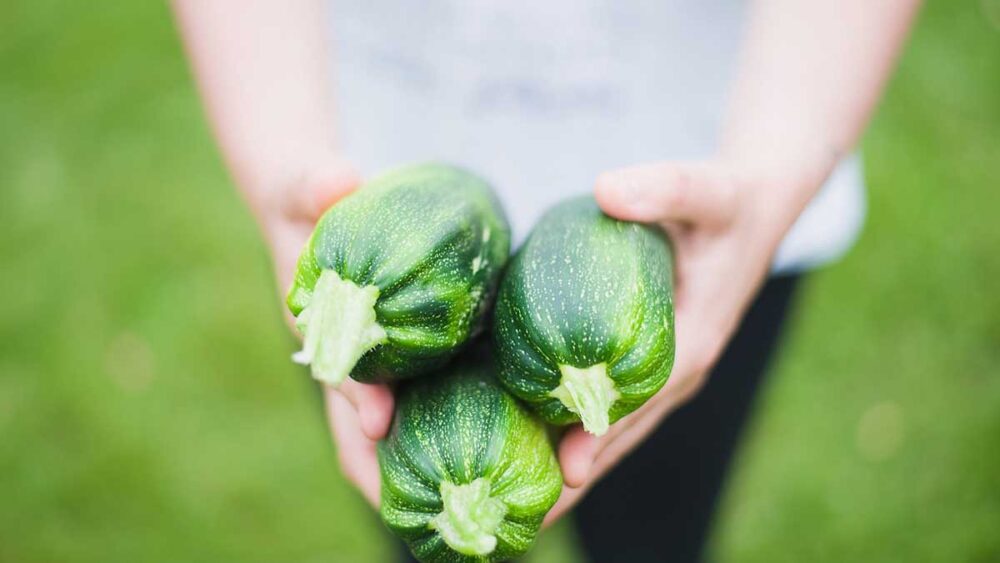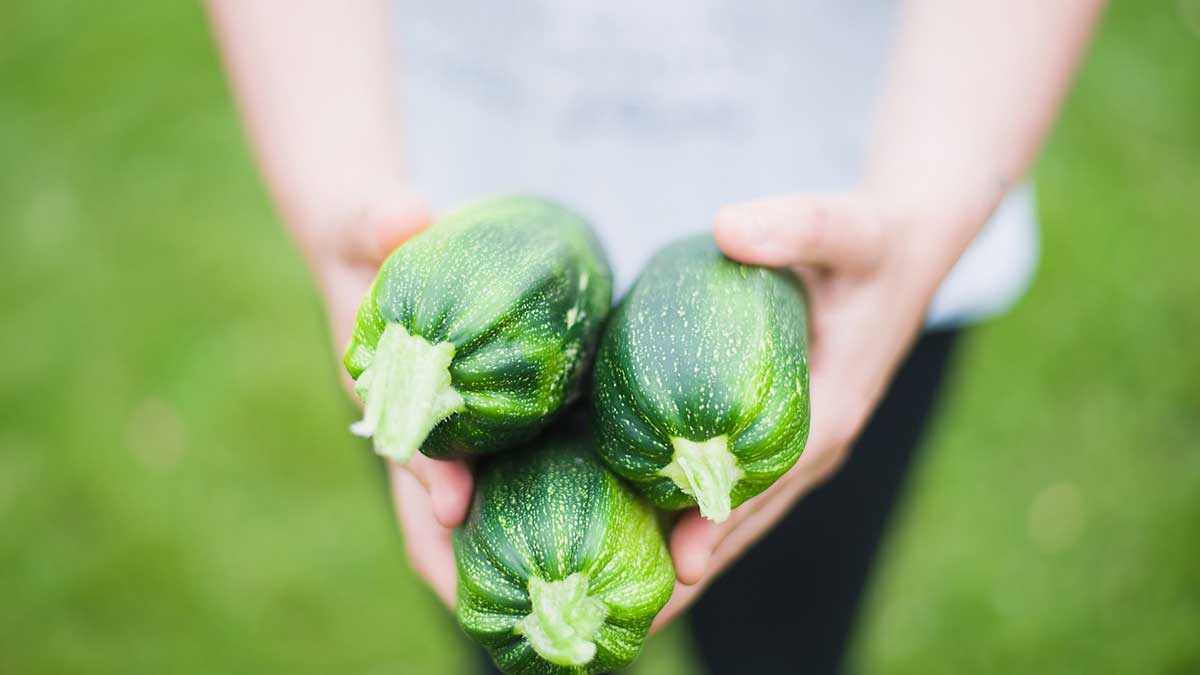 Equipment Needed
1 Large Pot of Boiling Water

if blanching

1 Large Bowl of Ice Water

if blanching

1 Sharp Knife

1-3 Ziplock Bags or Air Tight Containers
INGREDIENTS
2

Medium

Zucchini

any size
INSTRUCTIONS
Harvest and thoroughly wash zucchini.

Decide how you will use the zucchini. I will use it for baking so I will shred the zucchini using the large size of a box grater.

If blanching zucchini (see above post to decide). Submerge zucchini in boiling water for 1 minute, dipping it in a out gently for 1 min. Remove and immediately place into an ice bath (bowl 2/3 full of water and ice) for 1 min. Drain and dry.

Remove excess moisture from zucchini by blotting or squeezing the liquid out (see above post for details).

Place dried zucchini into a plastic bag or container in a flat layer and freeze for up to 3 months.
Notes
To avoid freezer burn, use your frozen zucchini within 3-6 months. 
Nutrition
Nutrition Facts
How to Freeze Zucchini
Amount per Serving
% Daily Value*
* Percent Daily Values are based on a 2000 calorie diet.
OTHER DELICIOUS RECIPES TO TRY...