Make the most scrumptious homemade granola you've ever tasted! This easy and nutritious recipe is perfect for a quick breakfast or a healthy snack. Get ready to transform your breakfast routine with a wholesome and nutritious homemade granola that's sure to become a family favourite!
Not only is homemade granola customizable to your taste, but it's also free from preservatives and artificial ingredients. You'll know exactly what goes into it, making it a great health-conscious choice. 
Making your own granola at home offers several compelling reasons to opt for DIY over store-bought alternatives:
Customization: Homemade granola allows you to tailor the ingredients to your taste and dietary preferences. You can adjust the sweetness, choose your favorite nuts, seeds, and dried fruits, and even experiment with unique flavours to create a granola that's uniquely yours.

Quality Control: When you make your own granola, you have complete control over the quality of ingredients. You can select the finest gluten free oats, freshest nuts, and pure maple syrup or organic honey or even agave syrup for a vegan alternative, ensuring a higher-quality product without preservatives or artificial additives.

Healthier Ingredients: Homemade granola recipes often use healthier alternatives to sweeteners and fats, such as maple syrup or agave syrup, olive or coconut oil. You can also reduce the sugar content to make a more nutritious option.

Cost-Effective: Pre-packaged granola can be expensive. Making your own granola can be much more cost-effective, especially when you buy ingredients in bulk. You'll get more bang for your buck while enjoying a fresher and tastier product.

Freshness: Homemade granola is made just the way you like it and is served fresh, which can enhance the taste and texture compared to store-bought options that may have been sitting on the shelf for some time.

Reduced Waste: By making your own granola, you can reduce packaging waste, as you can store it in reusable containers and avoid single-use plastic packaging.

Versatility: Homemade granola can be used in various ways beyond breakfast. It's a versatile ingredient that can be added to yogurt, smoothie bowls, or as a topping for desserts, giving you the flexibility to explore different culinary adventures.

Satisfaction: There's a sense of accomplishment and satisfaction in creating something from scratch. Making your own granola can be a fun and rewarding experience, and it allows you to connect with the food you eat.
Overall, making your own granola puts you in the driver's seat, allowing you to create a healthier, tastier, and more personalized breakfast option that can become a staple in your kitchen.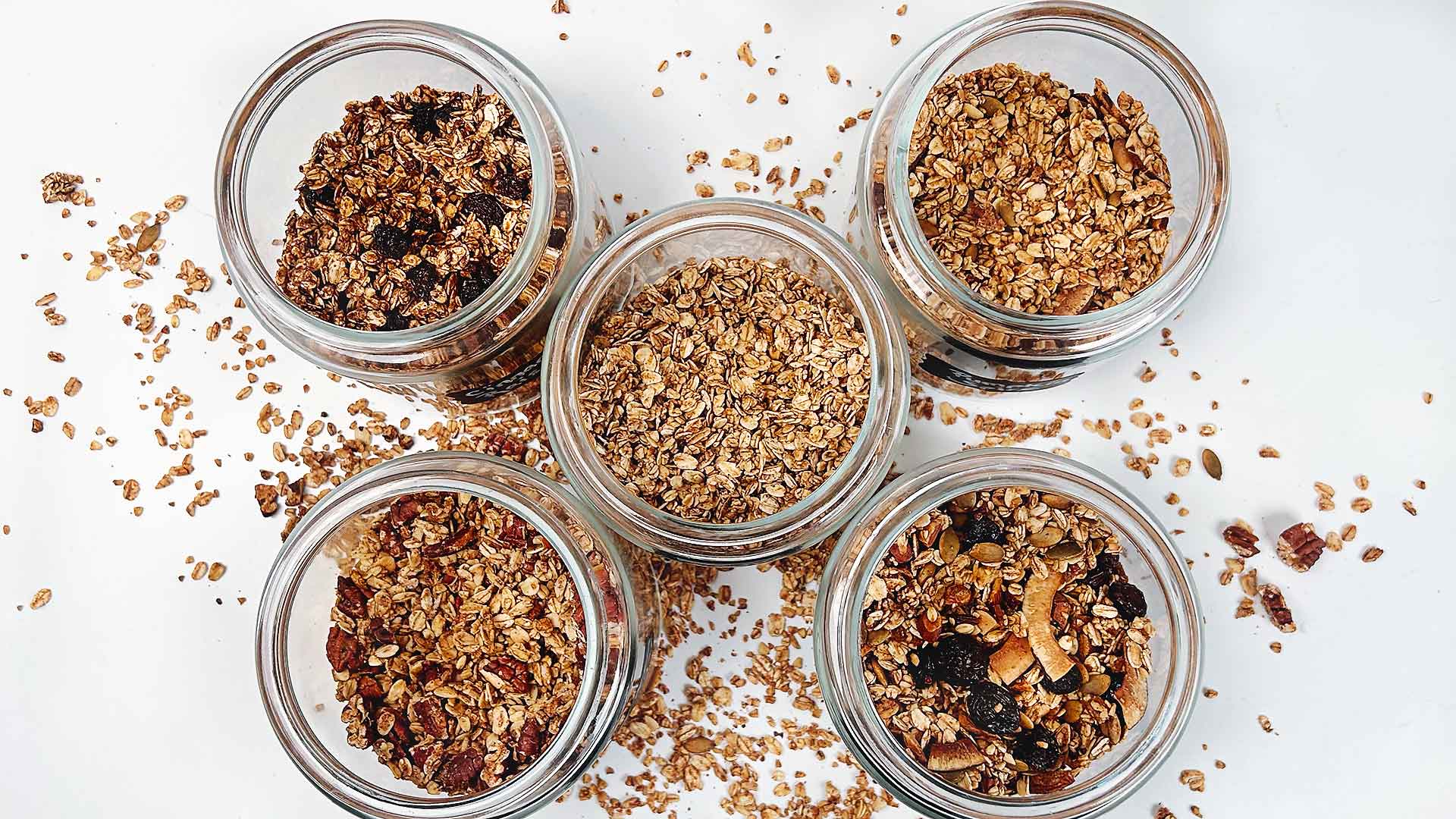 INGREDIENTS and EQUIPMENT NEEDED
Each of our 5 flavours of homemade granola start off with a Classic Granola Base. 
4 cups ( 440g) Gluten Free Rolled Oats

(aka Traditional Oats)

2 cups (310g) Steel Cut Oats (Gluten Free)

1/4 cup (58g) Extra Virgin Olive Oil (can also use melted coconut oil)

1/3 cup (120g) Pure Maple Syrup (or Agave Syrup)

1 1/2 tsp (10g) Pure Vanilla Extract

1/4 tsp Sea Salt

2 tsp Ground Cinnamon

 
How to make Homemade granola (with video)
Watch our detailed 5 minute video to learn how to quickly and easily make your own homemade granola!
We love to use a mix of Gluten Free Rolled Oats and Steel Cut Oats. Steel-cut oats and rolled oats are both whole oat grains that have been processed differently, resulting in variations in texture, cooking time, and nutritional content. Here are the key differences between steel-cut oats and rolled oats & why we use a mix of the two: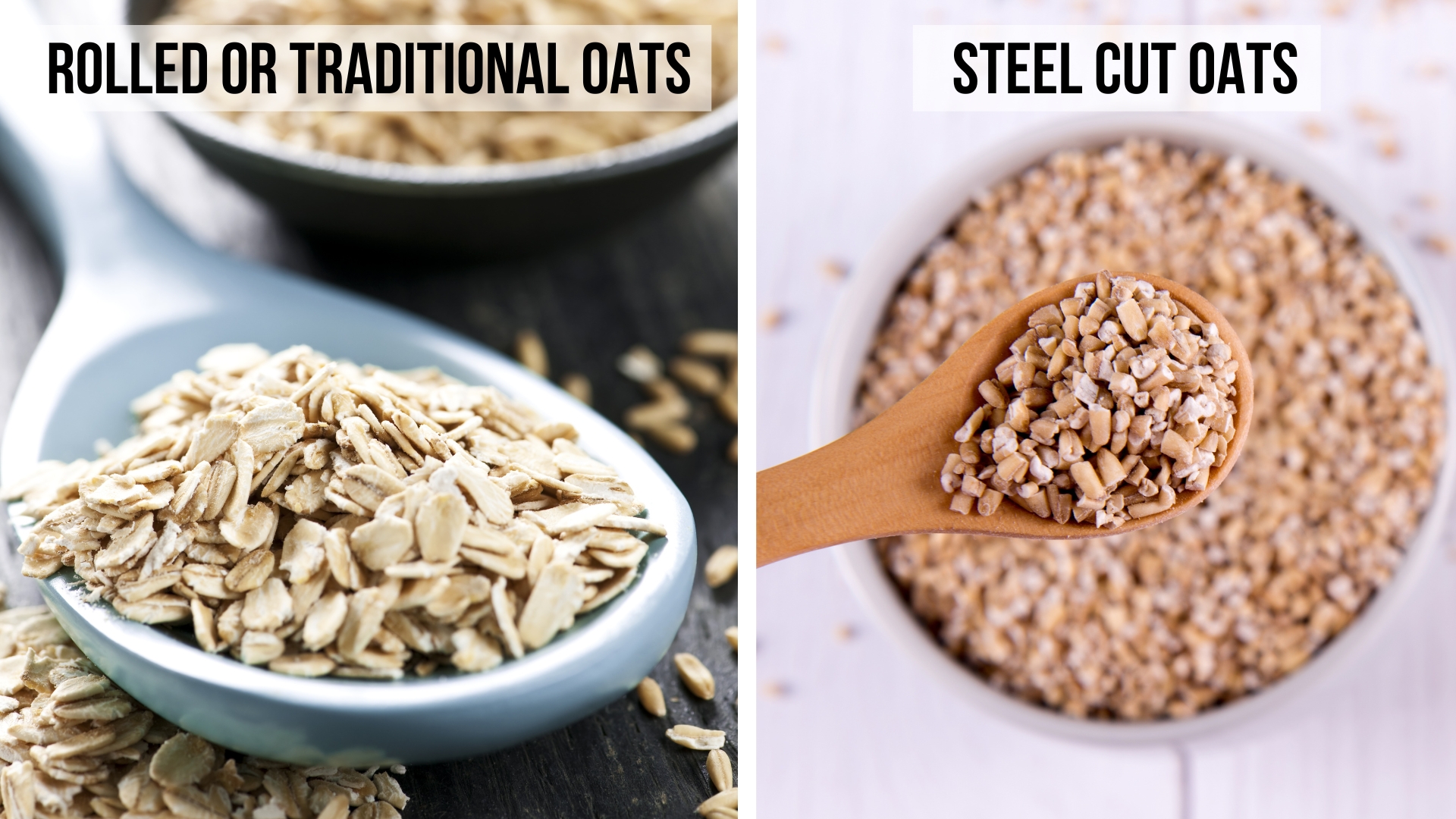 Processing Method:

Steel-Cut Oats: Steel-cut oats, also known as Irish or pinhead oats, are whole oat groats that have been chopped into two or three pieces using sharp metal blades. They are the least processed form of oats.

Rolled Oats: Rolled oats, often referred to as old-fashioned oats, are steamed oat groats that have been flattened between large rollers to create flakes. This process partially cooks the oats thereby reducing their cooking time. 

Baked: Both types are lovely when baked giving a lovely mix of texture and crunch!

Texture:

Steel-Cut Oats: Steel-cut oats have a chewy and nutty texture. They retain their shape and maintain a firm, grainy consistency even after cooking.

Rolled Oats: Rolled oats have a flatter, softer texture. They tend to become creamier and smoother when cooked, making them ideal for oatmeal or baking.

Baked: When baked as we do in this granola, both types become crispy and delicous.

Cooking Time:

Steel-Cut Oats: Steel-cut oats take longer to cook, typically around 20-30 minutes, as they are less processed and retain their individual grain structure.

Rolled Oats: Rolled oats cook much faster, usually in 5-10 minutes, due to their flattened and partially pre-cooked nature.

Baked: Since we are baking our oats they both take the same amount of time to reach desired doneness.

Nutritional Content:

Steel-Cut Oats: Steel-cut oats are considered the least processed and thus retain more of their natural nutrients and fiber. They have a lower glycemic index and may provide a slower, more sustained release of energy.

Rolled Oats: While still nutritious, rolled oats undergo some degree of heat processing during rolling, which can slightly reduce the nutritional content compared to steel-cut oats. However, the difference is not significant.

Uses:

Steel-Cut Oats: Steel-cut oats are commonly used to make hearty, textured oatmeal, porridge, and pilaf. They work well in savory dishes and recipes where a chewier texture is desired.

Rolled Oats: Rolled oats are the go-to choice for traditional oatmeal, granola, cookies, and many baked goods. Their creamy texture makes them perfect for oatmeal or as a binding ingredient in recipes.
The choice between using a combination of steel-cut oats and rolled oats or just rolled oats depends on your preference for texture and flavour. Steel-cut oats are a great choice for those who prefer a crunchier, nutty, whole-grain texture. We recommend using a mix of both as just steel cut oats alone tend to be a little to crunchy for most people.
Moisture is needed in homemade granola not only to help bind the ingredients together but also for flavour, to help brown the ingredients to create a crisp texture, and to improve nutrient absorption. 
When adding oil to your homemade granola, you can choose from a variety of options, including olive oil, coconut oil, vegetable oil, or even nut oils. The choice of oil can also influence the flavour and aroma of the finished granola, allowing you to customize your recipe to your liking. While oil is a key ingredient in most granola recipes, you can adjust the amount to control the level of crispiness and richness according to your personal preferences.
The addition of different spices, puree's, dried fruit or sweeteners can completely customize and change the granola. Here are our favourite flavours and the additional ingredients needed to create each type of granola!
Pumpkin Spice homemade granola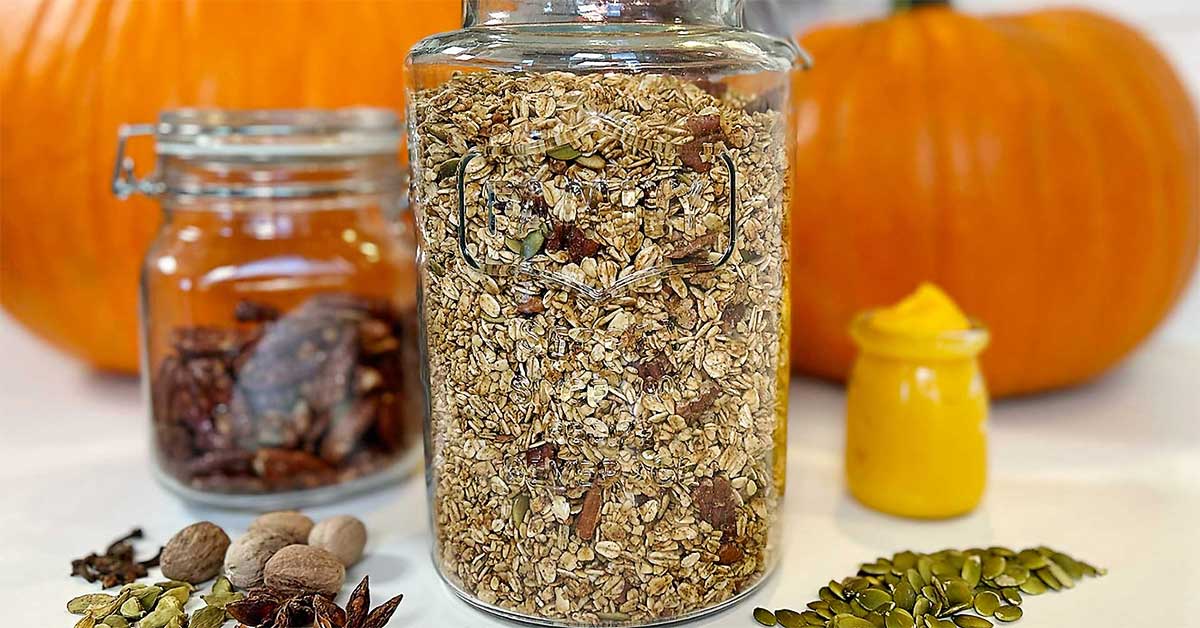 Classic Granola Oat Base (see recipe above)

Pumpkin Puree (1/3 cup = 90g)

Pumpkin Spice Mix (4 tsp)

Pumpkin Seeds, hulled aka pepitas (60g = 6 Tbsp)

Chopped Raw Pecans * (3/4 cup = 100g)

Chopped Dried Coconut * (1/4 cup = 60g)

*omit for nut and coconut free
Ginger Cranberry Almond homemade granola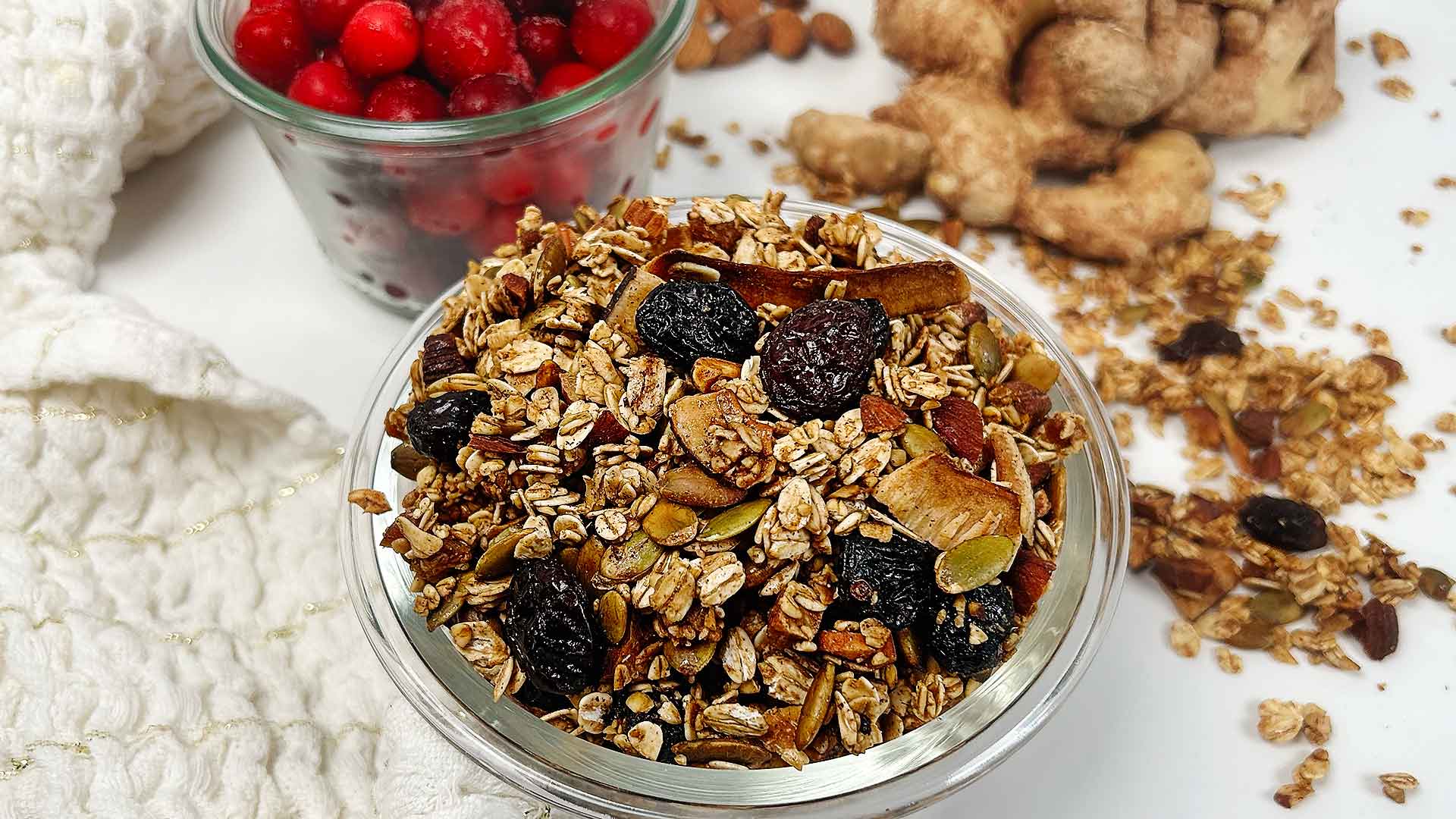 Maple Pecan Brown Sugar Homemade Granola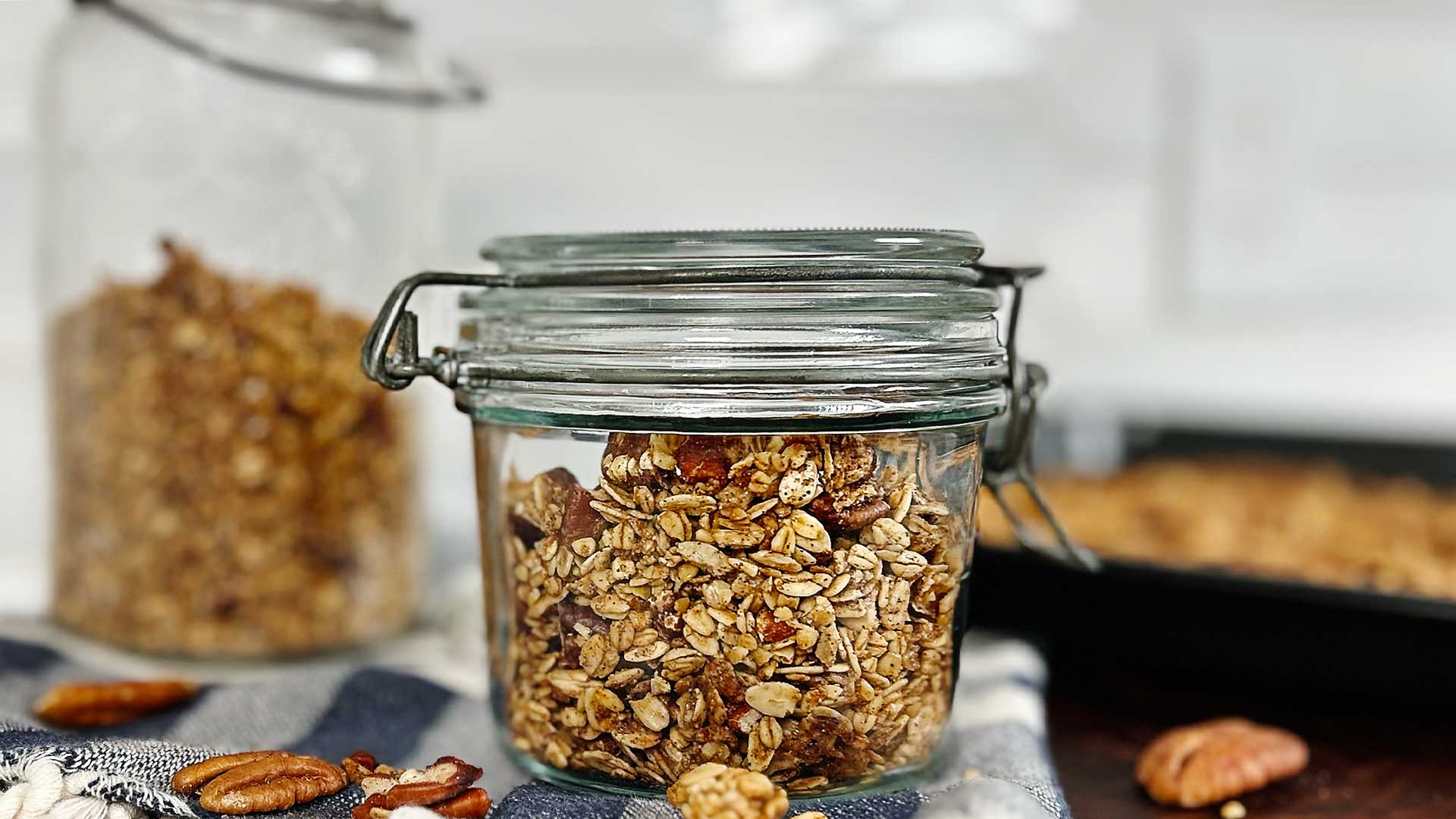 Classic Granola Oat Base (see recipe above)
Melted Coconut Oil (Additional 60g = 4/5 Tbps)
Brown Sugar (60-75g = 4/5 Tbsp)
Pinch or 2 Flakey Sea Salt (I use Maldon Sea Salt Flakes)
Chopped Pecans * (70-280g = 1/2 cup to 2 cups)
*omit for nut free
Cinnamon Raisin Homemade Granola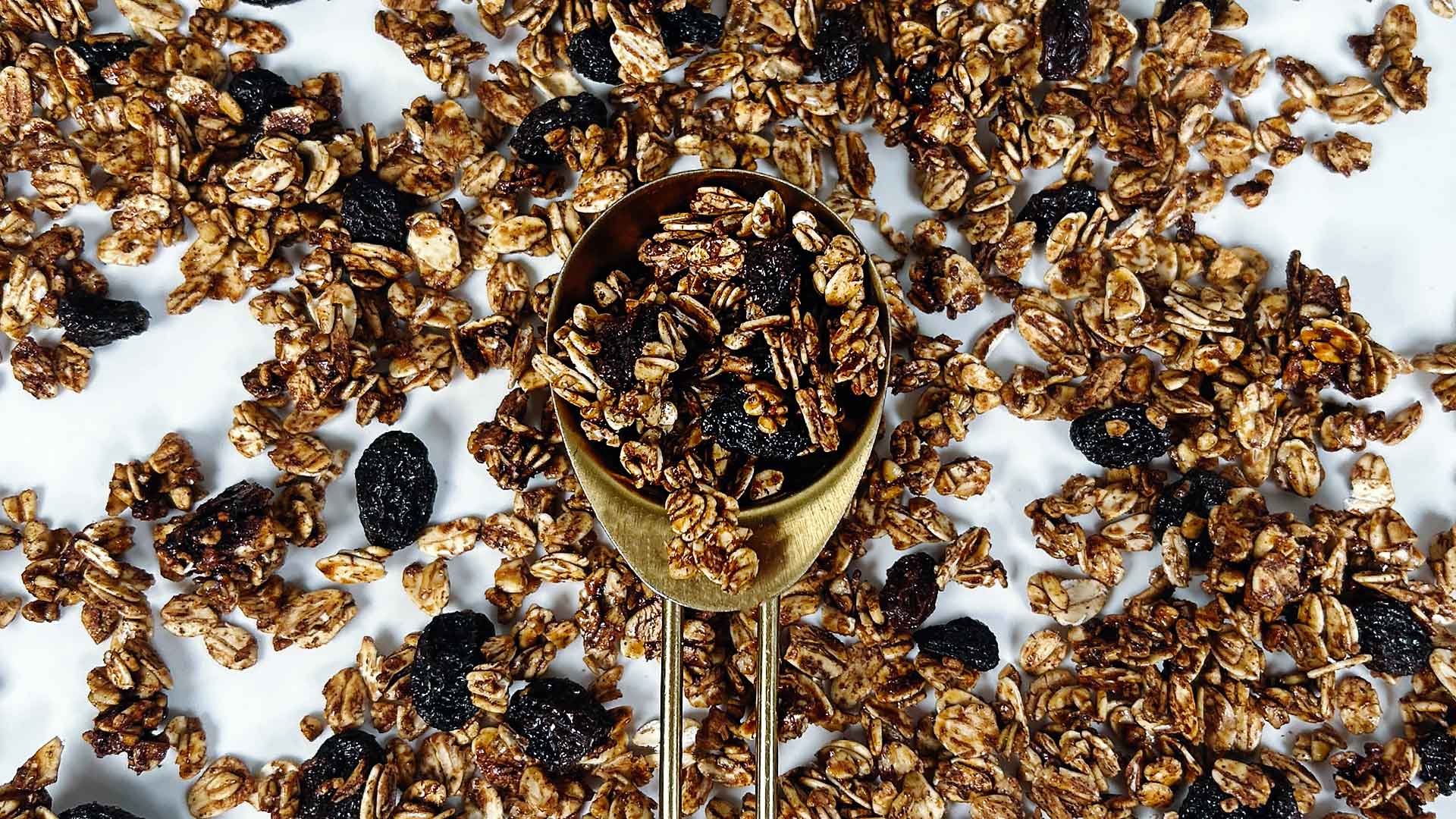 Mix together wet ingredients. Add wet to dry (leaving out any dried fruit – e.g. raisins or cranberries) and mix well until all ingredients are evenly coated with the wet mixture.
5. bake your homemade granola
Place your homemade granola onto a baking sheet lined with parchment paper. Spread out evenly over 2 trays. Remember to leave out any dried fruit at this point or it will become very hard! Bake in a pre-heated oven at 300°F convection (150°C fan) for 15 minutes. Stir gently to mix then bake for a further 10-15 minutes until just golden. Do not over bake or your ingredients will taste burnt! You can either add the dried fruit in the last few minutes of baking (slightly crisp them up) or wait until the bake is finished then add them in (keep them nice and moist). 
6. Enjoy and store homemade granola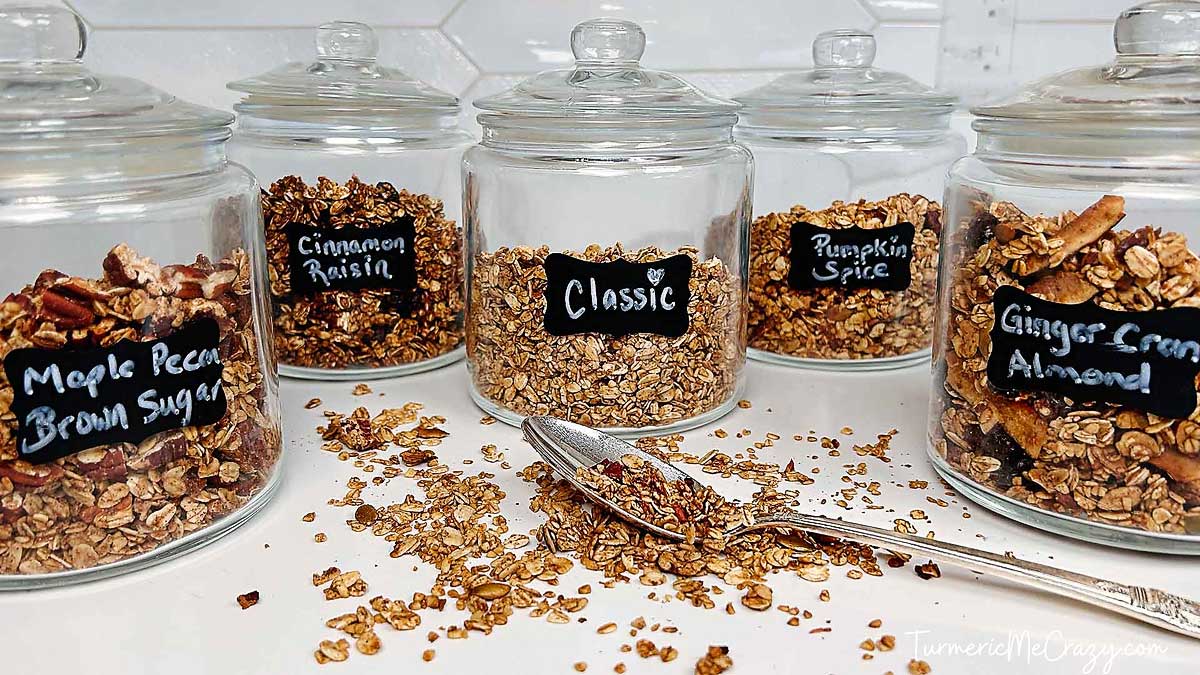 Once your homemade granola has completely cooled, place it into an air-tight container and store in a cool dry place for up to a month. I promise it won't last that long!
To extend freshness of your homemade granola follow these guidelines:
Cool Completely: After baking, allow your homemade granola to cool completely on the baking sheet. This helps to remove excess moisture and prevents condensation when storing.

Store in an Airtight Container: Transfer the cooled granola to an airtight container or a resealable bag. Make sure the container is well-sealed to prevent air from entering, which can lead to moisture absorption and loss of freshness.

Keep in a Cool, Dark Place: Store the container in a cool, dry, and dark place, away from direct sunlight and heat sources. This will help preserve the granola's texture and prevent it from becoming stale or rancid.

Refrigeration or Freezing (Optional): While granola can stay fresh at room temperature for several weeks, you can extend its shelf life by refrigerating it for several months or freezing it for up to six months. If you choose to refrigerate or freeze granola, use an airtight container or a vacuum-sealed bag, and be sure it's completely cooled before storage.

Check for Signs of Spoilage: Even when stored properly, it's a good idea to check your granola for any signs of spoilage such as off odors, a rancid taste, or changes in texture. If any of these occur, it's best to discard the granola.
Typically, well-stored homemade granola can remain fresh at room temperature for 2 to 4 weeks. Refrigerated granola can last for several months, while frozen granola can maintain its quality for up to six months.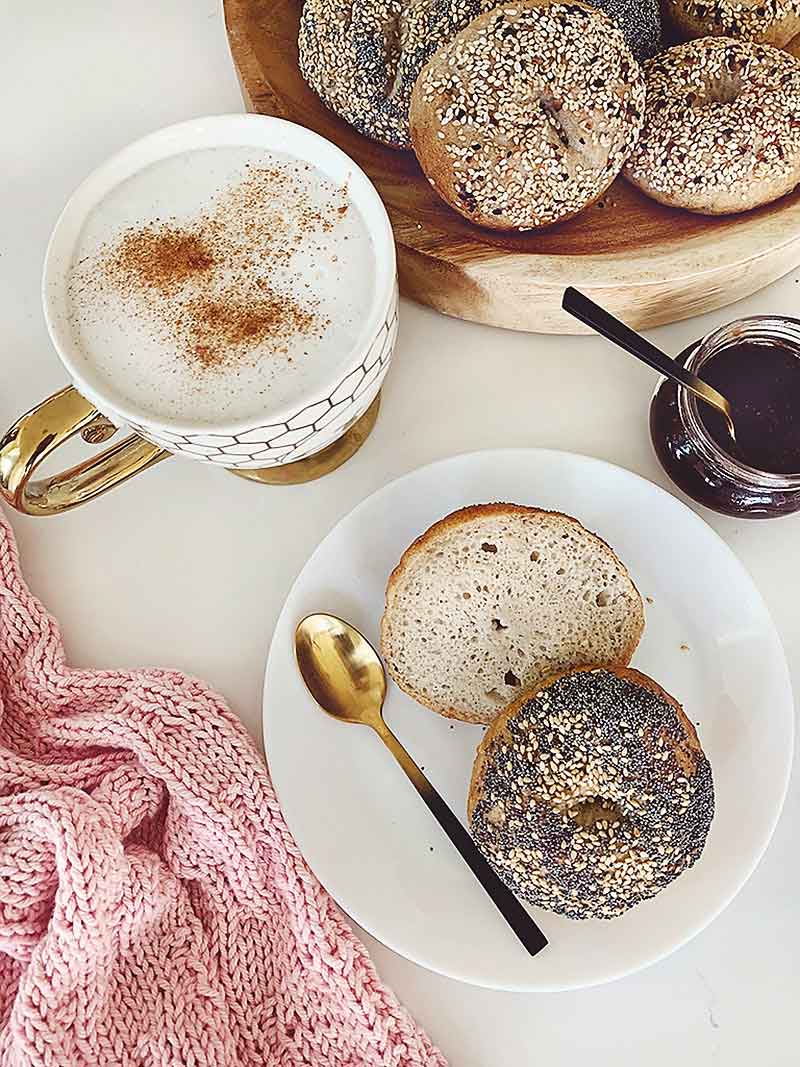 Want more delicious recipes & or how to guides at your fingertips?
Get updates on our latest posts & recipes from TurmericMeCrazy straight to your inbox!
By clicking subscribe you are consenting to receive emails from TurmericMeCrazy. I will only email you monthly with new recipes & updates. No spam I promise!
I hope you LOVE making your own homemade granola as much as we do! A small amount of effort, will save you money and time in the long run! Plus, it just plain tastes better!
If you enjoy it, please share the link to this page on your social media or PIN this picture to your Pinterest account.
As always thank you in advance for subscribing to my blog & YouTube Channel as well as following me & liking my posts on Pinterest, FaceBook & Instagram! Comments and Ratings on my recipes & social media really helps support me! So thank you ever so much.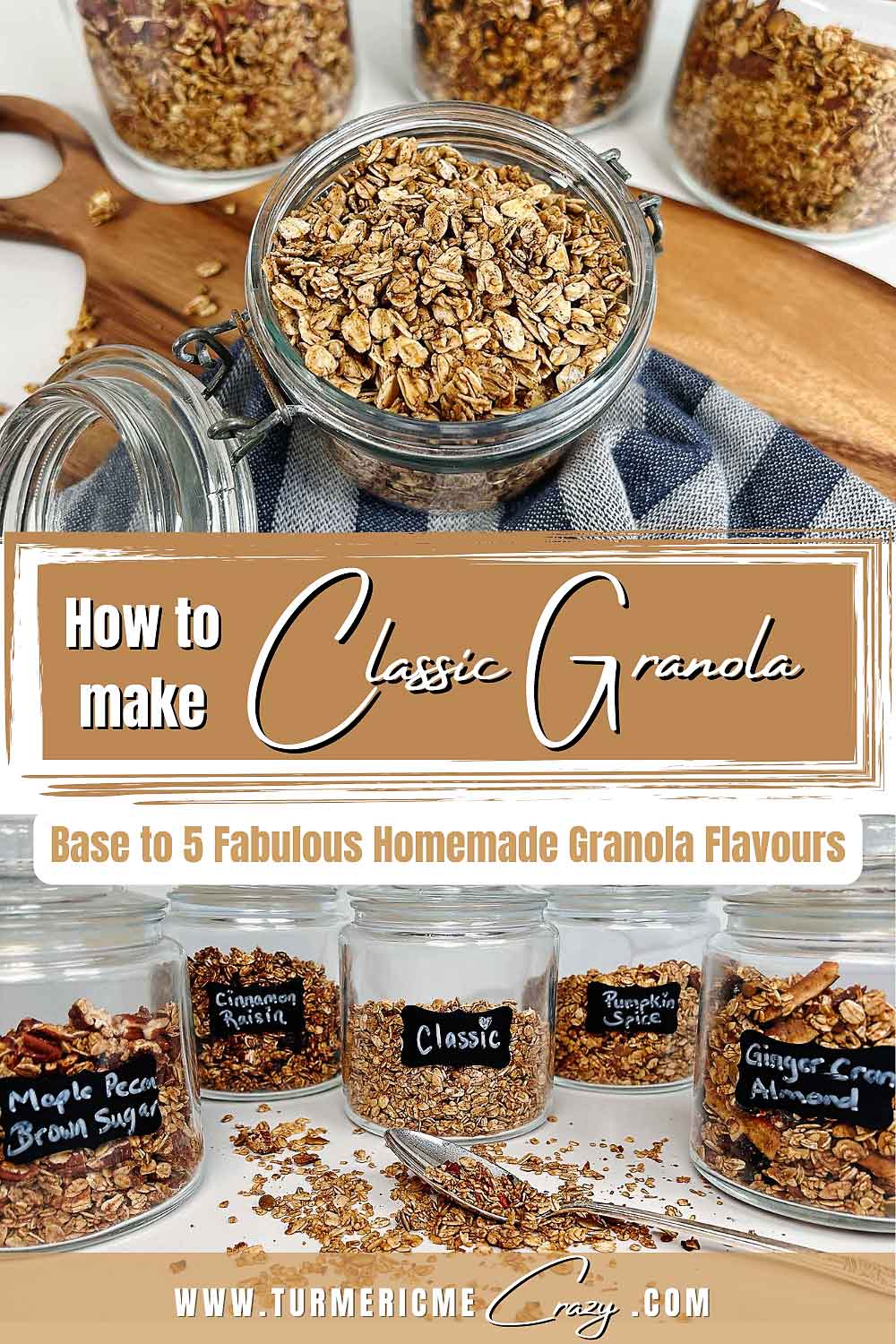 If you try making homemade granola and you found this guide helpful, I'd be ever so grateful if you'd please add a comment & a rating onto the recipe below or at the bottom of the post ♡. This will help Google recognize it and help my website grow.
Thank you once again for your readership & support.

classic homemade granola recipe - base for all 5 flavours!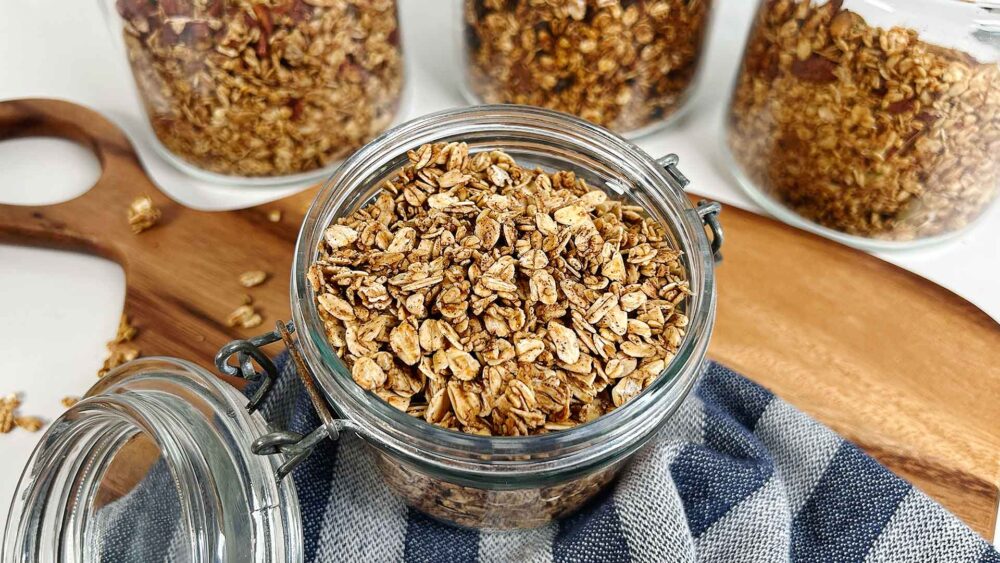 Equipment Needed
1 Baking tray

Air Tight Container
INSTRUCTIONS
Preheat Oven to 300°F convection (149°C fan)
No convection or fan? Just increase the temperature slightly (25°F). Keep a close eye while baking as you do not want to burn your granola!
Choose type of Oats
We love to use a mix of Gluten Free Rolled Oats and Steel Cut Oats. You can chose any combination you like, just ensure there are 750g total oats.
Add Moisture
In a separate bowl, whisk together olive oil, maple syrup, vanilla, cinnamon and sea salt.
Add Additional Flavours
If you want to make one of our flavoured homemade oatmeal, add the additional ingredients (except dried fruit). Add nuts & seeds to the oats. Add sweeteners & spices to liquids.
Mix to Coat Evenly
Pour wet ingredients into the oat mixture and mix well to coat all ingredients evenly.
Bake Homemade Oatmeal
Place granola onto 2 separate parchment lined trays. Bake granola on middle rack for 15 minutes. Toss and bake an additional 10-15 minutes until just golden brown.
Enjoy & Store
Ensure granola is completely cooled and then store in an air-tight container for up to 4-6 weeks. Enjou!
Notes
*See post above for detailed additional ingredients to add to this classic homemade granola for 4 other delicious flavours!
Nutrition
Nutrition Facts
Classic Healthy Homemade Granola
Amount per Serving
% Daily Value*
* Percent Daily Values are based on a 2000 calorie diet.
OTHER DELICIOUS RECIPES TO TRY...