This Delicious Oven Baked Samosa Recipe is one of my blogs original recipes taught to me by my amazing friend Alnaar. It contains gluten. I have kept it here, as I have all of the original recipes, for those of you who love it and would like to keep the recipe the same! Please stay tuned and follow me as I currently busy creating a gluten free spring roll pastry recipe which is coming soon!
These mouthwatering, bite sized samosas are the perfect party snack. Whether you are throwing a baby shower or hosting a playoff party, these spicy, crunchy treats will be a sure hit!
Ingredient in Delicious Oven Baked Samosa Recipe
Fresh Garlic, Fresh Ginger, Fresh Lemon Juice, Spring Onion, Cilantro, Serano Pepper
I use grass fed extra lean or lean ground beef.
Square sheets. These contain gluten. I promise to add a gluten free version ASAP.
How to make Delicious Oven Baked Samosa's
Since I am not a fan of frying, this recipe describes how to bake the samosas. But you could deep fry them if you really wanted to as well. I don't like to fry because first of all, it terrifies me and second, its not very healthy.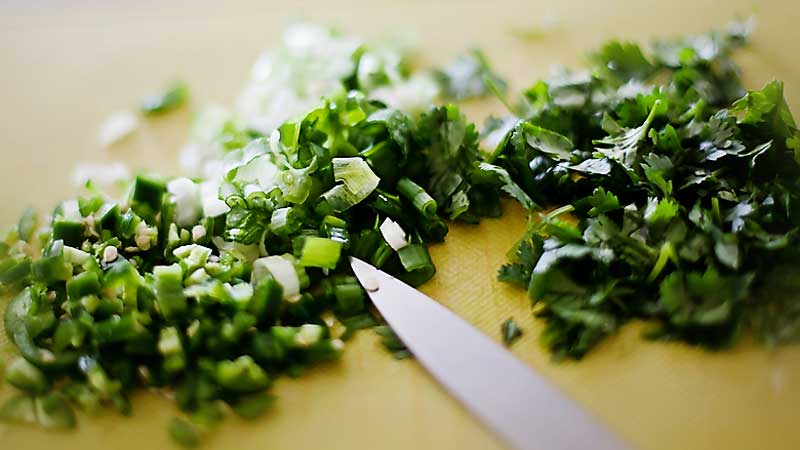 There are many ways to make the filling for samosas. This recipe is for ground beef samosas, but I do plan to post a veggie one soon too.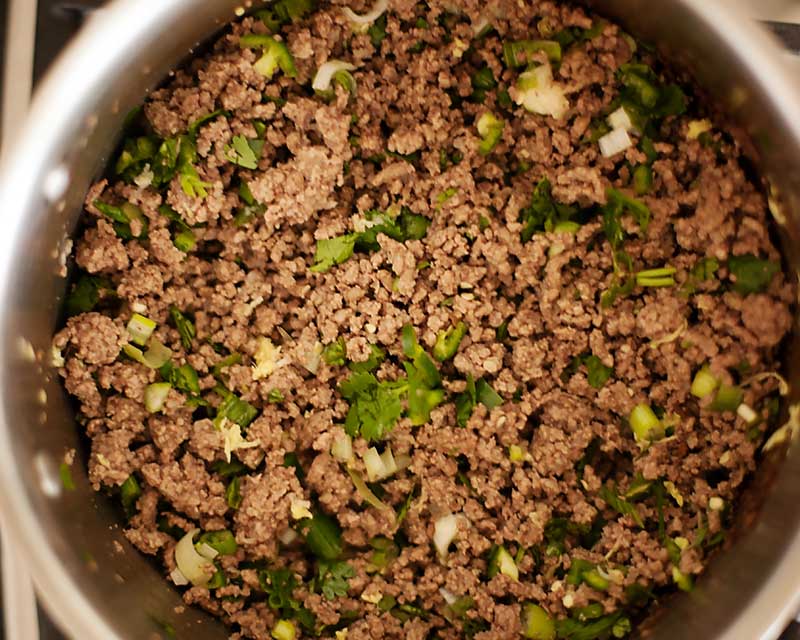 How to fold Delicious Oven Baked Samosa pastry
Since it's kind of difficult to describe how to fold up the pastry in the recipe, I made a snapshot of the steps involved below.  I use spring roll pastry, which you can find in pretty much any grocery store.  Each packet of the pastry sheets will have about 20 square sheets.  You will need to section the sheets into thirds to make the rectangular shape shown in the first frame below.  Then you add the filling and simply keep folding it over until you have one fold left to make.  The samosa is held together with a paste that you can make from all purpose flour and water.  Use your finger to brush on the paste before you make the last fold and that is it!  It's so simple.

These will taste amazing with coconut chutney or even tamarind chutney. If you don't have the time or ingredients to make a chutney, they also taste amazing with Sriracha sauce or Franks hot sauce. Just make sure to check the ingredients in your Sriracha, as most natural ones contain xanthan gum which is made by fermenting corn sugar with bacterium.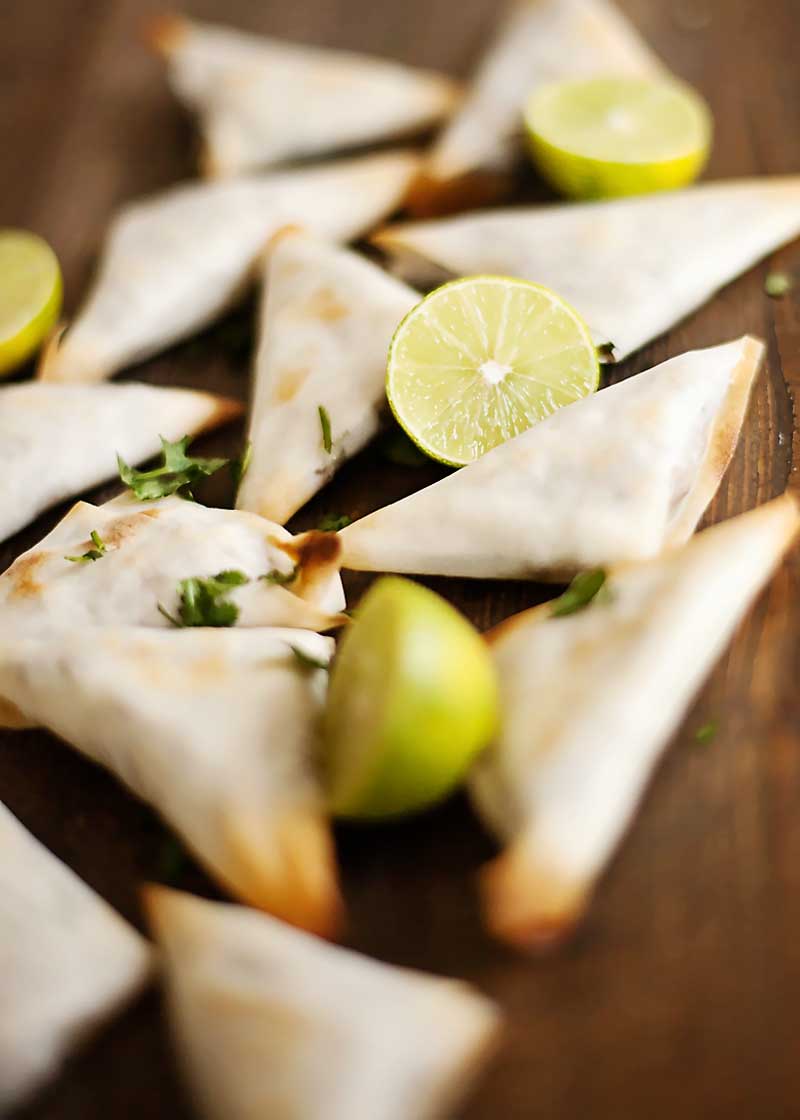 ENJOY!
Please enjoy this oven baked samosa recipe! I promise to have the Gluten Free version posted really soon.
Hugs,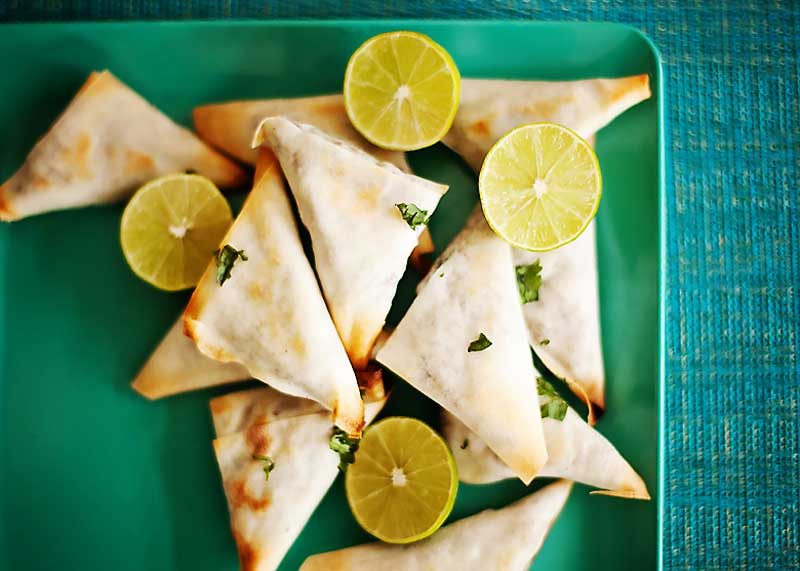 INGREDIENTS
½

Kilo

Ground Beef

Extra Lean

1

tbsp

Garlic

Crushed

½

tbsp

Ginger

Crushed

1

tsp

Salt

2

tbsp

Lemon

fresh, juiced

⅓

cup

Spring Onion

Finely Chopped

¼

cup

Cilantro

Finely Chopped

1

Serano Pepper

2

tbsp

All Purpose Flour

2

tbsp

Water

4

tbsp

Sesame Oil

16

Sheets

Spring Roll Pastry

*Square Sheets (contain wheat)
INSTRUCTIONS
Paste
The paste is required to hold your samosas together. Mix 2 tbsp of all purpose flour with 2 tbsp water
Filling
Chop up the cilantro, onion, and hot pepper and set aside

Cook the ground beef thoroughly. Drain off the excess fat and place back on the stove over medium heat.

Add the garlic, ginger, cilantro, onion, hot pepper, salt, and lemon juice and cook for 5 more minutes.
Putting it together!
Preheat the oven to 425 degrees F.

Cut the spring roll pastry into 3 evenly sized rectangles. Add a spoonful of the ground beef filling and fold up the pastry as shown in the image. Use your finger to brush on the paste before you make the last fold

Brush the samosas with sesame oil and place on a baking sheet covered with parchment paper.

Bake for 5 minutes, flip the samosas, and bake for 5 more minutes.

Allow to cool and serve with your chutney of choice or ketchup.
Notes
Nutrition Facts
Oven Baked Samosa Recipe
Amount Per Serving
Calories 67
Calories from Fat 27
% Daily Value*
Total Fat 3g 5%
Cholesterol 9mg 3%
Sodium 124mg 5%
Potassium 40mg 1%
Total Carbohydrates 6g 2%
Protein 3g 6%
* Percent Daily Values are based on a 2000 calorie diet.
Nutrition
Nutrition Facts
Oven Baked Samosa Recipe
Amount per Serving
% Daily Value*
* Percent Daily Values are based on a 2000 calorie diet.