Easy Guide to Water Kefir!
(The 21st Century Dairy-Free Yogurt!)
Learn how to make WATER KEFIR and harness the incredible healing power of nature's probiotics! A beautifully refreshing, fruit or herb infused sparkling water that is jammed packed with healthy probiotics, vitamins and minerals to energize and heal the body, mind and spirit! The best part is it is SO EASY, FAST and INEXPENSIVE to make at home, requires very minimal ingredients, and uses supplies that you probably already have in your kitchen! I just know you're going to love it! So let's get right to it!
CONTENTS (JUMP AHEAD)
HOW TO MAKE WATER KEFIR – SHORT VIDEO!
FOLLOW ME
Please check out our Pinterest page to PIN this video for later!
If you're already on Pinterest, please feel free to PIN this picture for later 🙂
WHAT IS WATER KEFIR?
If you've never heard of water kefir you are in for a treat! A healthful, fresh, effervescent sparkling water that not only tastes incredible, but has numerous health benefits.
Water Kefir has been dubbed the 21st Century Dairy Free Yogurt (1). I drink it before every meal to help give my digestion a super-powered boost!
Water Kefir is a fermented drink made with water kefir grains, also known as tibicos, which forms on the pads of cactus plants. Tibicos (water kefir grains) are a living culture of beneficial symbiotic bacteria and yeast (3).
When added to water and sugars, the bacteria and yeast start a natural fermentation process, releasing carbon dioxide and creating a lovely sparkling drink which is full of probiotics.
It's DAIRY & GLUTEN FREE!
Water Kefir is NOT the same as milk based kefir which you can often find with the yogurt in the dairy aisle.
The SUGAR is for the microorganisms, who actually metabolize ("eat") and consume the sugars, resulting in a very low sugar content!
I have to tell you, I am seriously IN LOVE with Water Kefir, and have been drinking it every day since I got my grains!
WHAT ARE WATER KEFIR GRAINS? (aka TIBICO)
Water Kefir Grains (aka Tibicos) are small, soft, white/yellow, irregular shaped, gelatinous "grain" that resemble small cauliflower florets. The "grains" are found in nature on the underside of the pads of cactus plants and are completely gluten & dairy free! Kefir "grains" are not truly grains, in that they are not a seed (as the word is used most widely to describe).
The origin of water kefir is unclear with some reports of its origin in central Asia, while others report Mexico. Either way, the use of water kefir grains to create a healthful drink has been around for centuries!
The most amazing part! You can use your grains over and over! In fact, they actually multiply during the fermentation process which means you can make even MORE Water Kefir or share your grains with loved ones!
WHAT MICROBES ARE PRESENT IN WATER KEFIR?
Water kefir contains various types of microbial flora which make it safe and suitable for a probiotic beverage (2).
The primary live microbes in water kefir grains coexist in a symbiotic (mutually beneficial) relationship (4):
Lactic acid bacteria (LAB)
Yeast
Acidic acid bacteria (AAB)
These microbes have been extensively researched and have been found to have numerous potential health benefits (3).
WHERE DO I BUY WATER KEFIR GRAINS?
I've been making Water Kefir for over 2 years now with grains I received from a dear friend of my family. The grains were originally from Happy Gut Pro (a wonderful company, based in B.C. Canada) when they very first started their business. They have an amazing website where you can find all sorts of interesting information about water kefir, incredible recipe ideas and answers to any questions you may have!
You can purchase Happy Gut Pro's water kefir grains (which come dried and need to be reconstituted) online or locally in Calgary at Blush Lane Organic Market.
WHAT IS A PROBIOTIC?
The World Health Organization defines a probiotic as "live microorganisms which when administered in adequate amounts confer a health benefit on the host" (9). My allergist suggests to consume only live probiotics to gain the health benefits. My research revealed the same conclusion. Fermented foods like water kefir, kombucha, yogurt, kimchi and other foods that contain live microorganisms fall under this category.
HEALTH BENEFITS OF WATER KEFIR – NATURE'S PROBIOTIC!
IS WATER KEFIR GOOD FOR YOU?
YES! The health benefits of drinking water kefir are numerous and the potential seems to be increasing as research progresses.
The scientific explanation: the large number of microorganisms present in the grains have microbial interactions that result in bioactive compounds created by microbial metabolism (1) which is the process that microbes go through to break down "foods" and gain energy.
What the science means: the bacteria and yeast live together in a mutually beneficial relationship. When they "eat" and break down sugars to gain energy and life, they create compounds that we as humans can use to improve our health! These live compounds are known as natural probiotics!
HEALTH BENEFITS OF WATER KEFIR
The potential health benefits of drinking water kefir are numerous and exciting! It has been dubbed the 21st century dairy free yogurt, and for good reason! Research is ongoing and although the results are linked to the origin of the grains (5), there are some common conclusions. Potential health benefits include but are not limited to (3):
ARE THERE PEOPLE WHO SHOULDN'T DRINK WATER KEFIR?
Water kefir can be very beneficial to many people. However, it may not be the best choice for others. Despite the fact that the organisms in water kefir consume the majority of the sugar, it still contains some sugar. So talk to your doctor if blood sugar regulation is an issue for you. If you leave your kefir to ferment for an additional day, more of the sugar will be metabolized by the microorganisms, decreasing the sugar content significantly. The research is promising that water kefir can help regulate blood sugars (5), however, it is always best to talk to your health practitioner before adding it to your diet in this case.
Foods and drinks that contain high levels of probiotics can have a laxative effect, especially when you first start to ingest them. I started off with a small glass once a day, then progressed over a few week period to drinking a small glass before each meal. As always, listen to your body!
HOW MUCH WATER KEFIR SHOULD I DRINK?
I really love the advice from Happy Gut Pro so I've quoted them here!
Happy Gut Pro: "You will probably feel the effects of it quickly if you don't eat or drink fermented foods on a regular basis. It depends on how sensitive you are and what your nutrition is like. The reaction is typically a loose stool. What is happening is that the bad bacteria is being flushed out of your body and new good bacteria is being repopulated. Sometimes it takes a good 2 weeks before your stool is normal again.
Once your gut is repopulated with good bacteria, you will not feel the uncomfortable symptoms anymore. You will begin to notice more energy, clearer skin and increased immunity. Go ahead and drink as much as you would like. The road to good health is paved with good gut health!" – Happy Gut Pro (10)
WHAT YOU'LL NEED TO MAKE WATER KEFIR
Water Kefir is SO EASY and FUN to make! I especially love making it a science experiment with my kids and teaching them about basic microbiology!
EQUIPMENT & INGREDIENTS:
Large glass jar (or other non-reactive brewing jar)
Piece of cloth & elastic to cover jar
Small Glass Jar with lid (to store water kefir grains)
Strainer (mesh)
Cane sugar (or other natural sugars – see below)
Fresh fruit & or herbs (your choice)
Lemon slice & piece of dried fruit (optional)
Funnel (if using a flip top bottle)
HOW LONG WILL IT TAKE TO MAKE WATER KEFIR?
It takes a little time to make, BUT only 15 minutes of that is active time for you! The rest of the time is when you sit back and watch the magic happen!
If you have active grains it will take 2-4 days for your 1st batch (depending on temperature). However, if you have dried grains that need activating, this additional step will take 24 hours. However, you only have to do this step once! Then you're all set and can have fresh water kefir every day like we do!
Reconstituting dried water kefir grains is simple and takes only 24 hours! See Happy Gut Pros detailed instructions here.
Acclimatizing your grains to the new environment may also take a day or two. Any change of water or sugar source will require a day or two to acclimatize. So if you decide to change the type of sugar during the 1st ferment, that's ok, just give it a day or two to get used to the change! The good news is that once the microorganisms are used to the new environment, that's it, you're all set to go!
HOW TO MAKE WATER KEFIR – EASY GUIDE!
It is SO EASY to make Water Kefir. You simply mix sugar and water together, add your kefir grains, drop in a lemon slice and a piece of dried fruit, then allow it to ferment for 2-3 days! For the second ferment (after 2-3 days) you simply strain the grains, bottle the left over liquid and add the fruit of your choice. After a day of further fermenting, your water kefir will be a delightfully fizzy, light and refreshing, healthful probiotic rich drink for the whole family to enjoy!
DAY 1: EASY VIDEO GUIDE
DAY 1: 1ST FERMENT
Here's the full details for each of the simple steps! ENJOY!
STEP 1: PREPARE SUGAR WATER
Add 1 cup of boiling water to your ferment jar. Add 1/4 cup cane sugar (or sugar of your choice) and stir to dissolve. Add an additional 3 cups of water at room temperature. If you've boiled all 4 cups of water, just let it sit and cool to luke warm before adding the kefir grains!
What type of WATER to use to make WATER KEFIR?
Tap water is actually preferred to filtered water. The harder the water the better environment for the grains!
Tap water – let sit 12-24 hours so chlorine can evaporate off.
Boil the water, then let cool if you haven't let it sit for at least 6 hours. The boiling will also get rid of the chlorine.
Do not use distilled water or carbon filtered water as it will retard the growth of the the microorganisms. (6)
What kind of SUGAR to use to make WATER KEFIR?
Cane sugar
Brown sugar mixed with cane sugar.
Coconut palm sugar mixed with cane sugar.
Sugar Blend with dash of sea salt (if water not hard) – suggested by some.
Pure Maple Syrup
DO NOT USE a sugar replacer like stevia, as the bacteria and yeast need the caloric sweeteners to survive!
Happy Gut Pro has a lovely chart where they explain the benefits and give recommendations for many different types of sugars. You can check it out here!
The SUGAR is NOT for you…it's for the BACTERIA & YEAST! So where does it go?
The sugar is metabolized ("eaten") by the microorganisms who need the sugar to live and thrive! Don't try and skimp out on the sugar in an attempt to make it healthier! The microorganisms need the correct balance of sugar to thrive and create the probiotics that you need! Once the microorganisms have finished "eating" (metabolizing) the sugar, the kefir is only slightly sweet!
Yemoos.com explains this process excellently!
"Lactic and acetic acids naturally preserve as well as stave off harmful foreign bacteria. The result is a drink that has had much of the sugar converted to simpler sugars, lactic and acetic acids, carbon dioxide and ethanol. It also contains millions of probiotics and is more nutritious in some regards because of the more bio-available and digestible nutrients from the sugars and dried fruits including an increase in vitamin C and many B vitamins." (10)
STEP 2: ADD WATER KEFIR GRAINS & GENTLY STIR
Add 1/4 cup of water kefir grains to the sugar water mixture and gently stir to mix in the bacteria and yeast cultures.
STEP 3: ADD A SLICE OF LEMON (DON'T SQUEEZE) + A PIECE OF DRIED FRUIT
Why add a lemon & dried fruit?
This step is optional, but many of the studies that have reviewed water kefir and it's health benefits have used lemon and dried figs or other dried fruit such as raisins during the 1st ferment.
Lemon – It is thought that the lemon helps lower the pH of the 1st ferment encouraging the growth of the helpful bacteria and yeast. However, it is not absolutely necessary if you have an allergy to lemon or citrus fruit. The lemon peel is also high in vitamins and minerals which will feed your grains and keep them healthier (10).
Dried fruit – according to Yemoos, adding dried fruit can help add the vitamins and minerals that water & or sugar may be lacking in your area. You'll have to play around with which fruit gives you the best ferment (10)! I often add a little splash of Crosby's blackstrap molasses to my 1st ferment to gain the rich vitamins and minerals it contains.
STEP 4: COVER & LET FERMENT FOR 2-3 DAYS (temperature dependant)
You can also use a tight fitting lid as the microorganisms do not need oxygen to thrive. However, ensure that you do cover them to prevent fruit flies etc. from getting in and ruining your kefir! I prefer to keep mine covered with a cloth secured with an elastic band.
Try to keep the jar in a slightly warm place or wrap with a towel to keep warm. Happy Gut Pro has many great suggestions to keep your ferment warm. Check them out here!
Winter – 1st ferment may need 3 days.
Summer – 1st ferment often takes only 24-48 hours.
How do I know when the 1st ferment is finished?
You will notice that there are little bubbles rising from your ferment when you jiggle the container.
Check for sweetness. The kefir has fermented partially now and you'll be able to taste a slightly sweet and tangy flavour. If it is still very sweet, it hasn't fermented enough.
If in doubt – continue on the 2nd ferment anyway after 3 days and see what happens!
DAY 2-3: EASY VIDEO GUIDE!
DAY 2-3: 2ND FERMENT
This is when the fun starts! You can actually see the carbonation happening as the microorganisms produce carbon dioxide! This second ferment is when you can introduce any flavour you'd like by adding fresh fruit or herbs or even herbal tea! The options are endless!
STEP 5: ADD FRUIT &/ HERB INFUSION TO GLASS BOTTLE WITH LID
Cut your choice of fruit and or herbs into small pieces. The fruit may expand slightly as it ferments in the water so make sure to cut a little smaller than the bottle top. You can either use a flip top glass bottle or a large mason jar with a tight fitting lid.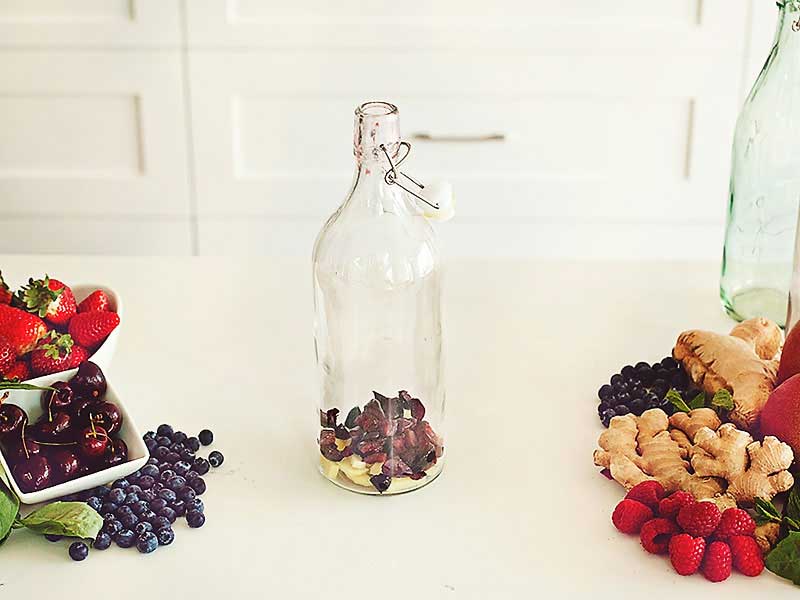 STEP 6: STRAIN & FUNNEL KEFIR GRAINS & WATER (THIS IS YOUR WATER KEFIR!)
You can either drink the kefir now or you can proceed to the 2nd ferment (this is where it gains its carbonation and flavour infusion!
Simply funnel the liquid into a large flip top bottle (or two smaller ones) or a large mason jar with lid. Fill no more than 3/4 full! You need to make sure to leave room for the gas that will be produced so that you don't have an explosion when you open the bottle!
What do I do with the GRAINS once they've been strained?
Make sure to save some of the grains for making another batch of water kefir! If you're like me and my family, you'll want to have it continuously brewing! You can simply add a little bit of the liquid from your 1st ferment (what you just strained) to your grains and store them in the fridge for up to 2 weeks!
The grains will multiply! Share them with friends, use them to make more of this incredible probiotic drink, or even add them to a smoothie. They are totally edible and will give your immune system a huge boost of healthy intestinal bacteria!
How to Store Kefir Grains
STEP 7: LET FERMENT & CARBONATE FOR 24 HOURS @ ROOM TEMP (BURP EVERY 8 HOURS!)
Your kefir will start bubbling nicely during this 2nd ferment. Please make sure to do the following to prevent to much increased pressure!
BURP – every 8 hours open the lid of the kefir to release the gas! If you don't do this step the pressure will continue to build and when you finally open your bottle it may suddenly release (causing a very messy accident! But I wouldn't know about that from personal experience or anything! haha)
Fill the bottle no more than 3/4 full! This will allow space for the CO2 to gather and will help prevent an accidental explosion!
STEP 8: REFRIGERATE AFTER 24 HOURS & ENJOY!
Store in the fridge after 24 hours to avoid over carbonation. The cold slows the fermentation process. It is also deliciously refreshing cold!
*REMEMBER – BURP your water kefir every 8 hours or so to avoid explosions!
FOLLOW ME
Please follow me on Pinterest
Already on Pinterest? Please feel free to PIN the picture below for future reference & so others can find it too 🙏🏻
BREWING TIPS
Although I have a few tips to share from my experience over the years, I will direct you to the experts for these! Happy Gut Pro and Yemoos have amazing tips and tricks to make sure your kefir turns out perfect every time! If you have any questions, please contact me anytime!
FLAVOUR IDEAS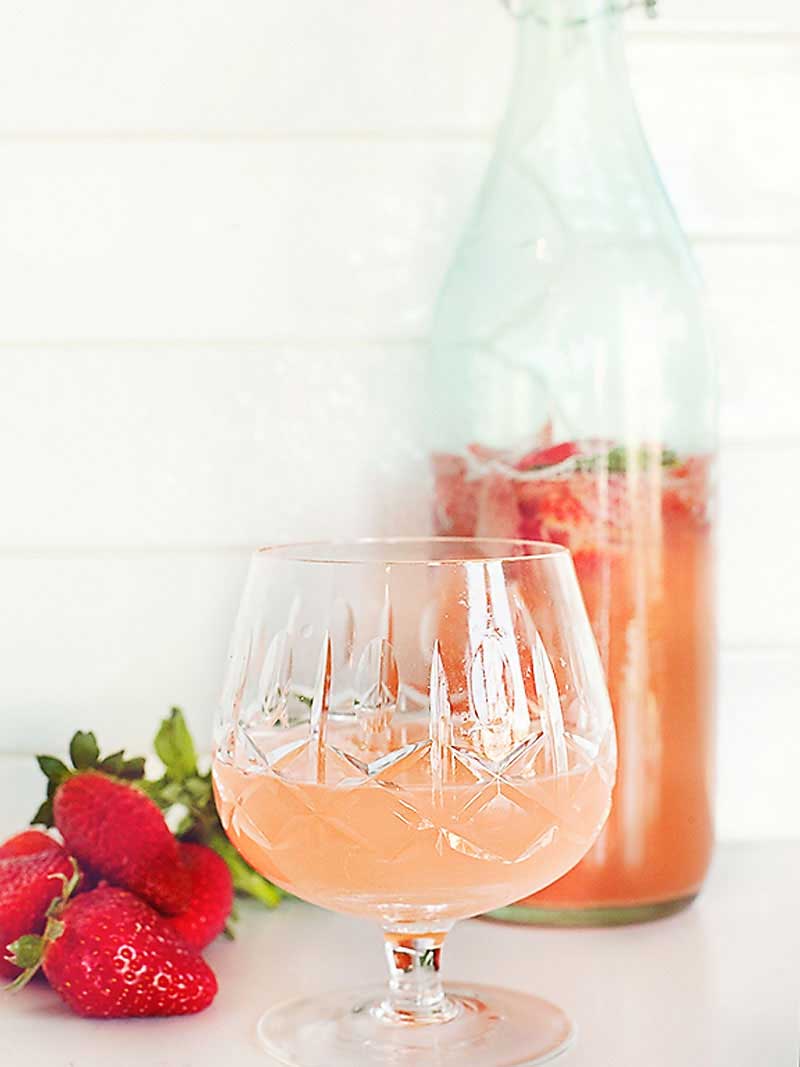 Ginger
Cherry or Cherry Ginger
Apricot or Apricot Ginger
Blueberry or Blueberry Ginger
Lemon/Lime (using zest as well as juice)
Seabuckthorne Berry or Seabuckthorne Berry Ginger (These berries are INCREDIBLE & super HEALTHY)
Pear Ginger
Strawberry or Strawberry Basil
Blackberry Pomegranate, or Blackberry Ginger
Happy Gut Pro has amazing ideas! Check them out.
The possibilities are endless! Get some water kefir grains and give it a try! You can also buy a wonderful starter kit from HappyGutPro that has everything you need to make the most incredible natural probiotic drink! I just know you're going to LOVE this! I promise!
What are your favourite water kefir flavours? Please share and comment below!
IS WATER KEFIR THE SAME AS KOMBUCHA?
No. Water Kefir has some similarities to Kombucha in that they are both fermented drinks. However, they have some major differences.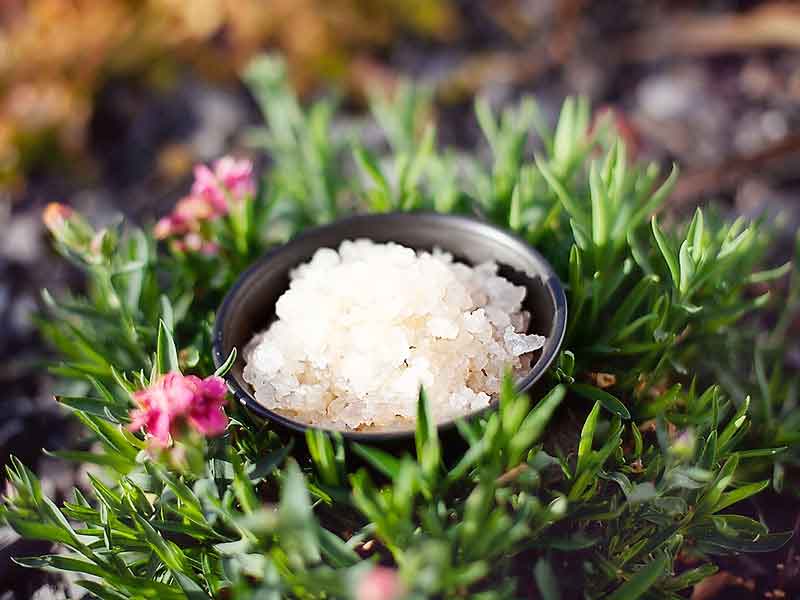 Similarities:

both use a "scoby" (a symbiotic culture of bacteria and yeast) to ferment sugars, however, the "scoby" used in each is different (see above pictures). Water kefir grains form into gelatinous grains that sink in water vs kombucha scoby which is one large gelatinous structure that floats in water.
Differences:

kombucha also uses green or black tea as a base which means it's caffeinated vs water kefir which uses water as a base and contains zero caffeine! You can drink it ANYTIME of the day!
kombucha takes 10-14 days to ferment and be ready to drink vs Water Kefir which takes only 3-5 days!
FAQ
There are some excellent resources online from the companies that you can purchase your grains from.
To answer absolutely any question you may have try visiting one of the pages. If you have any questions that are left unanswered or just would like some guidance, please don't hesitate to contact me!
Healthy Gut Pro – Canadian Based Company that specializes in Water Kefir and an excellent resource!
Yemoos – great resource for absolutely ANY questions you may have about the process!
REFERENCES:
PLEASE SHARE THIS WATER KEFIR GUIDE