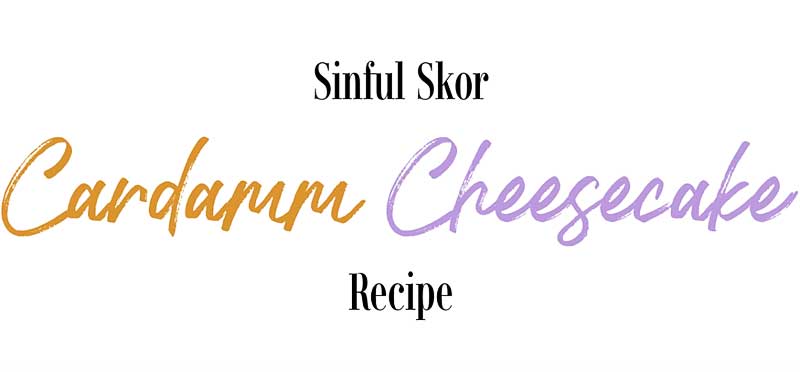 This Sinful Skor Cardamom Cheesecake Recipe is one of my blogs original recipes. It contains gluten, eggs, and dairy. I have kept it here, as I have all of the original recipes, for those of you who love it and would like to keep the recipe the same! Please stay tuned and follow me as I will have the gluten, egg and dairy free alternative options coming soon! If you love the original recipe as created by my incredible friend Alnaar, here it is!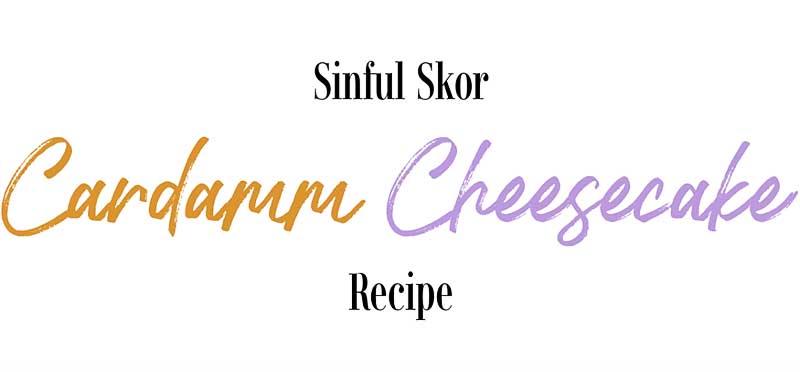 Ingredients in Sinful Skor Cardamom Cheesecake Recipe
Last week, I had a serious craving for cheesecake so I made this cheesecake for my family. I love cardamom and have had a life long love of Skor chocolate bars. We all have our weaknesses for treats right? We found these Skor bits in the baking section of the grocery store a while back, made by Hershey's Chipits, and it has officially become a new fav in our kitchen. Since I love both cardamom and Skor, I thought it would be interesting to combine the two since I was in an experimenting type of mood. Low and behold, the flavours go incredibly well together! It was like the heavens were singing! Cardamom is a very aromatic and strong flavour so I didn't add too much of it. I also kept the sugar to a minimum since the vanilla sour cream icing sprinkled with Skor bits would be sweet enough.
Ingredients
Butter: I always use Grass Fed Butter for it's increased flavour & health benefits. I like Savor brand found at many grocery stores.
Sour Cream: Did you know that most sour cream contains corn byproducts? Substitute sour cream with thick greek yogurt for a healthier Corn Free alternative!
Cream Cheese: Be sure to check the ingredients list as many cream cheese brands contain corn byproducts! Philadelphia original cream cheese is free from corn.
Granulated or Cane Sugar
Icing Sugar: Contains corn. To make this corn free, use corn free icing sugar made from tapioca starch.
Did you know that most Baking Powder is made with corn and contains aluminum? You can find Corn Free Baking Powder free from aluminum in the natural section of most grocery stores and at Blush Lane in Calgary.
I use free range eggs. I'll try and post an egg free version ASAP!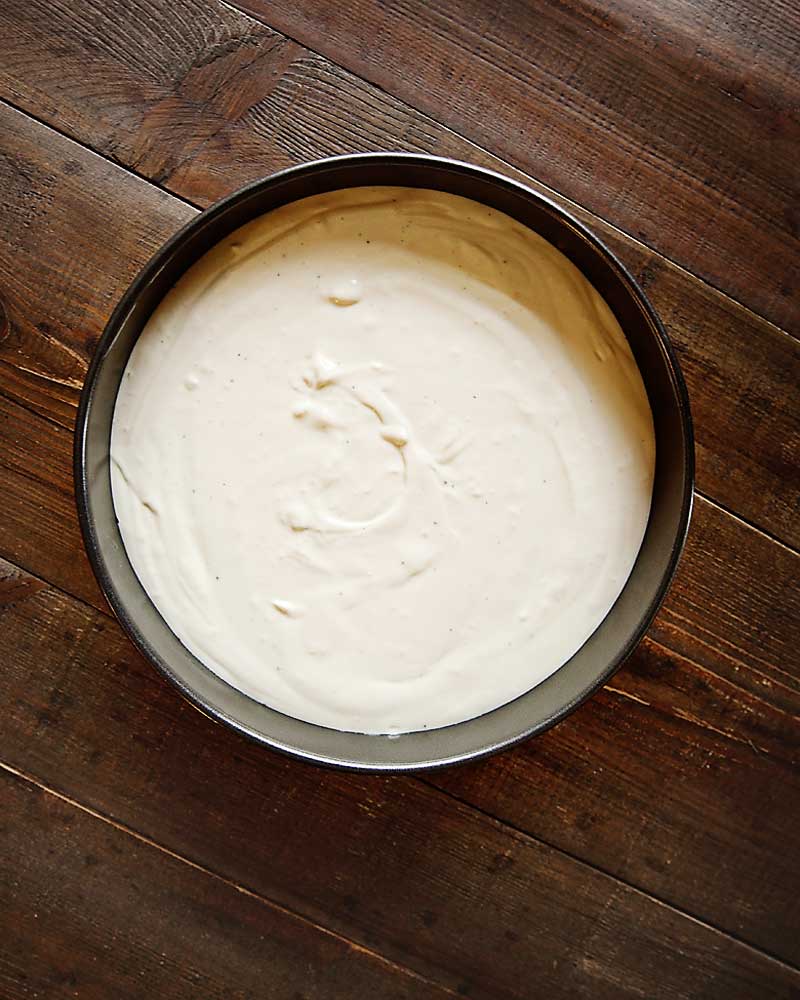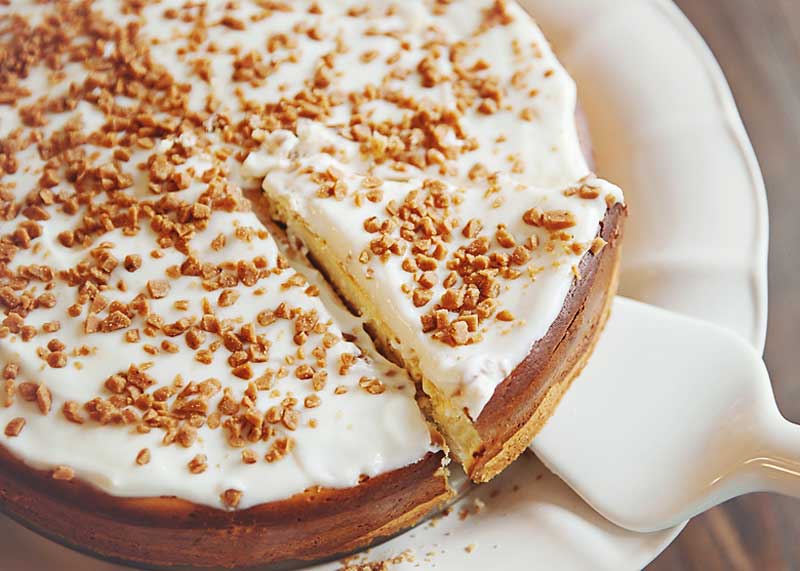 I used a crunchy vanilla semolina base for the crust. I'm not a fan of graham crackers and I didn't think any other cookie would really go with the cardamom flavour. The crust is pretty simple to whip up, I promise it won't add much to your workload in making this cheesecake.
Tips for making Sinful Skor Cardamom Cheesecake Recipe
Crucial Tip #1: how to prevent cheesecake from cracking!
A lot people find it frustrating when the cheesecake cracks during the baking/cooling process. Some recipes will call for placing the cake pan in a roasting pan full of boiling water to prevent this… I don't think this is necessary. The key is to bake the cake at a low temperature and then cool it very slowly. After turning off the oven, I leave the cake in the oven with the door cracked for 10 or 15 minutes and then remove it. I also wait until the cake has completely cooled down before putting it in the fridge to cool. It's important to let the cheesecake cool for 4-6 hours because cheesecake tastes best when served cold.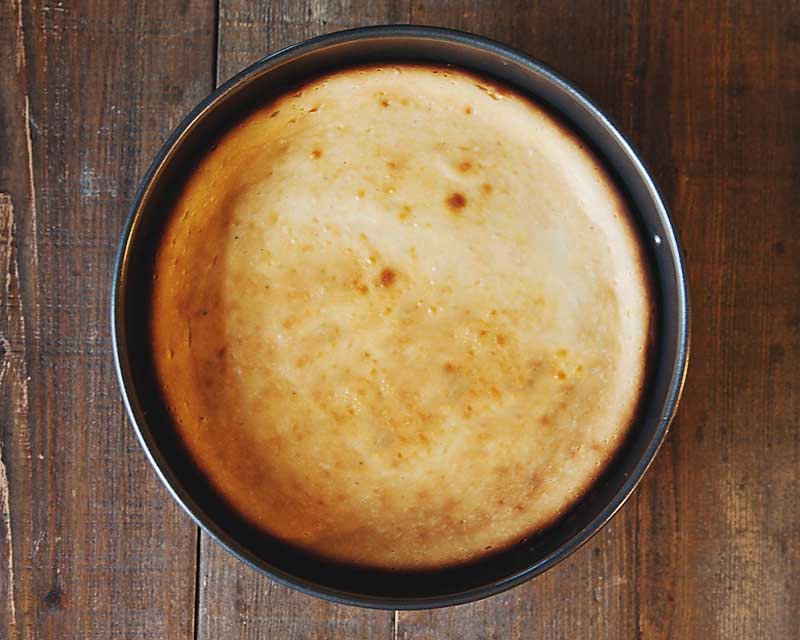 The icing in this recipe is a very straight forward sour cream and vanilla icing. It so simple that it only has three ingredients: Sour cream, vanilla, and icing sugar. You just add them to a bowl and stir it up and voila, an incredibly smooth, yummy icing to sprinkle with your Skor bits.
Crucial Tip #2: Prevent Skor tips from melting
I have to mention that the Skor will melt into the icing after a day or so, therefore if you are preparing the cake beforehand, its best to sprinkle the Skor on top right before serving.
If you are anything like me, you won't be able to resist gobbling up a large piece of the cake with a steaming hot cup of coffee. If you like your cheesecake a little bit thicker, you can double the recipe for the cheesecake part (no need for the crust and icing).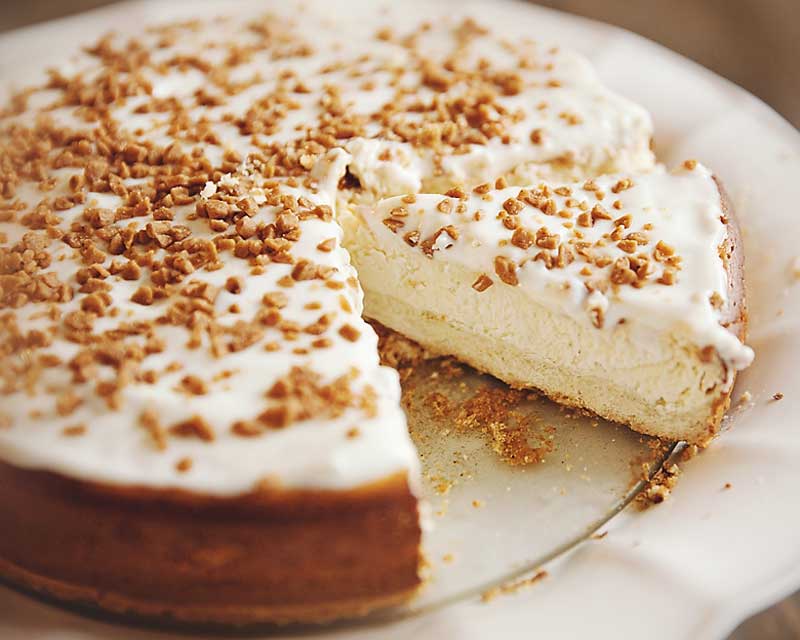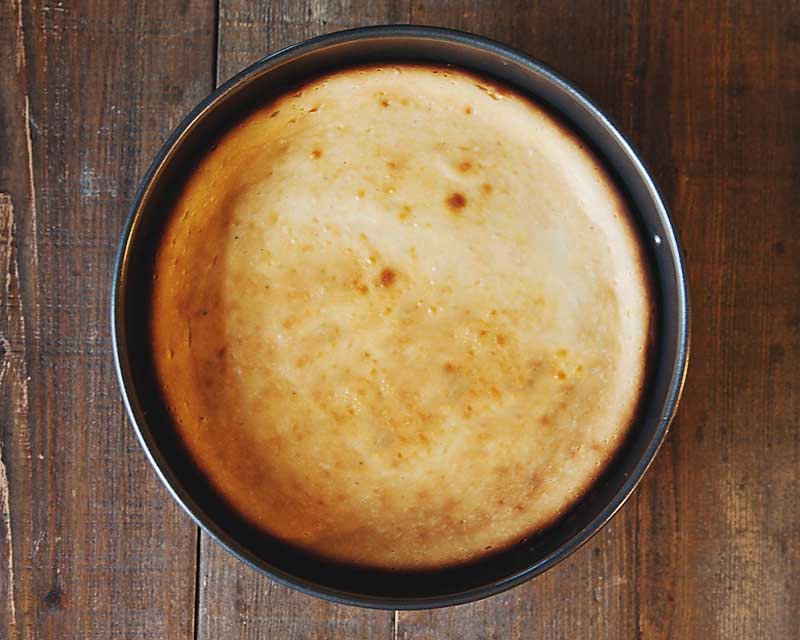 ENJOY!
I sincerely hope you enjoy this Skor Cardamom Cheesecake Recipe! If you make it please feel free to rate it and/or comment below so I know you loved it.
Thank you dearly for your readership!
Hugs,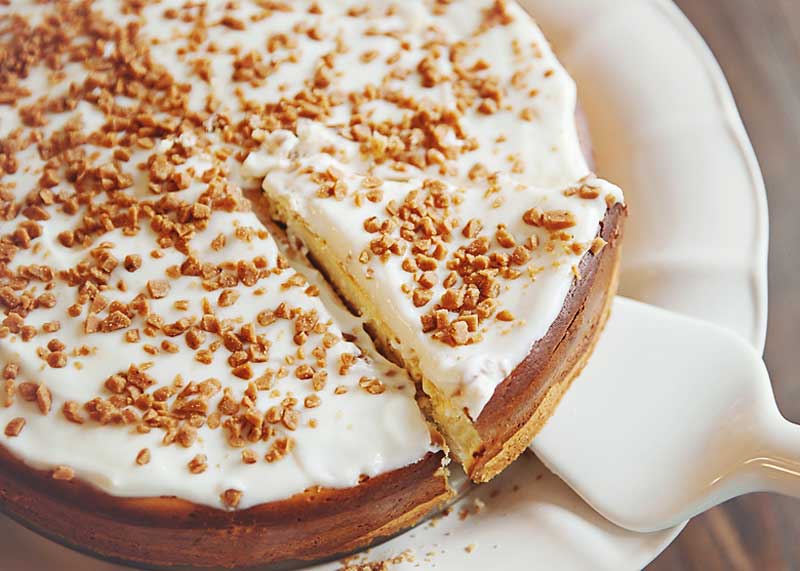 INSTRUCTIONS
Crust
Preheat oven to 350 degrees F (175 degrees C).

Cream together butter and icing sugar in a large bowl. Beat in the egg, followed by the vanilla. Slowly add the semolina.

Sift together the flour and baking powder. Beat into the batter until the dough is formed.

Press the batter into the bottowm of a 9-inch springform pan. Bake the crust for 10 minutes and set aside.
Cheesecake
Reduce Oven heat to 325 degrees F.

In a large bowl, cream together the cream cheese, flour and sugar.

Beat in the vanilla and cardamom.

Add one egg at a time, followed by the sour cream. Beat on slow setting until well combined.

Pour the batter over the crust and place on centre rack in the oven. Bake for 45 minutes and turn off the oven. Open the oven door a crack and let the cake sit in the oven for 15 minutes.

Remove the cake from the oven and let it cool for at least half an hour before releasing it from the spring form pan.

After the cake has completely cooled to room temperature (a couple of hours), place the cake in the fridge to cool further for 4-6 hours.
Vanilla Sour Cream Icing
In a large bowl, mix together the sour cream and icing sugar. Add the vanilla and stir until well combined.

Smooth the icing over the cake. Sprinkle with Skor bits right before serving (otherwise the Skor will loose its crunchiness).
Notes
Nutrition Facts
Skor Cardamom Cheesecake Recipe
Amount Per Serving
Calories 619
Calories from Fat 324
% Daily Value*
Total Fat 36g 55%
Cholesterol 148mg 49%
Sodium 288mg 12%
Potassium 32mg 1%
Total Carbohydrates 58g 19%
Protein 13g 26%
* Percent Daily Values are based on a 2000 calorie diet.
Nutrition
Nutrition Facts
Skor Cardamom Cheesecake Recipe
Amount per Serving
% Daily Value*
* Percent Daily Values are based on a 2000 calorie diet.