This healthier version of the infamous Indian Butter Chicken will delight everyone in the families taste buds and leave you wanting more!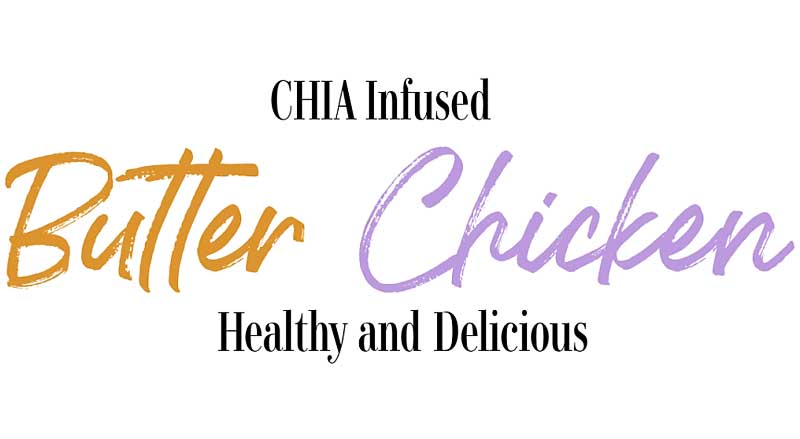 Butter chicken has to be the most popular Indian food. I know I love it, and its the first thing I search for at an Indian buffet. But it's also incredibly fattening. Thus, my friend Alnaar helped me develop a healthier option. This Healthier Chia Infused Butter Chicken Recipe will still give you the rich flavour that you love when it comes to butter chicken, but we cut out a lot of the fat by including yogourt and 10% cream instead of heavy cream. This version of my healthier butter chicken recipe contains dairy but I promise to add a dairy free option very soon!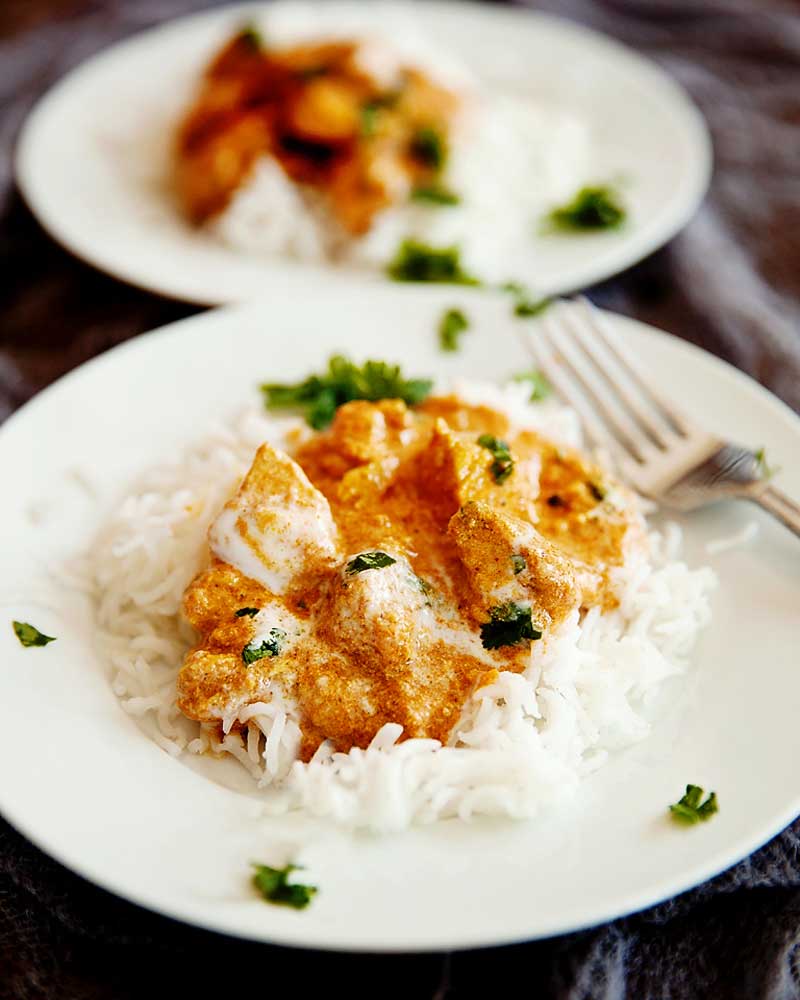 Another secret ingredient is ground chia seeds! I love chia for its many health benefits. As always, I love talking about health benefits of recipe ingredients so here's some of chia seeds positive attributes. Chia seeds are an excellent source of vitamins, minerals, and powerful antioxidants which provide numerous health benefits. 2 Tbsp of chia seeds contain 39% of your recommended daily fibre. Studies show that fibre has a positive impact not only on digestive health, but also improved blood sugar levels, weight management and more! The best part is the ground chia seeds go completely undetected in this butter chicken. It actually helps to thicken the sauce! Incredible.
Ingredients in Healthier Chia Infused Butter Chicken Recipe
You'll need: paprika, chilli powder, salt, turmeric, cayenne pepper, ground cloves, cinnamon, ground coriander seed, ground cumin seed and garam masala. Garam Masala is a traditional aromatic spice spend used in Indian cooking. If you have the time, I'd highly recommend making your own! Swasthi's Recipes has an incredible recipe to make your own Garam Masala and great explanation of the health benefits of the spices. Check it out here.
Tomatoes: are one of the base ingredients of this dish. I like to use Organic Muir Glen Fire Roasted Crushed Tomatoes for the depth of flavour they add. Make sure when buying canned tomatoes and tomato paste that you check the ingredients. Some brands add additives that just aren't necessary but add to the shelf life
Garlic: Fresh organic garlic makes a HUGE difference in the flavour of any dish.
Fresh Lemon Juice: Makes a huge difference in the fresh flavour.
Fresh Ginger: I highly recommend fresh ginger which lends a fresh flavour to the dish, however, if you're in a pinch, powdered will do, just use 1/2 the amount.
Cilantro: Topping with cilantro is my fav, but if you're not a fan, omit it.
I love adding healthy ingredients to my recipes that serve dual purpose! Chia seeds are an easy way to make this delicious meal healthier. I use Prana Brand Ground White Chia Seeds, which you can find at Superstore (Loblaws) and other grocery stores.
I have become picky about my dairy. I have noticed that grass fed dairy simply tastes better! Seriously, if you haven't tried grass fed butter or milk, please do! You may just become hooked like I am. Similar to the grass fed meat, I find you don't need as much butter when using grass fed as it simply has more flavour. My parents say, "It tastes like milk should taste!" I couldn't agree more! I use Savor Brand grass fed butter. I love Rolling Meadows Brand for milk products, including cream. Both are Canadian Dairy Companies. We use plain grass fed 3.5% yogurt rather than heavy cream to save on calories and give the health benefits of natural probiotics. You can find all of these products at Superstore (Loblaws) and Blush Lane in Calgary.
I use boneless, skinless, organic, free range chicken breast. I find that using organic, free range poultry usually translates to more flavour, which means less meat required. So, although it costs a bit more to buy, you use less making the cost quite similar.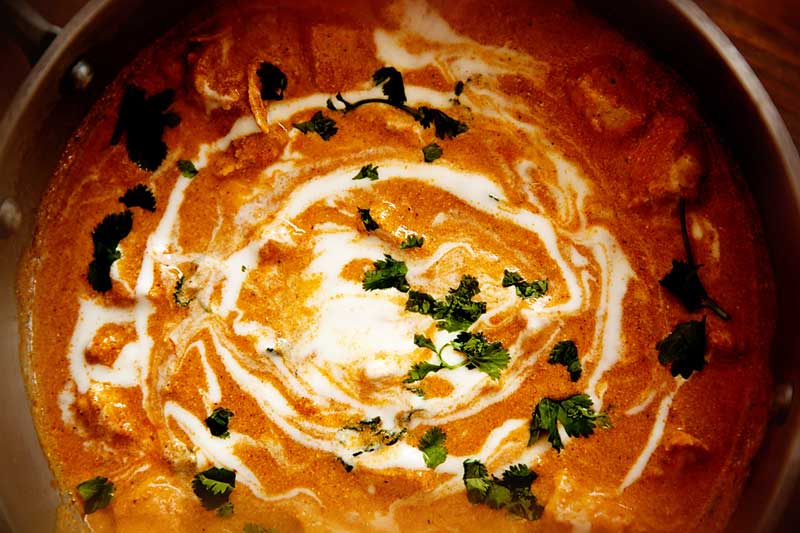 Delicious Chia Infused Butter Chicken in 6 simple steps:
Prep the chicken by cutting into 1″ cubes. I like to use meat scissors for this step but you can use a chopping knife if you prefer.
Mix marinade ingredients together and add cubed chicken. Marinate, refrigerated for 2-5 hours. Marinating the chicken is essential, so you may want to mix up the marinade before you head out for the day and let the chicken marinate in the fridge for a few hours.
Once chicken is marinated, heat butter in a large sauce pan over medium / low heat for 30 seconds. Don't walk away as butter burns easily and will ruin the flavour of your dish (Of course I do use butter, since the dish is called Butter Chicken! But I only use 2 tablespoons of butter. Really, there is no need for more than that. This is just the right amount to make the dish taste rich without overly clogging your arteries. If you use Grass Fed butter, like I do, it has such a wonderful flavour that you truly don't need more than 2 Tbsp).
Add the marinated chicken and crushed tomatoes to the sauce pan. Cook partially covered for about 20 mins or until the chicken is thoroughly cooked.
Turn the stove off and stir in the cream. Add a few Tbsp yogurt to thicken the sauce.
Garnish with cilantro if desired and serve over a bed of your choice of rice. I love serving with coconut basmati rice. Recipe coming soon!
Other than the marinating, there is not much to making this healthier chia infused butter chicken! Its such a simple but delectable dish. I hope you enjoy this recipe and I'd love to hear from you in the comments section below!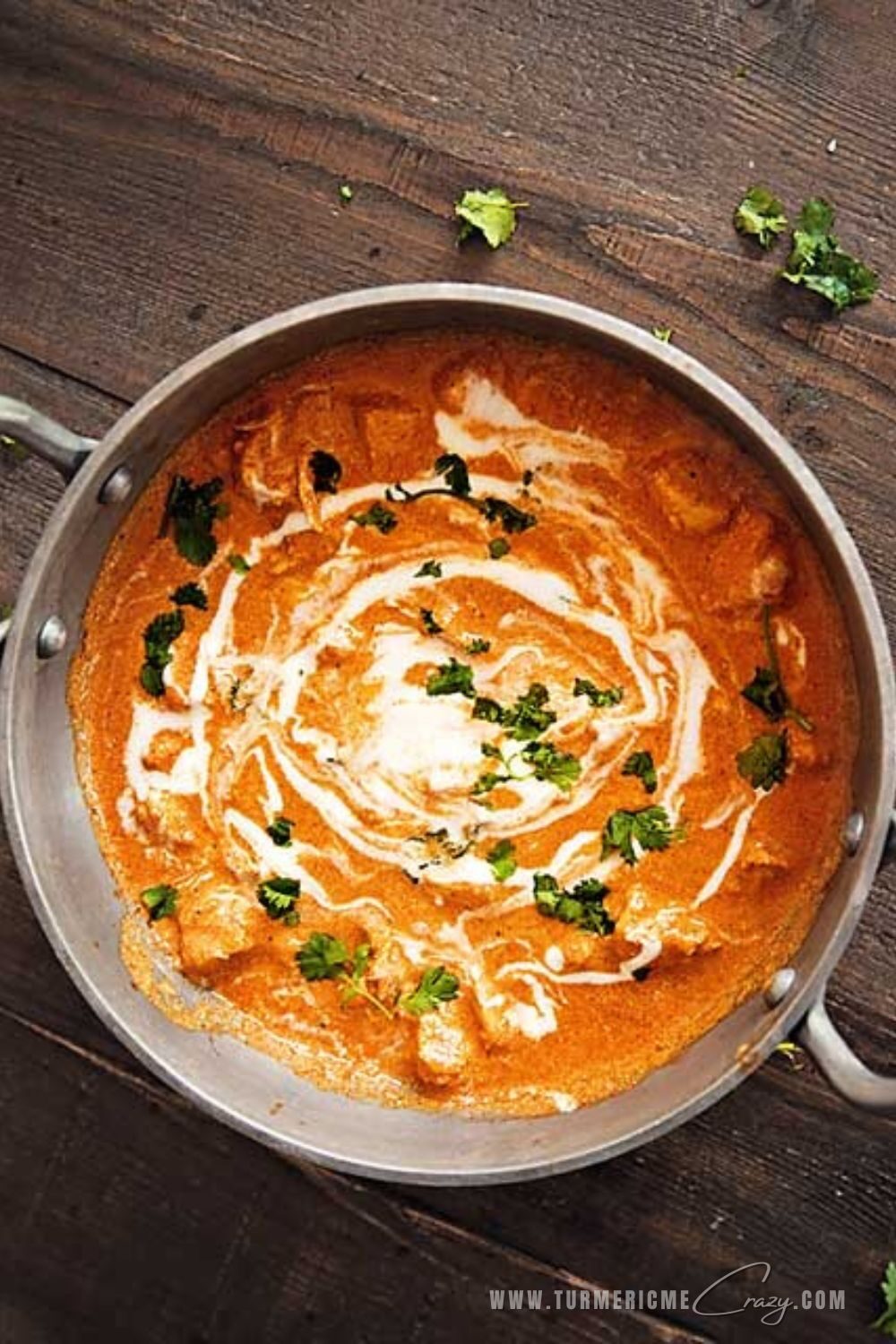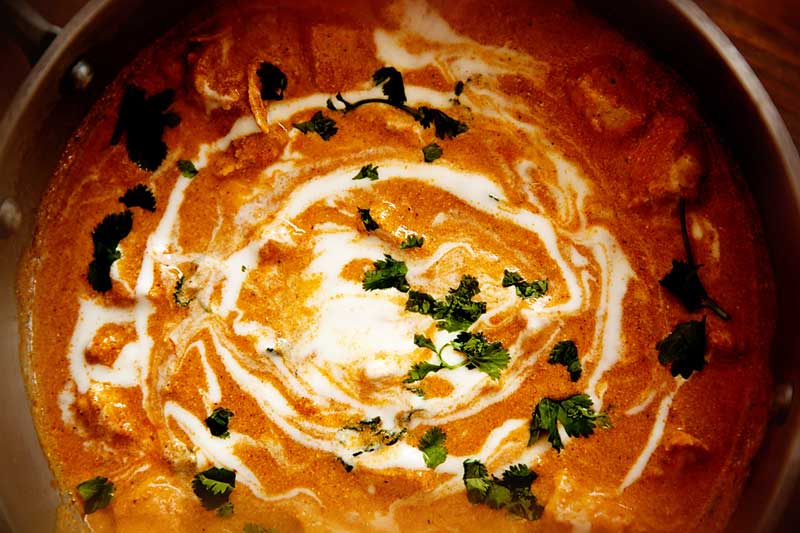 ENJOY!
I sincerely hope you'll LOVE this recipe as much as I do! If you make this recipe, please kindly rate it and leave a comment below. I'd be ever so grateful if you took a picture of your dish, post on instagram and tag me #Turmeric_Me_Crazy. As always, if you have questions, please contact me anytime. I'd be happy to help. Please subscribe to keep up to date with my recipes.
Thank you ever so much for your readership!
Hugs,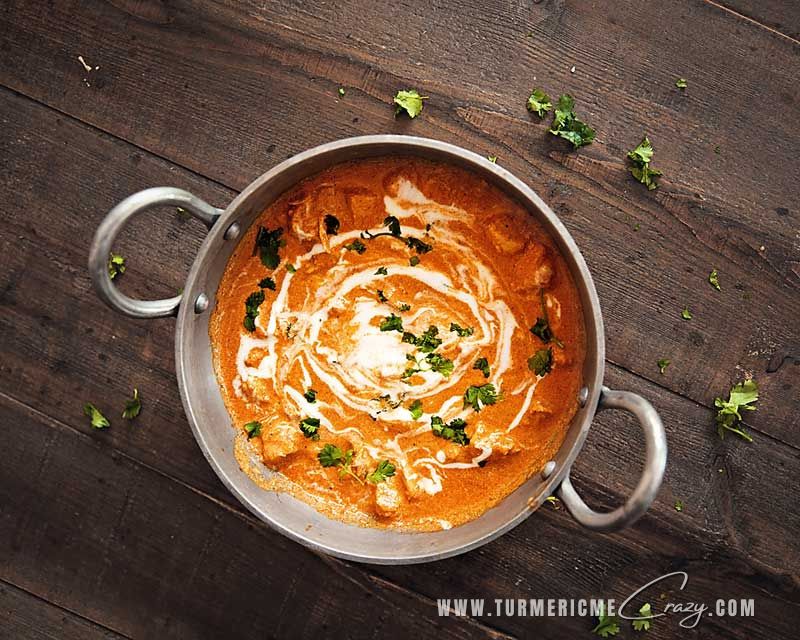 INGREDIENTS
Marinade
1

tsp

Paprika

1

tsp

Chili Powder

½

tsp

Salt

½

tsp

Turmeric

½

tsp

Garam Masala

½

tsp

Cayenne Pepper

1

pinch

Cloves

Ground

1

pinch

Cinnamon

¼

tsp

Coriander Seed

Ground

¼

tsp

Cumin Seed

Ground

1

Tbsp

Garlic

Crushed

1

tsp

Ginger

Minced

1

Tbsp

Chia Seeds

Ground

1

Tbsp

Lemon Juice

Fresh

1

Tbsp

Tomato Paste

½

cup

Yogurt

3.5%
All Other Ingredients
2

tbsp

Butter

½

Kg

Chicken

Boneless Skinless Chicken Breast

⅔

cup

Canned Crushed Tomato

⅔

cup

10% Cream

1

Tbsp

Cilantro

Chopped. Optional as a garnish

2

Tbsp

Yogurt

3.5%
INSTRUCTIONS
Chop up the chicken breast into 1 inch cubes.

Mix together the marinade ingredients and cubed chicken. Allow the chicken to marinate for 2-5 hours in the fridge.

Once the chicken has been marinated for 2-5 hours, heat the butter in a large pan over medium / low heat for about 30 seconds.

Add the marinated chicken and crushed tomato. Cook partially covered for 20 minutes or until the chicken is thoroughly cooked.

Turn off the stove and stir in the cream. Stir in a couple of Tbsp yogourt to thicken the sauce.

Garnish with cilantro. Serve with rice.
Nutrition
Nutrition Facts
Chia Infused Butter Chicken Recipe
Amount per Serving
% Daily Value*
* Percent Daily Values are based on a 2000 calorie diet.