This 20 minute Hawaiian Inspired Salmon Poke Bowl recipe is full of fresh colourful ingredients that burst with flavour! Made with seasoned rice, fish, and bright fresh toppings, this Poke bowl is a treat for your taste buds!
Please join me and travel to the stunning islands of Hawaii without ever leaving our kitchens! This Salmon Poke Recipe is Hawaiian Inspired, as I would never dare to say that I make it authentically as I have not been taught by a native Hawaiian, nor do I have access to the perfectly fresh ingredients from the ocean! I would love to pay respect to the Hawaiian origin of poke bowls and how much I truly ♡ it.
CONTENTS (JUMP AHEAD ANYTIME)
HOW TO MAKE SALMON POKE BOWL – SHORT 1 MINUTE VIDEO!
Please check out our Pinterest page to PIN this video for later!
Please PIN this Salmon Poke Recipe for later:
If you're already on Pinterest, please feel free to PIN the below picture for later:
WHY WE ♡ POKE BOWLS!
I love the versatility of a Poke Bowl! You can use the same marinade mix for tuna, salmon, even tofu! In our house, we all have our favourite ingredients that we love to pile onto our bowls! My daughter sometimes like to eat it vegetarian with the marinade as a topping ♡.
My family are seriously OBSESSED with Poke Bowls! Ever since I had the pleasure of travelling to Hawaii in my early 20's, I've had a lasting craving for authentic Hawaiian Poke Bowls! The craving just never really leaves me 🤣! I found it hard, however, to find places that served Poke Bowls that could meet my dietary needs. So I decided to create one that is gluten, dairy, egg & corn free with soy, nut & even vegetarian options.
IS THIS RECIPE AUTHENTIC HAWAIIAN?
I would never even dream of saying that my recipe is authentic, because I am not of Hawaiian heritage, however, it satisfies my craving and I hope it will for you as well! Nothing could EVER replace the freshness and incredible taste of a Hawaiian Poke Bowl made in Hawaii by locals! However, for me, this is as good as it gets without actually hoping on a plane!
Please join me and travel to Hawaii, USA without ever leaving our kitchens! Let's make a delicious, Hawaiian Inspired Salmon Poke Bowl!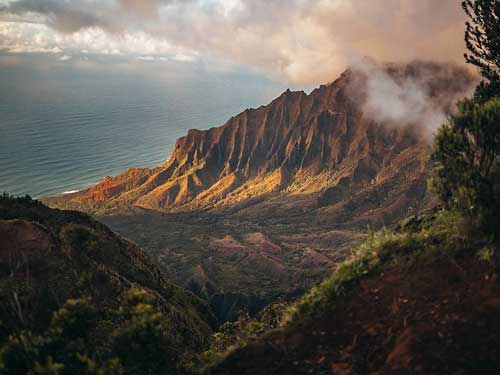 WHAT IS A POKE BOWL?
Poke Bowls (pronounced 'poh-kay' and rhymes with okay) originated in Hawaii and can be served as an appetizer or main course. From my understanding, the word poke means "to cut or slice crosswise into pieces" in Hawaiian.
When most people hear the word poke, they think of cubed pieces of raw fish tossed in a some sort of salt or soy sauce. What we know today as poke, is typically a combination of Hawaiian poke and Japanese sashimi.
HOW IS POKE TRADITIONALLY MADE?
Traditionally, Hawaiian Poke is made with raw fish (like tuna or salmon) that is marinated with salt, kukui relish (made from roasted kukui nuts, candlenuts, and sea salt ) and limu (edible sea plants aka seaweed). The Japanese influence adds the shoyu or Japanese soy sauce (1).
The bowl itself typically combines rice, poke (marinated raw fish), and a variety of vegetables and sea plants (seaweed). There are literally endless ways to build your poke bowl suited to your preferences and dietary needs!
If anyone reading this is from Hawaii and would like to further expand on my description or share any tips and tricks, I'd ♥︎ to hear from you in the comments!
INGREDIENTS IN MY SALMON POKE BOWL
The ingredients in my Hawaiian Inspired Salmon Poke Bowl are some of my favourite ingredients! They are not all traditionally found in a Hawaiian Poke Bowl, but I love the flavour combinations. I was so inspired by the incredible Hawaiian diet when visiting the islands. I tend to change the toppings for my bowl and the type of fish I chose, based on what is available & fresh in the particular season.
MY POKE MARINADE INGREDIENTS:
This marinade is so easy to make and tastes SO divine with the raw fish! You can either marinate the fish in the sauce, or simple drizzle it on top of the entire dish as a dressing. The choice is yours!
FRESH INGREDIENTS
SPICE UP YOUR RICE
TOPPINGS
Chose your own favourites from the list of ideas or come up with your own! Really, you can use whatever veggies you have kicking around in your fridge! All of these toppings are optional so just choose the ones that suite your fancy!
CHOOSE YOUR FAVOURITE VEGGIES!
OTHER TOPPING OPTIONS:
Edamame – shelled
Mixed Greens
Pineapple
Fried Onion
Any of your favourite veggies!
HOW TO MAKE SALMON POKE BOWL
STEP 1: Cook your rice! This is literally the longest step (15-20′) so get this going straight away.
STEP 2: Mix your marinade ingredients together. If you chose to make your own Vegan Mayo start with blending those ingredients together.
STEP 3: Cut salmon or tuna into small bite sized chunks with a very sharp knife.
STEP 4: Add marinade to fish and place in refrigerator.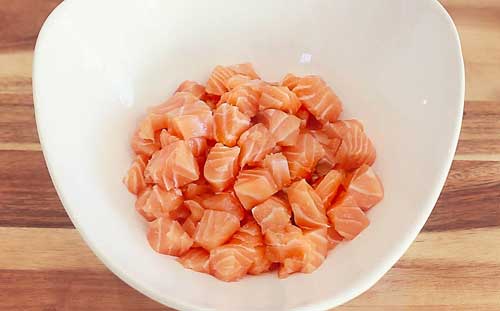 STEP 5: Prepare toppings. Chop or slice veggies and fruit to your liking. Create your own food art! This is where I like to get the children involved and allow them to express themselves and be creative! Food that is presented well is enjoyed more don't you think?
STEP 6: Spice up your rice if desired. This is not absolutely necessary. So if you are on a salt or sugar restricted diet you can simply add rice wine vinegar or skip this step all together.
STEP 7: Layer your ingredients. Think of the rice as your canvas and start decorating with your salmon and other beautifully delicious toppings!
STEP 8: Sprinkle with peanuts &/or sesame seeds if so desired. You can also reserve a little of the marinade and drizzle on top of your bowl!
IN JUST 20 MINUTES YOU CAN ENJOY EATING YOUR MASTERPIECE! EASY AS 1-2-3!
CAN I MAKE A VEGETARIAN POKE BOWL?
Absolutely! You can either create a Poke Bowl with rice, veggies & fruit or you can fry up tofu and use the marinade (omit the fish sauce) as a dressing. Both are delicious! My daughter sometimes prefers it this way.
CAN I STORE LEFTOVERS? HOW LONG WILL IT STAY FRESH?
It really is best to eat it on the day you make it to be safe, however, I always try and make enough poke for dinner plus a little left over for lunches. I find it stays fresh until the following day, however, this really depends on how fresh your fish was to begin with. I don't like to save the left overs longer than 1 day. Honestly, we eat every last bite!

References
www.hawaiinewsnow.com has an informative video where they explain the meaning of poke in Hawaiian and how it is traditionally made.
PLEASE SHARE THIS SALMON POKE BOWL RECIPE ♥︎