Easy Peasy,
DIY for older kids
Living with special dietary needs is challenging for everyone, but for children it is even harder! They have to sit and watch as their classmates at school eat "treat" lunches like pizza & chicken fingers and often feel left out at birthday parties where cake is served. This is one of the main reasons I wanted to create Turmeric Me Crazy, to help ease some of this pain and allow kids to be kids! I've created this chicken tender recipe to be free from all of the most common allergens in the hopes that ALL children (and adults too) can enjoy them!
The best part is…these air fryer chicken strips taste incredibly delicious! They are everything a chicken tender should be, crispy on the outside & deliciously moist on the inside! In fact, my children (and my husband 😉) request them so often that I make a large batch and place them in the freezer. That way, in 10 minutes flat I've got a lovely, hot packed lunch for them to take to school and work!
You can easily make these Chicken Tenders in the oven too! Or check out the link below to the air fryer I use to make these chicken tenders.
which air fryer do you use?
Make gluten free chicken tenders along with me...
PIN THIS gluten free chicken tenders RECIPE
For more FREE stuff & lovely recipes, please subscribe & follow me on my Youtube Channel, Pinterest, Instagram & Facebook.
Already on Pinterest?
Please feel free to PIN the picture below for future reference & so others can find it too.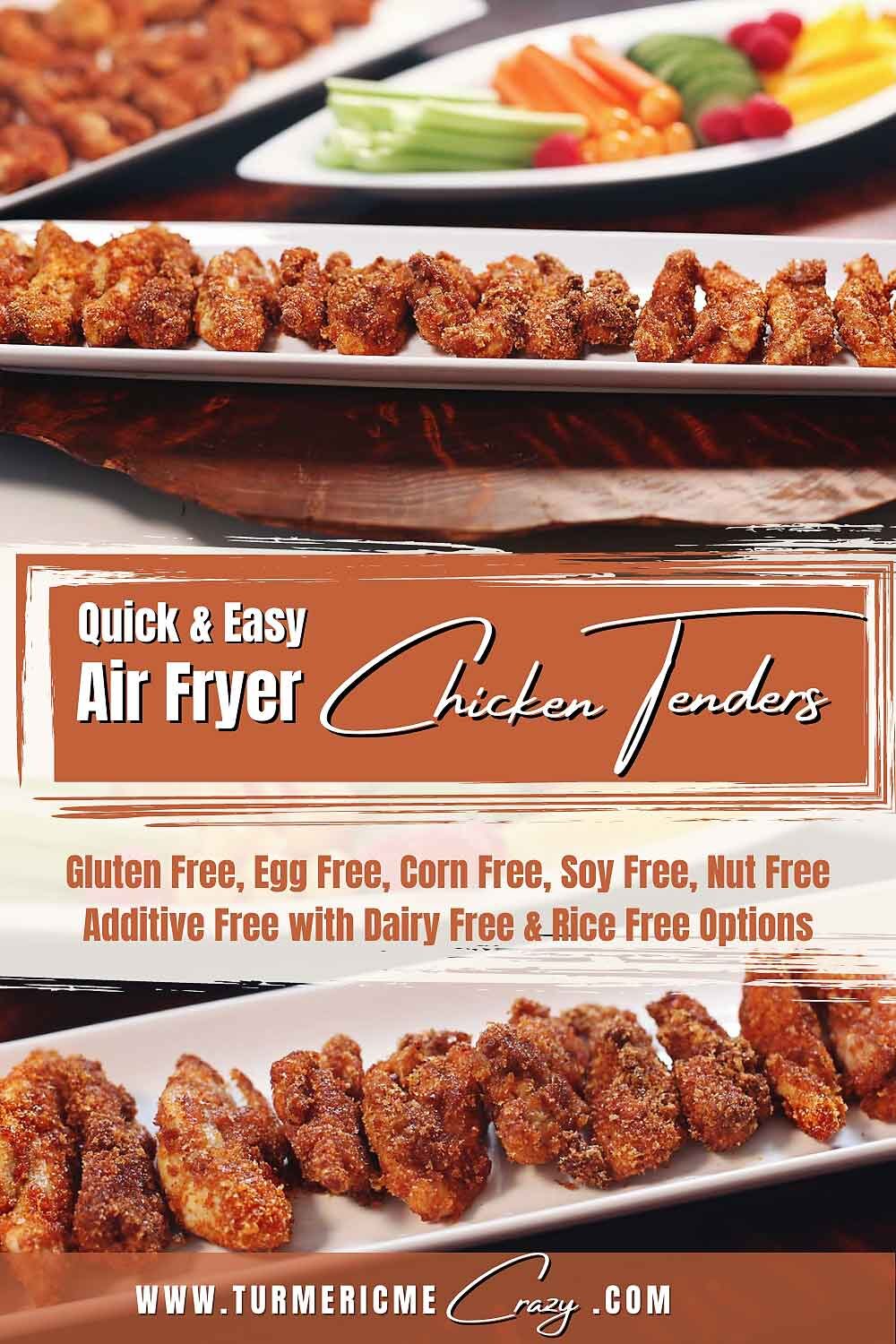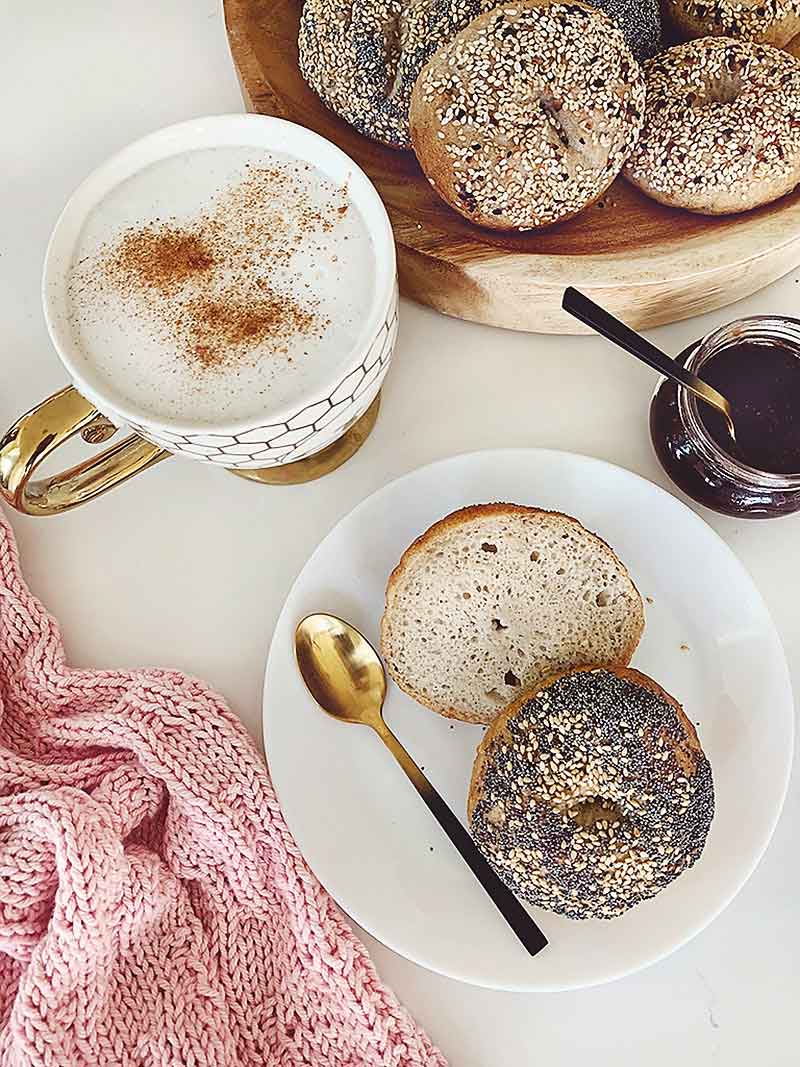 Want more delicious recipes at your fingertips?
Get updates on our latest posts & recipes from TurmericMeCrazy straight to your inbox!
By clicking subscribe you are consenting to receive emails from TurmericMeCrazy. I will only email you monthly with new recipes & updates. No spam I promise!
I sure do hope that you'll try & love these incredibly mouth watering crispy & juicy gluten free air fryer chicken tenders. Aside from being incredibly delicious they are SO quick and easy to make. If you try it, I'd be ever so grateful if you'd subscribe & also put a positive rating & comment onto the recipe above or at the bottom of the post. This will help my website grow.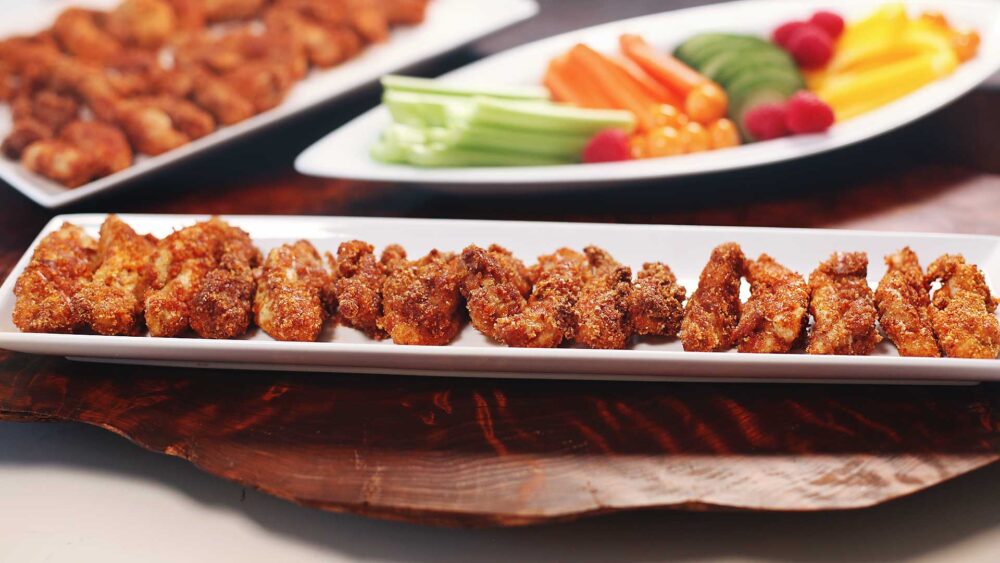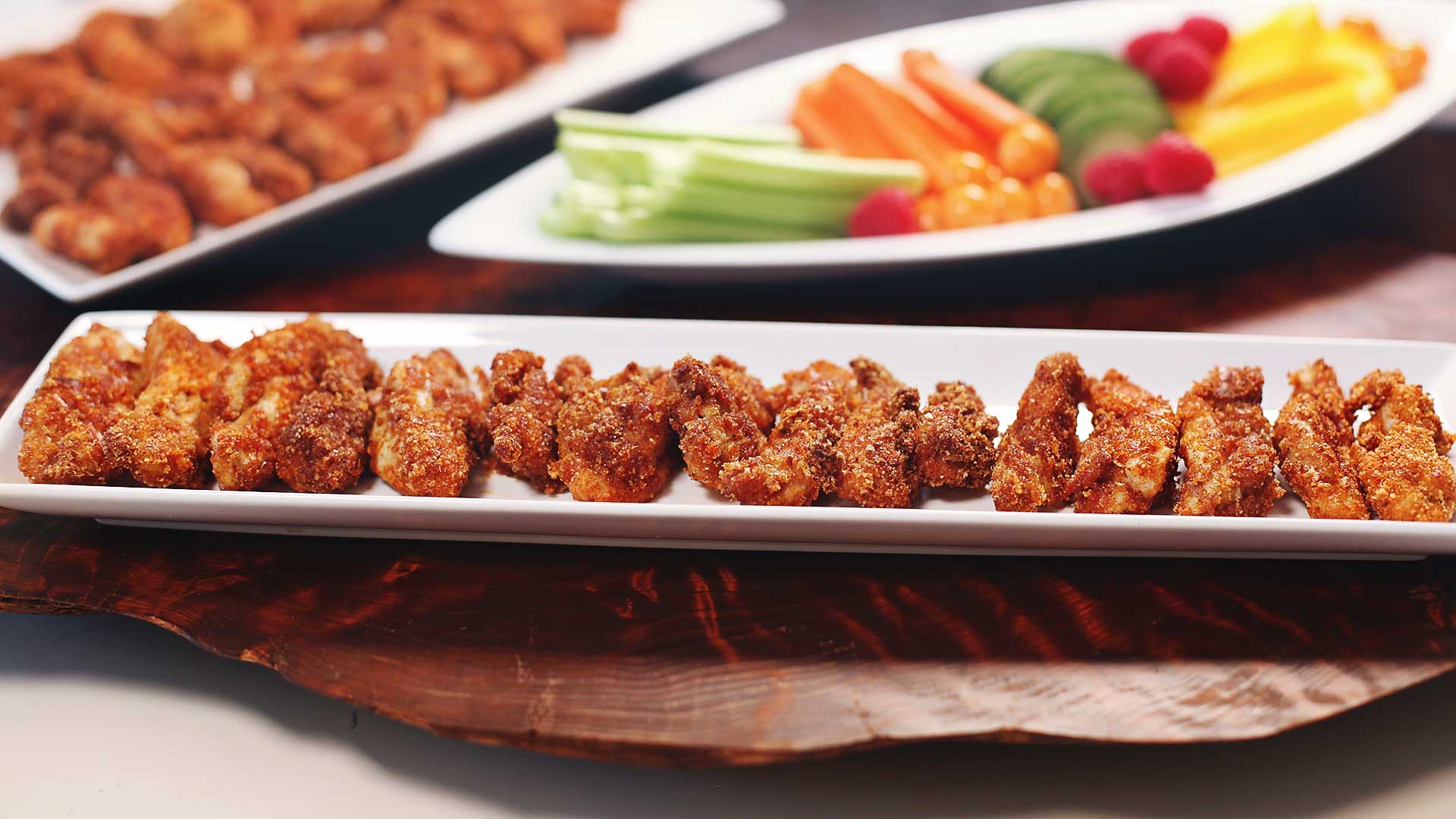 INGREDIENTS
For the Chicken
500

g

Boneless Skinless Chicken Thighs

8-10 chicken thighs, sliced

1

Tbsp

Olive Oil

extra virgin

1

Tbsp

Butter

melted (use more olive oil for dairy free)

1

large

Garlic Clove
For the Batter
½

cup

Rice Crumbs

120mL (use pea crumbs for rice free - see link in notes)

½

cup

Parmesan Cheese

120mL finely grated & fresh (use Nutritional Yeast for dairy free - see link in notes)

1

tsp

Chilli Powder

5mL

1

tsp

Paprika

5mL

½

tsp

Smoked Paprika

2.5mL

¾

tsp

Kosher Salt

3.75mL (for lower sodium use 1/2 tsp or 2.5 mL)

¼

tsp

White Pepper

1.25mL

⅛

tsp

Cayenne Pepper

0.63mL or a large pinch

1/16

tsp

Turmeric

0.3mL or a pinch
INSTRUCTIONS
"MISE EN PLACE"
Grab all ingredients & equipment. Then prep all ingredients.

Chicken - cut into 4 equal sized strips, removing any bones, large fat chunks, or little pieces of chicken (TIP: freeze these scrapes for making chicken stock!)
FOR THE CHICKEN BATTER
Place prepped chicken tenders into a bowl & add melted butter & olive oil (just olive oil for dairy free) and set aside.
BATTER
Whisk together rice or pea crumbs, parmesan cheese or nutritional yeast & all spices.

Coat all sides of each piece of chicken in the batter, and place in a single layer on a pan or dish.
AIR FRY (OR BAKE IN OVEN)
Preheat air fryer for 5-10 mins to 390°F (200°C). If using oven, preheat to 400°F (204°C) for 10-15 mins.

Add chicken tenders in a single layer to air fryer, ensuring not to overlap & cook for 10 mins. Flip at the 5-7 minute point to ensure both sides are perfectly crispy!

I highly recommend using an air fryer, as these chicken tenders turn out so perfectly this way, but If using an oven, cook for 10-12 mins (watch very closely as every oven is different. Remove from heat once slightly browned & crispy).

Remove from air fryer & enjoy!
TO FREEZE & COOK LATER
Once chicken tenders are coated in batter, place on a tray lined with parchment in a single layer with space between each piece & freeze for 30 minutes.

Remove from freezer & place into a freezer safe air tight container.

When ready to cook, place frozen chicken tenders directly into air fryer & cook at 390°F (200°C) for 12-13 minutes until golden & crispy!
Notes
FOR RICE FREE:
FOR DAIRY FREE:
Nutrition was calculated with the dairy & rice containing versions.
Nutrition
Nutrition Facts
Air Fryer Chicken Tenders - Gluten Free
Amount per Serving
% Daily Value*
* Percent Daily Values are based on a 2000 calorie diet.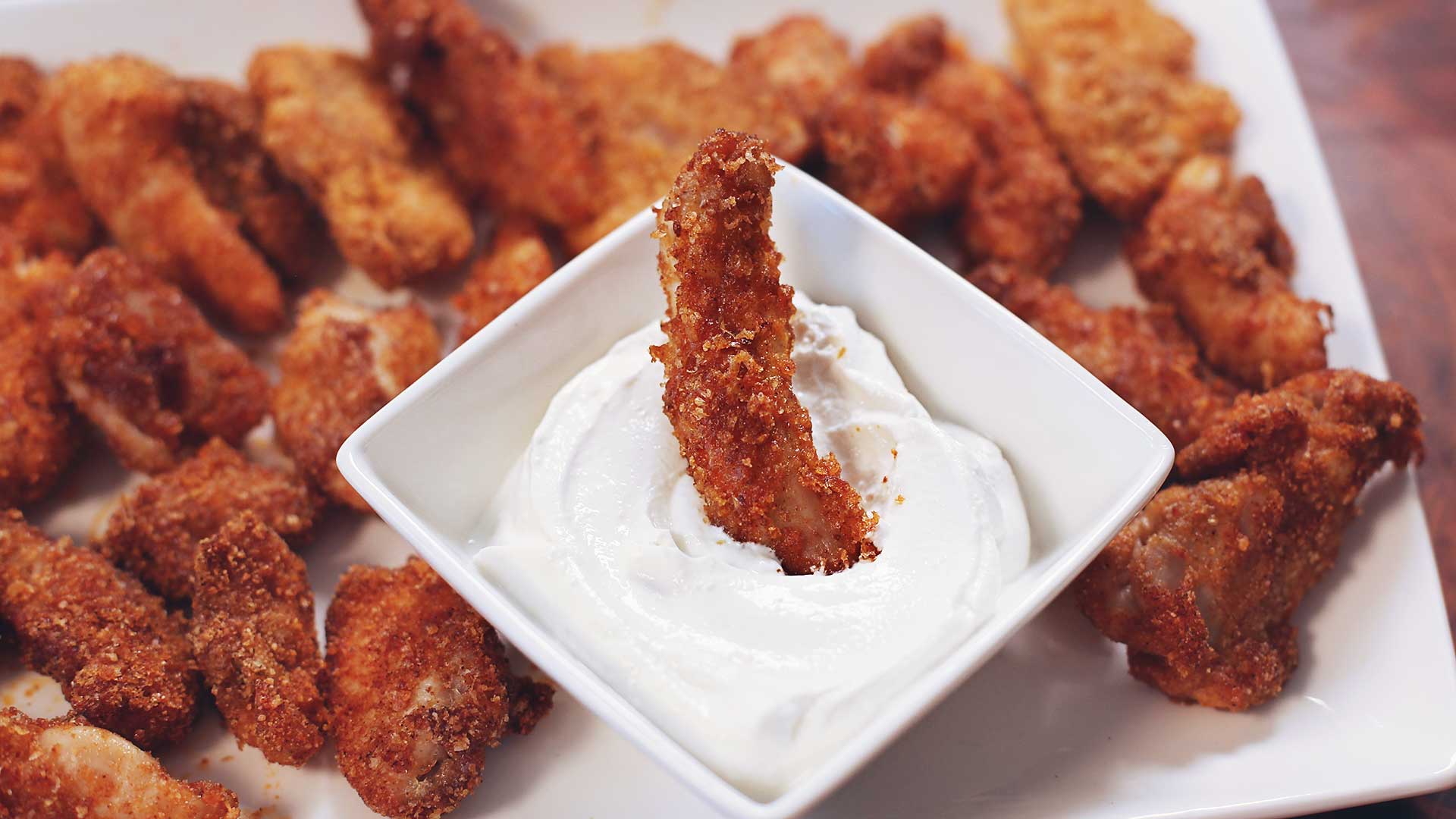 MORE delicious recipe IDEAS!