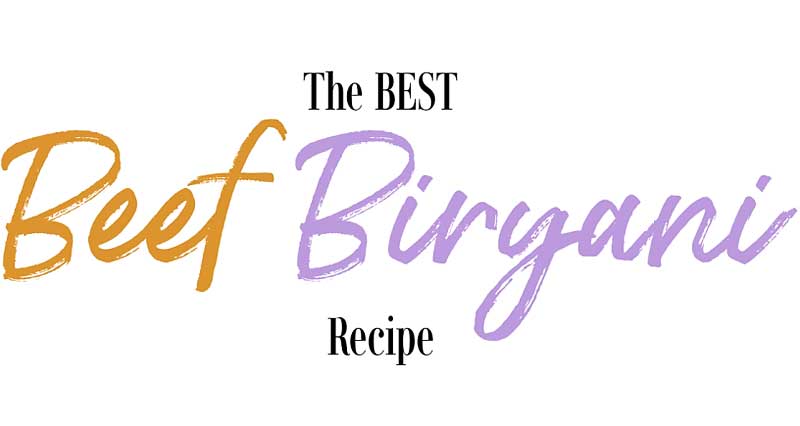 My beautiful friend, Alnaar, created this recipe for The Best Beef Biryani years ago. I only had to alter the food colouring in the recipe as it is an additive that I do not want in my families diet. Instead I use turmeric to give the rice a nice punch of yellow colour and a lovely flavour! I hope you try it and let me know what you think.
I have to admit I was intimidated to make biryani the first time. It looks like so much work. But its really not too bad. The only thing is that if you want the beef to be mouthwateringly soft, it has to be marinated over night and cooked in the slow cooker or instant pot. There is a lot of down time, but the key is to plan ahead and do a little bit a time.
Key Ingredients you'll need to make The BEST Beef Biryani: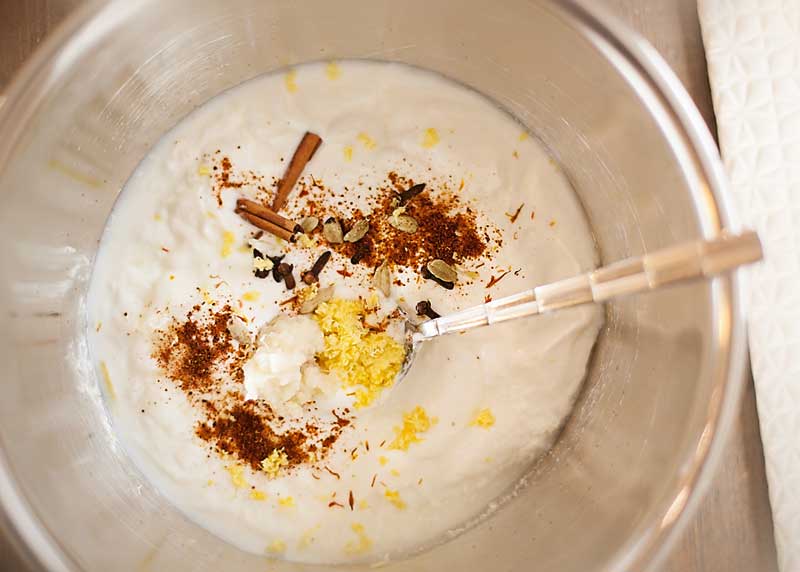 This Beef Biyani recipe has such an incredible array of spices that lend it a robust flavour.
For the BEEF MARINADE
The marinade is mainly made of yogourt, ginger, garlic and spices. Its super easy to throw together. If you're dairy free, try using a plain coconut yogourt instead of the dairy version I used here.
Saffron: has a robust flavour and scent. Saffron has many impressive health benefits. Not the least of which includes being a powerful antioxidant that protects your cells from damaging free radicals and oxidative stress. The plant compounds found in saffron have anti-inflammatory, anti-depressant and cancer fighting properties. More over, research shows these compounds may improve mood, memory, ability to learn and much more! This makes it seem like a super spice to me!
Salt: I like to use either Kosher salt (for it's strong flavour) or a good quality sea salt.
Cayenne Pepper: the combination of cayenne pepper and hot peppers will make this dish quite spicy. You can start off small and add 1/8tsp (like I do for my kids) and work your way up if you desire.
Garlic: Fresh organic garlic makes a HUGE difference in the flavour of any dish.
Fresh Ginger: I highly recommend fresh ginger which lends a fresh flavour to the dish, however, if you're in a pinch, powdered will do, just use 1/2 the amount.
Cardamom Pods: I like to cook the dish with the cardamom pods whole then remove them afterward.
Cloves: Cook with the cloves whole then remove when finished cooking. Kind of like what you do with bay leaves in a lot of dishes.
Cinnamon: use the
Stewing Beef: I like to use grass fed beef. I find it's so much richer and more flavourful so therefore I use less.
I like to use grass fed dairy products. Olympic has a lovely grass fed line of yogourts that we enjoy. You can find it at Costco here in Calgary. If you're Dairy Free you can try using coconut yogourt. It will change the flavour slightly but I think the coconut flavour would be a lovely compliment to the flavour of the spices. If you try it please let me know!
For the BIRYANI SAUCE
Beef marinated in the above ingredients from the night before.
Red Onion (you can blend it like I do if you don't like chunks of onion), Hot Peppers, Baby Potatoes, Fresh Lemon Juice, & Fried Onions (I like to make my own from a yellow onion).
For the RICE
A key feature of biryani is the colourful, flavourful rice. So perfect for spring! Alnaar originally said to portion out about a third of the rice and mix in some yellow or orange food colouring. Then add it back to the pot and gently mix it into the rest to achieve the effect below. I have since changed the recipe to use turmeric instead. Add about 1/2 tsp of turmeric to 1/4 tsp of water and make a paste. Then portion out about a third of the rice as above to achieve the same look with a bit more flavour and a lot more health benefits! Turmeric, Saffron and Cardamom are all super spices that have a multitude of health benefits including anti-inflammatory and antioxidant properties.
Sea Salt, Cinnamon, Cardamom Pods, Saffron, Cloves & Turmeric.
Extra Virgin Olive Oil is my favourite.
Basmati Rice: is my fav to use for this dish, but you can really use any type of rice you prefer.
One of the main flavours in Biryani is onion. So if you love onion, then this is the perfect recipe for you. I love the taste onions but I'm not a huge fan of finding slimy onion chunks in my food, so I blend the raw onion before adding it to the mix. The recipe also calls for fried onions. You can get fried onions from the ethnic section of the grocery store. Or make your own! Simply chop your onion fine, add to some avocado or other mild tasting oil and fry on low-medium heat until brown. Do NOT walk away from the stove as the onions will easily burn if left unattended. I may or may not know this from experience! Hahaha!
What The BEST Beef Biryani should look like while cooking
Once your biryani is almost complete, and you are adding the potatoes, it should look like the photo below: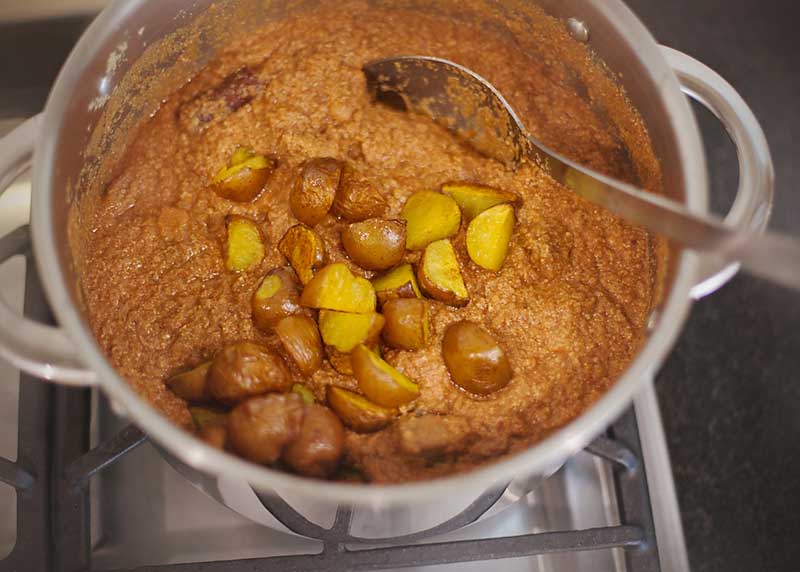 And there you have it! Plate on a bed of rice and garnish the biryani with some cilantro to make it extra pretty! I also try to find all of the cloves and cardamom pods in the Biryani sauce and the rice to remove them before hand. Its pretty gross if you miss one and accidentally bite down on it!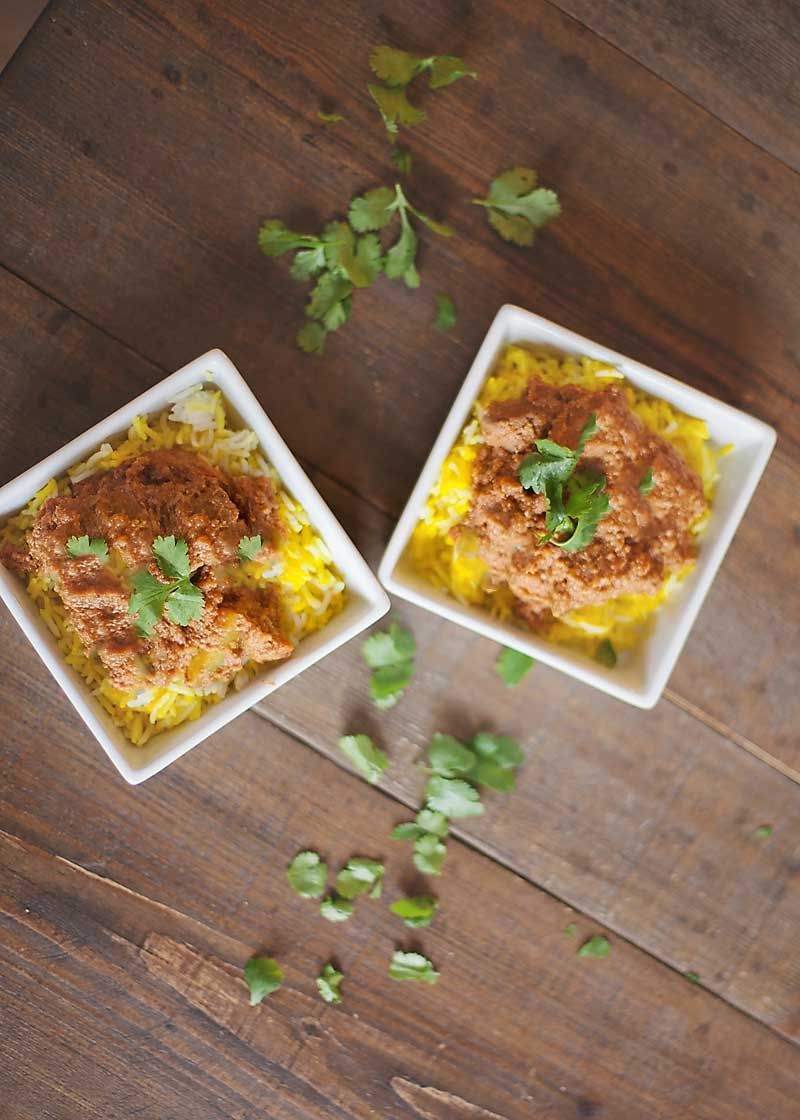 ENJOY!
I sincerely hope you enjoyed this recipe! I have thoroughly enjoyed travelling to East Africa without ever leaving my kitchen! It has been such a treat to learn all of these East African Indian recipes from my dear friend Alnaar. If you travel along with me please comment below to let me know you liked the recipe!
Much love and hugs from my family to yours,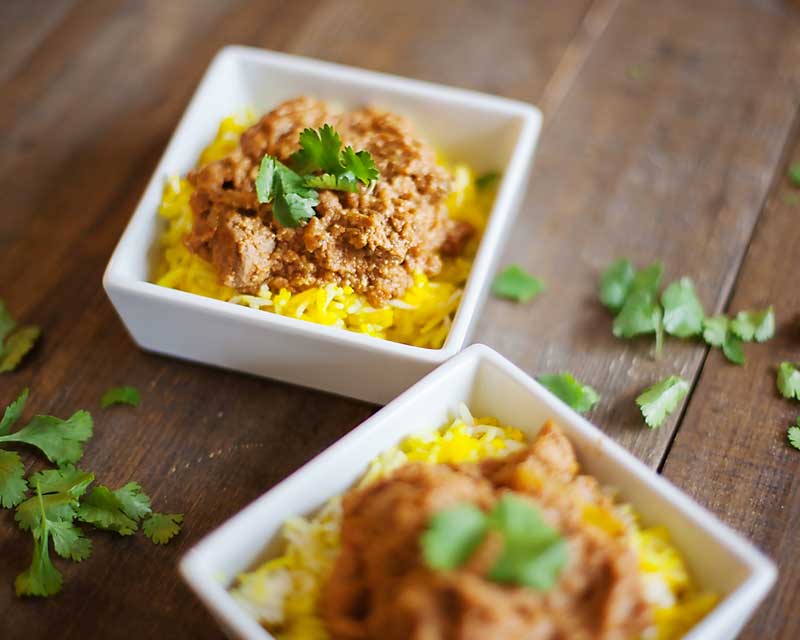 INGREDIENTS
Marinade
2

cups

Yogurt

* Try plain coconut yogourt for Dairy Free

¼

tsp

Saffron

1

tbsp

Salt

1

tsp

Cayenne Pepper

Crushed, little less if you don't like it hot! Try 1/4 tsp to start

1

tbsp

Garlic

Crushed

1

tbsp

Ginger

Crushed

10

Cloves

1

Stick

Cinnamon

1

Kilo

Beef

Stewing Beef. Chop into 1 inch cubes
Biryani Sauce
Marinated Beef

From Above Marinated the night before

½

Red Onion

Medium size. Blended or finely chopped

3-4

Hot Peppers

Green or Red

8

Potatoes

Red Baby

1

tbsp

Olive Oil

Extra Virgin

1.5

cups

Crushed Tomato

I use Muir Glen Organics Fire Roasted

2

cups

Fried Onion

Grind up in food processor or blender

1

tbsp

Lemon Juice

Fresh
Rice
2

tbsp

Olive Oil

4.5

cups

Water

3

cups

Basmati Rice

1

tsp

Salt

½

stick

Cinnamon

4

Cloves

¼

tsp

Saffron

1

tsp (or to taste)

Turmeric

for colour, flavour and health benefits
INSTRUCTIONS
Biryani Sauce and Meat
Mix together all of the marinade ingredients and let sit overnight in the fridge.

After at least 8 hours of marinating, add the marinated beef to the slow cooker with blended onion and hot peppers. Cook for 8 hours in slow cooker on low setting. Or use the Instant Pot and slow cook for 8 hours.

Slice potatoes into 4 sections each and toss in olive oil. Place on an aluminum foil covered pan.

Cover the potatoes with foil and bake in the oven at 400 degrees F for 10 minutes. Remove the foil and bake for another 10 minutes. Flip the potatoes and bake for 10 more minutes. Set potatoes aside.

After the beef has been in the slow cooker for 8 hours, add it to a large pot and place on the stove on medium low heat. Add crushed tomatoes, lemon juice, and fried onions. Cook for 20 minutes.

Add the oven baked potatoes and cook for another 5 to 10 minutes.
Rice
Heat oil in a large pot on medium heat.

Add cloves, cardamom, salt, and cinnamon and sauté for half a minute.

Add the water and bring to a boil.

Rinse rice a few times to get rid of the starch.

Add Rinced rice to water once it is boiling.

Reduce the heat to low and cover.

Once the water is absorbed the rice is ready.

Remove a third of the rice and gently mix in turmeric being careful not to mush up the rice. Add the coloured rice back to the pot and gently stir in with the white rice.
To Serve
Plate rice topped with Beef Biryani then top with fresh cilantro if desired. Enjoy!
Notes
Nutrition Facts
Beef Biryani
Amount Per Serving
Calories 749
Calories from Fat 351
% Daily Value*
Total Fat 39g 60%
Cholesterol 82mg 27%
Sodium 1665mg 69%
Potassium 270mg 8%
Total Carbohydrates 58g 19%
Protein 31g 62%
* Percent Daily Values are based on a 2000 calorie diet.
Nutrition
Nutrition Facts
Beef Biryani
Amount per Serving
% Daily Value*
* Percent Daily Values are based on a 2000 calorie diet.