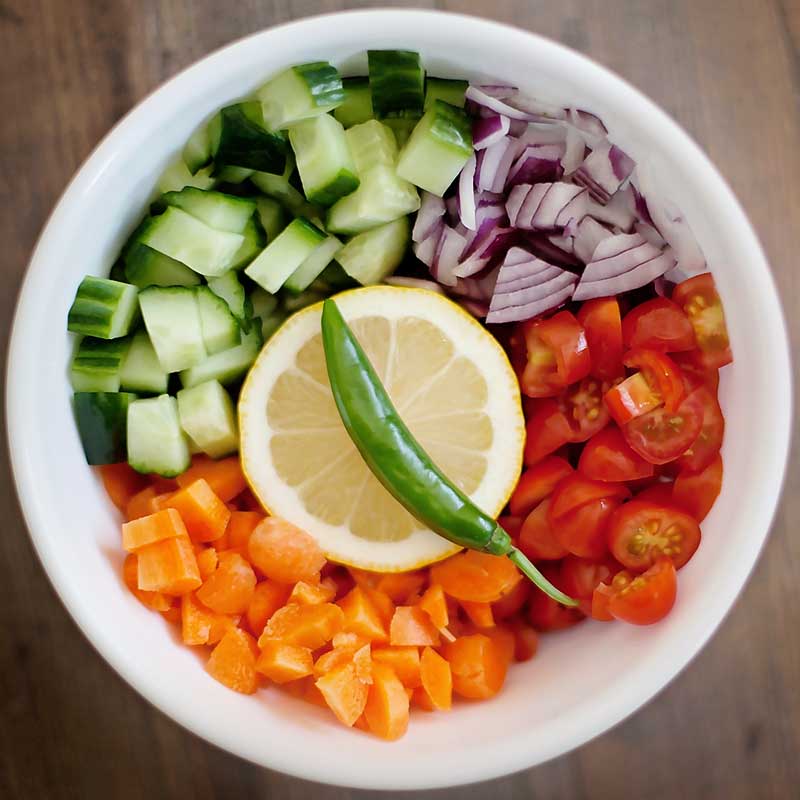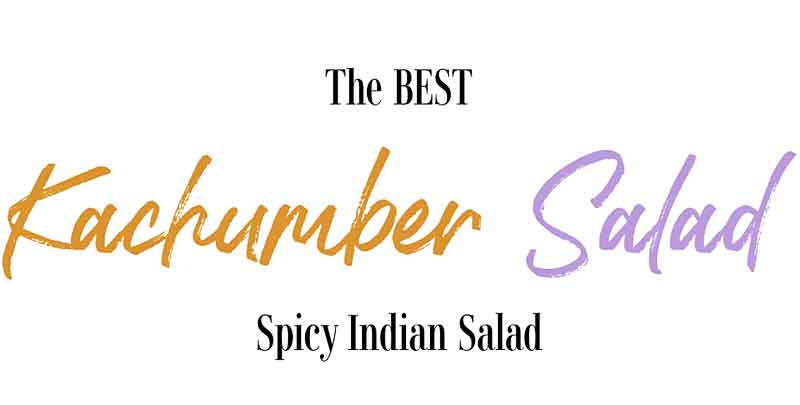 I learn't The Best Kachumber (Spicy Indian Salad) recipe from my neighbour and close friend, Alnaar, and I adore it! Kachumber is a spicy Indian salad that you pair with Akni or The Best Beef Biryani.
Ingredients in The Best Kachumber (Spicy Indian Salad)
Kachumber is made with fresh chopped cucumber, tomatoes, onion, and carrots. Now that I think about it, kachumber is actually very similar to Mexican salsa! I bet it would even taste amazing with some corn free tortilla chips (like my fav brand Beanfields Bean Chips which you can find at Superstore (Loblaws), Safeway and many other grocers)!
Hot Pepper (I like Serrano or Jalapeno), Cucumber, Grape Tomatoes, Onion, Carrot
I am very picky with my veggies, they have to be crisp or they taste horrible to me. So the way I like to make Kachumber is by using only organic and fresh ingredients. Instead of a large tomato (which can end up mushy once chopped up), my recipe uses small and fresh grape tomatoes. Some kachumber recipes use vinegar as the dressing, but I prefer the fresh taste of lemon.
How to make The Best Kachumber (Spicy Indian Salad) in 3 easy steps!
The Best Kachumber (Spicy Indian Salad) is pretty simple to make too.
Chop up the veggies and hot pepper.
Add salt, lemon juice and cayenne pepper.
Refrigerate for at least 1 hour to allow the flavours to mingle. ENJOY!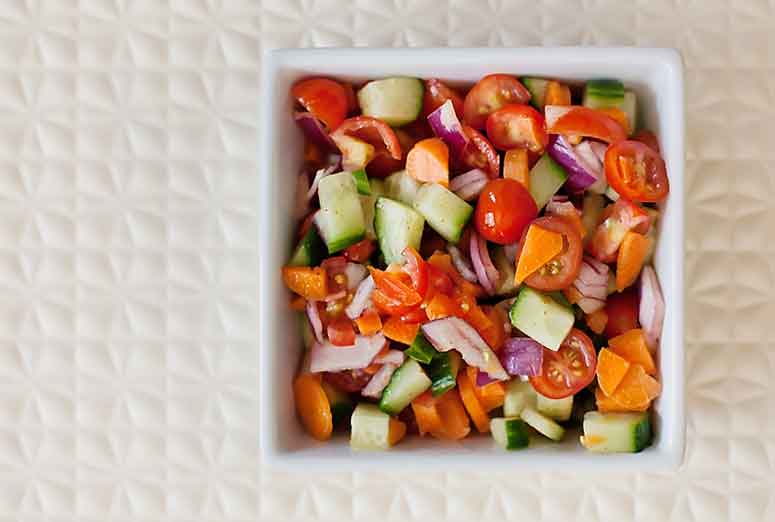 If you are interested in making The Best Kachumber (Spicy Indian Salad) you have ever tasted, then this is the recipe for you. It is so fresh, healthy, and spicy. Pair the Kachumber with Akni and you have a perfectly balance meal as well (see photo below)!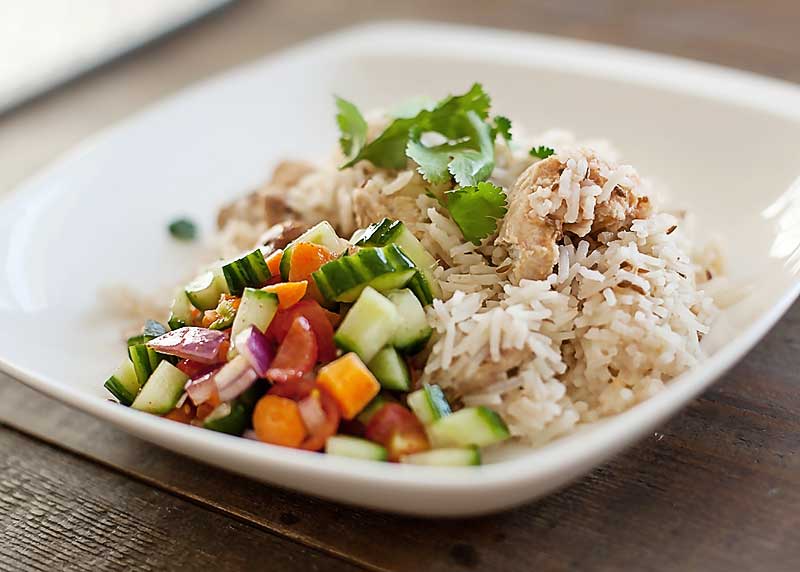 Do you like it HOT?
I love, love, love spicy food! Like spicy until I am sweating. I don't have to worry though because my hubby, Mike, is the same. In fact, he sweats profusely when eating my really spicy food and I always laugh adoringly at him. I love that he loves my cooking that much!
However, I am aware that not everyone has the same level of tolerance for heat so this kachumber recipe is slightly toned down from how I like to make it. If you are like me, feel free to add another hot pepper and some extra cayenne. And if you are on the other end of the spectrum, you could omit the chopped up hot pepper and just add the cayenne pepper. My kiddos will eat this with very little spice, so feel free to try it with just a little kick to it and see how it goes! You can always add more heat later!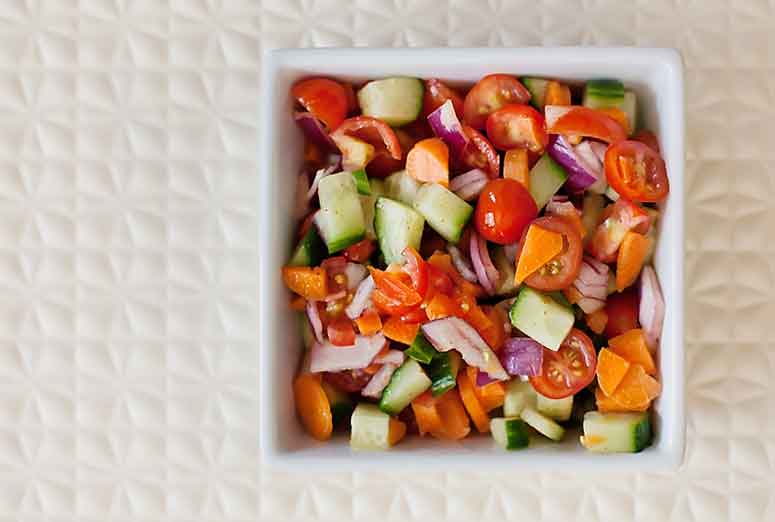 ENJOY!
I really hope you enjoy this recipe for The Best Kachumber (Spicy Indian Salad)! If you try it, please rate it below so others know you loved it too!
I would like to express my sincere gratitude for your continued readership!
Hugs,

The Best Kachumber (Spicy Indian Salad)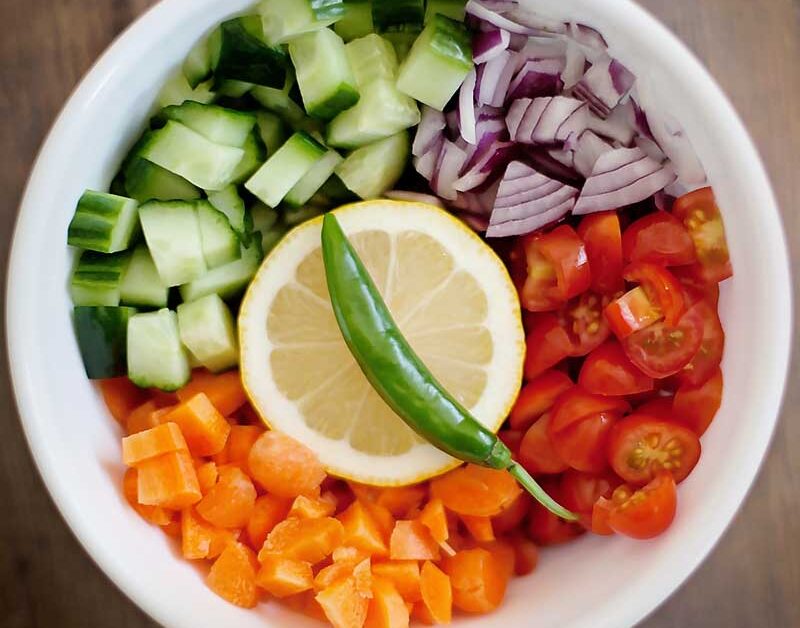 Hands down The Best Kachumber (Spicy Indian Salad) recipe you will ever make.
1/4 tsp cayenne pepper
1/4 tsp Salt
1 chopped hot pepper (serrano or jalepeno)
1 cup chopped cucumber
2/3 cup chopped grape tomatoes
1/2 cup chopped onion
1/3 cup chopped carrot
Chop up the hot pepper, carrot, cucumber, onion, and tomato. Add to a large bowl.
Sprinkle with salt and cayenne pepper. Stir.
Squeeze juice of entire lemon in a separate bowl. Remove all seeds and add the lemon juice to the rest of the ingredients.
Stir the kachumber and refrigerate. Its best to make this at least an hour before serving so that the flavours can mix together.

Serve as a side dish with Akni (Pulao) or The Best Beef Biryani.
Nutrition Facts
The Best Kachumber Recipe
Amount Per Serving
Calories 15
Calories from Fat 1
% Daily Value*
Total Fat 0.1g 0%
Polyunsaturated Fat 0.03g
Monounsaturated Fat 0.01g
Sodium 111mg 5%
Potassium 64mg 2%
Total Carbohydrates 3g 1%
Protein 0.5g 1%
* Percent Daily Values are based on a 2000 calorie diet.