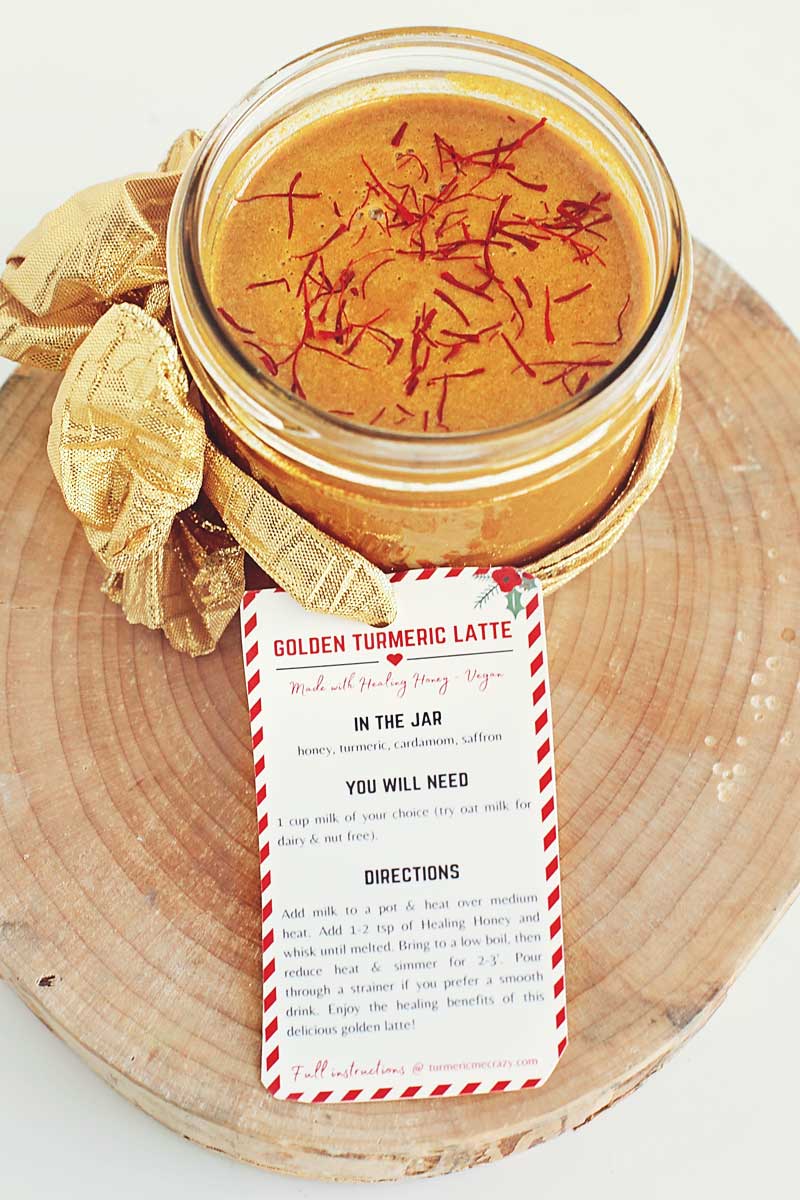 My wonderful friend Alnaar taught me all about her families secret to keeping the those nasty bugs away during cold & flu season! Her mom always made her Turmeric Steamed Milk to support her immune system & her feeling healthy & strong! She swears that she remembers feeling better after sipping the warm, soothing drink! 
So I decided to make the main ingredients of the Golden Turmeric Latte into a Healing Honey! This way it is that much easier to make a steaming cup of healing goodness anytime you need it! It also makes an absolutely lovely mason jar gift idea that you can whip up in less that 15 mins!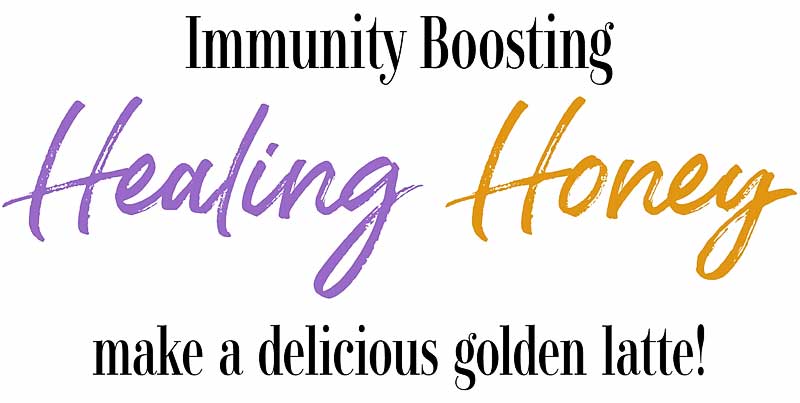 This Turmeric Latte is not only healing & immunity boosting, it is absolutely delicious! You'll love it as a night cap, a replacement to your 2nd morning coffee or tea, or anytime to help keep those nasty bugs at bay!
ingredients in HEALING HONEY
4 SIMPLE, HEALTHY INGREDIENTS
Watch me make Healing Honey...
PIN THIS HEALING HONEY RECIPE
For more FREE stuff & lovely recipes, please subscribe & follow me on my Youtube Channel, Pinterest, Instagram & Facebook.
Already on Pinterest?
Please feel free to PIN the picture below for future reference & so others can find it too.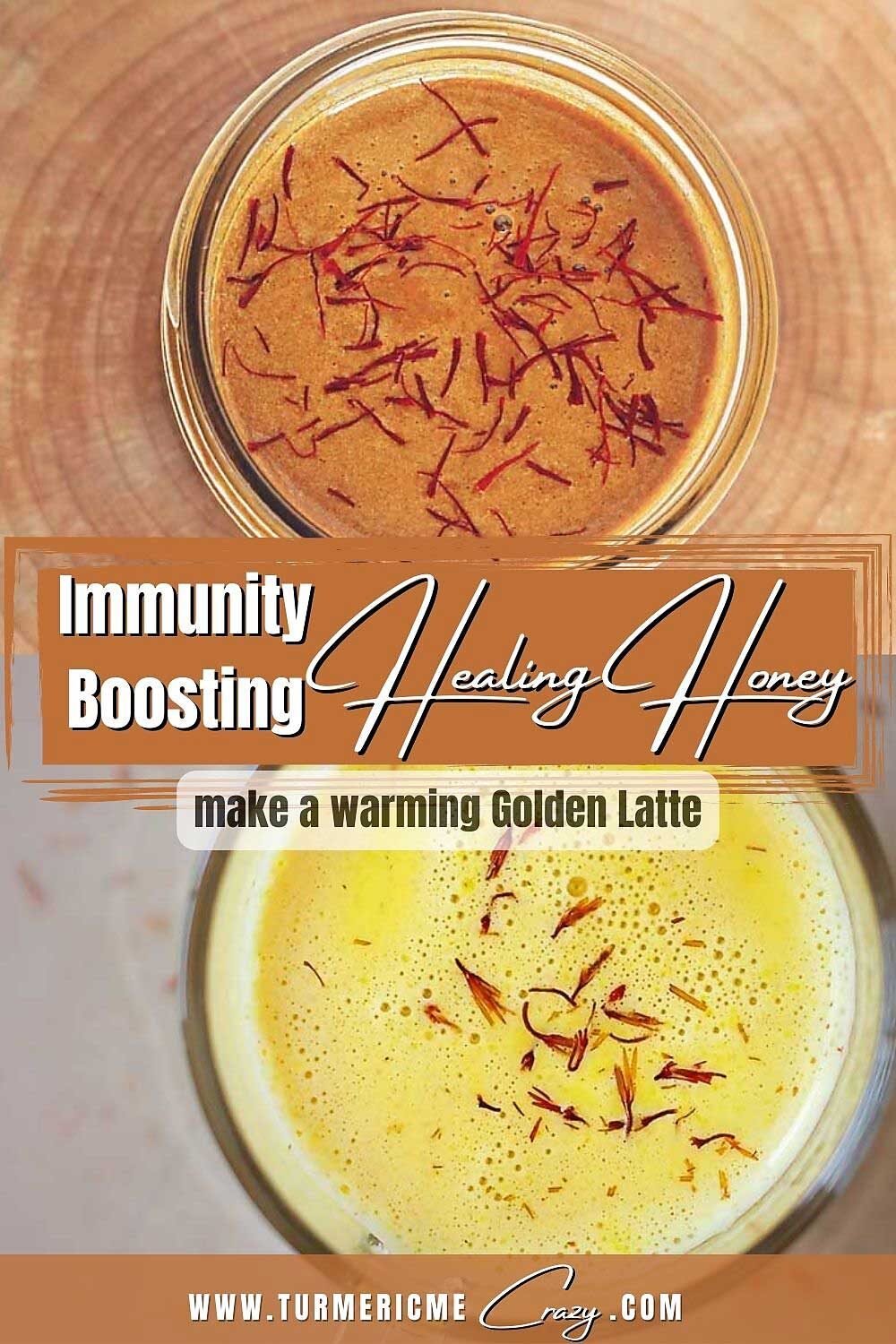 I sure do hope that you'll try & love this homemade, healthy, immunity boosting healing honey!  Aside from being incredibly delicious & healthy, it is so quick and easy to make. If you try it, I'd be ever so grateful if you'd put a positive rating & comment onto the recipe above or at the bottom of the post.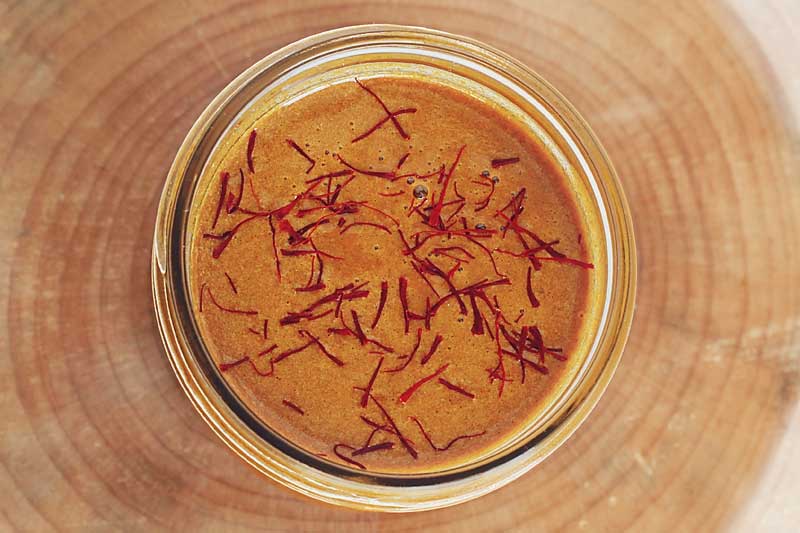 INGREDIENTS
INSTRUCTIONS
In a small saucepan, combine honey, turmeric & cardamom. Whisk on stove over low-medium heat until well combined. Do not boil.

Once well mixed & all honey melted, remove from heat & pour into mason jar.

Allow to cool completely & set (harden) at room temperature.

Sprinkle with a large pinch of saffron on top of honey.

Place lid on jar. If gifting, decorate to your liking.

Print FREE instruction tag & add to jar with ribbon.
Notes
Use this honey to make a lovely, warming & powerfully healing Golden Turmeric Latte. Just add 1-2 tsp of immunity boosting healing honey to 1 cup of milk of your choice. Heat over low-medium heat on a low simmer for 2-3 mins. Strain through a mesh strainer & enjoy warm!
Eat this honey off the spoon if you're feeling under the weather this cold & flu season. It will taste a little gritty due to the spices. I prefer to drink it melted into warmed milk as a golden latte.
Nutrition
Nutrition Facts
Healing Honey
Amount per Serving
% Daily Value*
* Percent Daily Values are based on a 2000 calorie diet.
please share this healing honey recipe ♥︎