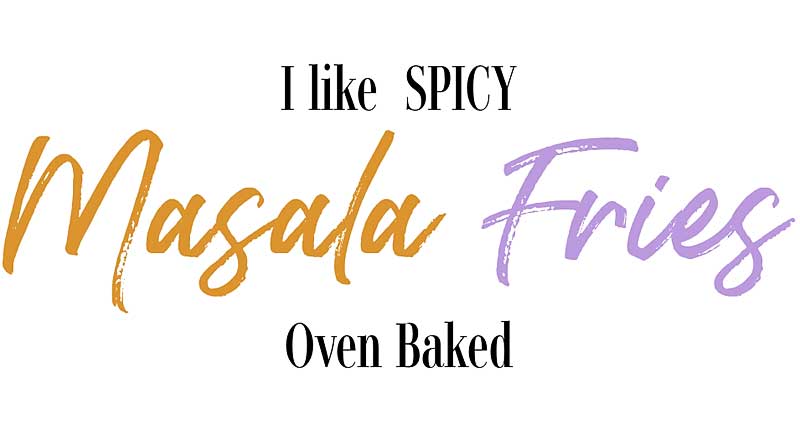 We had our family over for the weekend to celebrate Easter and made a huge delicious turkey! So now that we will be eating turkey for a week, we are going to have to be creative to keep our meals interesting! Tonight I made some yummy oven baked masala fries to spice things up.
Of course you will need to start with large russet potatoes like the ones in the photo below. I like to cut them up into long and skinny fries about half an inch thick. I use a fry cutter to make this job super speedy!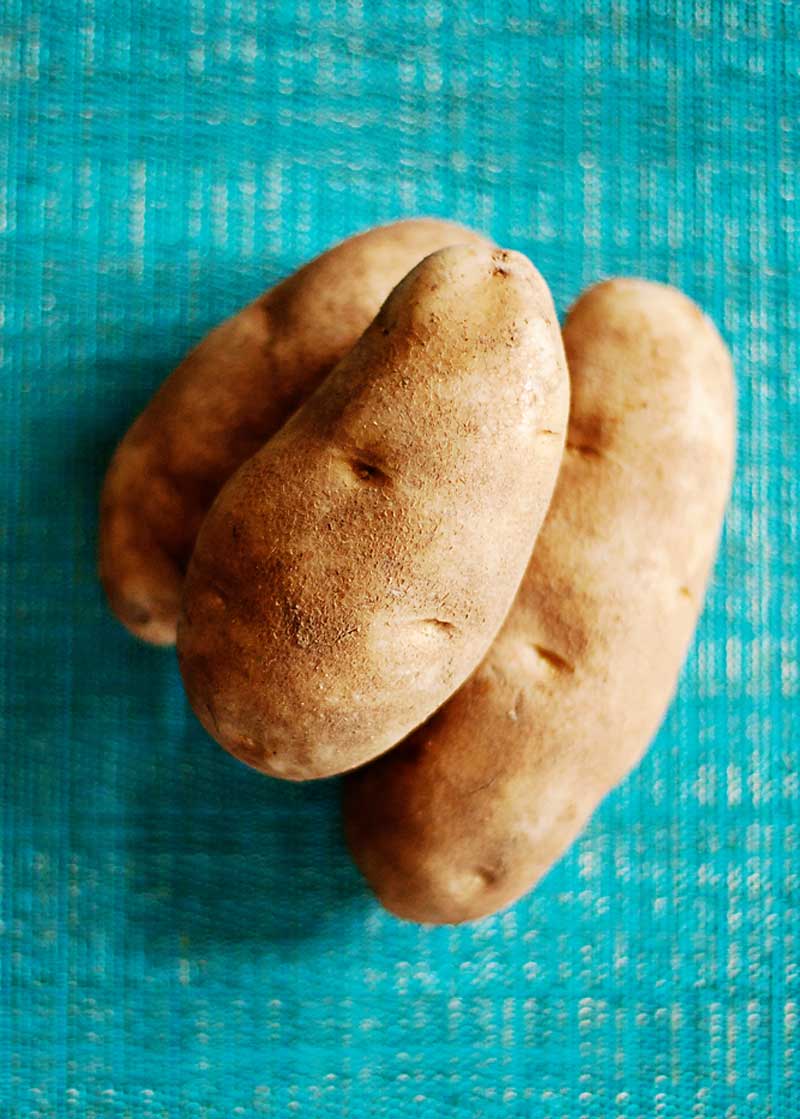 You may be wondering why the recipe is for oven baked fries. I am not a fan of deep frying as it is a much less healthy way to make anything really.. so you will notice that wherever possible I bake instead of fry. Truly, you will not be able to tell the difference if you follow the recipe in this post.
Since the fries are going to be baked and not fried, it helps to soak them in hot water for about half an hour before baking to soften them up and remove the excess starch from the potatoes. I let them soak for at least 30′ to up to all day. If you're in a pinch for time, even a quick soak and rinse is better than nothing.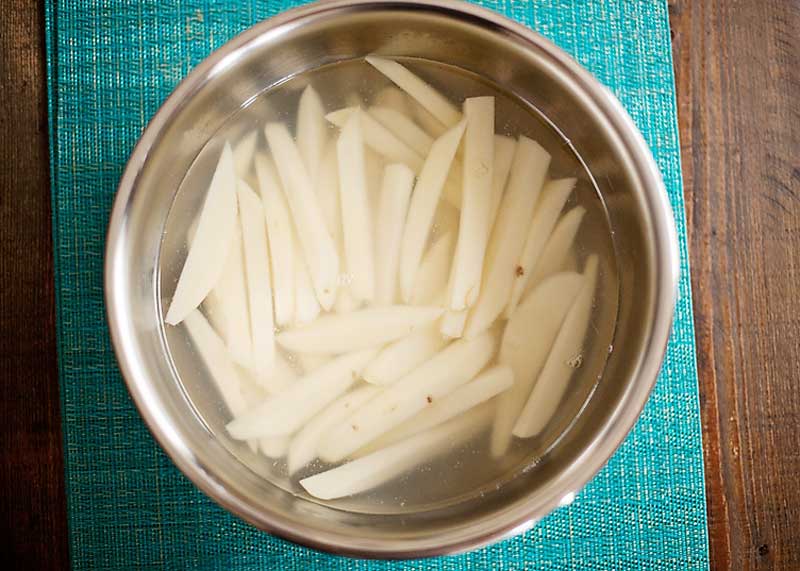 After soaking, drain out the water and dry on a paper towel or kitchen towel to remove ALL of the the excess water.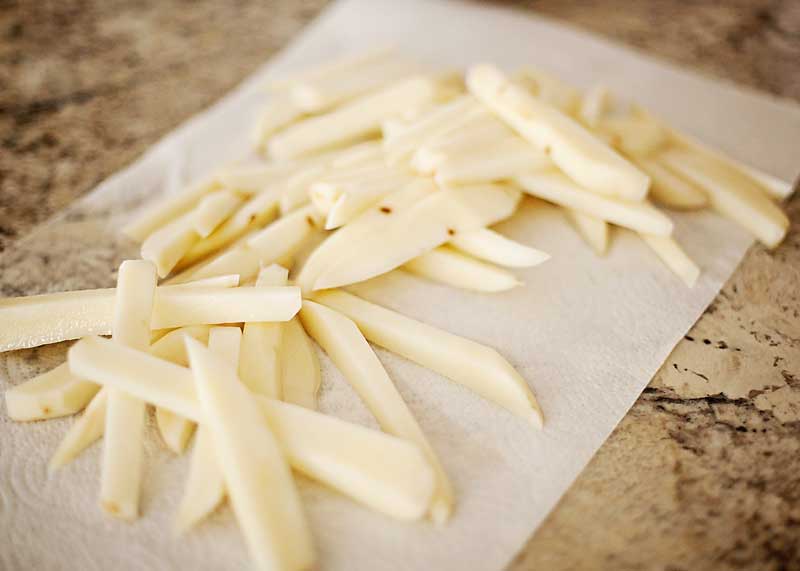 The key now is to coat the fries generously in olive oil so that they do not stick to the pan. The easiest way to do this is toss them with a couple of tablespoons of olive oil in a large bowl. Then simply pour them out onto a pan covered in aluminum foil. Because we are baking the fries, we need to be careful that they do not burn or get too dry. My solution is to cover the fries with foil for the first 10 minutes of baking to lock in the moisture and prevent the tips from burning.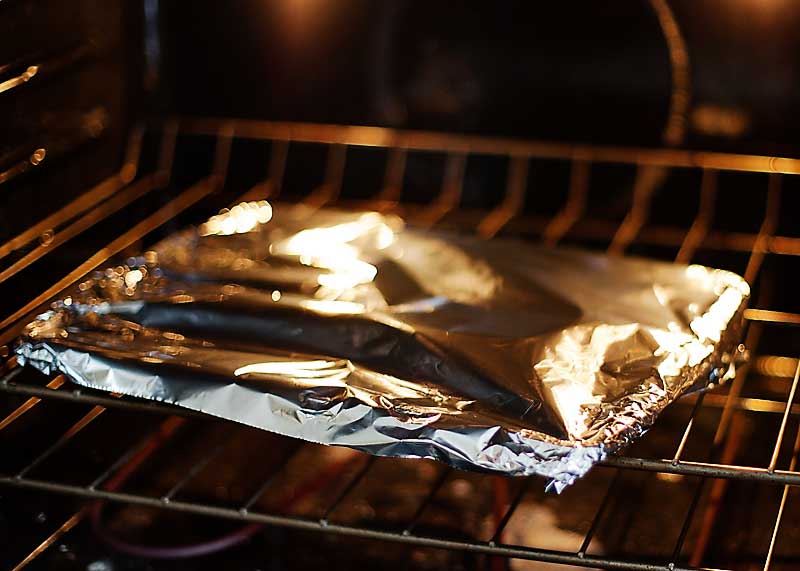 While the fries are in the oven, you can work on the masala seasoning. This is super quick and easy. Just sauté some garlic, turmeric, mustard seeds, paprika, cayenne pepper and salt with some extra virgin olive oil.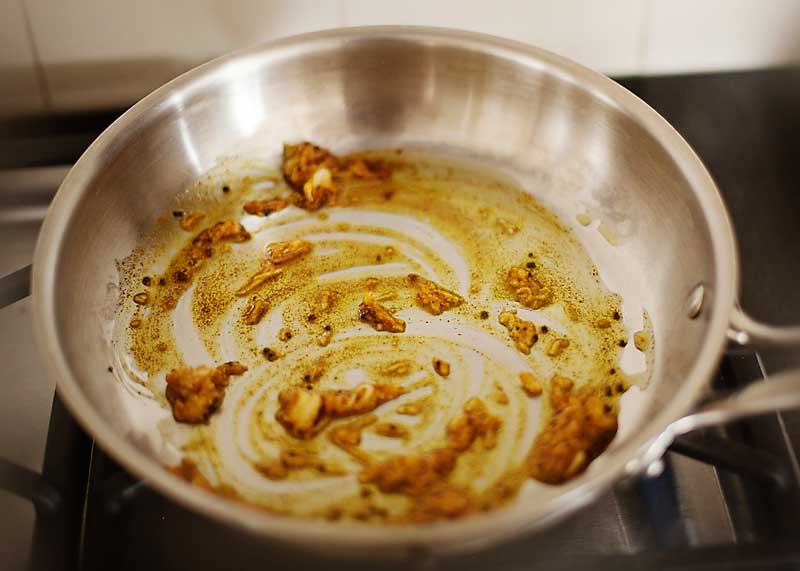 Add your crushed tomatoes, a little bit of water and cook for about 5 more minutes. Make sure to check out the label on the ingredients list to avoid additives. I use Muir Glen Organic Fire Roasted Crushed Tomatoes. I find they add a lovely depth of flavour to the dish.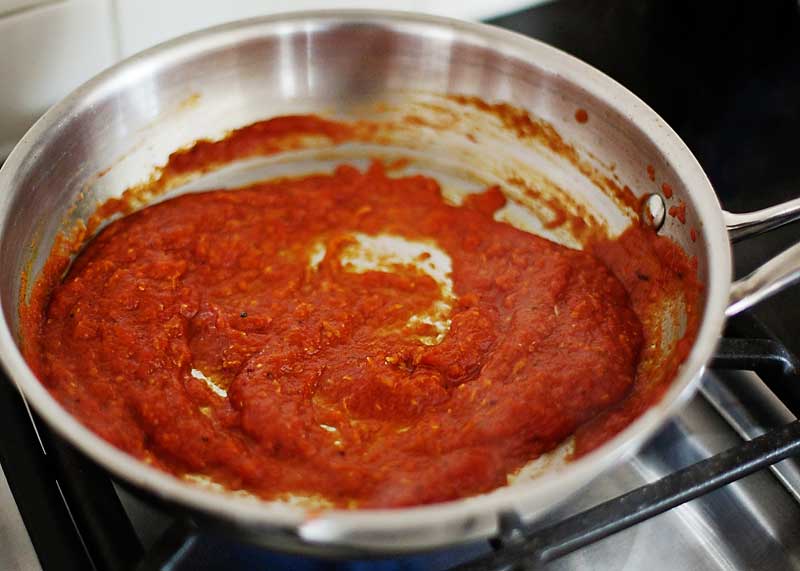 Once the fries are ready, simply toss into the masala and season with lime juice and chopped up hot peppers.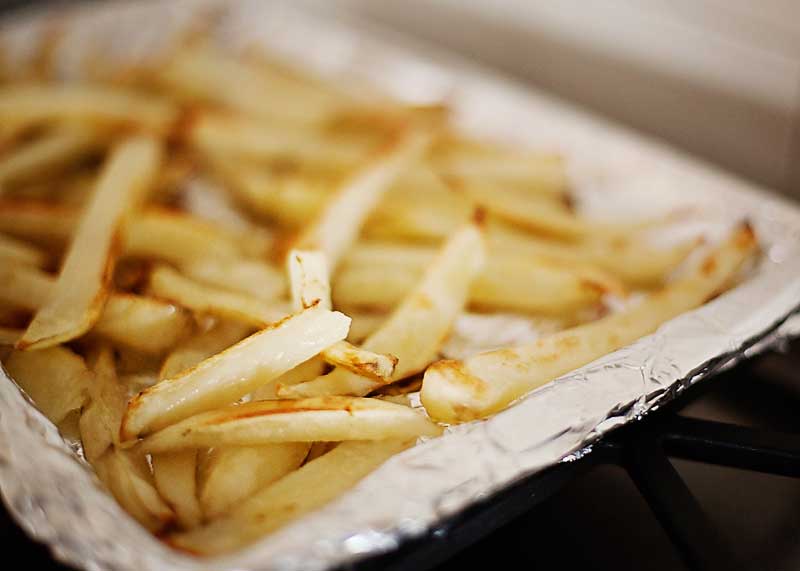 Seriously, these fries were amazing with the turkey and I'll be making them a lot more often with with barbecue season around the corner. They would be perfect with tandoori chicken, beef ribs, and so much more. I hope you enjoy this recipe and I would love to hear from you in the comments below.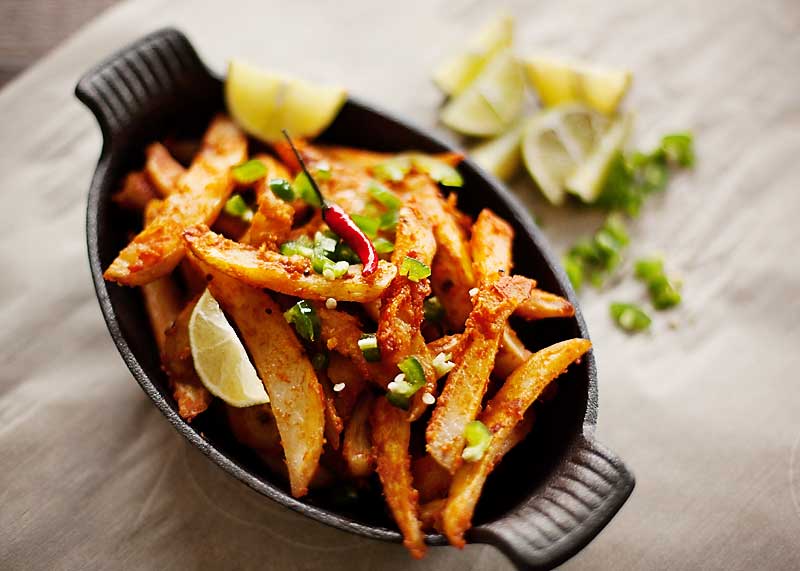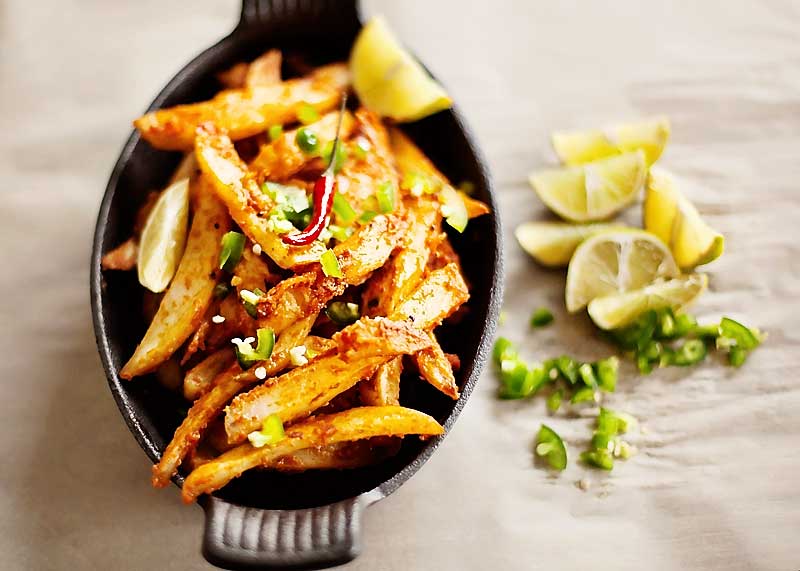 ENJOY!
I sincerely hope you all LOVE this recipe! If you make this recipe, please be sure to rate it and leave a comment below so I know you love it. Or even better I love it if you take a pic, upload it to Instagram and tag #Turmeric_Me_Crazy. If you have questions, please contact me. Please subscribe to keep up to date with my latest recipes.
Thank you ever so much for your readership!
Hugs,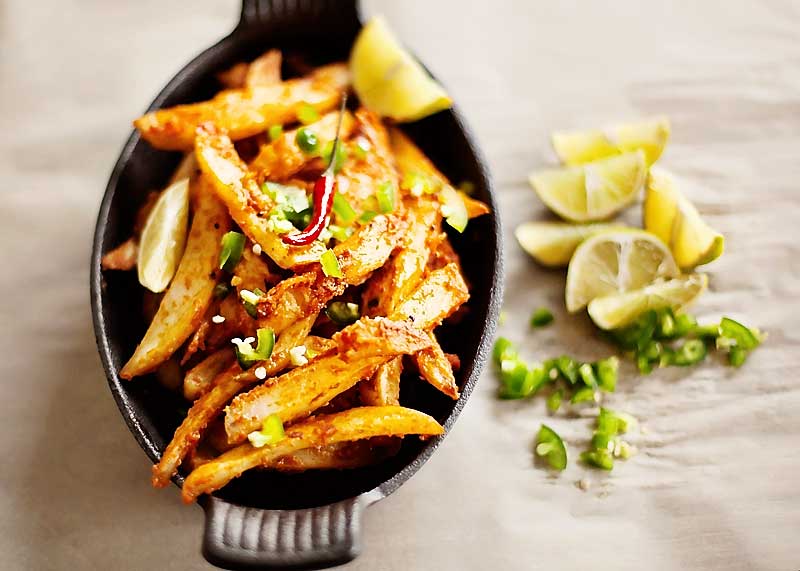 INGREDIENTS
3

Potatoes

Large Russet

3

tbsp

Olive Oil

1

tbsp

Garlic

Crushed

¼

tsp

Turmeric

¼

tsp

Paprika

½

tsp

Cayenne Pepper

Crushed

½

tsp

Salt

½

tsp

Mustard Seeds

⅔

cup

Crushed Tomato

Canned (I use Muir Glen organic fire roasted crushed)

t

tbsp

Water

½

Lime
INSTRUCTIONS
Preheat the oven to 415 degrees F. Peel and cut potatoes into fries half and inch thick. Soak the fries for at least half an hour in hot water.

Drain water out of the fries and dry the fries on paper towel. Once dry, toss the fries in two tablespoons of olive oil. Pour the fries out onto an aluminum foil covered baking sheet and sprinkle with salt.

Cover the fries with another sheet of aluminum foil before placing them in the preheated oven. Bake for 10 minutes and then remove the foil and flip the fries. Bake for another 10 minutes before flipping once more. Bake again for 10 more minutes before removing from the oven. This is a total of 30 minutes baking time.

To make the masala: Sauté mustard seeds, garlic, turmeric, paprika, cayenne pepper, and salt in olive oil for 2 minutes over medium heat. Add the crushed tomato and a tablespoon of water and cook for another 5 minutes. Remove from stove.

Toss the baked fries into the masala and sprinkle with juice from half a lime. Sprinkle with chopped hot peppers.
Notes
Nutrition Facts
Spicy Oven Baked Masala Fries
Amount Per Serving
Calories 243
Calories from Fat 126
% Daily Value*
Total Fat 14g 22%
Sodium 320mg 13%
Potassium 667mg 19%
Total Carbohydrates 29g 10%
Protein 3g 6%
* Percent Daily Values are based on a 2000 calorie diet.
Nutrition
Nutrition Facts
Spicy Oven Baked Masala Fries
Amount per Serving
% Daily Value*
* Percent Daily Values are based on a 2000 calorie diet.