There is nothing like the pure joy of biting into a perfectly crisp on the outside, chewy on the inside chocolate chip cookie straight out of the oven! These brown butter gluten free oatmeal chocolate chip cookies are out of this world delicious! 
This to die for gluten free cookie recipe was truly a collaboration with my wonderful mother-in-law Bev. She is honestly famous for her oatmeal chocolate chip cookies. So much so, that years after eating them, friends who have had the pleasure of eating one still talk about it! She bakes cookies for our entire family every weekend! So needless to say, we needed to create a gluten free, egg free, corn free version for me! I couldn't miss out on the Sunday cookies! So she and I worked together to perfect this recipe & it is truly incredible! Thanks Bev for all of your wisdom and for sharing your secret ingredient with us all ♥︎!
Make these cookies alongside me..
PIN THIS gluten free oatmeal chocolate chip cookie RECIPE
For more FREE stuff & lovely recipes, please subscribe & follow me on my Youtube Channel, Pinterest, Instagram & Facebook.
Already on Pinterest?
Please feel free to PIN the picture below for future reference & so others can find it too.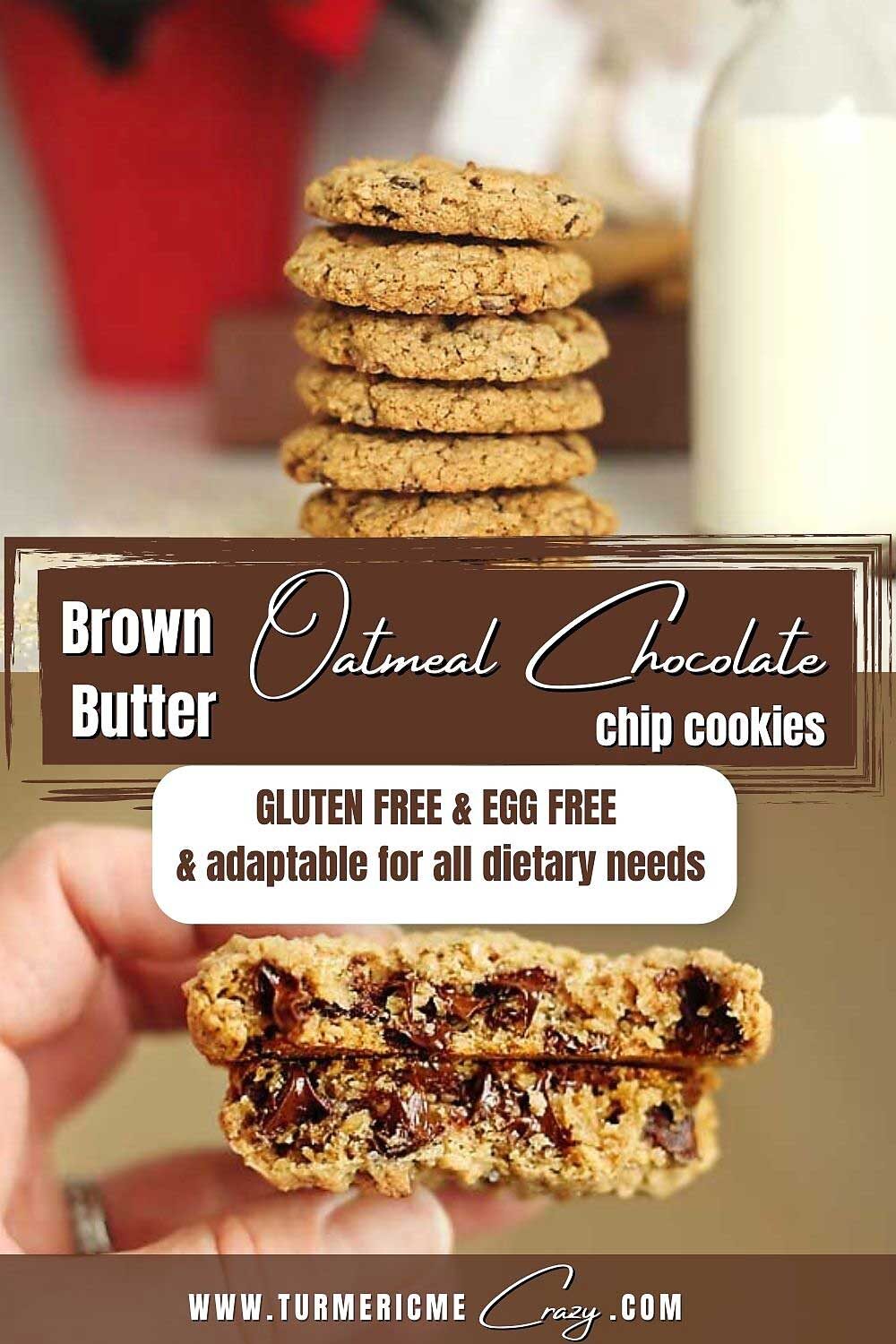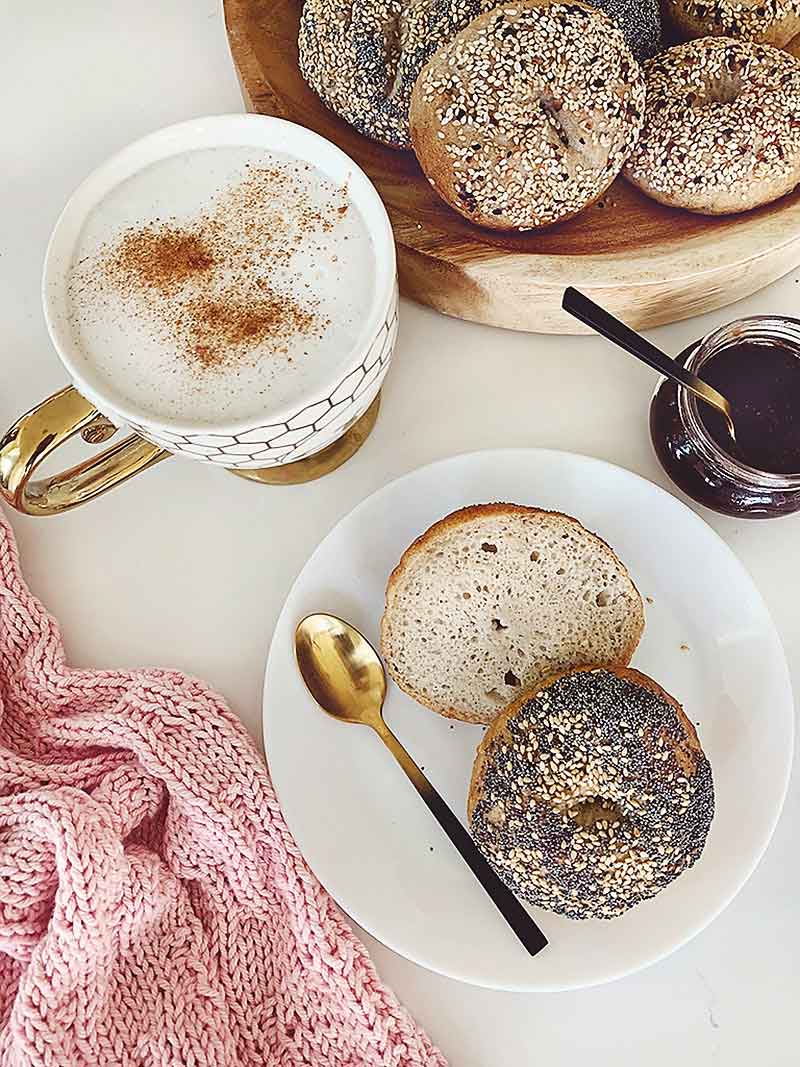 Want more delicious recipes at your fingertips?
Get updates on our latest posts & recipes from TurmericMeCrazy straight to your inbox!
By clicking subscribe you are consenting to receive emails from TurmericMeCrazy. I will only email you monthly with new recipes & updates. No spam I promise!
I sure do hope that you'll try & love these incredibly mouth watering brown butter oatmeal chocolate chip cookies!  Aside from being incredibly delicious they are SO quick and easy to make. If you try it, I'd be ever so grateful if you'd subscribe & also put a positive rating & comment onto the recipe above or at the bottom of the post. This will help my website grow.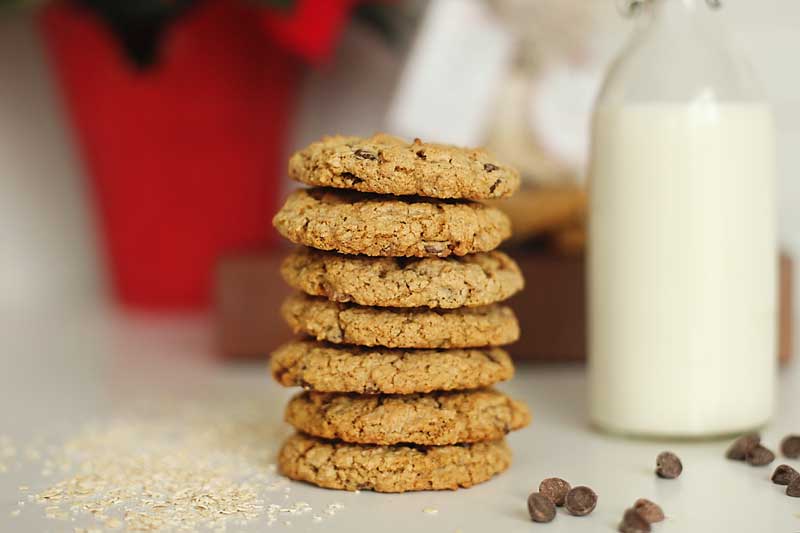 INGREDIENTS
113

g

Unsalted Butter

(about 1/2 cup) if using salted - omit the sea salt from recipe

80

g

Brown Sugar

I use dark brown or Demara (about 1/2 cup)

110

g

Cane Sugar

about 1/2 cup

18

g

Rum or Pure Vanilla Extract

* Rum is Mom's secret ingredient

45

g

Plain Greek yogurt

I use 10%

125

g

Crazy Good Gluten Free All-Purpose

see below for details & substitutes

12

g

Psyllium Husk

whole

2-3

g

Sea Salt

about 1/2 tsp

6

g

Baking Soda

about 1 tsp

3

g

Baking Powder

corn & aluminum free (about 1 tsp)

45

g

Milk of your choice

warmed slightly (I use 12% fat milk)

150

g

Gluten Free Oats

I use spouted rolled oats

150-170

g

Chocolate Chunks or Chips

(about 1/3 cup each of milk & bittersweet)

Sprinkle

Flaky Sea Salt

(like Maldon) optional for post bake topping
INSTRUCTIONS
Preheat oven to 350°F (190°C) convection.

Brown the butter over medium heat. See video in post above for detailed instructions.

In the bowl of a stand mixer add brown butter, brown sugar, cane sugar, yogurt & rum (or vanilla), & mix until smooth.

Sift in flour, psyllium husk, baking powder, baking soda, & sea salt. Mix for 2-3 mins starting on low, until slightly combined, then slowly add warmed milk. Scrape down sides of bowl if needed. Mix on medium-high 2 more minutes until well combined.

Next, add the oats & continue mixing for 2 more minutes until all incorporated & creates a nice cookie dough. Dough will seem way like it is not thick enough. Don't add more flour!

Gently fold in chocolate chips. Cover & let dough rest in the FRIDGE for at least 15-30 mins. You can let it rest for up to 36 hours if you'd like to make your dough ahead of time. The binders & starches will absorb the liquids & act as a gel & the cookie dough will reach the perfect consistency.

Roll into balls & place on parchment lined cookie sheet well spaced apart.

Place into freezer for 10-15 mins to prevent excess cookie spread during baking, helping to maintain the shape & texture of the cookie. This step also develops the flavour. Don't skip this step!

Bake on middle rack for 10 mins until slightly golden. You'll know they are done when they start to flatten on top. The cookies will puff up a lot, then in the last minute will flatten to the perfect cookie! Let rest 10 mins & enjoy warm with a glass of your favourite milk or Ella's Eggless Nog!
Notes
These cookies make the perfect DIY hostess gift or Christmas gift. Cookies in a jar! See my post here for fully recipe instructions & FREE printable instructional gift tags.
*Make these incredible Oatmeal Chocolate Chip Cookies for Santa this Christmas!
**Make sure to watch the cookies as you don't want them to overcook! Gluten Free cookies continue to bake once removed from the oven. They should look just baked!
To make 125g Crazy Good Gluten-Free All-Purpose Flour
I recommend always have a large container of this blend made up ahead of time, but just in case you haven't:
31g Sweet Rice Flour (can substitute with Oat flour)
25g Brown Rice Flour (can substitute with sorghum or buckwheat)
25g Sorghum Flour
25g Potato Starch (not potato flour - can sub with tapioca or arrowroot starch)
19g Tapioca Flour (aka starch)
To CUSTOMIZE this recipe to your specific dietary needs:
Instead of 125g of Crazy Good All-Purpose Flour use:
31g Binding Flour 
44g Starchy Flour 
50g Whole Grain Flour
Binding Flours: Sweet Rice Flour, Oat Flour, Cassava Flour (choose 1/2)
Starchy Flours: Tapioca Flour, Potato Starch, Arrowroot Powder (choose 1/2)
Whole Grain Flours: Sorghum Flour, Brown Rice Flour, Buckwheat, Millet or Teff flour (preferably choose 2 or at least 1).
FREEZING & THAWING:
To Freeze: Place in airtight container once fully cooled. Last for weeks!
To Thaw: Leave on counter for a few hours or heat for 20-30 secs in microwave.
Nutrition
Nutrition Facts
Mom's Famous Gluten Free Oatmeal Chocolate Chip Cookies
Amount per Serving
% Daily Value*
* Percent Daily Values are based on a 2000 calorie diet.