Quickly & easily make your own DIY Gluten Free Flours at home, like this Brown Rice Flour, in just 3 simple steps! Use this lovely DIY gluten free flour to make delicious gluten free bakes! Super fine Brown Rice Flour will make a HUGE difference to your gluten free baking! This finer, powder like brown rice flour, in combination with starches (like tapioca, potato or arrowroot) & binding flour (like sweet rice flour) will make a gluten free mix more like a cake flour producing beautifully fluffy bakes!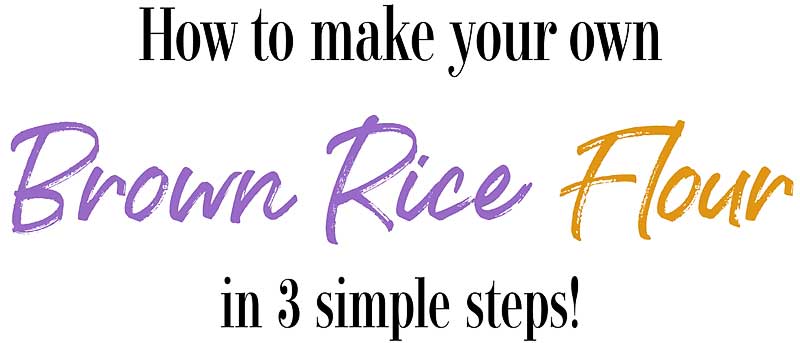 Easy to make with step by step video instructions (even 1st time gluten-free bakers can make it).
DIY Gluten Free Brown Rice Flour FASTER than you can make it to the store to buy some!
Grind your flour fresh, when you need it!
Never have to worry about the store being out of stock!
Fresh flour tastes better & makes better Gluten Free Baking.
Use this fresh brown rice flour to replenish & reactivate & or create your brown rice sourdough starter.
Want to make GLUTEN FREE SOURDOUGH?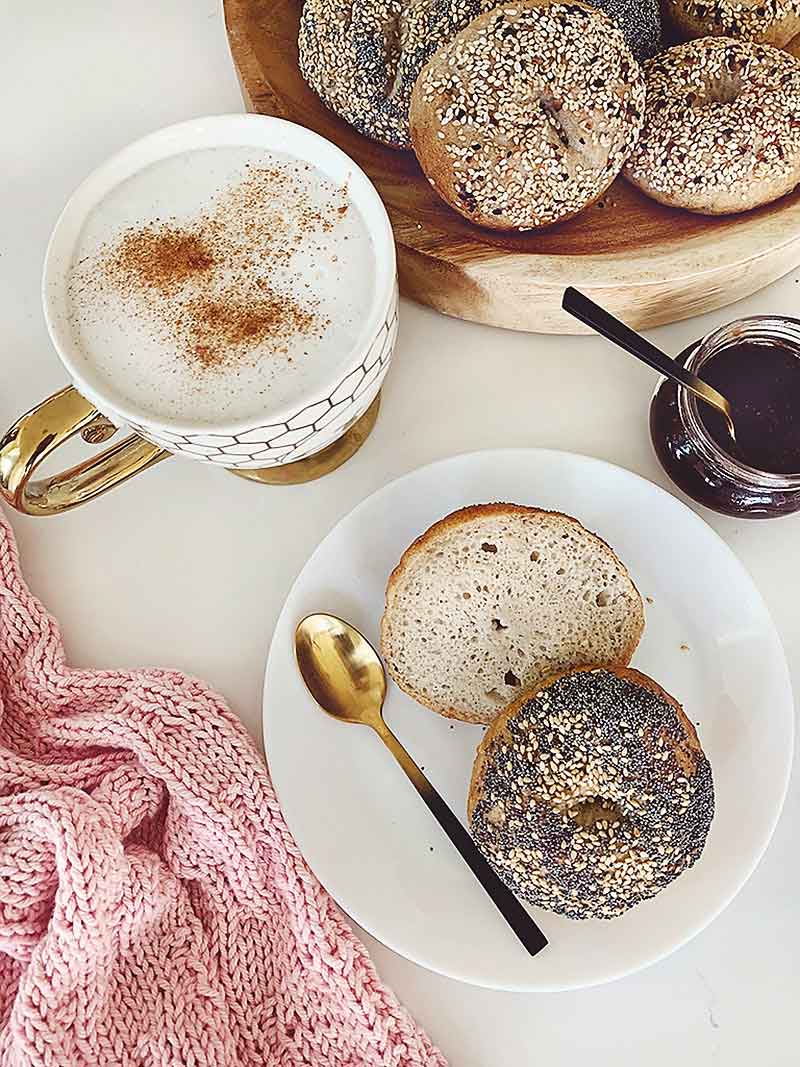 Want more delicious recipes at your fingertips?
Get updates on our latest posts & recipes from TurmericMeCrazy straight to your inbox!
By clicking subscribe you are consenting to receive emails from TurmericMeCrazy. I will only email you monthly with new recipes & updates. No spam I promise!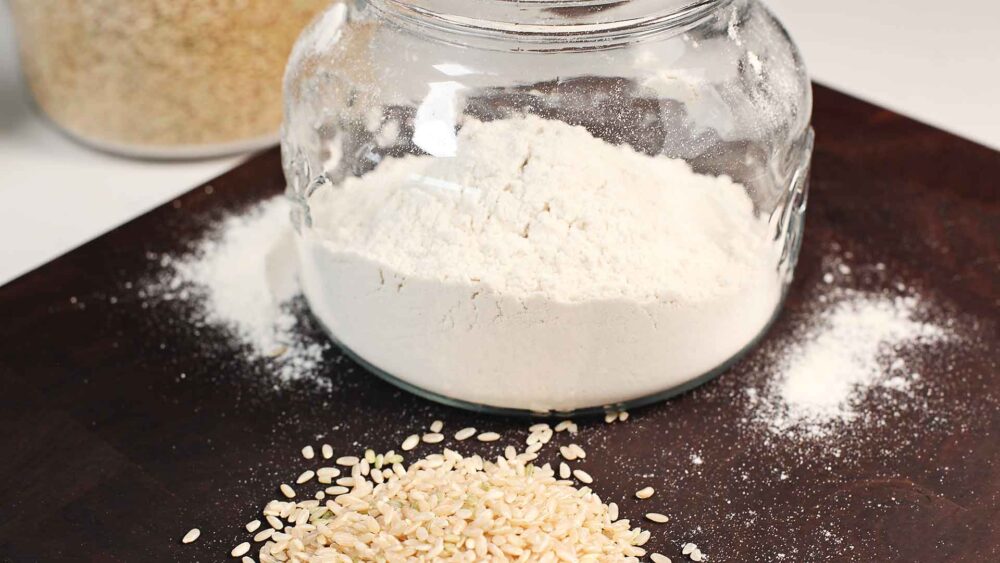 BROWN RICE – I recommend buying an organic, gluten free rice if possible as this will create the best flour (especially for a sourdough starter).
WATER – Fresh, clean water is all that you need!
MATERIALS LIST - DIY Gluten Free FLours
Large Bowl

Fine Mesh Strainer

Towel & or Paper Towel

Baking Tray (lined with Parchment)

High Speed Blender (e.g. Vitamix)

Container to store flour
how to make gluten free brown rice flour
PIN THIS diy gluten free flours how to guide for later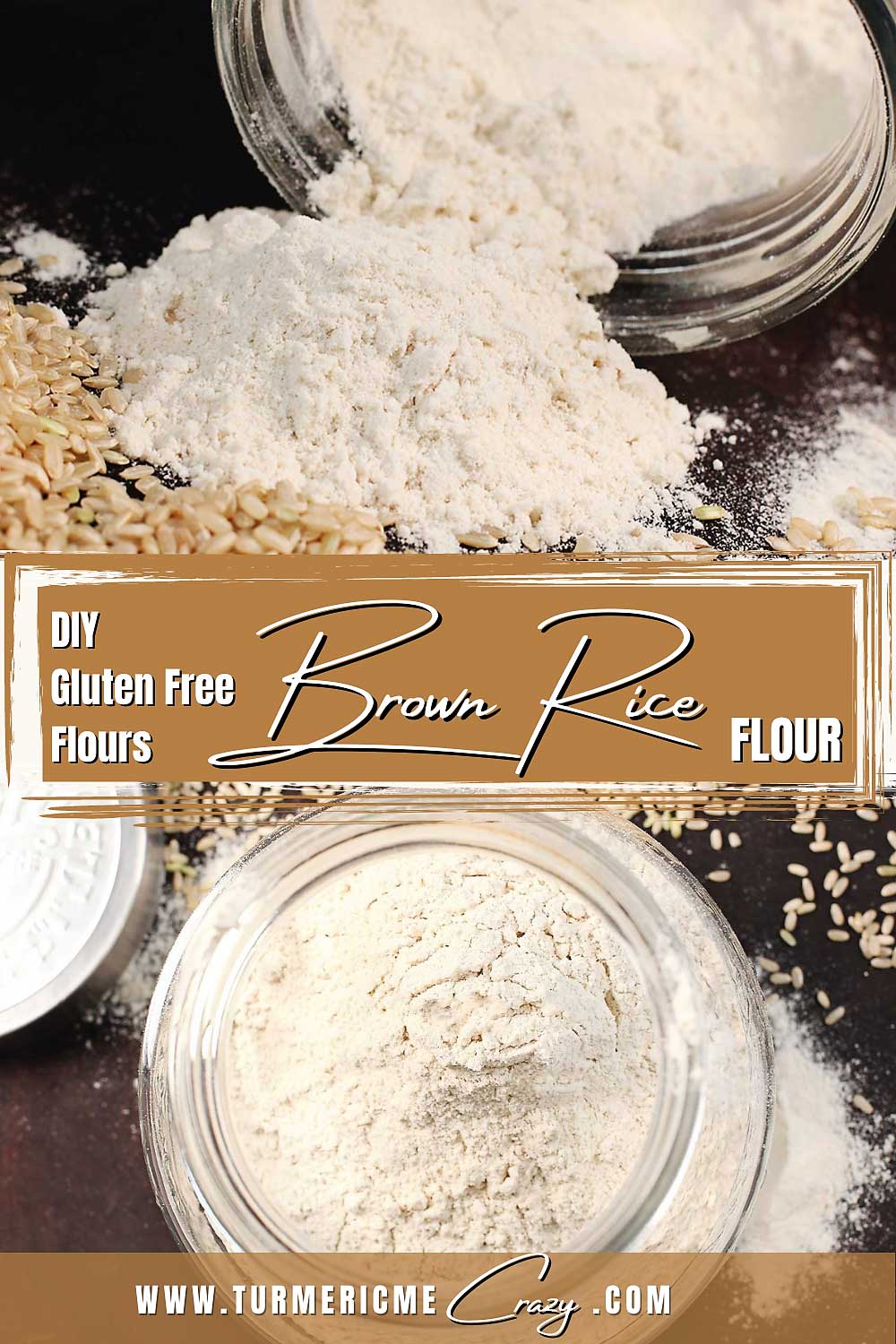 FREQUENTLY ASKED QUESTIONS
Can't find the answer to your question? Please feel free to contact me anytime in the comments below or privately on my contact page.
Ever go to the store looking for a specific gluten free flour and they are sold out? I sure have! In fact, I have been on the hunt for certain flours for hours, scouring stores, only to be left disappointed. Yes, we can order online, but what if you want to bake right now? Knowing how to make your own gluten free flours means freedom to bake when you want to!
Bake when you want to bake!
Never worry about supply of flours at the store.
Grind flours fresh when you want to bake! 
Freshly ground flour = better tasting bakes.
Often save money by buying rice in large bags & grinding yourself!
Yes! Brown Rice is naturally free from gluten, however, where things get tricky is in the farming & the processing facilities. If the rice is processed and packed in a facility that is not dedicated to gluten free, there is always a risk of contamination. It has also been stated by some that if the rice crop is not grown in a dedicated gluten free zone, then gluten can contaminate the crop as well.
This is why I suggest using organic, gluten free brown rice, but of course the choice is totally yours!
This is a tricky one, I have not tried this and don't believe that the coffee grinder would be powerful enough to make the flour fine enough for gluten free baking. Superfine brown rice flour will produce lighter, more delicate treats, allowing for more lift & expansion of your doughs! 
With that said, if all you have is a coffee grinder, give it a try. Grind a VERY small amount at a time and sift several times. It may just work!
I sure do hope you love this Gluten Free Brown Rice Flour how to guide. If you try it, I'd be ever so grateful if you'd please add a comment & a rating onto the recipe below or at the bottom of the post ♡. This will help Google recognize it and help my website grow.
Thank you once again for your readership & support.
Now let's make some flour!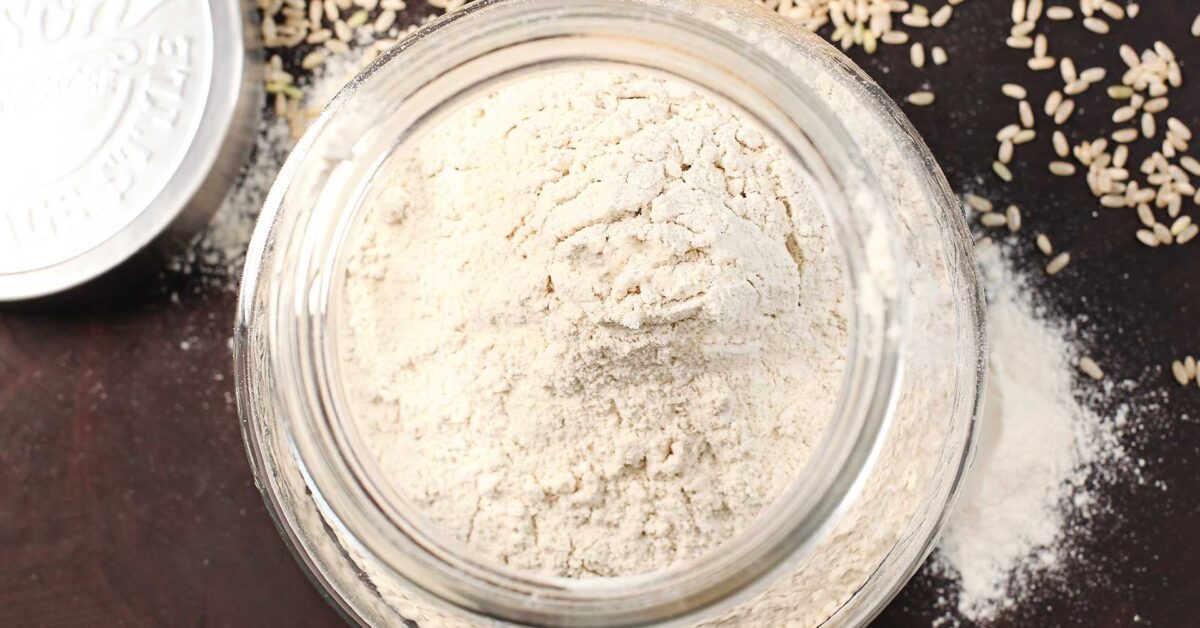 Print
How to make your own Gluten Free Flours - Brown Rice Flour
Easily make your own Gluten Free Flours like this Fine Brown Rice Flour! Soft & fluffy DIY brown rice flour in 3 simple steps to use in all of your gluten free baking!
Equipment
1 Large Bowl

1 Towel & or Paper Towel

1 Baking tray

1 Air Tight Container
Materials
2

cups

Brown Rice

Organic & Gluten Free (400g)

4

cups

Fresh Water
Instructions
Step 1: Wash Rice Grains
Add rice grains to a bowl, cover with water & swish around with hands

2 cups Brown Rice,

4 cups Fresh Water

Over the sink, pour rice through fine mesh strainer, then rinse under water tap until water runs clear.
Step 2: Dehydrate Rice Grains
Pour cleaned rice onto towel & pat dry with towel and or paper towel.

Pour rice onto baking tray lined with parchment paper.

Dehydrate in oven at 150°F (66°C) for 30 mins. If no dehydrate setting, put oven to lowest temperature (usually around 175°F = 79°C) and dry for 15-20 mins. Dehydrate until rice is completely dry & slightly toasted.

* Make sure to dry your fine mesh strainer completely as you will use it again.
Step 3: Grind Rice Grains to a fine powder
Use parchment paper to put all rice into high speed blender.

Grind on low then increase to high for 30 seconds.

Using a dry fine mesh strainer, sift flour to filter out any large grains. Discard large grains.

Return flour to blender & blend in 10 second intervals (start on low & increase to high) scraping down the sides of the blender in between each interval. Repeat 2-3 times until reaches a fine powder consistency.

Store your DIY brown rice flour in an airtight container & use within 1 month for best results!
Video
Notes
See FAQ above to see if you can use your blender or a coffee grinder.
Fine Brown Rice Flour will produce better baking results. Don't skip the sifting step!
Want to make gluten free sourdough...?
Would you like to make a Gluten Free Sourdough Loaf with your fresh Brown Rice Flour? You'll love how easy making this bread becomes with my FREE BAKING TIMELINE & follow-along videos. I sure hope that this helps give you some ease in your gluten free sourdough journey!
OTHER DELICIOUS RECIPES TO TRY...
please share this DIY GLUTEN FREE Flour recipe ♡!