A delicious classic Indian cookie, Nankhatai is a traditional Indian shortbread!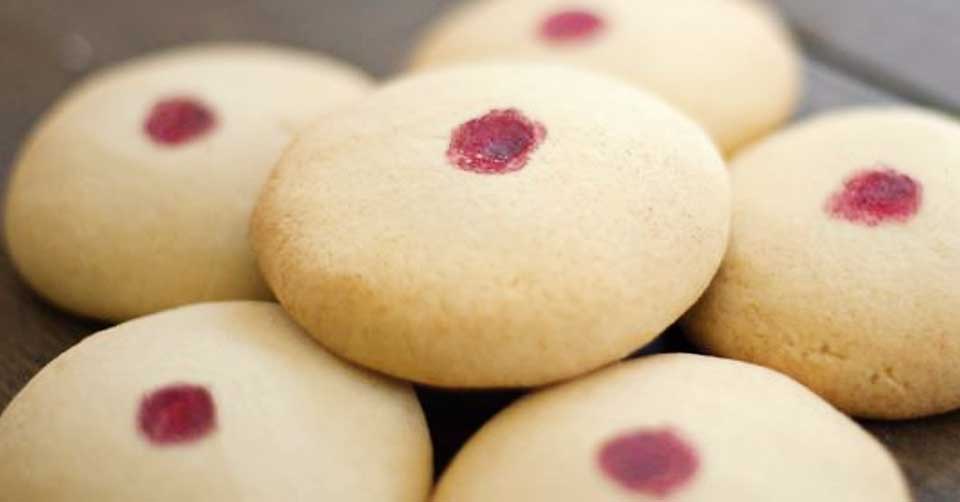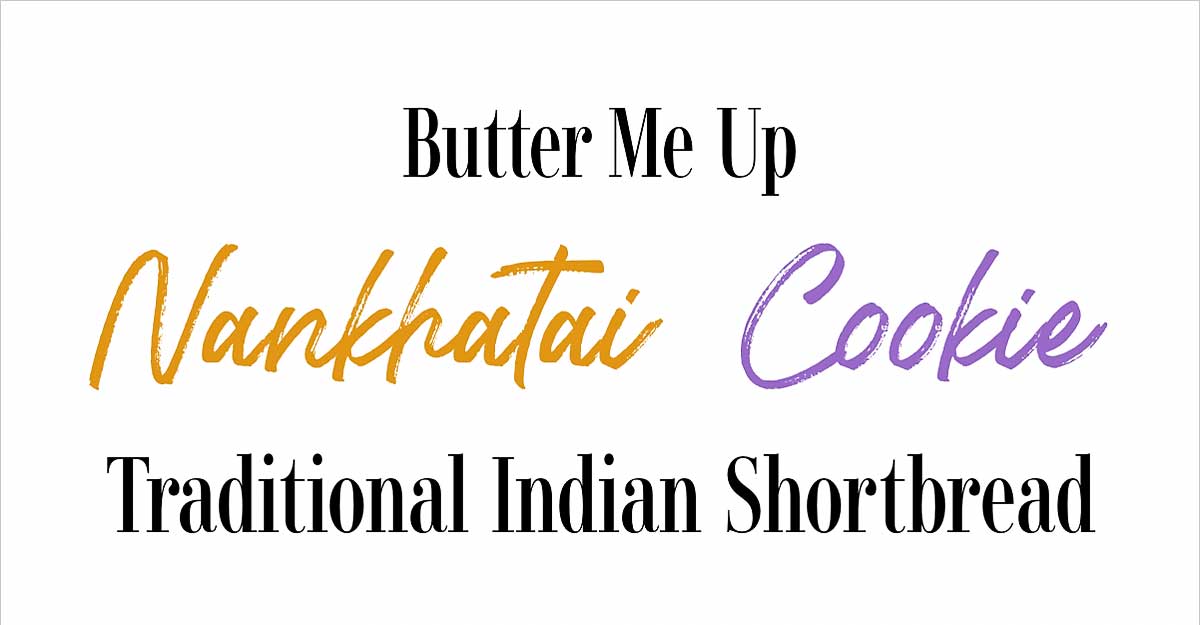 Butter Me Up Nankhatai (Traditional Indian Shortbread) are a yummy Indian cookie made with semolina, which is a type of coarse flour made from wheat taught to me by my amazing friend and next door neighnour, Alnaar.
Sadly, it contains gluten. It also contains eggs, and dairy. I have kept it here, as I have all of the original recipes, for those of you who love it and would like to keep the recipe the same! Please stay tuned and follow me as I will have the gluten, egg and dairy free alternative options for most of these original recipes coming soon! When I do, I'll post it here.
Nankhatai is pretty much the Indian version of shortbread. Buttery and crumbly and delicious. If you are looking for the perfect dessert to pair with coffee or chai, this is it.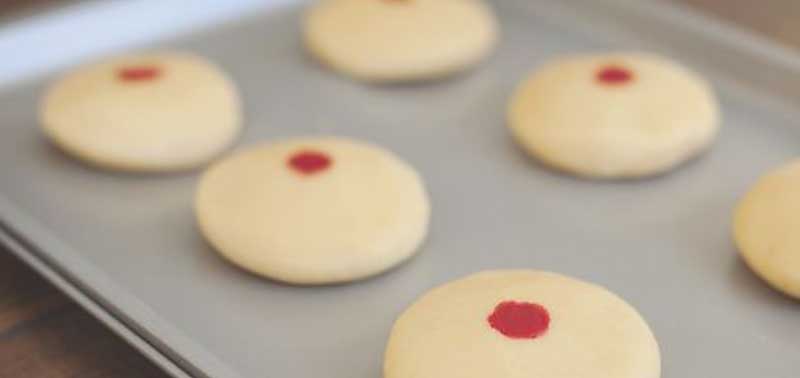 Unlike shortbread cookies, Nankhatiai's are somewhat healthier for you. Semolina is digested more slowly than regular flour and therefore has a low glycemic index! So there you go, you can feel a little bit less guilty eating these cookies. Not that we should EVER feel guilty for treating ourselves to a treat once in a while!
Why do Nankhatai have red dots?
Traditionally, Nankhatais have an orange dot (made by dipping your finger in food colouring and stamping the centre of the cookie), but I prefer red. I don't know, there's just something about red that makes me feel happy! I can't describe why…
If your little ones love a certain colour… feel free to go crazy and use whatever colour you like to decorate the cookies. There is another variation of the Nankhatai, where you add cocoa powder to half the batch and then swirl one ball from each batch together to form a swirly half vanilla – half chocolate cookie. Looks very pretty this way too!
History of Nankhatai Cookie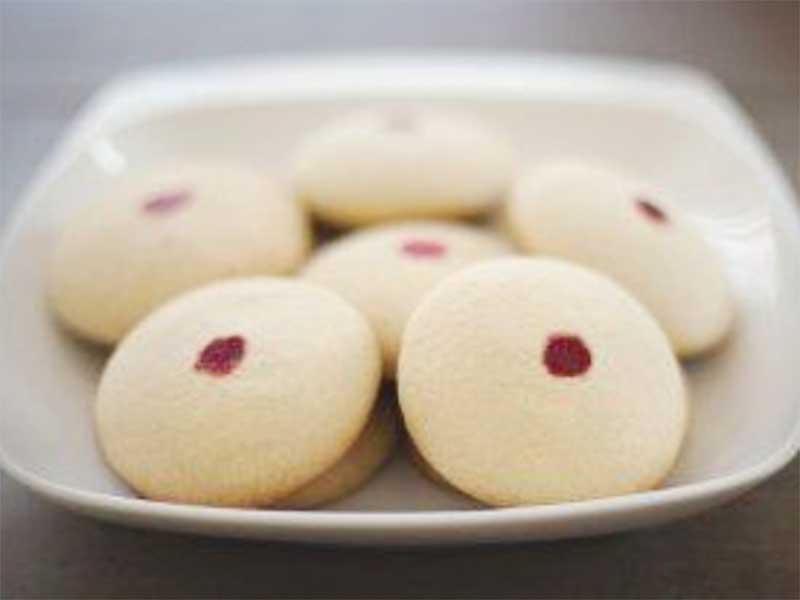 According to some online sources, it appears that the cookie has Dutch and Persian roots dating back to the end of the 16th century and the recipe for Nankhatai cookies varies by region. The recipe in this post is for the cookies that have been made traditionally by the Khoja Ismaili Indian culture that settled in East Africa during the early 1900's (my friend Alnaar's ancestors).
Ingredients in Traditional Indian Shortbread
Ground Cardamom (you can either freshly grind – I recommend this) or buy it ground.
All Purpose & Semolina Flours
I use Savor Grass Fed Butter.
Powdered (Icing) Sugar. Did you know that Icing sugar is usually made with corn? To make this recipe Corn Free try my favourite brand Wholesome which is made with tapioca starch.
Traditionally orange but try any colour you fancy!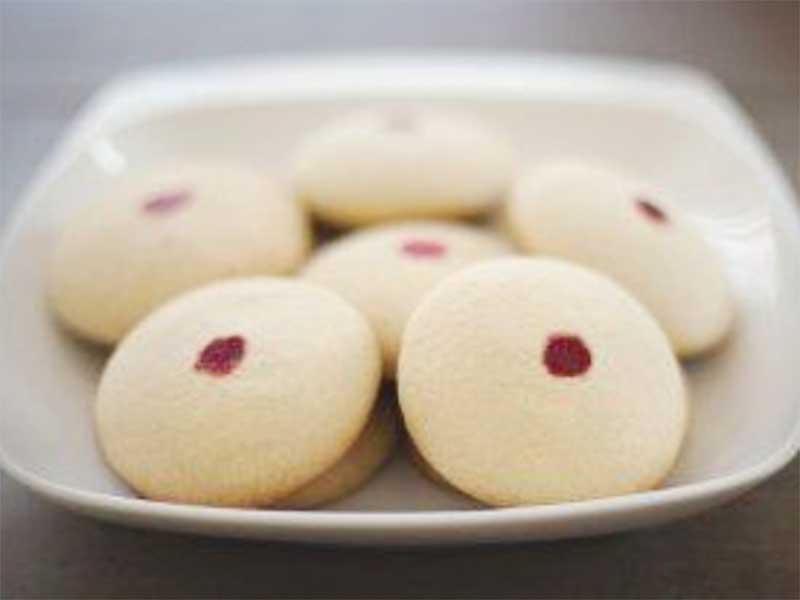 ENJOY!
I hope you enjoyed this Butter Me Up Nankhatai (Traditional Indian Shortbread) recipe! I'd love to hear from you in the discussion section below about your experience making this delicious treat.
With gratitude and thanks for stopping by,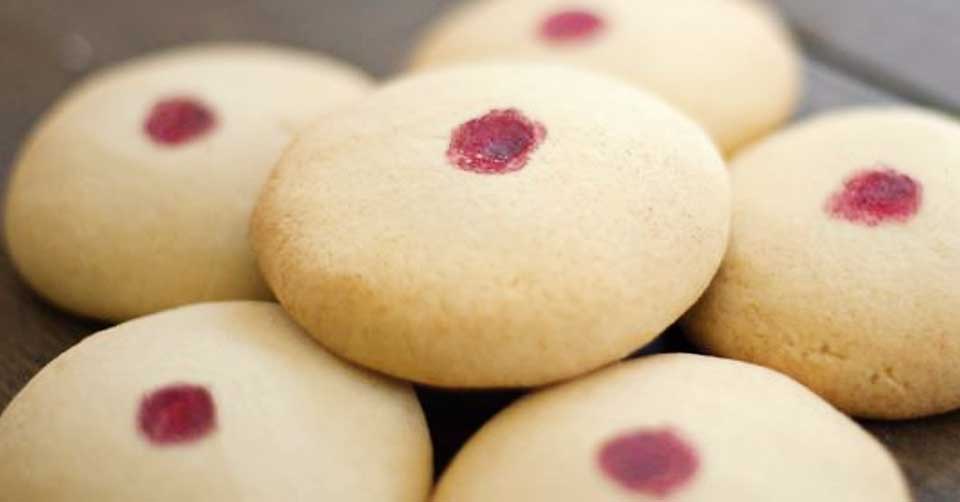 INSTRUCTIONS
Preheat oven to 350 degrees F (175 degrees C).

Cream together butter and icing sugar.

Beat in the egg, followed by the vanilla.

Slowly beat in the semolina and cardamom.

Sift together the flour and baking powder. Beat into the batter until the dough is formed.

Separate the dough into 10 evenly sized portions. Roll each ball in your palm to make a ball and flatten. Place on baking sheet.

Create a dot at the centre of the cookie with food colouring.

Bake in preheated oven for 25 to 30 minutes. The cookies should just start to look golden brown before you remove them from the oven.

Allow cookies to cool and serve with Chai, Coffee, or milk.
Notes
Nutrition Facts
Nankhatai Recipe
Amount Per Serving
Calories 251
Calories from Fat 126
% Daily Value*
Total Fat 14g 22%
Cholesterol 37mg 12%
Sodium 123mg 5%
Potassium 21mg 1%
Total Carbohydrates 27g 9%
Protein 4g 8%
* Percent Daily Values are based on a 2000 calorie diet.
Nutrition
Nutrition Facts
Nankhatai Recipe
Amount per Serving
% Daily Value*
* Percent Daily Values are based on a 2000 calorie diet.