Easy 100% Natural Vanilla Frappé Base
The secret to making perfect Frappés at home that will rival Starbucks and save you money is to use a base syrup. It will transform your frappé from an iced coffee or smoothie to a creamy and delicious Frappé! With just 4 totally natural ingredients it's healthier & super easy to make!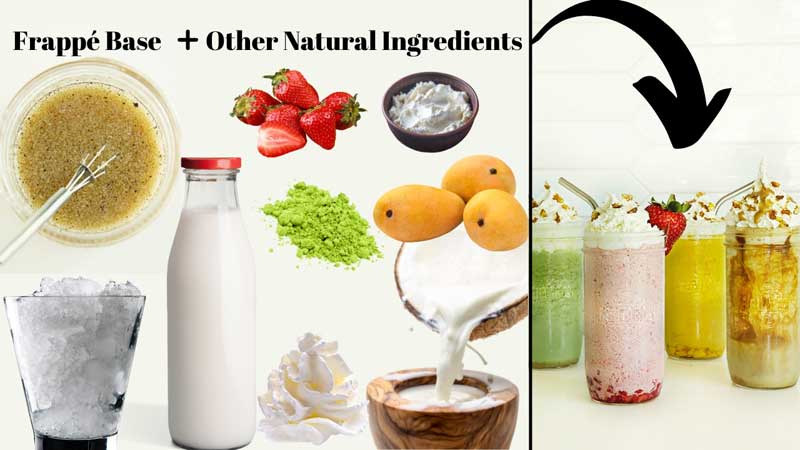 DO I REALLY NEED TO ADD THE FRAPPÉ BASE?
You may be thinking, "Why do I need the base anyways? Can't I just omit it?" The answer is yes you can, but the secret to making perfect Frappés at home that taste even better than store bought is the Frappé Base.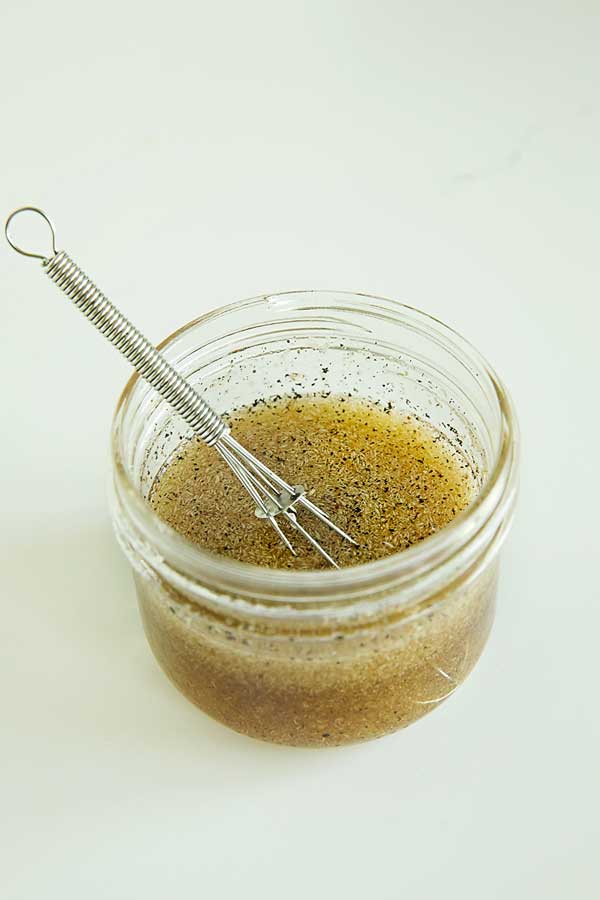 The Frappé Base:
Transforms an iced drink into a smooth, thick, creamy one just like the ones that Starbucks has made SO irresistible to so many around the world!
Made from all natural ingredients that will improve the texture & flavour of your Frappé significantly!
Recipe will make enough base for an entire Family of Summertime Frappés
Take me to the Frappé recipe NOW!!!
FOLLOW ME
Already on Pinterest? Please feel free to PIN the following images: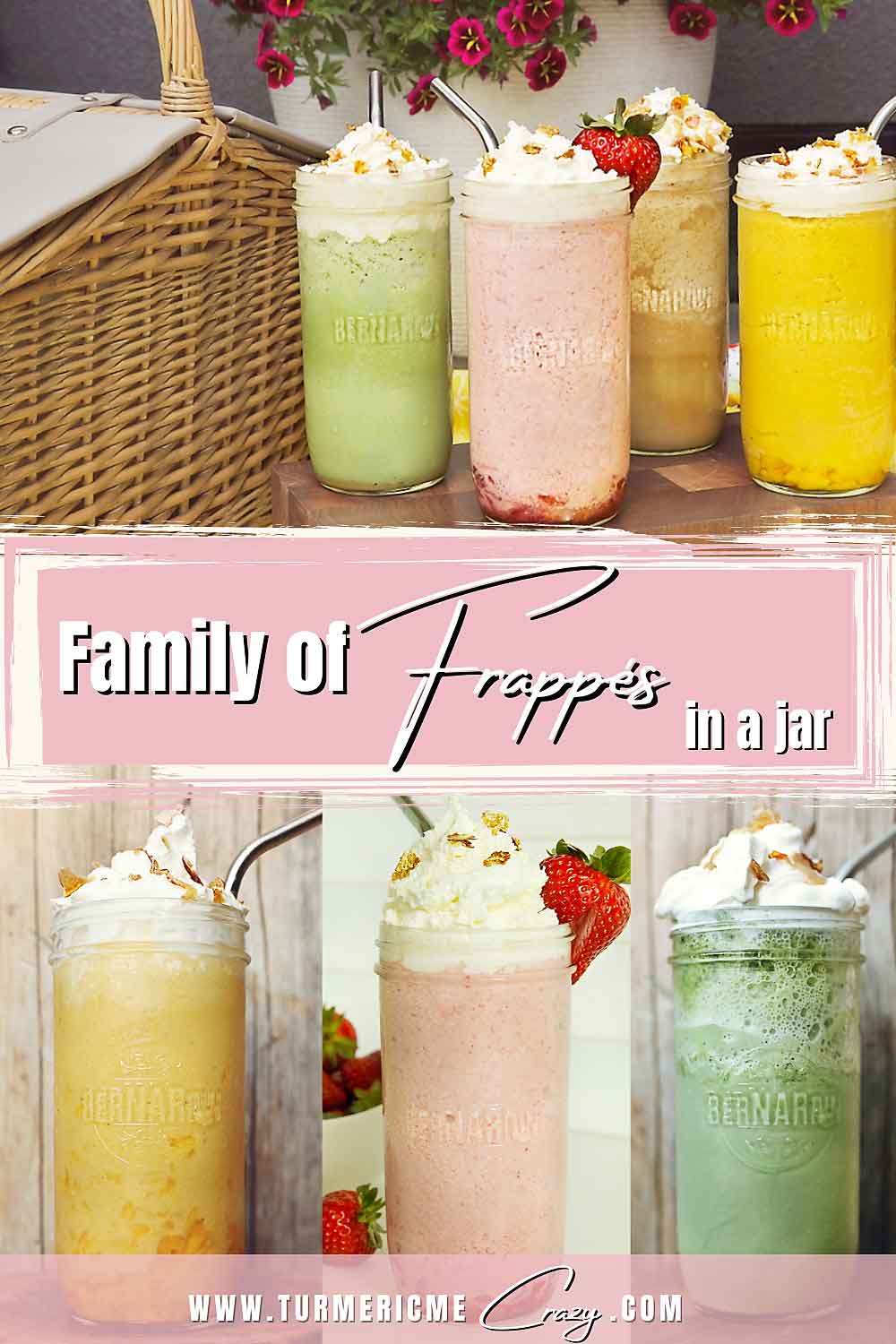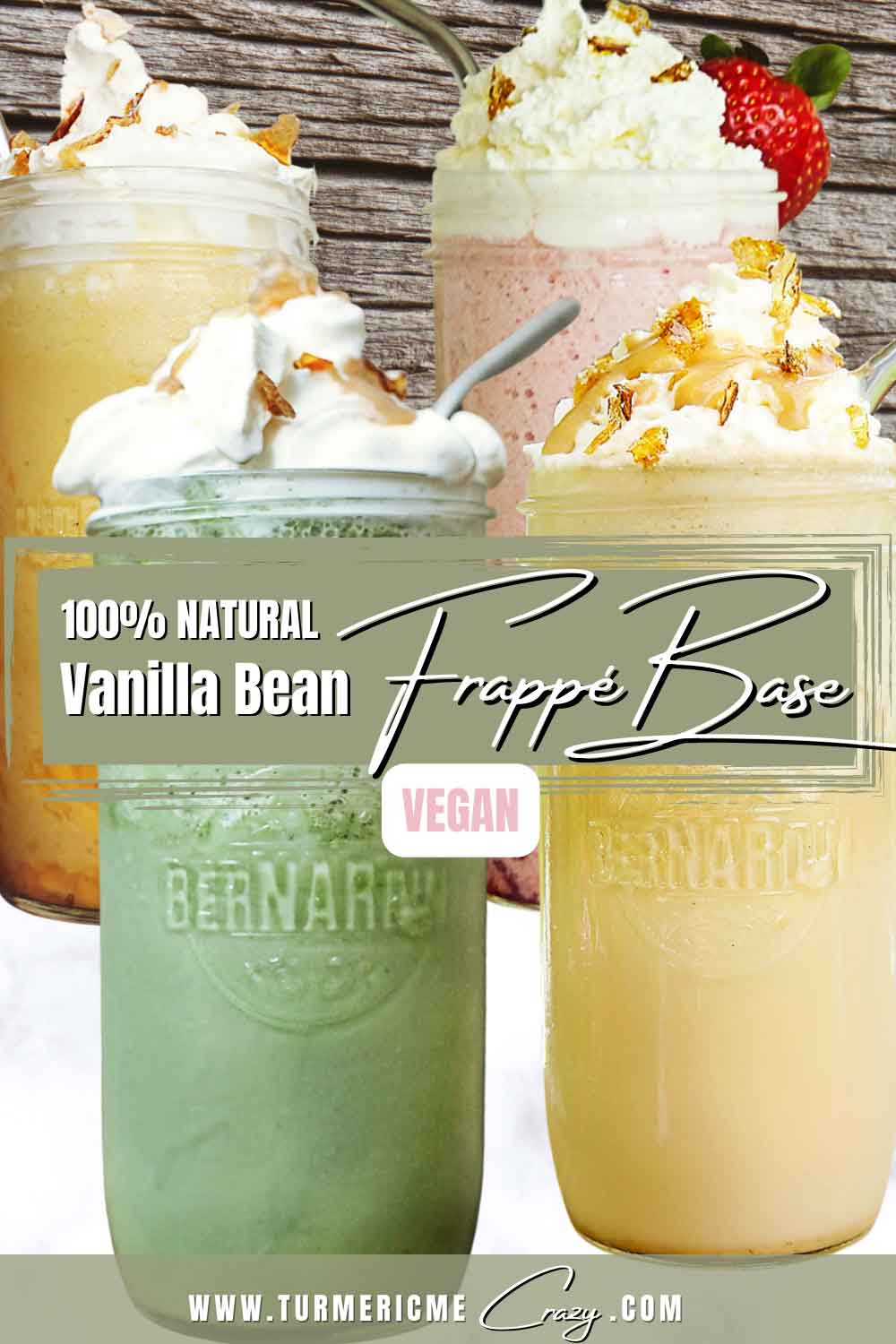 INGREDIENTS
Have you ever thought of Frappés or Frappuccinos as healthy? Me either. These Family of Frappés definitely still contain fats & sugars and should be consumed in moderation. However, the ingredients are all pure & totally natural, so as far as treats go, they are much better for you when made at home!
INGREDIENTS IN FRAPPÉ BASE
Did you know that Pure Canadian Maple Syrup is naturally vegan as they do not use any animal by-products at all in production! How do I know this? My husbands Uncle has a Maple Tree Farm in which they collect the maple sap, and produce Maple Syrup in their amazing "Sugar Camp"! I have witnessed 1st hand the hard work and dedication that goes into boiling the maple sap, canning it and producing the most incredible delicious natural sweetener!
Used to help create the "gel" for the Frappé Base.
I like to add both Pure Vanilla Extract & a the seeds of a Vanilla Bean Pod to my Frappé Base. However, vanilla bean pods can be expensive so I often opt for just pure vanilla extract and it does the trick!
WHAT IS PSYLLIUM HUSK ANYWAY?
Psyllium is a form of soluble fiber from a plant called Plantago Ovata, that grows worldwide but is most common in India. The plant produces gel-coated seeds, from which psyllium husk is derived.
Psyllium is one of the main ingredients in Metamucil! So needless to say it is incredibly good for the intestinal tract and in fact it enhances the digestive process & has prebiotic effects. Psyllium husk is very rich in fibre and can help improve & prevent constipation and haemorrhoid pain. Research is even showing it can help manage diabetes and may even lower risk of developing diabetes! On top of all of that psyllium husk is heart healthy, may help decrease blood pressure, decrease cholesterol & can help with weight management. Psyllium contains antibacterial compounds that help eliminate toxins in the body & in turn give you healthy glowing skin! You can find psyllium husk at most grocers and health stores (e.g. Blush Lane Organics).
HOW TO MAKE A FRAPPÉ BASE
(detailed Frappé drink recipe here)
HOW TO 1 MIN VIDEO GUIDES
Please check out the below instructional video for my Mango Frappé. Videos for each of my 4 flavours of Summertime Frappés and my Frappé Base can be watched on Turmeric Me Crazy's Youtube Channel.
Ok, lets get right to it and make us some FRAPPÉS BASE so we can make FRAPPÉS!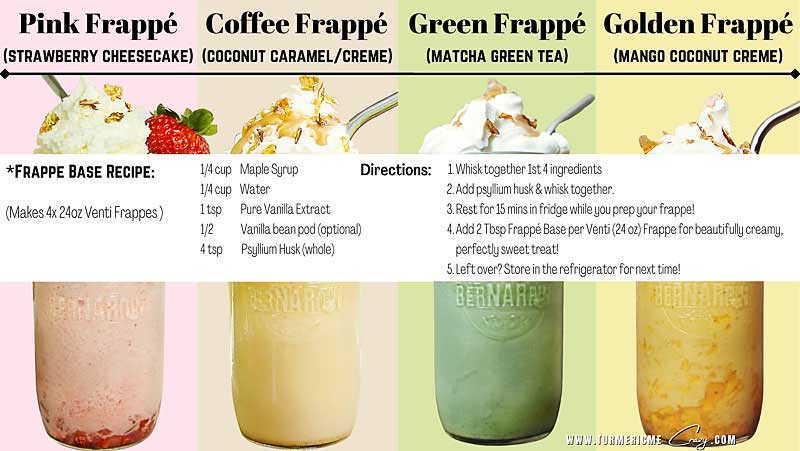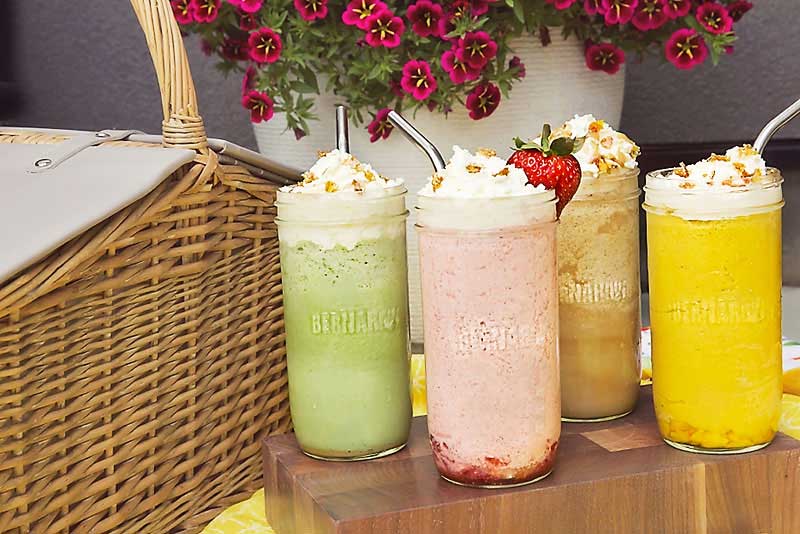 ENJOY!
I hope you all LOVE this recipe inspired by my loving children who are always willing help me create flavour options & be enthusiastic taste testers! If you make this recipe, please be sure to rate it and leave a comment below. Or take a pic, upload it to Instagram and tag #Turmeric_Me_Crazy. If you have questions, please contact me. Please subscribe to keep up to date with my latest recipes.
Thanks again for your readership!
Hugs and love,

FOLLOW ME!
Please follow me on Pinterest, Instagram & Facebook
Already on Pinterest?
Feel free to PIN the picture below for future reference & so others can find it too. Thank you kindly.
PLEASE RATE & COMMENT
I know you'll just love these delectable Family of Summertime Frappés! Aside from being incredibly delicious, they are free from all those nasty additives & processed sugars! If you try it, please add a rating onto the recipe above or at the bottom of the post as it helps Google recognize the recipe & my website which will help show it to more people. I'd love to see our community grow! ♡
Please enjoy this special summertime treat!

PLEASE SHARE THIS FRAPPE BASE RECIPE ♡